Fribourg
Fribourg
is a city in
Switzerland
that is also the canton's capital and economic center. The city was founded in 1157 by Herzog Berthold IV of Zaehringen. Fribourg is known for its cultural plurality, university, and bridges over the Sarine River that link the
French
-speaking part of Switzerland to the
German
-speaking part.
Fribourg offers a multitude of architectural sights. The Old Town, with Switzerland's best-preserved fortifications, is under a preservation order and there are still more than 200 Gothic-style houses to be admired.
In addition there are aristocratic town houses, monuments, St. Niklaus cathedral and numerous churches.

Understand
Fribourg has been a part of the Swiss Confederation since 1481, with over 10,000 inhabitants at that time. Since the city was founded on a peninsula many bridges were built to span the Sarine River, the first one in 1250. In the 19th century Fribourg was famous for its suspension bridges which have now been replaced with concrete. The university was founded in 1889. The 2000 census showed a population of 35,000 city residents and 235,000 in the Fribourg canton.
Sprinkled throughout the city are Renaissance fountains and more recent fountains such as the Tinguely Fountain made in 1984.
phone: +41 26 350 11 11

address: Avenue de la Gare 1
Get in
By train
Fribourg has an excellent mainline rail service, run by
SBB
. Trains run frequently day and night from Geneva airport, Geneva, Thun, Lausanne, St Gallen, Bern and Zürich, and many other places in Switzerland. The is in the modern city centre, from here head east (downhill) for Old Town. There's a second railway station 1 km north at Fribourg Poya: you'd only use this for St Leonard Sports Stadium or Caserne military base.
By plane
Bern airport is close by but has few flights, so the best airport for Fribourg is Geneva (
GVA
), with direct trains every 30 mins taking less than 2 hours. Alternatively use Zurich (ZRH) or perhaps Basel (BSL).
===By bus===
Flixbus direct services from Fribourg include Lyon, Frankfurt and Munich.
The bus station is 100 m east of the SBB at Place Georges Python.

Get around

Walk: most sights are within walking distance. You'll probably arrive at the SBB station in the modern city centre, which is bland, in parts brutalist. Go north about 300 m for the University. For the Old Town go east: the signposts take traffic down Route des Alpes but it's pleasanter to follow pedestrianised Rue de Lausanne. Both routes lead downhill to Place Tilleul, with the Cathedral of St Nicholas, the Basilica of Notre Dame, the Gutenberg Museum, and Espace Jean Tinguely Niki de St Phalle; nearby are the Convent and Museum of Art History. Continue downhill past the Cathedral to the foot of town in a loop of the River Sarine, crossed by the wooden Pont de Berne.
Bus routes 2 & 6 run from the SBB down to Place Tilleul and the Cathedral.

See
Landmarks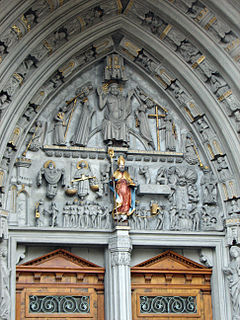 Bern BridgeThis covered wooden bridge is 40m long. The original bridge has been constantly renovated and it is now Fribourg's only remaining wooden bridge.

Berne GateThis gate is 24m high with a winding staircase around the exterior. The structure was built between 1270 and 1290 and has been heightened twice since then but still retains its original doors.

phone: +41 26 347 10 40

address: Rue des Chanoines 3

Construction on this cathedral first began in 1283 and was completed around 1430. Work on the unfinished west tower was stopped in 1490. It has been the Cathedral of the diocese of Lausanne, Geneva, and Fribourg since 1945. There are a total of 13 bells in the western tower and bell tower of the choir. The western tower is open to the public and provides a view high above the city.

Fontaine Jo Siffert

address: Grand-Places

This fountain by Jean Tinguely was dedicated to the memory of his friend Jo Stiffert, Formula 1 driver. The performance of the mechanical fountain varies depending on sun, clouds, and ice.

Zaehringen BridgeThe original suspension bridge was built in 1834 and replaced in 1924 with concrete. The bridge is 165m long and spans the Sarine River. There is a footpath beneath the roadway. To get a clear view of the bridge try the Bern Gate or Bern Bridge.
Museums
Do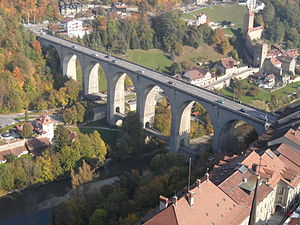 phone: +41 26 347 13 13

address: Allée du Cimetière 1

See Fribourg's ice hockey team in action.

phone: +41 26 351 02 00

This cable railway links the upper part of the city to the lower part. It has been running since 1899 and is powered solely by the town's waste water. The two cars counterbalance one another through their ascent and descent and as they make the journey along the steep slope they offer a clear view of Old Town. Runs every 6 minutes based on demand.

Walk through Old TownThe Old Town of Fribourg is better known as Basse Ville and offers narrow winding streets to churches, fountains, ancient bridges and medieval buildings with over 200 Gothic facades dating from the 15th century. There are also many cosy cafes and warm restaurants throughout the area. Old Town is easy enough to find, just look for the 76m high tower of the St. Nicholas Cathedral. Other sights worth noting in Old Town are the Town Hall, the Church of Notre-Dame, and the Musée d'Art et d'Histoire.

Climb the 368 steps of St. Nicolas' CathedralThe staircase ascends 74 meters high, with a wonderful view of the city at the top. The price is Fr. 3.50 as of August 2011.
Events
St Nicholas DaySt. Nicholas is the patron saint of the town of Fribourg and is celebrated every year during the first week of December throughout the region. The celebration includes a parade at dusk with the saint riding a donkey at the head of the procession, and an outdoor market.
Buy
phone: +41 26 426 65 49

address: Route de la Fonderie 2

The Villars chocolate company, operating in Fribourg since 1901, operates a Villars-only store/cafe (it is unique in Switzerland). In addition to selling the packaged chocolate bars and napolitains available nationally, a counter sells ganache bonbons (some with fruit, spices, etc) and other fresh chocolates. You can sit down and have a coffee or hot chocolate; you can also buy Villars coffee beans, books on chocolates, and other interesting items. They are open approximately 9-5 Monday-Friday and 9-12 Saturday (see their website for exact hours).
Eat
phone: +41 26 321 48 40

address: Place des Ormeaux 1

Venerable café-comptoir-restaurant with pleasant terrace. The food is excellent and not too expensive.

Cafe Populaire SA

phone: +41 26 321 51 06

address: rue St-Michel 9

Popular with students as it's close to the University and cheap by Swiss standards. The "Chicken Melt" is a chicken curry baguette served with salad and potatoes.
Drink
RDV Café, Place de N. Friburgo. +41 26 322 32 55. A cozy little bar on a hill overlooking the main plaza between the old town and the slightly newer old town. There seems to be free wireless, though there are no signs advertising the fact, so it might just be a neighbor's access point. Fr. 4 coffee, Fr. 5 draft beer.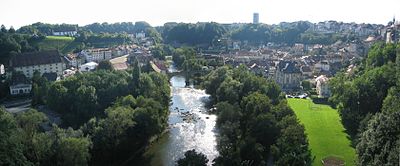 Sleep
phone: +41 26 350 22 60

address: Rue du Criblet 7

Small 2-star near railway station.
Go next