Fujian Tulou
The
Fujian tulou
(Chinese: 福建土楼 Fújiàn tǔlóu; literally: "Fujian earthen buildings"), also known as
Hakka tulou
,
Hakka earth houses
or
roundhouses
, are Chinese rural dwellings unique to the
Hakka people
in the mountainous areas in southeastern
Fujian
,
China
. A tulou is usually a large, enclosed and fortified earth building, most commonly rectangular or circular, with very thick earth walls between three and five stories high. Traditionally, tulou have housed an entire clan with up to 800 people. Smaller interior buildings are often enclosed by these huge peripheral walls which can contain halls, storehouses, wells and living areas, the whole structure resembling a small fortified city. In 2008, 46 buildings were inscribed in the
UNESCO World Heritage List
.
Most of the notable Fujian tulou are located within
Yongding County
and
Nanjing County
in southern Fujian and this travel guide will provide information on visiting them.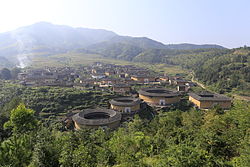 Villages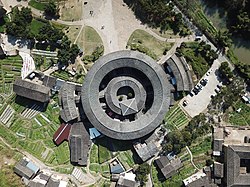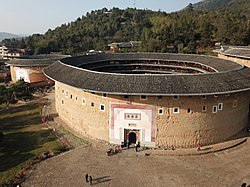 There are several villages with notable tulou clusters, some of which can easily be reached by public transport:
/Liulian (洪坑村/六联村), the "official" government-designated Tulou scenic spot with a long-distance bus station, easy to reach by public transport
/Gaobei (高头乡/高北), home of the "King Tulou" named Chengqi Lou. Direct busses from Xiamen to Liulian/Tulou pass here
(塔下村), near Tianluokeng Tulou Cluster and included in its entrance ticket
(曲江村) with Hekeng Tulou Cluster
(初溪村), where the Chuxi Tulou Cluster is situated
(璞山村), which contains Yunshuiyao Scenic Area
Understand
Hakka (客家, Kèjiā, in Mandarin) translates as "guest families"; they are people who migrated to southern China —
Guangdong
,
Fujian
,
Jiangxi
,
Hunan
,
Hainan
,
Guangxi
and
Sichuan
— some centuries back because of various wars and other troubles in the north. There are about 80 million
Hakka
spread out over those provinces and among overseas Chinese; in China they mainly inhabit relatively isolated mountain regions — the fertile valleys were already taken when they arrived — and Yongding is part of such a region. They have their own language, called
Hakka
in English and
kèjiā huà
in Mandarin.
A tulou is a structure where a number of residences are built inside a single fortified compound. Hakka people have been building these since the 12th century, and in the last couple of centuries some of their non-Hakka neighbors have built some as well. There are now more than 20,000 of them in this district and adjacent areas.
The people in the area are friendly, tourist infrastructure is minimal, and the countryside is extremely beautiful - which makes for a very pleasant contrast with other touristed rural areas in China.
Tulou generally housed a whole clan (a few dozen households, up to 800 people) and are three to five floors high; most are circular, up to about 70 m (200-odd feet) in diameter. They were designed for easy defense; you can see the openings for archers or riflemen on the upper floors but lower floors have no windows. The walls are typically a mixture of packed earth, lime and straw and about 150 cm (5 feet) thick, or a bit more. Other materials including stone, brick and bamboo are also sometimes used. There are usually only one or two gates, thick oak covered with steel plates, and there is a well and food storage to withstand a siege if necessary.
Most of these tulou are still in use, but the area has suffered an extreme population drain as the able-bodied have generally moved to coastal cities as migrant workers, leaving behind a population of the very old and the very young. The villages also contain modern housing, and older houses that are not tulou.
An amusing bit of historical trivia is that in Cold War days when the US first began getting satellite photos (initially, with poor resolution), intelligence analysts spotted many fairly large circular structures in this region, not far from Taiwan. They took them for missile silos and a considerable kerfuffle ensued in the American and Taiwanese military. Eventually they got spies in on the ground and found that the structures were tulou.
Get in
The easiest and most convenient way to get to these tulou is from
Xiamen
or
Longyan
by a direct bus. All busses arrive at which is also frequently referred to as "Tulou Station" (土楼汽车站), and is situated right next to the Hukeng/Hongkeng tulou cluster.
From Xiamen
Direct:
From Xiamen, there are two direct buses per day to Liulian/Tulou bus station - at 08:40 and early afternoon from Fanghu Bus Station (located at 24.511502 118.133765), ticket costs 64¥ as of 2017. There are also seven buses to Yongding that depart from 07:10-16:00 every day from the Fanghu Bus Station. All busses pass the villages of Gaobei (高北村) and Liulian (六联) which are convenient bases for exploring tulou. It takes around 3 hours to travel from Xiamen to Liulian. Xiamen has multiple bus stations, so pay close attention to the station name.
Transfer:
There is also a frequent bus service from Xiamen to Longyan, but you will have to transfer buses in Longyan (see below).
The new bullet trains do the Xiamen North-Longyan trip in less than 1 hour 15 min with greater comfort but higher cost. The fast trains also arrive at Longyan from the south Shantou or even Shenzhen. From either train stations buses and mini-vans are available to take you to tulou.
From Longyan
Longyan can easily be reached by high-speed train from many cities in China, including Shanghai, Fuzhou and Xiamen. There are hourly direct busses from Longyan to the Liulian/Tulou bus station every day, leaving between 7:00 and 17:00 mostly from Longyan Bus Station (龙岩汽车站), but some also from Longyan Transport Center Station (龙岩汽车客运中心站) and Tourism Distribution Station (旅游集散中心). The exact schedule can be found on
www.jt2345.com
(Chinese language only). The busses take approximately two hours to reach their destination.
Other options
The nearest train station is Yongding. There are two daily trains from Xiamen to Yongding (K230 and K298) that take approximately 3.5 hours and cost only ¥37.5. There are trains from Guangzhou to Yongding, too. Yongding bus station is close to the train station (0.2 km).
From Yongding, there are about 10 daily bus departures to Liulian/Tulou bus station that take about one hour, see www.jt2345.com for schedules
If you intend to see as many tulou as you can, it's best you find your way to Liulian/Hukeng/Hongkeng village, where the government showcased unit is, and stay at the many lodgings available right where your bus or taxi drops you.
Get around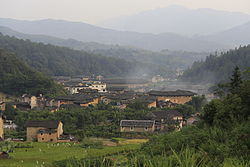 The best way to see the different tulou is by
private taxi
or motorbike. Your guesthouse can help organize this for you, or else just walk around and some local will come up offering their service. Prices range from ¥100 to ¥120 for a half day tour. Be sure to negotiate a price before the tour. Most tours allow you to choose 4 or 5 tulou to visit and a car with driver, who also acts as impromptu guide is ¥200, (2011 pricing). A motorbike with rider is ¥120 and would therefore be expensive and uncomfortable if there are two or more of you. You are not allowed to rent or ride a motorbike. While you will not be hurried, starting the tour at 07:00 will mean you will be back at your lodging well before lunch time. Just select one from the menu and you are on your way.
As of January 2019,
official taxis
are rare to non-existent on the streets. Services such as Didi, that can be used elsewhere in China to order taxis, are also non-functional in this rural area.
Mountain bikes
are also available for rent from different places. Ask your guest house if they privide the service, otherwise head over to Fuyu Building in Hongkeng (see "Sleep") and rent one from the owner there. The distances between tulou clusters are not too large, going from Hongkeng to Gaotou takes about 25 minutes by bike.
It is fairly easy to arrange a tour with a guide who can serve as translator; you can either join a tour group or hire a guide for you own group, though hiring your own guide will be relatively expensive for a single person or couple. Many travel agents in Xiamen offer such tours. Some of the Xiamen companies will do built-to-order itineraries, and
Fuzhou
-based
Amazing China
does those anywhere in China. The main advantage of having a guide is that they can explain many details about the local culture that you'd miss by visiting alone.
Talk
As anywhere in China,
Mandarin
is the language of education, government and media, and the
lingua franca
for communication between groups. Speaking that or having a guide who does will stand you in good stead. However, over 90% of the district's population are
Hakka
, so that language is also very useful here. The main local language of the surrounding region is
Minnan
.
Very little English is spoken in the region, except by a few people in the tourist industry; this is a rural area and many locals, including most of the well-educated ones, have left for jobs in the cities. Even Mandarin may not be universally known among the largely very young and very old population who remain, though it is at least reasonably common. There's also a strong accent to the Mandarin spoken here.
Locals working at the tourist sites (such as ticket salespersons, drivers, hawkers, hotel owners) tend to speak at least a few words of English so that you'll be able to get around even without profound Mandarin or Hakka knowledge. Road signs and tourist maps are all bilingual (Chinese and English).
See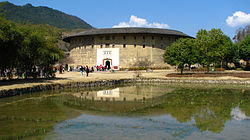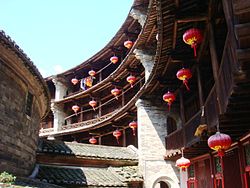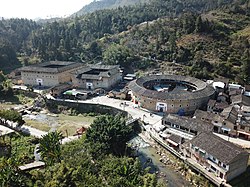 The
UNESCO World Heritage List
entry for
Fujian Tulou
includes 46 buildings at ten locations, mostly but not all in this district. There are also many others scattered in between and around the main attractions.
The main clusters are, in this order:
Hukeng/Hongkeng Tulou Cluster Scenic Spot

phone: +86 597 3256222

address: Hukeng

This site contains some beautiful tulou of different shapes - round, square, and U-shaped. Zhencheng Lou (振成楼) is the largest and Rusheng Lou (如升楼) is the smallest tulou. For the real story, though, seek out the smaller tulou, where family life still abounds. A point to note is that Zhencheng Lou is the government showcase unit and is therefore padded up for touristy appeal. Those who know avoid the place, simply because everything looks so spick and span. However, many families do live in the tulous, and before and after the tour busses leave it is a quiet and lovely place to explore. Its rear gate is where the public transport stops and picks up passengers to or from Longyan, Yongding or Xiamen.

Tianluokeng Tulou Cluster

address: Tianluokeng

On a slope of Hudong Mountain, sit five tulou - three circular, one oval and in the middle a square tulou. The locals call this place si wan ee tang (literally four bowls and a soup). These were built over 600 years between the end of the Yuan Dynasty and the 1960s. At night, the place is lit up with multicoloured lights which make interesting photos. However, you have to stay the night, most probably at the lodgings provided by the lady operating a local style teashop. Food can be enjoyed in the tolou if you stay the night as well. Relax and enjoy local life. Be prepared for a long and boring night after the initial excitement with your photographing done. A better option is to stay in one off the guesthouses in Taxia.

Gaobei Tulou Cluster Scenic SpotThis is the largest of the tulou, on the route from Xiamen to Liulian. The main building is called Chengqi Lou (承启楼) and refered to as the "King Tulou" (土楼王) — an impressive round tulou with many concentric structures. While many tulou were built in the Qing dynasty, this one was built in 1964. In general, the Gao Bei complex is overrun with tourists — seek out smaller tulou for a more sincere experience, or go early or late to miss the busy hours.

Chuxi Tulou Cluster Scenic Spot

address: 下洋镇下洋镇初溪村

This is perhaps the most picturesque of the tulou clusters, and is located approximately 30-40 minutes south of Liulian.

Hekeng Tulou Cluster

address: Qujiang Village, Shuyang Town (漳州市南靖县书洋镇曲江村河坑组)

It consists of 15 earth buildings with different shapes which are distributed in a narrow area along the banks of two small rivers in the shape of a "D". Since the completion of Hekeng Earth Building Group, except for normal maintenance, the walls, structures and internal and external space of 14 earth buildings have remained unchanged

Yunshuiyao Scenic Area

address: 南靖县璞山村

This settlement is a bit larger than the others, and also contains an ancient town. The large tulou are not as dense and a bit further apart.
Apart from the famous tulous, you will notice that there are a lot of smaller tulous and tulous that are in complete disrepair and abandoned on your journey. Often these will be less touristic and allow a glimpse in everyday tulou life. Rent a bike and set off on your own to see these. Some tulou also still bear propaganda markings from the Mao Zedong era.
Sights include: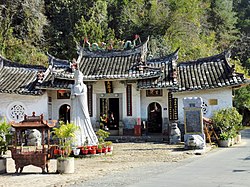 Yuchang Earth Building

address: within Tianluokeng

Twenty Five generations have lived in this tulou, even though it is leaning up to 15 degrees in places. The slant mentioned is what makes the inhabitants proud. Whatever the reason their ancestors used crooked beams and columns, these have withstood the test of time. Chinese tourists particularly marvel at this curious crooked building.

Tianhou PalaceA temple within the Hongkeng tulou cluster scenic area

phone: +86 597 5206971, +86 597 5206978

address: Hakka Exposition Park, 1 Longxing Road, Fengcheng Town, Yongding District, Longyan (龙岩市永定区凤城镇龙兴路1号客家博览园)

Provides visitors with detailed background information on the tulou. As the museum is located in Yongding's main town rather than near one of the tulou clusters, it's probably best visited at either the very beginning or the very end of your tour.
Do
There are hotsprings in the mountains nearby, e.g. near Chuxi tulou cluster. Ask your accommodation in Chuxi for more details and tickets.

Buy
Souvenirs are available throughout the area and include miniature tulou, snow globes, keychains, and magnets.
The region is also famous for its tea. Most tulou have stores and vendors inside, but be sure to
haggle
as prices for tourists are unexpectedly high. Try the mountain tea. Oolong tea is also famous throughout Fujian.
Local tobacco also abounds, and many shops and restaurants sell packs of thin cigarettes in packages bearing a tulou logo. ¥15-20/pack.
If the season is right, pick up some dried fruit and sweet potatoes; hibiscus tea is also something worth taking home.
Eat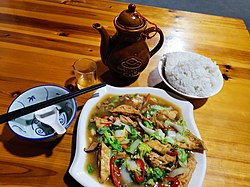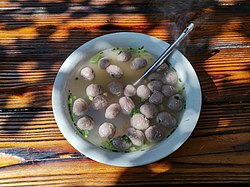 Each site has local restaurants so you will not go hungry. The ingredients are fresh and chicken are slaughtered on the spot if you enjoy that kind of freshness. Hakka cuisine is different from the other cuisines found around China and has some special dishes, e.g. Hakka tofu and beef ball soup. Another specialty is Hakka bamboo that many people find smelly at first.
Ke Lai Den Hotel

address: Hongkeng

This place has an English menu.

Small Stream Bridge Restaurant

phone: +86 596 7771462

address: 塔下村61号(雪英桥往河上游10米)

This place offers local food, reasonable prices and nice views over the stream crossing Taxia village. Favorites are chicken soup, boiled eggplant and fried bamboo shoots (that might be strange to the Western taste)

Huanxing Hakka Restaurant

address: 永定土楼民俗文化村东门环兴客栈1楼

Right next to the Hongkeng tulou cluster, this place serves traditional Hakka food.

Three Sisters Inn

address: 田螺坑土楼群文昌楼18号

A guest house within Wenchang tulou that also offers local Hakka food and tea ceremonies, fresh veggies and an insight into the rural lifestyle
Drink
Apart from tea, there is the local rice wine called Nuomijiu (糯米酒). Many tulou make their own rice wine, which varies in color and ingredients and can be quite delicious. Earthen jars can often be seen outside or inside. Some tulou restaurants sell bottles of this as a souvenir, others simply offer it as a libation.
Hakka Restaurant and Brewery

address: Hongkeng

This square tulou houses not only a restaurant, but also a brewery or winery for the Nuomijiu rice wine. You can see the production process and tools, and do a tasting of differt types and ages. Jars of Nuomijiu sell for about &yan50;-80.
Sleep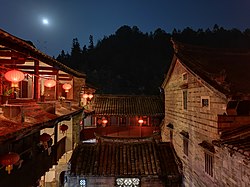 Most of the more touristic earth houses offer simple lodgings, which generally will not provide the most basic conveniences and should cost around ¥30. Rooms are simple, and bathrooms are frequently located outside of tulou. Many tulou also close around 20:00 every evening. Since most of the tulou are situated within the scenic area (that requires an entrance ticket), keep in mind to buy the ticket before trying to get to your accommodation!
Hukeng village has several lodgings that are a step up from this, speak English, have fast internet, and offer both Western and Hakka food and coffee. For a unique tulou experience, try:
phone: +86 597 5532800

address: Hong Keng Village, Hukeng Town

Situated in one a square tulou, of the famous historical buildings within Hongkeng, this guest house offers a unique cultural experience. The courtyard is filled with red lanterns that are beautifully illuminated at night. They also offer a pick-up service from Xiamen or from the Tulou bus station. Breakfast included, lunch and dinner available. Air conditioning, WiFi, bike rental (¥25 for half day) available. Rooms are very clean, bathroom is either shared (cheaper rooms) or private ensuite. QQ: 364804398

Yongding Fulan Inn

address: Chaoyang Building in Hongkeng (洪坑村民俗文化村景区内朝阳楼)

A rather simple guest house within one of the more run-down tulous. Don't expect anything fancy.
In Gaobei:
Yongding Tulou Qiaofulou Inn

address: No. 50-1 Tianzhoulou Group, Gaobei Village ( 高头乡高北村天助楼组50-1号)

A beautiful round tulou in Gaotou village. Rooms are basic, but clean, and all situated on the upper floors. At night, the inner yard is nicely lit by red lanterns.
There are in fact plenty of sleep options. Almost every other restaurant and shop has rooms upstairs for ¥80-100 (2017 pricing). As you alight from your bus or taxi, depending on which section of the road you will be approached, by the owners of these establishments, who would be more than pleased to allow you to view rooms before taking. Generally, the rooms are very clean, well-kept, with en suite bathroom, western W.C., TV, Aircon. No toiletries or towels however. Ask and they will supply you the towels. Sheets and blankets are already spread out and are very clean.
Go next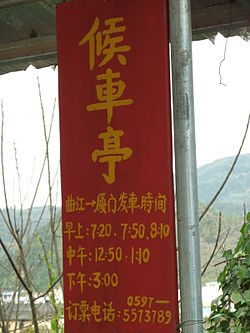 There are regularly scheduled buses from Liulian/Tulou Bus Station (see "Get In" section). Direct buses for
Xiamen
leave at 07:50, 12:30, and 15:00 (20 min later from Gaobei Village). In the high season, it is better to buy the ticket a day before. Also check the actual departure times as they change frequently and times on this page may be outdated. Different ones terminate at different stations in Xiamen, but this is not crucial; most stop in more than one place and driver will be yelling out the names when approaching them.
Hourly buses from Liulian/Tulou to
Longyan
are also available from 06:20 to 16:35. There are also buses to Yongding, and two to
Zhangzhou
(漳州).
If leaving the area from a village, the bus stations are very informal. Check with locals to make sure you're waiting at the right spot or just flag down the bus as it passes by. For example, at Gaobei Village, the bus station is located on the road X620 roughly at 24.661687 117.007028, but long distance buses depart from the main road X622 at 24.660854 117.006176. About 10 min before the departure of a long distance bus, staff will accompany passengers to the bus stop and wait till the bus arrives. It's possible to buy the ticket either at the bus station (arrive early enough) or at the bus. Ticket to Xiamen costs 60¥ as of 2017.
Visit Gulangyu island in Xiamen - a beautiful car free island full of historic buildings. A great place to relax. About 3–5 hours away.
Xiamen, one of the cleanest cities in China and sometimes termed the "Hawaii of China"
Wuyi Mountain via Longyan