Gananoque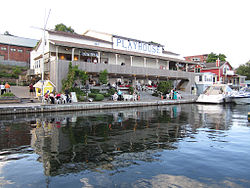 Gananoque
is a town of about 5,200 people in
Eastern Ontario
in the
Thousand Islands
region on the St. Lawrence River.
Understand
Gananoque traces its history to United Empire Loyalist times; after the American Revolution, Loyalist militia Colonel Joel Stone received a land grant and established a mill site in 1789, The town was attacked during the War of 1812 and stores in the government depot looted by Americans. A five-gun Gananoque Blockhouse, completed in 1813 to defend against further US attacks, stood until 1852.
The Gananoque River watershed was an important water transportation corridor, extending north to the Rideau River watershed. In 1830, water was diverted westward to the Cataraqui River as part of the
Rideau Canal
, redirecting this traffic to
Kingston
. A short-line railway, built to haul timber for river shipment, carried mainline passengers to the Gananoque waterfront from 1884 to 1962; the right-of-way is now a hiking trail.
Get in
It's best to drive to Gananoque. While you can take a bus, train or plane to
Kingston
, add a $50 taxi ride (one way) from Kingston to Gananoque and this becomes an expensive alternative. The town is on Highway 2 or 401 on the beaten-path
Windsor-Quebec corridor
. From
Watertown (New York)
, I-81 north (Penn-Can Highway) ends at the 401; Gananoque is 10 miles (16 km) upriver from the
Thousand Islands
bridge.
VIA Rail trains pass through
Gananoque Junction
often on their way from Toronto to Ottawa, but typically only one stops daily. Intercity scheduled buses no longer stop, although charter buses and
casino shuttle
services are often seen in Gan in peak summer travel season.
There is a tiny airport with no scheduled service.
Cruising on small craft
? There is a
municipal marina
downtown (directly west of the 1000 Islands Playhouse) and a dock
at the Playhouse
. There are two private marinas which sell gasoline (but not diesel oil):
phone: +1 613-382-0016

address: 35 Clark Drive, RR #3

VHF Channel 68

phone: +1 613-382-3137

address: 67 Mill St.
Get around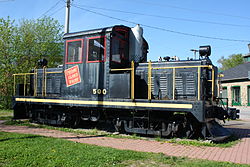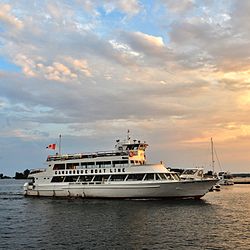 Due to the town's small size (just over 5000 people), there is no local transit system; it is relatively easy to drive or walk anywhere within Gananoque. Visitors to the parkway may wish to bring or rent a bicycle as extensive trails exist.
Local taxis are available from A-One Taxi +1 613-382-3777 or Gananoque Taxi +1 613-382-3399.
See
Heritage Museum of the 1000 Islands

phone: +1 613-382-2535

address: 125 Water St

Museum of natural and cultural history of the 1000 Islands region on site of former 1000 Islands Railway station.

phone: +1 613-382-8484

address: 125 Water St
Do
Events
address: Gananoque Town Park
Buy
The main commercial district in Gananoque is King Street (Ontario Highway 2) east of the Gananoque River, although there are a handful of businesses near the waterfront at the base of Stone Street South (former Highway 32) including a marina and tour boats. Fuel is usually cheaper on the main street than at the 401/CR32 offramp.
There is no mall and no major department store in town. There are two major supermarkets, a Metro and a No Frills. Housewares are available from Donevan's (downtown), Home Hardware (401 exit 645) and Canadian Tire (King St. E); clothing is available from various small independent merchants on King Street downtown.
There are three tiny art galleries: Little Pump House gallery (2 King St E), Heather Hanes Gallery (27 King St. E) and O'Connor Gallery (130 King St. E).
address: Town Hall Park, King St E
Eat
Major fast food chains (Tim Horton's, McDonalds, Dairy Queen) are available on King St. East (Ontario Highway 2), along with a few independents. Many of the hotels (including the Gananoque Inn on the waterfront and a few on King St. E.) have restaurants on-site.
phone: +1 613-382-3083

address: 155 King St. E.

Mediterranean and Italian. West Side bar adjacent.

phone: +1 613-887-2487

address: 45 King St West

A traditional Italian tavern, paired with local and nautical elements.

The Socialist Pig: food for everyone

phone: +1 613-463-8800

address: 21 King St E

Coffeeshop with dining room and a patio looking onto the local Gananoque Brewing Company. Handcrafted espresso-based classics, desserts, premium sodas and homemade lemonade, international flavours and the comfort of home with local ingredients, local craft beer and seasonal cocktails.
Drink
address: 9 King St East

Brewed locally, this beer is on tap at various local watering holes.

phone: +1 613-382-8008

address: 124 King St E.

Draught beer, cod and chips, full menu of British food from $10-20/main course.
Sleep
Various hotel chains (Ramada, HoJo, Holiday Inn Express, Quality Inn, Travelodge) are represented on King Street East (Highway 2) between the downtown and Hwy 401 (exit 648). There are also a few independent motels on King Street West as the old road leaves Gananoque for Kingston.
Bed and breakfast is available in central locations, including Stone Street South near the water.

phone: +1 613-382-3226

address: 780 King Street W

Seasonal propertyopen April to October. Hotel, restaurant and spa. 48 standard rooms, plus six premium rooms with jacuzzi and fireplace. Non-smoking.

phone: +1 613-382-3511

address: 715 King St E

Best Western with spa, fitness area, indoor and outdoor pools, squash courts, conference rooms and on-site Cousins on King restaurant.

phone: +1 613-382-2165

address: 550 Stone Street S

Waterfront 1870s historic inn (hotel/motel and former carriageworks) with spa and restaurant at the mouth of the Gananoque River. Rate includes wireless Internet and breakfast in the attached restaurant.

Stonewater B&B Pub and Irish Eatery

phone: +1 613-382-2542 (B&B), +1 613-382-2116 (Pub)

address: 490 Stone St South
Connect
phone: +1 613-463-8998

address: 126 King St East

Internet café, book store, sodas and fair trade coffee.

phone: +1 613-382-2436

address: 100 Park St

Small municipal library with public-use computers, will issue membership cards to non-residents.
Go next
Gananoque is close to the Saint Lawrence Islands National Park and the Thousand Islands. Follow the 1000 Islands Parkway eastward through the 1000 Islands region to Brockville.