Gatwick Airport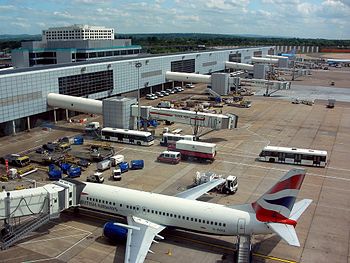 Gatwick Airport
(
LGW
) is London's second-busiest airport by passenger numbers (after Heathrow), and serves the south-east of the United Kingdom. It is a hub for British Airways.

Understand
It has been licensed as an aerodrome since 1930. Gatwick used to be regarded as
Heathrow's overflow
, but has carved out its own identity, a process which accelerated when its parent (which also owned Heathrow) was forced to sell Gatwick to a new owner.
The airport is undergoing extensive renovation, and is the world's busiest single-runway airport. There are plans to add a second runway.
The airport has two terminals:
North Terminal
and
South Terminal
. The terminals are connected by a 1.21-km two-way automated people mover system.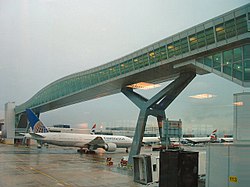 One interesting feature of Gatwick is that part of the North Terminal is a passenger bridge to/from pier 6 that is high enough to allow aircraft to taxi beneath the bridge.
Terminal layout
North Terminal
For departures, check-in is on the second floor, excluding easyJet and WestJet, which have a self-serve baggage drop area on the first floor. All passengers must go through security on the second floor. After walking through the duty-free store, passengers wait in the large departures lounge, with many shops, restaurants and seating. Access to Gates 42-55 (Pier 4) and 101-103 (Pier 6) is at the south end of the lounge and access to gates 557-563 (the new Pier 5) is at the north end. Airline lounges are on the way to Piers 4 and 6.
On arriving, passengers are separated into one of three groups: domestic, CTA and International. Domestic passengers exit at Gate 55 and walk past the gates to a separate arrivals hall. CTA passengers must take a shuttle bus to the same area. International passengers walk along to passport control and then descend to the baggage reclaim hall. Every hall exits on the ground floor.
The South Terminal shuttle is on the first floor.
South Terminal
The departures and arrivals halls are mixed here landside.
All passengers check-in towards the south of the building and then proceed upstairs for security check. After walking through the duty-free store, they find themselves in the departures lounge, with a circular layout split across two floors. Airline lounges are on the upper floor of the lounge. The No1 and Clubrooms lounges are quite small and are often overbooked. All gates are located on the lower floor. Gates 30-36 are a relatively long walk from the terminal.
On arrival, domestic and CTA (Common Travel Area: consisting of UK, Ireland, Isle of Man and Channel Islands) passengers must all take a bus to the domestic claim area. Other passengers walk to the passport control, located on the ground floor, before ascending to baggage reclaim.
Flights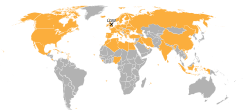 A lot of major and minor airlines operate domestic, European, and intercontinental flights to/from Gatwick, catering for business and leisure travelers alike. Many airlines that can not get landing rights at Heathrow fly to Gatwick. Point-to-point flights make up the majority of flights; flights into network carrier's respective hubs exist, but play only a minor role.
Different airlines operate from different terminals; some of the major airlines are:
North Terminal
easyJet, Emirates, TUI Airways (formerly Thomson), Virgin Atlantic
South Terminal
British Airways, Cathay Pacific, Norwegian, Ryanair, Turkish Airlines, Vueling
There is a
list of destinations
that you can get to from Gatwick on Wikipedia, or you can visit the websites of specific airlines for details, and Gatwick has
a webpage
where you can see which terminal your flight leaves from.
Ground transportation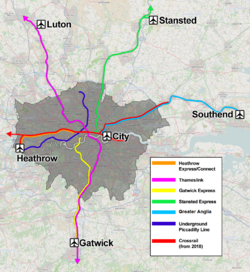 By train
Gatwick Airport was the first UK airport to combine air and rail travel, and has its own railway station, which is attached to the airport's South Terminal.
is situated on the London to Brighton main line with frequent train services operated by several train operators, including Gatwick Express, Thameslink, Southern, and GWR. You can buy tickets from machines, the ticket office in the terminal, and on-line from virtually any country by printing a voucher at home and exchanging it for tickets at the ticket office or from machines in the entry lobby of the station. Advance purchases can result in some savings.
Due to heavy passenger traffic at certain times, the area/lobby for obtaining tickets and going through entry gates can become
very
crowded. If you are booked for a train at a certain time, you should consider giving yourself plenty of time for reaching your correct boarding platform. Once through the gates, you can reach the platforms with light luggage using stairs and escalators. Allow more time for lifts to the platforms if you have significant luggage.
Note also that the station is adjacent to the South Terminal; for passengers arriving to and departing from the North Terminal, figure the additional time to reach it into your estimates.
There are direct trains to London (
London Bridge
,
London Victoria
and
London St Pancras
),
Brighton
,
Southampton
,
Eastbourne
,
Hastings
and other locations.
Gatwick Express
is a high-speed, non-stop rail service operating between London Victoria Station and Gatwick Airport. Trains operate every 15 minutes from 5AM to 11:45PM (from London Victoria Station), and 5:50AM to 12:35AM (from Gatwick) with journey times of 30 minutes (35 minutes on Sundays). You won't be able to miss the Gatwick Express trains as they have unique livery. One-way standard ticket is £19.90 if bought at the station, or £17.80 online (Dec 2018).
Southern
trains to London Victoria or London Bridge are only a few minutes slower than Gatwick Express and only slightly less frequent. They call at a few stations along the way (which the Gatwick Express doesn't), usually at East Croydon and Clapham Junction. Fares on these operators' tickets are lower in cost. Besides London, there are trains south to Brighton, Hastings via Eastbourne and
Lewes
. Like many airfares, the earlier you buy tickets (up to 90 days), the less expensive they tend to be. Purchases can be made from nearly anywhere by internet using the sites noted below, often also by phone. The fare to Victoria, if bought at the station, is £12.00 off-peak/£16.20 peak; if, however, you use the Oyster card, it's £8.30/£14.70 (Dec 2018).
Thameslink
services provide connections with: London St Pancras International, Blackfriars, City Thameslink,
London Farringdon
,
Bedford
, and also south to Brighton. The fare is £9.00 off-peak/£10.70 peak. You can use an Oyster card from Gatwick to stations in the London Travelcard area; Oyster fares are £8.30/£14.70 (Dec 2018), same as with Southern.
GWR
services provide services all the way to Reading, which in turn allows passengers to connect to/from the Westcountry (e.g. Bath, Bristol, Exeter, Plymouth) without passing through London.
Train times and fare information for all operators is available via
National Rail Enquiries
.
By bus
National Express
has coaches to Gatwick from throughout the country. The
A3 route
runs from Victoria Coach station in London to Gatwick, and there are many coaches
to/from Heathrow
, see
below
.
Metrobus
has routes connecting the airport to
Crawley
and
East Grinstead
with the 400 route, costing £2-4 for an adult single. There's also the 200 route, connecting to
Horsham
; the 22 route to
Dorking
and the 460 route to
Epsom
.
Megabus
(stops at the North and South terminals) has buses from Gatwick to
Bristol
,
Cardiff
and
Heathrow
.
Oxford Bus Company
has
The Airline
bus to Gatwick from
Oxford
stopping at the South Terminal and then the North Terminal. Costs £28 for an adult single, £37 for an adult return.
By bike
Route 21 of the National Cycle Network passes under the South Terminal, allowing virtually traffic-free cycling northwards to Horley and southwards to
Three Bridges
and
Crawley
. A goods-style lift runs between the terminal and ground level (labelled "Lift to Cycle Route"), near Zone L.
By taxi
Some taxi firms offer to take you to Gatwick from around the country. This will probably be quite uncomfortable if you have to travel long distances, but then again, it's your own "private" car. Some firms that offer these services are listed here:
phone: +44 1293 780780

Offers a range of cars including estate cars and private minivans.

phone: +44 330 088 2222

Offers a range of cars, including saloons, estates and 8-seaters. Its website claims to have transported John Travolta and Shane Richie.

phone: +44 1342 300 000

Offers a range of cars, including saloons, estates, 8-seaters and wheelchair accessible cars. They mainly cover Sussex, but do go further afield as well.
Majestic Taxis & Chauffeur Driven Cars +44 207 1276 550, info@majestictaxis.com They specialise in Long distance transfers using Mercedes Vehicles.
Express Courier Cars - +44 208 686 2777, info@expresscouriercars.co.uk. Offers a range of cars, including saloon, MPV, estate, 8-seaters, wheelchair accessable cars, baby-seat cars, executive, etc for 24/7 whole year. Covers all airports in UK along with the local pick-ups and drop-offs.
By car
is Gatwick Airport's own spur from the M23 motorway. Once you leave the main M23 at junction 9, travel west to a roundabout and for the South Terminal, take the first exit from there or for the North Terminal, take the second exit. The South Terminal exit has a large arch with an advert on it over it, while the North Terminal doesn't. If you're going to the North Terminal, then take the second exit at the next roundabout (it has its own big arch here) or the third exit for the long stay car park. From there, you will be able to follow signs to the car park you are looking for, whichever terminal (see
below
), or the main entrance to the airport. Junction 9 is about south of the M25 London ring road and with traffic on the M25 often heavy (or worse) make sure to start your drive out to the airport early enough.
Car parks
Short-stay parking
The closest car parks to the terminals are the short-stay car parks, which are located right next to the terminal buildings. To get to the , take the directions in the
Get in
section above, then continue along the road, following signs for the short stay car park, staying in the right-hand lane. For the , again, follow the directions above for the North Terminal, then continue along the road, following signs for the car park, staying in the left-hand lane.
Long-stay parking
Long-term parking is provided both on-airport and off-airport. The on-airport long-stay car parks are about a five-minute bus journey from the terminal buildings (buses are provided for the sole use of getting from the car park to the main terminal). Off-airport parking is suitable for both long- and short-stay. Most car parks are situated about 15 minutes from the airport. For the , after leaving the roundabout, (see above), stay in the left-hand lane and take the second left, then follow signs for which car park you want. For the , after leaving the roundabout, instead of taking the second exit, take the third exit, following signs for "Long stay". Go past the petrol station which is on the right, then take the third exit at the next roundabout. Follow this long road to the next roundabout before taking the second exit, you're now finally there! You can then follow signs to which car park you want. Once you have arrived you will find Gatwick's own scheme,
Gatwick Parking
.
Meet-and-greet parking
Gatwick's Surface Access Plan introducted its
Approved Operator Scheme
for meet-and-greet parking.
Only approved meet-and-greet parking operators
are permitted to conduct vehicle collection and returns from the airport terminal forecourts. Approved Operators must hold the Safer Parking,
ParkMark
award for all car parks used and be approved by Trading Standards
Buy With Confidence Scheme
.
Connecting to/from Heathrow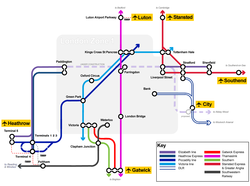 National Express buses are your fastest option (with
direct
buses between the airports), but you should still allow plenty of time to make the transfer as you will have to re-check luggage at the other airport. Factor in that traffic on the M25 is often heavy or worse adding to travel time. Buses may charge large fees for overweight, out-sized or excess numbers of luggage, and National Express allow only one small piece to carry-on.
There is no direct
train
route between the two airports and there are at least 3 indirect options to consider (however, direct bus and car routes exist):
Gatwick Express or Southern trains to Victoria Station, then catch the Tube's District line to Hammersmith (take a train with destination "Ealing Broadway" or "Richmond"), then the Piccadilly Line to Heathrow, being careful about which terminal you need - there are different Tube stations for terminals 1, 2, 3 and terminals 4 and 5 (a long trip). Large luggage can be a challenge whenever the Tube is busy, and wherever stairs must be negotiated between street and station platforms, especially true at Victoria.
Gatwick Express or Southern trains to Victoria Station, but once at Victoria station, take the Circle line to Edgware Road, getting off at Paddington station, then hopping onto Heathrow Express from there.
Thameslink train to St Pancras station, making your way upstairs then getting the Tube from the King's Cross St Pancras tube station to Heathrow on the Piccadilly line, again, being careful about terminals.
No through fare for the three different modes of transport is available.
If you have a car and want to drive, leave Gatwick and take the M23 north towards the M25, then take the M25 clockwise until junction 14. There will be plenty of signs to follow for Heathrow from there (a little plane symbol followed by the word "Heathrow"). Going the other way around, leave Heathrow and take the M25 anti-clockwise until you get to junction 7, then take the M23 southbound to junction 9, follow signage from there.
Get around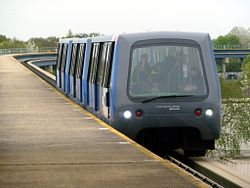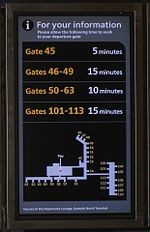 To the gates
Some gates require
long
walks, so make sure you give yourself enough time to get there, especially if you have considerable carry-ons or mobility challenges. This includes time for security check and (in South Terminal) passage through/around the two levels of stores and restaurants air side. In the North Terminal, for example, it takes 15 minutes to walk to gates 101-113 from the departure lounge. As a (fun) addition, there are many travelators in the corridors to the gates in both terminals.
Check at your airline check-in counter beforehand for how long it takes to get to your gate if then known. Later, check any of the many, often-updated departure boards to see when your gate is announced; they don't announce gate assignments over speakers.
Terminal transfer
There is a free
automated people mover
(nicknamed incorrectly, but commonly, as a "monorail") which runs between the South Terminal/railway station and the North Terminal outside security. It is excitingly called an "inter-terminal shuttle service" by the airport website. To access it, follow signs for the other terminal. So if you're in the South Terminal, follow signs for the North Terminal and if you're in the North Terminal follow signs for the South Terminal. It runs constantly, with just a 2-minute or so wait, and a 2 minute ride.
Bus transfers
Hotels around the airport contract transfer to terminals to local private company. Cost around 3 pounds. Be aware drivers known to be dishonest to foreign travelers, such as giving change in old (recently out of circulation) notes and coins.
Wait
Lounges
British Airways Club

British Airways First
Eat and drink
Both terminals have many restaurants and food outlets in the public space and past security checks. There are also places like McDonald's and Starbucks available in the terminals. Mini-supermarkets, such as
Marks & Spencer's
, are available in both terminals before security, and
Boots
selling sandwiches and crisps is in both terminals after security (and before security in the South Terminal).
There are water fountains as you leave North Security. The upper level of South Terminal departures has a water fountain hidden in the corridor next World Duty-Free.
South Terminal
North Terminal
Buy
Shopping opportunities are plentiful in both terminals, with slightly more stores in the South Terminal. Per the article for
duty-free shopping
, such stores here are dominated by just one firm. Though well-stocked with a wide range of products, they reflect little competition, but do help you avoid UK taxes. You are also, as is common, forced to walk through a sparkly duty-free shop immediately after security and before the departure lounge. For those with scent allergies, see "Cope" below.
Currency exchange desks at Gatwick (both groundside and airside) are run by Moneycorp and offer about the worst rates you'll find anywhere. There's a 40% spread between "buy" and "sell" rates for major currencies, so you lose a fifth of your money on every trade, eg in Sept 2017 they were buying €1 for £0.98 and selling for £1.36. A downtown exchange should have no more than 20% spread. Note also that UK banknotes are changing, see under "United Kingdom: money".
Connect
45 minutes
free WiFi
is available. Connect to the Gatwick Free wi-fi network and logon to myGatwick. You can create a myGatwick account in advance. There is also pay-for Boingo WiFi and Surfbox internet terminals with printers (10p per minute, 50p per page).
Cope
The North and South Terminals have
prayer rooms
, located landside, before security.
The South Terminal prayer room is on the third floor, the same level as the entrance to security.
The North Terminal prayer room is on the ground floor near international arrivals.
People who have
scent allergies
may have trouble with departing from Gatwick. After security, passengers are funnelled through a winding path through the duty-free shops, many of which sell lots of perfumes. The airport is planning to open scent-free paths in 2018. Until then, you can contact the airport before arriving to arrange for someone to guide you through a back way.
Sleep
A number of hotels of various categories have set up near the airport; some of them are directly connected to one of the terminals by enclosed walkways sheltering guests from the elements.
At the airport
South Terminal
phone: +44 1293 518080

"Posh" hotel connected to the South Terminal via the short stay car parks, there are rooms, restaurants, and a gym.

phone: +44 1293 566300

address: Buckingham Gate, Gatwick, RH6 0NT

196 rooms over five floors, with a gym. It is surrounded by the South Terminal's numerous car parks, and has a £3 (one way) shuttle service. Reasonable restaurant for diner and breakfast buffet.
North Terminal
phone: +44 1293 567070

A posh hotel with 518 rooms connected to the North Terminal.

phone: +44 8719 846506

address: Povey Cross Road, Horley, RH6 0BE

Not as close to the North Terminal as some of these other hotels, but it is still close, and has a shuttle bus running to each terminal. The hotel has double and family rooms.
Further afield
It may be easier to take a taxi to the airport terminals from these nearby hotels, see the
taxi
section above and also check if the hotels have the numbers of any local taxi firms in case these are cheaper.
Nearby
Map of places with Wikivoyage articles nearby