Georgia (state)
Georgia
is a
US
state in the
South
. The state was named after Great Britain's King George II and was the last of the 13 original U.S. colonies. Georgia's capital,
Atlanta
, is the ninth largest metropolitan area in the
United States
. The state is also known as the
Peach State
and
Empire State of the South
.
Regions
Cities
- home of Albany State University and Flint River Center
— the state's capital, largest city, and home of CNN, Coca-Cola, Delta Air Lines, UPS, and a myriad of other smaller national companies
— home of the University of Georgia's main campus
— home of Augusta National Golf Club, site of the Masters
- home of Columbus State University, the Chattahoochee RiverWalk, and the National Civil War Naval Museum
— carpet capital of the world and home to the Northwest Georgia Trade and Convention Center, which showcases the Georgia Athletic Coaches' Hall of Fame
— cherry blossom capital of Georgia and home of the Allman Brothers Band Museum.
— Georgia's first established city, first state capital, and a heartland of colonial culture. Savannah was the host city for the sailing competitions during the 1996 Summer Olympics held in Atlanta.
— called the Azalea City, it is not far from Wild Adventures, the only amusement park in south Georgia
Other destinations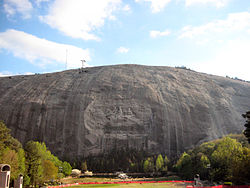 — Gateway to the mountains and the Toccoa River
Toccoa Falls , One of Georgia's Seven Natural Wonders
Understand
History
During the
American Civil War
, Georgia was hit hard by William T. Sherman's "march to the sea" and a lot of its infrastructure was destroyed. However, soon after the state rebuilt and by the turn to the twentieth century it was one of the more advanced states in the South. During the Civil Rights movement of the 1950s and 1960s Atlanta came to be known as "the city too busy to hate" and native Georgian Martin Luther King, Jr. was one of the most important civil rights leaders. Georgia has shed the image as a largely agricultural state that it had in the 19th century and is home to the headquarters of several major corporations as well as the busiest airport in the world,
Hartsfield–Jackson Atlanta International Airport
in Atlanta. While most people thinking of Georgia immediately think of Atlanta, there is still a lot the rural Georgia of yore left and Southern hospitality has lost nothing of its charm and is - contrary to common prejudices - more often than not extended to people of all origins and creeds.
Get in
By plane
Hartsfield–Jackson Atlanta International Airport
(
ATL
) is the world's busiest airport and the main hub for Delta Air Lines.

By car
Georgia borders Florida, Alabama, Tennessee, North Carolina, and South Carolina. The main interstate highways are I-20, which goes east-west and continues to South Carolina and Alabama; I-75, which goes north-south and continues to Tennessee and Florida; I-85, which goes northeast-southwest and continues to Alabama and South Carolina; I-16, an in-state route that links Macon with Savannah; and I-95, which hugs the coast and continues to South Carolina and Florida. With the exception of I-95 and I-16, all of these highways go through Atlanta.

By train
Amtrak serves Atlanta (unsurprisingly as the city was founded as a railroad terminus). Train travel in the USA in general has entered a decline in the 1950s and Georgia is no exception, however since about the year 2000 trains are regaining some popularity, with Amtrak ridership growing continuously and now almost fifty percent higher than at the turn of the millennium. Trains are still unbeaten in terms of legroom, views and people you can meet. While traveling by train in the US is not necessarily fast or cheap, it is still a uniquely stylish experience and a great way to get around if time is not critical. For more on schedules (often few and far between) and prices (not necessarily cheaper than flying) see Amtrak's website.

By bus
Georgia is served by Greyhound and Megabus.

Get around
See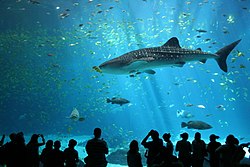 Do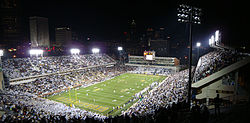 Festivals and events: Events and festivals in Georgia include the Atlanta Dogwood Festival, Oktoberfest in Helen, the Peachtree Road Race in Atlanta, and the St. Patrick's Day Parade in Savannah. There are also fan conventions in Georgia, the most famous being Dragon Con in Atlanta.
Hiking: There are numerous opportunities to hike in Georgia. Popular places to hike in northern Georgia include Kennesaw Mountain, Sawnee Mountain, Cloudland Canyon, Tallulah Gorge, and Yonah Mountain. The Appalachian Trail begins in the north Georgia mountain and runs 75.2 miles from Springer Mountain to the North Carolina Border. Other long trails in the state include the Pinhoti Trail, the Silver Comet Trail and the Benton MacKaye trail. Hiking is not exclusive to north Georgia, as there are hiking opportunities in other places throughout the state including Sweetwater Creek State Park west of Atlanta, F.D. Roosevelt State Park near Warm Springs, and Cumberland island on the Georgia coast.
Lakes, rivers and beaches: Most lakes opened to recreation in Georgia are man-made reservoirs. Notable lakes in Georgia include Lake Lanier, Lake Allatoona, Lake Blue Ridge and Richard B. Russell Lake. Beaches are located on Georgia's barrier islands, in addition to the lakes. Many of Georgia's rivers are opened to boating. Popular rivers for boaters include the Chattahoochee River, the Etowah River and the Toccoa River.
College sports: Notable college sports programs in Georgia include the Georgia Tech Yellow Jackets of Atlanta, the Georgia State Panthers of Atlanta, the Georgia Southern Eagles of Statesboro and the Georgia Bulldogs of Athens. These four schools are members of the Football Bowl Subdivision, the highest division of college football, and also sport competitive teams in other college sports such as basketball and baseball.
Professional sports teams: Several professional sports teams play in Georgia. Atlanta is home to the Atlanta Falcons of the National Football League, the Atlanta Hawks of the National Basketball League and the Atlanta Braves of major league baseball. Atlanta is also home to the Atlanta Gladiators, a minor league hockey team that plays in Duluth. There are also a minor league baseball team in Rome (Rome Braves) and Gwinnett County (Gwinnett Braves).
Shopping: There are numerous malls in Georgia, including the Mall of Georgia in Gwinnett County, Lenox Mall in Atlanta and the several outlet malls located just outside Metro Atlanta. Other places to shop include Atlanta Station, Underground Atlanta and City Market in Savannah.
Theme parks: Major theme parks in Georgia include Six Flags Over Georgia near Atlanta and Wild Adventures near Valdosta
Eat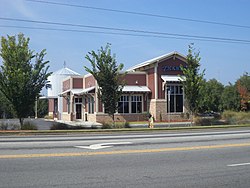 Several fast food chains are based in Georgia. Chick-Fil-A serves a variety of chicken products such as chicken nuggets, chicken biscuits and chicken sandwiches. They are also well known for their waffle fries and lemonade. Like Chick-Fil-A, Zaxby's also serves chicken products, such as chicken fingers and sandwiches. Waffle House, as its name suggests, are famous for their waffles, but they serve the usual diner fares such as steaks, eggs and burgers. The Varsity, which has far fewer locations than Chick-Fil-A or Waffle House, is known for their chili dogs and frosted orange.
For dessert in the summer, expect to see peach pie or peach cobbler on the menu. During the rest of the year, you may find Coca-Cola cake. Yes, that Coca-Cola.
Drink
Coca-Cola was invented in Georgia, and as a result is very popular in the state. Sweet tea is a staple of the South and is served everywhere in Georgia, from fast food chains to Atlanta's high-end restaurants. Varieties of sweet tea include mint, raspberry and lemonade flavorings.
A popular alcoholic drink is the mint julep, a combination of mint, bourbon, sugar and water. There are also vineyards in the north Georgia mountains.

Respect
Don't make jokes about Jim Crow or Sherman's March to the Sea. Whistling "Marching Through Georgia" will not win you friends (this may seem obvious, but the lyrics and origins are less well known than the tune)

Stay safe
While less and less common, racial problems still exist.

Cope
Dress
Like much of the South, Georgia can be oppressively hot and humid during the summer. Shorts and flip-flops are widely accepted indoors and outdoors during the summer months.
In the same vein, at nice restaurants you can often get away with shorts as long as you wear shoes and a collared shirt. This is easier during the day than in the evening.
Unfortunately, many people and offices run the air conditioning down to 70F in the summer, and crank the heat up to 80F in the winter. As a result, dress that's appropriate for outside may not be suited for indoors. The best way to cope is to dress in layers, so you can adjust as needed.

Go next