Gjakova
Gjakova
/
Gjakovë
(
Albanian
)
Đakovica
(Serbian) is a city in western
Kosovo
with about 101,000 inhabitants.
Understand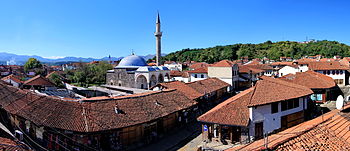 Gjakova is a center of culture and learning in Kosovo. It was established as a trading town, sporting the largest bazaar in the Balkans, called
Çarshia e Madhe
(the
Grand Bazaar
). The tradesmanship spirit and some of the trades practiced still remain in the city. The city is centrally located in the
Dukagjin Valley
of western Kosovo, equal distance between the cities of
Prizren
to the south and
Peja
to the north. It also has a historic link to the Gjakova Highlands, now across the border in northern Albania.
The townspeople pride themselves in their sense of town music practiced, humour and sarcasm which distinguish it from the rest of Kosovo and enforce the local character. Gjakova has contributed several important leaders to the history of Kosovo, such as World War II partisan and post-war leader Fadil Hoxha and communist Yugoslav Presidency Chairman Mahmut Bakalli, as well as to the cultural scene.
Gjakova was badly hit by the Kosovo War of 1998–99, fought between Kosovo Liberation Army guerrillas demanding the independence of Kosovo and Serbian forces. Around 75% of town's population was driven out by the Serb Army during the war, and many of the city's homes and important monuments were burnt down or otherwise destroyed. After the war, much of town's ethnic Albanian inhabitants returned (who make up to 98% of the population). Many of the stores in the old-town area, locally known as
Çarshia e Madhe
, were rebuilt.
While in Gjakova, make sure you talk to the locals, especially the young ones, since they are more proficient in English. And you will hear a story about every corner of the city.
The town has sizable diasporas in Switzerland, Germany, and Belgium. Especially during the summer months, you might see many expensive foreign cars from these countries circling around town. The foreign family members return here for vacation as well as for marriages because this way the whole family can join the wedding. The Çarshia e Madhe has many shops specialized in wedding attire.
Tourist information
Tourist Information Office
Get in
By bus
The inter-city bus station is at the entrance of the town when coming from Pristina, with easy access to the town.
If you are in
Pristina
, a bus heads to
Gjakova
every half an hour (€4, 1.5 hours), also from
Prizren
(€2, 1 hour) and from
Peja
(€2, 40 minutes) every 15 minutes.
If you are in
Tirana
, there are buses available directly to
Gjakova
, which leave at 06:00 and 15:00, and costing around €15.
If you are in
Shkodra
, you can have an adventurous route via Lake Koman. Get a furgon (minivan) at 06:00 from
Shkodra
to Koman. There you can catch the passenger or car ferry to Fierze, then get a furgon to Bajram Curri and another furgon to
Gjakova
, arriving around mid-day in Gjakova.
If you are in
Skopje
, take the bus going either to
Pristina
or
Prizren
, then from there take another bus to
Gjakova
.
By plane
Pristina International Airport Adem Jashari (
PRN
) is 65km away from Gjakova. There you can get a taxi to the roundabout in Fushë Kosovë on the outskirt of Pristina and wait there for the Gjakova bus passing by from Pristina.

By car

From Pristina, Gjakova is 90 km away on a partly highway road. The road from Montenegro will take you first to Peja, Gjakova is another 36km to the south. If you come from Albania, the easiest way is through the highway Durres - Kukes - Prizren, then taking the Gjakova exit with another 25 km on the Prizren-Gjakova regional road.

Get around
Since the city is not that big, the best way to get to see it is by walking. Taxis are quite inexpensive: you can get around the city for €2-3 at most.
Qiri

phone: +383 44 117 111

Star Taxi

phone: +383 44 963 960, +383 390 330 960
By bike
Gjakova is the bike capital of
Kosovo
, and itself is quite suitable for biking.
See
Some monuments in Gjakova had to be repaired or rebuilt after their destruction during the war. Enjoy the walk through the scenic old town. There, you should visit the guesthouse/restaurant
Hani i Haraqisë
which sits on a small street with shops specialized in woodwork. The church and the main Hadum Mosque have also been rebuilt and can be visited (opening times change).
The Grand Bazaar
The Grand BazaarIt is one of the rarest of its kind. An architectural and cultural complex, with a length of 1 km, including a space of about 35,000 m 2 , it holds a large number of crafts-work shops.
Some of the main handicrafts:
Production of arms - Gunsmiths
Silversmiths
Tailors ("Terzinjtë")
Curriers ("Tabakët)
Woolen white hat ("Qeleshe") craft
The Haraqia Inn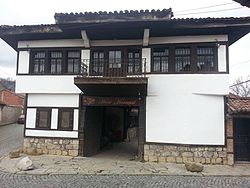 Haraçia's InnBeing situated in the southern part of the Bazaar (15-20 minutes on foot), the Haraçia Inn is one of the oldest objects in Gjakova. It has a characteristic wooden construction style, with a beautiful balcony or "çardak". Having two floors and a wonderful yard, it has almost saved the original shape, while nowadays it is exploited as a museum-restaurant, where people can be served with traditional foods.
Religious monuments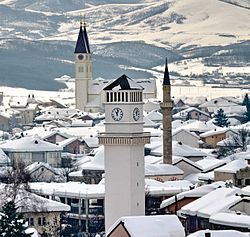 Mosques
Hadum MosqueHadum Mosque (Xhamia e Hadumit) is one of the very first monuments which marks the history of the town of Gjakova. Built during 1594-95, it represents a cultural, educational and religious center of this area. After sustaining damage during the 1999 Kosovo War, it was reconstructed and is now open not only for religious and educational purposes, but also for touristic and cultural visits. Just 10 minutes on foot away from the center of the city, on the road of the Old Bazaar of Gjakova (also known as the Grand Bazaar of Gjakova) (Albanian: Çarshia e Vjetër e Gjakovës or Çarshia e Madhe e Gjakovës).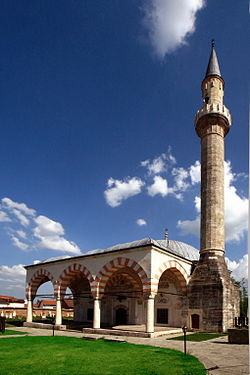 Churches
Saint Paul and Saint Peter ChurchSaint Paul and Saint Peter Church (Albanian: Kisha e Shën Palit dhe Shën Pjetrit) is one of the tallest monuments in Gjakova, which can be seen from different points of the town, and can be reached 25-30 minutes on foot (Just in front of the Saint Anton (Shna Ndou) Church).
Tekkes
The Grand Autocephalous Balcanic TekkeOne of the oldest monuments built in Gjakova, showing a unique style of building 10 minutes on foot away from the center.

The Bektashi TekkeWell-known not only in Gjakova, but more widely in Kosovo. What characterizes the Bektashi are their unique Islamic ideology, indicating the diversity of beliefs in Kosovo and the prevalence of religious tolerance. Babai, the spiritual leader of the tekke, always takes pleasure in showing the tekke and talk about its history.
Historical monuments
Bridges
The Terezi BridgeAn 18th-century bridge with a length of 190 m and eleven arches. Located in the southeastern part of Gjakova, on the road to Prizren, can be reached easily by car, bus, or taxi in about 15-20 minutes.

The Tabak BridgeThe Tabak Bridge built in 1771, lies over River Erenik, and used to be a bounding bridge between Gjakova and Shkodra. It has an attractive scenery.
Traditional Houses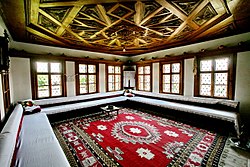 The houses below are characterized by interesting and unique architecture, of mainly traditional and oriental style.
The house of Rexhep Haxhi IsmailiThe house of Rexhep Haxhi Ismaili is now used also as the museum of Gjakova. 10 minutes on foot from the center, it is just to the right side of the main road, in front of the Gjakova municipal government building.

The tower house (kulla) of Abdullah Pashë Dreni3-5 minutes on foot from the center, at the entrance of the Grand Bazaar of Gjakova. It serves as the Tourist Information Center.
Natural places
Shkugëza ParkThe Shkugëza Park (Albanian: Parku i Shkugëzes; or just Shkugëza) is located 3 km from the city. It has a large area of planted pine trees, with bike trails, walking trails and daily-stay corners. Four restaurants are in the area. It can be reached in 10 minutes by car, 20 minutes by bicycle or 45 minutes on foot.

Çabrati HillThe Çabrati Hill (Albanian: Kodra e Çabratit; or just Çabrati) is also known as the city's hill. With several restaurants and night clubs, you can enjoy the beautiful view of the city at any time of the day, especially at night. A 30-minute walk from the city is rewarded with an impressive vista at the top. With exception to small cars and bicycles, other vehicles are not recommended due to the steepness of the hill.

Radoniqi LakeClose to the Gjakova Airport, 7 km away. Taking a cab to the lake should not cost more than €15. As it's the area's source of drinking water, swimming is prohibited!
Do
Gjakova is surrounded by beautiful hikable mountain trails lush with greenery and water.
City tour

phone: +383 390 327 850, +383 45 676 015

address: Hadum Aga, n. n.

The tour includes all the major cultural monuments starting from Avdullah Pashë Dreni Kulla followed by the Shejh Emini Tekke. The visit continues to the Grand Bazaar, to the grain market, the handicrafts: quilt workers, saddlers, tobacco pipe makers, a visit to the 16th century Mosque of Hadum Aga then a traditional house for a tea break. The tour continues with a visit to a group of craftsman who create handmade wooden boxes. Also included is an opportunity to visit the Bektashi Tekke and the stories of the "Babai" (Spiritual leader of the Tekke). The visit is followed by a visit to the 16th century Hani i Haraçise and the Ethnographic Museum, an old traditional house with many interesting wooden carved pieces.

Radoniqi LakeRadoniqi Lake is the drinking water source of the town, therefore swimming is prohibited!

Guided hikes by Mountaineering Society Pashtriku

phone: +383 44 246 769

address: Sylejman Hadum Aga nr. 101, Gjakova

Mountaineering club in the area going on regular hikes every Sunday. Dedicated guided hikes can also be provided by arrangement.

phone: +383 44 188 498

An MBA graduate in Austria, multilingual and well accustomed to global cultures with long experience in tourism industry, business management and consulting, both in Austria and Kosovo.

phone: +383 45 329 794

City tour guide Fisnik Arllati

phone: +383 45 433 943

phone: +383 44 128 830
Buy
Metal handicrafts, utensils and engravings can be bought at various places around town, including at the Grand Bazaar.
Plis
, the white traditional Albanian hat, can also be bought starting at €5.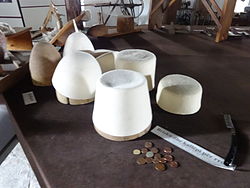 Eat
Cuisine in Gjakova is not very diverse, but offers the traditional Kosovo cuisine in a modest setting and at reasonable prices.
Hani i Haraçisë

phone: +383 44 236 838, +383 44 344 719

address: Qamil Bakalli st.

Han means roadhouse, a role it served for some 200 years, but this object has been turned into a restaurant for the last 50 years. Tradional qebaba (Balkan kebabs) is recommended. Next door Hani i Vjetër which is part of the complex has an even better atmosphere although the food is not as good. If visiting in the morning, ask for paqë (beef soup) here.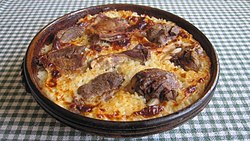 phone: +383 44 129 159, +383 49 129 159, +383390 330 444

address: Ismail Qemaili st. Nr. 9, Gjakovë

Tradional oven-cooked dishes here are the best in town and meat dishes are of high quality. Accompany your meal with strong local brandy called rakija.

Taverna BOEM

phone: +383 44 714 013

Oxygen

phone: +383 49 404 730

address: Martin Camaj st.

Eat in relaxed family-friendly atmosphere with a great view of the city. Standard meat-based plates are served here.
Drink
D.E.L. House Bar

address: Marin Barleti st.

It's a nice place to have a great party, especially during the weekends.

Cacoo Bar

phone: +383 49 775 075

address: Ismail Qemajli st., #26

Have a coffee here every day in the center of the city near the Post Office.

Hapësira Bashkëpunuese

phone: +383 44 439 410

Hapësira Bashkëpunuese is a combination of a bar café, a library and of a place for various performances (start-up events, alternative lectures, art exhibitions).

Shpija e vjetër Lounge Bar

phone: +383 44 845 616

address: Mit'hat Frashëri st.

During the weekdays you can have a snack or coffee, but during the weekend you can have a nice party here. Open from 08:00-24:00.

Retrospektiv

address: Ismail Qemajli st, nr. 58 (the Grand Bazaar)

It's known for being the only rock café in the town and for being open till the last guest leaves.

Index BarLocated on top of the city, the Çabrati hill, from where during the day, while having a coffee, you can enjoy a beautiful view of the whole city, and throughout the night (especially on the weekends) there you can also have a great party.

HD Club

address: Gjon Buzuku st.

Frequented by the youth of all over Kosovo, it is known as one of the best nightclubs in the country.

N'Pub

phone: +383 44 601 331

address: Mother Theresa st. (Small Bazaar)

It is an indoor nightclub which is open only during the winter season. You can find there some great parties with live music and cheap beers.
Sleep
Several choices are available for sleeping. The costs of sleeping ranges from €20-50 per night.
phone: +383 44 129 159, +383 49 129 159, +383 390 330 444

address: Ismail Qemaili st. Nr. 9, Gjakovë

Çarshia e Jupave Hotel combines the traditions of the old city with modern Kosovo luxuries by offering a comfortable place to rest, dine, shop and do business. Çarshia e Jupave Hotel is based on a 60-year long Jupa family tradition. Services: 24-hour reception desk, room rervice, wake-up service, electronic key-system, WiFi Internet access, non-smoking rooms, heating and air conditioning in your room, lockable safe, laundry and dry cleaning services, fax and copy services, smoke detectors, secure luggage storage, elevator, security, camera system, secure underground private parking, taxi reservation service, credit cards are accepted.

Hotel Pashtriku

phone: +383 390 327 101

address: Nëna Terezë st, Gjakovë

Hotel Pashtriku is the biggest hotel in the city. Services: free Wi-Fi, free parking, bar, restaurant, 24-hour front desk, lift, room service, conference room, fitness center, exchange service, laundry service, indoor pool.

Hotel La Villa

phone: +383390 327 692

address: Shkugez, Gjakovë

2 km away from the city center. Built in 2013 in the surroundings of Shkugëz forest, suitable for relaxing although weekend summer nights can be loud due to wedding parties. Services: Wi-Fi Internet access, restaurant, pool, bar, parking.

Hotel Jakova

phone: +383 44 580 103

address: Migjeni st. (Blloku i Ri), Gjakovë

Built in 1999 in the new part of town 5 min away from the city center by car.Services: Wi-Fi Internet access, restaurant, parking, bar.

Hotel Metropol

phone: +383 44 388 169, +383 38 734 686, +383 38 734 658

address: Nëna Terezë st., Gjakovë

Services: restaurant (with a diverse cuisine), conference room, banquet hall, reception 24/7, Wi-Fi Internet, underground parking.

phone: +383 44 188 332

address: Hasan Dashi st. no. 31

Hostel-F is a family-run hostel which offers accommodation with 24-hr front-desk, homemade breakfast, free street parking and laundry service.

address: Village Dranoc

Very authentic kulla in the historical stone village of Dranoc. Bed and breakfast with traditional dishes.

phone: +38344608957

address: Mithat Frasheri 86

Guesthouse 1897 is a hostel that offers beds in dorm rooms as well as private rooms. You will experience a comfort stay in recently renovated (2019) traditional city house located just 650 m from the northern entrance of the Grand Bazaar under the foot of Cabrati hill. Guesthouse 1897 offers a spacious rooms and common areas and the opportunity to travel back in time with its mini museum that is exhibited there. Services: 24h check-in, free Wi-Fi, continental breakfast, traditional food, room service, free parking, laundry services, exhibition space and museum space.
Connect
Wireless Internet is widely available in cafés and restaurants throughout the city, although it's a good idea to ask if one is available before you sit down. Free public Wi-Fi is also available around the city through PTK (username: ptk, password: telekomi) and Fibrelink hotspots (no login). Internet cafés are also available at a cost of €0.60/hour with drinks served.
Several private phone calling shops with long-distance calling are available. You may also use the state telco company PTK main Gjakova branch downtown or several of its kiosks around the city to buy calling credit and use phone cabins.
Mobile telephony providers Vala and Ipko provide 3G and 4G internet telephony.

Go next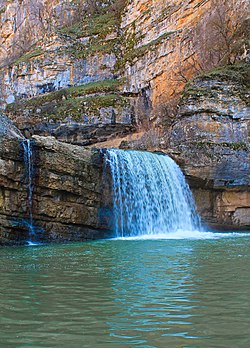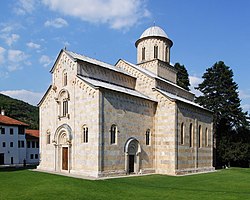 Nearby
The Junik area is home to tradional stone houses called kullas. Inquire at the Tourism Office about guided tours
In Deçan, 20 km northwest of Gjakova you'll find one of Kosovo's four UNESCO World Heritage Site; the Visoki Decani monastery
Rahovec is Kosovo's prominent wine-making region. Inquire at the Tourism Office about guided tours of the area.
Mirusha Waterfalls — About 20 km along the Gjakova-Pristina road, it has 16 beautiful waterfalls and visible stone strata. Take the Gjakova-Pristina bus and ask to be dropped off at Ujëvara e Mirushes then walk ~3km inland. On the way back stop at the restaurant near the road for fish and relaxation.
Valbona Waterfall — It is just across the border in the mountains of northern Albania, and is one of the most prominent natural beauties of northern Albania and quite visited by tourists.
Further away