Gomel

Gomel
(
Belarusian
/
Russian
: Го́мель; also transliterated as
Homel
) is the second largest city in
Belarus
(around 500 000 inhabitants), and is the capital of
Gomel Oblast
.
Understand
Gomel is second largest city in Belarus and one of the main educational centers of country. Modern history of Gomel is highly oriented about the
Chernobyl
tragedy, since city was on major radiation blow after the accident, and most of the citizens still remember it as a turning point in their lives. City history is strongly connected with the development of Slavic culture in this region, as it was founded at the end of the 10th century on the lands of the Eastern Slavic tribal union of Radimichs and was part of Kiev Rus, later Great Duchy of Lithuania and Polish-Lithuanian Commonwealth. Since it is positioned on the strategic way from the North toward the Black sea, Gomel was often raided by armies from east and west, but despite the raids city gain significant cultural influence from Czarist Russia, Poland, Ukraine and Western Europe, since it was on the important trade route to the Black sea.
Today the most interesting place to visit in Gomel is its palace and park around. Situated on the hill over river Sosz, palace represents the heart of the city from where the rest of the city centre extend in the triangle shape determined with two main streets, Lenina and Sovetska. Like most of the Belarusian cities, Gomel suffered heavy damages during the Second World War, and today's shape of the city is almost entirely built after the war. Yet still, old palace is renewed according to its pre-war look and today is standing reminder on the fact that there is no bombs and weapons that can destroy its history and significance.
Talk
Russian or Belorussian.

Get in
See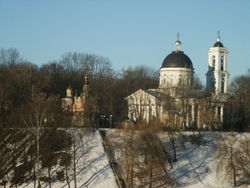 Gomel PalaceA park with marble statues, chapel, winter garden and the Neoclassical church of Sts. Peter and Paul. An image of the residence was featured on the old 20,000BYR bill.

Train station buildingBeautiful neoclassical building with interior decorated in 19th-century spirit and a dominating Lenin statue on the stairs to the upper floors. It is one of the most important train centers of Belarus, as Gomel is on the main line from St. Petersburg to Kiev. There is a statue of an old passenger sitting on a big suitcase with the names of the cities where the express train stops.

Bauman BridgeVery nice bridge over river Sosz with the wide views on the nearby beaches and Gomel Palace. In front of bridge is a monument to a fisherman on a boat.
Museums
Museum of Military Glory dedicated to the military history of the city of Gomel.
Sleep
Hotel HomelNice room, good location. Dialup internet available from room. Staff spoke good English.

phone: +375 (232) 77-41-11

address: Privokzalnaya square, 1

The rooms are quite new and clean. Most of the staff speak English very well and are helpful.
Go next