Gondar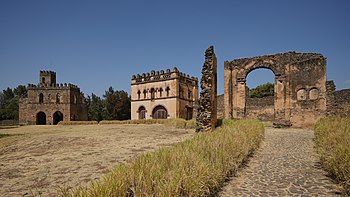 Gondar
(also spelled
Gonder
) is an historic royal city of
Ethiopia
, in the
northern
Amhara region. It was the home of many emperors and princesses who ruled the country from the 12th century to the last decade of the 20th century, including Suseneos, Fasiledes, Empress Mentwab, Iyasu I, Tewodros II and Empress Taitu. Leading the list of its attractions is Fasil Ghebbi (the Royal Enclosure), containing several castles and palaces from the 17th and 18th centuries.
Get in
By plane
Gondar AirportEthiopian Airlines has daily flights from Addis Ababa and Lalibela. Ethiopian Airlines flights are frequently cancelled or rescheduled at short notice, so allow plenty of time if travelling for an international connection. A taxi from the airport is 100 birr per person (May 2019). Alternatively, make arrangements with your hotel in advance. There is no regular minibus service from the airport.
By bus
There are bus services from Addis Ababa, a trip that takes the whole day. Selam (Dec 2014: 435 birr), Sky Bus and Limalimo (March 2015: 420 birr) companies operate fairly comfortable 'luxury' coaches (bring earplugs for when they play movies). Minibuses are available that also make the trip in one day; these are more expensive and are usually booked through your hotel.
As of January 2018, regular buses do not run out of Bahir Dar. You have to try to catch a seat on one of the buses from Addis. Minibuses that claim to take you to Gonder will instead drop you off near Azezo, about 13 km outside of town. Be prepared for an additional 60-80 birr bajaj into Gonder proper.
To come from Axum, you must take an afternoon bus to Shire, spend the night there, and take the dawn bus to Gondar. To go to Axum, take the dawn bus to Shire and change there. You can usually get through in a day. The road between Gondar and Shire is one of the most spectacular in Ethiopia. In 2014 it was being improved and asphalted.
It takes two days to come from Lalibela by bus. Take one of the dawn buses to Gashena and change there to the Bahir Dar bus going west. You can either get off the bus at Nefas Mewcha and take the dawn bus to Gondar the next day, or you can ride it all the way to Bahir Dar and head north to Gondar the next morning. To travel to Lalibela, the bus from Gondar to Gashena usually stops for the night in Nefas Mewcha. There are two afternoon buses from Gashena to Lalibela.
There are two buses a day from Debark, on the way to the Simien Mountains. These leave around 06:00 and 09:00 in both directions.
Get around
The blue and white minibuses run through the city efficiently. There are also some horse drawn taxis called garis. Both are inexpensive.
You can contract a small blue coloured taxi for a day or several days during your visit.
Tuktuks/bajajs (three-wheeled motor vehicles) are ubiquitous and inexpensive: rides around the city shouldn't cost more than 10 birr -and often should be substantially less- during the day time, and no more than ~25 birr at night (Jan 2015).
See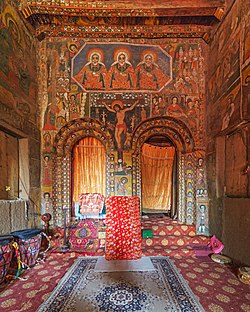 Fasil Ghebbi (Royal Enclosure)The remains of a royal fortified city that was founded by Fasilides (Fasil), emperor of Ethiopia from 1632 to 1667, and was the home of the emperors in the 17th and 18th centuries. Dubbed the African Camelot, the ghebbi (enclosure) contains several castles and palaces and other buildings including lions' cages (now vacant). It is on the UNESCO World Heritage List. You can pay for a guided tour or pay just the entrance fee and explore the whole compound on your own. You can usually stop for a traditional coffee at the entrance. Ticket also includes Fasilides' Bath.
Fasilides' Castle (Fasil Gemb), built in 1640.
Iyasu's Palace, the home of Iyasu I, emperor from 1682 to 1706, the son of Yohannes I and grandson of Fasil. An earthquake and bombings by the British destroyed its once ornate and lavish interior, but the structure remains mostly intact and is the largest in the compound.
Dawit's Hall, built by Dawit III, emperor from 1716 to 1721 and son of Iyasu.
Mentewab's Palace, belonging to Mentewab, empress from 1723 to 1730, the wife of Emperor Bakaffa, Dawit's brother.
Fasilides' BathAcross town from the Royal Enclosure, it once served as the bath for King Fasilides. Today it is used as a baptismal during Timket (January) where a lot of people from all over the country gathers for swimming and mass. Same ticket as the Royal Enclosure. Halfway between the Atse Tewodros statue and Fasilides' Bath is a goat market which is interesting to see. Just before Fasilides' Bath on the same block is a place which serves beer, with a nice garden, next to a weaving workshop which makes fabric sold locally.
Debre Birhan Selassie ChurchOn the eastern outskirts of town, it seems more like a fortress than a church at first glance. This is because the local churches were once vulnerable to attacks by the Sudanese. There are twelve towers guarding this church, each representing one of the twelve apostles. The church itself was built at the end of the 17th century. It is worth visiting to see its amazing ceiling with intricately painted angels, and the other religious paintings covering the walls. Churches like this were once quite common in the area, but this is the only one to survive the Sudanese attacks, making it a real treasure.
Atse Tewodros SquareThe traffic in this busy intersection in the centre of town drives around a statue of the warrior emperor Tewodros II (ruler from 1855 to 1868).
Gorgora
Gorgora is a beautiful small town on the northern shore of Lake Tana about 70 km from Gondar. It has some interesting relics from its brief time as Ethiopia's capital, and the lack of tourists adds to their charm. It is also good for birdwatching. There is an early morning bus from Gondar (20 birr) and occasional minibuses.
Church of Debre Sina. The inside of this 17th-century thatched-roof church is breathtaking, with every wall adorned with biblical paintings.
Monasteries. There are a number of monasteries on the northern part of Lake Tana. Boat hire is best arranged by visiting the Gorgora Port Hotel.
Do
Timkat festival, Epiphany, 19 January. Christian celebration with re-enactments of baptism and dancing.

DhamaPopular boardgame and an extremely good way of mixing with the locals.
Buy
Dashen Bank & Awash Bank has ATMs that accept master card & Visa cards all over the town, one of them at the university.
There is a fairly large market in Gondar, near the bus station, where you can find clothes, spices, etc.
Eat
address: behind the public library, 200 m from the exit of Fasil's Castle

By far the best restaurant in Gondar, beautiful restaurant with great service and amazing tej. If you want atmosphere along with great food (faranji and Ethiopian) this is the place to go. Sometimes has Ethiopian music and dancing at night. This is where all the faranjis (foreigners) go. Tourist/charter groups book tables here every night. A la carte around 150 birr, and in the evenings there is also a buffet at 230 birr.

Master Chef Restaurant

phone: +251 911 097 655

address: same road as Four Sisters, but closer to the enclosure, opposite Belegez Pension

Pretty good food, both Ethiopian and Italian dishes. The fish supposedly comes straight from Lake Tana. Small and cosy place with good service and friendly people. Prices around 150 birr for a main dish.

Roman HotelNot too cosy, but inexpensive and excellent value, try their tibbs wate. They serve meat even during Lent. Injera is at around 25 birr.
Drink
The pure
tej
(without sugar - only from honey),
tela
(
korefe, tiru
) are the local famous drinks. They are also common throughout Ethiopia, particularly in the Amhara region, although there is some sugar. Factory beers of all kinds are found. It is very common to get
Dashen Beer
, as Dashen Brewery is in Gondar.
There are a number of bars and clubs with music and dancing on the street running down the slope from Walia Ibex roundabout (with a statue of an ibex in the centre) towards Atse Tewodros Square. The
Walya
club is on the corner of the ibex roundabout; down the slope there are the
Balageru
, the
Atse Bakafa
and others.
Café OlympiaGreat local coffee place oposite from the bus station. 5 birr for a coffee

Rettina CoffeeGreat coffee place for a lunchbreak. Near O-shape Hotel.
Sleep
Prices start at 20 birr for very basic rooms.
Meat house is a bar, brothel, butcher, restaurant and hotel with a charming atmosphere. Only 20 birr a night.
Roman Hotel. From 60 birr (single self-contained), no water, excellent food, meat during Lent.

Circle Hotel

address: right in the centre of town

Check your room carefully for working bathroom fixtures and cleanliness before agreeing to take it.

L-Shape HotelReasonable hotel with average but overpriced restaurant serving mostly Western food. This is probably the best bang for the buck hotel in Gondar (maybe even Ethiopia). Standard is decent (intermittent power, intermittent Wi-Fi, no bugs, clean), but don't expect modern western standard.

Taye HotelIn the city centre, just around the corner from the Palace. Still with kinks to work out, but the most upmarket option available in Gondar.

Goha HotelFormer Ghion (government) hotel, so it's old - 1977. However, rooms are comfortable and clean. Hot water is not always available. Food in the restaurant is very good. There is a relatively clean pool. An ATM is available. It has excellent views, as it's on a hill overlooking the city.

Hotel MichaelAlmost next door to L-Shape hotel, Michael Pension is another option for those looking for a cheap, generally clean hotel with hot water. Some of the rooms do smell like stale cigarette smoke and can be a little noisy due to their situation to the staircase (but are otherwise fine), so always check the rooms before paying. Staff are friendly but English proficiency can vary greatly. Cheapest singles from 200 birr/night (high season, Jan 2015).

phone: +251-581-260073

address: Fasil Street.

Lovely hotel with beautiful views of the surrounding mountains. The rooms and bathrooms are big, modern, and tidy. The staff are incredibly friendly.
Gorgora
Gorgora Port Hotel, +251 58 467-0003. Has a relaxed sleepy feel about it. The three bedroom cottages right by the lakeside are highly recommended (300 birr). There are also rooms in the main building s/d 150-190 birr.
Go next
Simien Mountains
are a 3-hour bus journey north of the city. Treks in the mountains can be arranged in Gondar, and you will be approached by many touts offering a wide variety of treks. The advantage of using their services is they may be able to put you in a group of other travellers, which will cut costs, and they can arrange for private transport to and from the park. Tell the touts immediately upon arrival in Gondar that you are looking for a group and they will try to find other tourists. The disadvantage of booking with a tout instead of an agency is that they may put you on a bus to Debark instead of Sankebar (an hour further into the mountains). Make sure you double check with the driver before getting in the car. They can also arrange to drive you to a campsite and pick you up from another, which is useful if you are short of time.
It is also straightforward to arrange everything yourself, and it is certainly cheaper if you aren't splitting the costs with anyone. Debark is the staging point for treks in the Simien Mountains.
Well organised, if expensive, trips to the Simien Mountains can be arranged in Gondar through Seyoum at Explore Abbysinia Travel. His office is underneath the Circle Hotel, facing away from the main road. He can also organise good value guided tours of Gondar, which is worth doing as a guide is effective at warding off unofficial guides and other hassles.
Another option for organized Simien Mountain treks is through Bwahit Travel and Tours run by Ephraim at Fasil Lodge. As mentioned earlier, self-sufficient travelers can independently arrange a tour at the park office in Debark; however given the services (guide, cook, transfers to/from Gondar to the Simien Mountains, etc.) included in the tours organized through Ephraim's company, the prices are virtually the same as if one arranged the same thing independently.
Daytrips to the Simien Mountains from Gondar can also be arranged, but you won't have time to do much other than step out of your 4WD for a few minutes to snap some pictures.