Gothenburg
Gothenburg
(Swedish:
Göteborg
) is
Sweden
's second largest city with 570,000 inhabitants, and about 1 million in the metropolitan area. The city lies on Sweden's west coast, at the outlet of the Göta river. Gothenburg is Sweden's largest industrial city with companies such as the Volvo Group and Volvo Cars, as well as Scandinavia's largest port. While the port and factories employ fewer people, the city prides itself in hosting numerous national and international sporting and music events such as Gothia Cup, Partille Cup and Way out West. Gothenburg also has the Sweden's largest amusement park, Liseberg.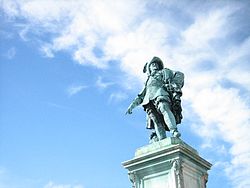 Understand
Gothenburg is a fairly green city with parks and a large river bisecting the city. Built after being founded by royal decree in 1621 it was modeled after the Dutch city style, with plenty of canals. Gothenburg has many nicknames that allude to its canals such as "little London", "little Amsterdam", and "little Venice". Early on Gothenburg was famous for its port and trade and has prominently hosted the Swedish East-India Company. Due to its historically industrial character Gothenburg has had strong working class associations, being known for its friendly yet brusque "
goa gubbar
". This together with its large port has given rise to the moniker "Marseille of the North".
Today, with over 50,000 students in the city and two major universities it has a young side with plenty of bars and night-clubs. Gothenburg has a reputation for being a very friendly place, and more welcoming than
Stockholm
, the Swedish capital.
History
Gothenburg is at the mouth of the river Göta älv.
Lödöse
, some upstream from Gothenburg was one of the largest cities in Sweden during the middle ages, and is considered a precursor to Gothenburg. During the middle ages the mouth of Göta älv was controlled by Sweden, while
Bohuslän
immediately north of it was
Norwegian
and
Halland
to its immediate south was
Danish
. The area thus became a tripoint of the three kingdoms. In order to consolidate Swedish control of the area, Älvsborg's fortress was constructed near modern day Gothenburg. Several failed attempts were also made to build a city in the area.
The modern city of Gothenburg was built in 1621 by the Swedish king Gustav II Adolf. During the 17th century Sweden conquered Bohuslän and Halland, thus making Gothenburg the center of an expanded western Sweden. During this era the older Danish Älvsborg fortress was demolished. It was replaced by a new castle, ingeniously called New Älvsborg fortress, on an island in the mouth of the river. Gothenburg eventually became a major gateway into Sweden, and one of the busiest ports in the Nordic countries. As the largest port in Sweden Gothenburg became the seat of the Swedish East India Company in the 18th century, and a hub for American emigration in the 19th century. During this era the city also became heavily industrialized, particularly as a center for the Swedish shipbuilding industry. Its large port, strong trade community and proximity to
Marstrand
meant the city had a large Jewish and international community, with the first Jewish association forming before that of Stockholm.
With rising competition from foreign ship yards in the 1900s, many of the dry docks closed down in the 1970s. Much of the inner harbor area has changed from industrial ship building to high technology and education, representative of the general change in the city. Today Gothenburg has international sporting events, concerts, and conventions. Being an industrial center, Gothenburg has been politically dominated by the left-wing Social Democrats for many years.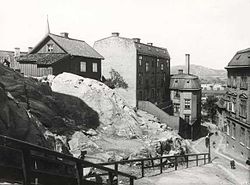 In the 1960s with Sweden investing heavily in affordable housing with
Miljonprogrammet
large parts of the working class town was demolished. Much like parts of Södermalm in Stockholm, Masthugget was an entire district comprised nearly exclusively of small red-painted wooden houses, some of which had stone-laid ground floors, so called
Landhövdingehus
. Today such houses can only be found at
Gathenhielmska kulturreservatet
by Stigbergstorget in Majorna, as well as on some of the islands in the
Gothenburg archipelago
. Gothenburg is famous for its Landshövdingehus of which more upscale housing remains in Haga, Gårda and Majorna.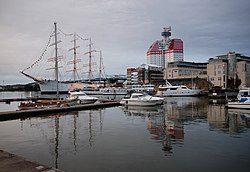 People
The working-class history is easily visible, for example in the harbor area, especially on the northern riverfront of Hisingen and north of the city center on the southern riverfront in Gullbergsvass. Before the 1970s there were few fashion houses or posher cafeterias, but that has changed.
The Gothenburg dialect is associated with cheerfulness and witty, if pun-laden humour, with many humorists classically from Gothenburg, often of the "
goa gubbar
" (lit. "good guys") stereotype, working class and somewhat fat. The connection to Britain has been said to be behind the high frequency of the male given name Glenn.
Like
Marseille
in
France
there is some animosity towards the capital, with those who move there sometimes being called "traitors".
Climate
Like most of southern and coastal Sweden, the city is best visited during springtime as well as in the summer. The climate is temperate with mild winters and warm, but not hot summers. Because it is located on the west coast by the sea the climate is milder and rainier in the winter than Stockholm, but comparable to Copenhagen. Snow is not a given in winter, for
real Scandinavian winter
, visit
Dalarna
or
Norrland
.
In other words, May to September tend to have the most comfortable weather. From Midsummer to the end of July, many inhabitants leave the city, and some venues close for summer, making the city more dominated by tourists.
Tourist information
Gothenburg offers the
Gothenburg City Card
, which allows entry into many tourist attractions, grand houses, museums as well as offering free travel on trams and buses and free parking. Among attractions covered are Ringlinien vintage train, admission to Liseberg, Universeum, free travel with Paddan boat, boat trip to New Älvsborg Fortress, guided tour by bus, Museum of World Culture, Gothenburg Natural History Museum, Gothenburg City Museum, Gothenburg Art Museum, Röhsska Museum, Maritime Museum Aquarium, Medical History Museum, the Sports Museum, Maritiman, Casino Cosmopol, Gothenburgs utkiken, Guided tour of Gunnebo House, the Garden Society of Gothenburg, Greenhouses in the Botanical Garden, Röda Sten, Stinsen Sightseeing, Aeroseum, Volvo Museum, Mölndals Museum. This card is available to people's mobile phones, making it not only cost-effective and convenient.
In case official tourist information is unavailable, Gothenburgers are usually more than willing to help.
Get in
By plane
The city's international airport, Landvetter, flies mainly to European cities. To fly in from other continents, you must connect at a larger airport offering intercontinental flights. Most carriers offer connecting intercontinental tickets.
There are two coffee shops, burger fast food service, and a newsagent land-side. Air-side you can find a few cafes, restaurants, bars, gift shops and duty-free shops. There is quite little shopping. Foreign exchange facilities are available on both sides of security. The airport provides free Wi-Fi.
Most of the major car rental companies have facilities opposite the airport exit. There is
a hotel
within walking distance (beyond the car rental facilities).
There is a
Flygbussarna
bus service from Landvetter into the city. It runs every 15–20 minutes, costs 95 kr one way (185 kr return) if you pay online (otherwise it is 10 kr extra). The journey takes approximately 20–30 minutes, during the day running every 15 minutes. It stops at several locations (first stop near Liseberg; final stop: the Nils Ericson Bus terminal which is next to the Central Train Station). The only method of payment for the ticket is by credit card. Free WiFi is available on the coach.
Taxis are expensive. To the city it takes about 25 minutes and costs between 520 kr and 560 kr. It is best to arrange fixed fare before getting in taxi.
Until 2014, the city was also served by another airport, called
Gothenburg City Airport
, so you can still find references to it. All flights from GSE have been moved to Landvetter.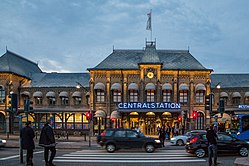 By train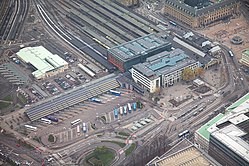 Highspeed trains of
SJ
and
MTR
connect with
Stockholm
in just over three hours. International train services are available to
Oslo
and to
Copenhagen
(via
Malmö
and the Öresund bridge), both in just under 4 hours. A daily night train connects with the northern Swedish cities of
Luleå
and
Umeå
. Also, a luxury train named
Blå Tåget
travels the route Gothenburg-Stockholm-Uppsala several times per week. Journey times are longer than SJ or MTR fast-trains but the train boasts generous seating and includes an onboard restaurant. Most non-regional trains have free WiFi.
Göteborgs CentralstationThe main rail station in Gothenburg.
By bus
Several coach services operate in and out of Gothenburg including
Eurolines
,
Flixbus
,
Säfflebussen
,
GoByBus
,
Bus4you
and
Swebus Express
.
Nils Ericsson Terminalen
, located in connection with the central station, is the most common bus stop. Västtrafik operates regional busses.
By ship
Stena Line
operates ships to/from Denmark (
Frederikshavn
) and Germany (
Kiel
). The terminals are near the city centre. Tramway stops: Masthuggstorget (Frederikshavn), Chapmans Torg (Kiel).
DFDS
is a cargo line with limited passenger capacity. They can take a small number of passengers (and their car) to Gothenburg from Belgium (
Ghent
).
There are also passenger boats cruising down the river, some all the way from Stockholm through
Göta Kanal
(by
Rederi Göta Kanal
)
By car
European roads E6, E20 and E45 pass through Gothenburg. If you come by car from
Stockholm
, you should take E4 to
Jönköping
, and then national road 40.
Approximate distances & travelling time:
Parking in Gothenburg can be difficult and expensive, as free parking is rarely found. Prices per hour vary between 7 zones and can be as high as 30 kr per hour. Free parking for tourists is however included in the Gothenburg City Card, if you happen to own one.
Gothenburg has implemented a congestion charge (
trängselskatt
) for the central area. However, for Swedish rental cars the cost is commonly already included in the daily fee.
Get around
Public transportation within Gothenburg (and the west of Sweden) is operated by
Västtrafik
and consists of trams, buses and ferries. You can find more information about tickets and a journey planner on their homepage.
Public transport in Gothenburg can be fairly slow: For example, to cross one side of the city to the other (20 km) can take up to an hour. It can be a good idea to look up alternative routes, with some of the express buses being considerably faster, and it sometimes being possible to save many minutes by walking a few hundred meters to a tram-stop located on a different line. Inside the central area, transport is fairly rapid, as the tram tracks generally are separated from normal car lanes.
The local transport company (Västtrafik) has removed maps from just about all the tram stops; be prepared and have a map ready before you get there. The phone app or web site is very handy when wanting to find routes, but will not ask you to walk any distance in order to save time — for this Google maps is better.
Västtrafik's ticket system
You cannot buy tickets from the driver on any buses in Gothenburg area, but they are available onboard countryside buses or regional trains and in machines on trams in the Västtrafik system.
If you will be travelling more often it might be a good idea to buy a prepaid västtrafik card that also gives a discount. This card can be charged with any amount at a time until the card contains a maximum of 1500 kr. In addition you must pay a 50 kr deposit which can be used in part to pay for your trip, but if any of the deposit money is used, another trip cannot be made until you recharge the card again. If you return the card to a Västtrafik service center the deposit will be refunded to you.
If you travel within one zone a fixed price is deducted from your card, which is 27 kr for an adult within the Gothenburg zone. If you travel across a zone border the journey will be more expensive. With the exception of the southern part of tram no. 2 or 4 (all stops from Krokslätts Torg to Mölndals Centrum) the entire tram system lies within the Göteborg municipality.
The card is used by touching it to one of the card readers in the vehicle when you board. If you intend to travel in more than one zone you must press the
+
button on the card reader before touching in and also touch the card to the reader when exiting the vehicle (otherwise, you will be charged for a journey to the terminal destination of the bus/tram). For tourists it's recommended you always touch in and out with the + button as the system will then always deduct the correct amount and you will not have to bother about the zones.
The Västrafik card can be bought from Västtrafik's service centres or from most convenience stores.
You can change freely between buses, ferries and trams 90 minutes after you first used your ticket. If you traveled in more than one zone the 90 minutes time will count from the time you disembarked in the last zone. When travelling between zones, remember to always touch in and touch out on each separate vehicle - otherwise you will be charged for each as separate journeys.
It might seem easy to get on one of the buses or trams without a valid ticket, but if a
biljettkontrollant
(ticket controller) would find out, you will be charged with a fee of 1200 kr.
Smartphone app: Västtrafik has an app called "Västtrafik To Go", in which both single tickets and passes can be bought. It requires however a Swedish credit card.
By tram
Gothenburg has a famous network of
trams
, covering most of the city. With over 150 km the Gothenburg tram is the largest light rail network in Scandinavia.
The network consists of 12 tram lines, 1 to 11 and 13, and every line except no 8 passes through the main tram stop Brunnsparken ('Well Park'). It is located one tram stop or a 2 minute walk from the train station, Centralstationen. The trams runs approximately every 8–10 minutes during daylight and twice every hour at night, at weekends the trams run every 15–30 minutes. Notice that not all lines runs nighttime.
This and the boats Paddan (operating from Kungsportsplatsen) is the best way to see the city as they run above ground at a comfortable yet quick pace.
By bus
Trams are the most efficient way to travel within the city centre, but if you're planning to go further you might need to go by bus. Bus lines heading in the same direction often departs from the same part of the city. There is no real equivalent to the large central tram and bus stop Brunnsparken—most others are divided into several "smaller" hubs, which you often reach by tram.
By ferry
Two ferry services run across the river; Älvsnabben is the regular ferry service with traffic every 30 minutes, and Älvsnabbare that only run between Rosenlund and Lindholmspiren (free of charge) during work hours. Besides transport, this can be a good way to see the city from the river.
Ferries to the southern archipelago run from Saltholmen, with three different lines: Vrångö line, Brännö Rödsten line and the less trafficated Förö line. The service runs once an hour or less.
Styrsöbolaget
run the ferry services under licence of Västtrafik - you can still use the city public transport ticket. On their homepage can you find time tables and more information about the islands.
By taxi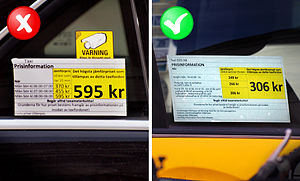 There are several taxi companies, for example Taxi Göteborg (031-650000), Taxi Kurir (031-272727) and Minitaxi (031-140140). Initial fare from 35 kr, and then from 10 to 14 kr/km. Every taxi must have comparing prices well visible according to law, and it's often placed in the side window. No 1 is daytime, no 2 is rush hour and no 3 is for night time service, and then you see the initial fare, price per hour, price per kilometre and comparing prices for a typical journey.
Prices between companies vary. For the above-mentioned larger companies the visible comparing price is about 300-350 kr. Dubious taxi operators take about double the price, so make sure to compare before you enter.
For longer travels, negotiate a fixed price. To the airport it should be around 500 kr from the city center.
Illegal taxis, called "svarttaxi", are operating, particularly during Friday and Saturday nights. They are generally cheaper, but using them is not advised, particularly for women or drunk passengers, since muggings and rapes have occurred involving illegal taxis.
By bicycle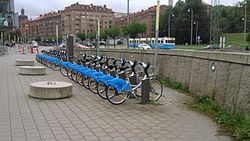 Gothenburg has a nice network of bicycle paths, reaching all parts of the city. You can buy network maps at the tourist information centres, and you can find an
online version
You can bring your bike on the ferries, on some trains but not on trams or buses. The service is free on Älvsnabben but costs 10 kr on the ferries in the southern archipelago.
You can rent a bike from
Cykelkungen
or if you are staying at a hostel they can often provide it for you.
In the most central parts there are an automated loan bike system
Styr & Ställ
, registration of 25 kr for 3 days an reserving an amount on your credit card they are free to use as long as you use for only 30 minutes and then replaced in another place. You can then take a bike again 2 minutes later. An real-time map showing how many bikes and free parking slots are available at each station can be downloaded from
allbikesnow
.
By foot
With a compact city centre most sights are easily reached by foot, and it's a nice way to get around.
Popular walks around the city includes the nature reserve around the lake Delsjön, the park Slottskogen, the botanical garden, on any of the islands in the southern archipelago, or in the neighborhood Haga.
See
Notable buildings
Gothenburg Cathedral

address: Västra Hamngatan

Built in 1815.

Christinae Church

address: Norra Hamngatan

Built in 1748.

Crown House

address: Postgatan

Built in 1643-1655, and briefly home of the Swedish Parliament. It houses Göteborgs Musik, and the surrounding buildings are now cafes and crafts workshops. It is Gothenburg's oldest still-standing non-religious building.

address: Rosenlundsgatan

The indoor Fish Market, called "Feskekörka" (Fish Church) because of the shape of the building and Gothenburgers mythical devotion to fish, is by the canal near the harbor.

phone: +46 31 - 82 00 09

address: Dr. Sven Johanssons backe 1

At 130 meters above sea-level this is the highest point and the highest café in Gothenburg. Sitting inside with a panorama view, or outside on the balcony, you get a view of the downtown, the old and new harbors, the Göta Älv River, the sea (Kattegat), the archipelago, the suburbs and the hilly, forested areas surrounding the city.

HagaA city district with picturesque wooden houses from the 19th century. Don't forget to explore the more bohemian Långgatan streets (Första, Andra, Tredje and Fjärde Långgatan) nearby.

Oscar Fredrik Church

address: Värmlandsgatan

The largest and most well decorated church. Built 1893.
Skansen KronanA hilltop fortification, southwest of the city center, built in the 17th century. In the 19th century it served as a prison, and now houses a military museum. Its twin Skansen Lejonet (Lion Keep) unfortunately finds itself in the middle of a railroad and industrial area but guided tours are held the first and third Sunday of every month.

phone: +46 31156147

address: Lilla Bommen

Informally called "the lipstick" by the local, it features a viewing platform at 86 metres, which offers great views over the city.
Museums
address: Holmvägen 100

At Säve Depå, is an aircraft museum in a former military under ground Air Force base. It's located on the Hisingen bypass (Hisingeleden), at the opposite side of the airstrip to Gothenburg City Airport. Also home of the annual Göteborg Aero Show and other events.

phone: +46 31 368 35 00

address: Götaplatsen

Housed in a magnificent edifice flanked by the theater and concert hall, it features a world-class collection of Nordic art (40 kr, people up to 25 years free). The adjacent Hasselblad Center periodically holds public exhibitions. The Art Hall (free entrance) features contemporary art.

phone: +46 31-368 36 00

address: Norra Hamngatan 12

Covers the history of the city and region from prehistoric times to the present, with emphasis on the 19th-century Swedish East India Company, which was once housed in the building.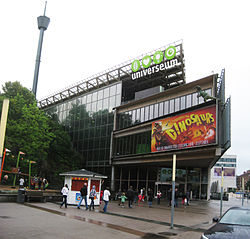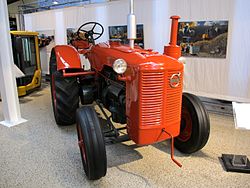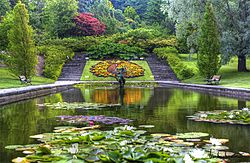 Parks and gardens
phone: +46 31 741 11 00

address: Carl Skottbergs gata 22

Built in 1923, the botanical gardens has an area of 175 hectares and was selected as the most beautiful garden in Sweden in 2003. It contains a rock garden, arboretum and green houses, along with a restaurant and café. Don't miss the rare Easter Island tree.

SlottsskogenA big English garden close to the Botanical Garden and a popular spot for relaxing and picnics. Within the park you'll find the Museum of nature history, an observatory, a mini golf course, and a child zoo. In the zoo, you can also pay a visit to the quintessential Swedish animal: the älg, also known as moose. Slottskogen is famed for its valley with over 60 kinds of Azalea that blooms during early summer. The museum and the zoo don`t have an entry fee. Slottskogen can be very crowded with people going for a barbecue in Summer. On the night before the 1st of May, there is usually a big bonfire in the park, which is worth watching.

TrädgårdsföreningenA picturesque garden in the city centre with a very nice collection of roses awarded with three stars in the Guide Michelin. No entrance fee during off season, otherwise 20 kr.
Do
LisebergThe biggest amusement park in all of Scandinavia, with lots of different rides for all ages. Be sure to try Balder, the wooden roller-coaster. Liseberg is the number one attraction, by number of visitors, in Sweden.

address: Kungsportsplatsen

The tourist boats run in the city canals and in the harbour.

address: Alfred Gärdes väg 110

In summer, you can go canoeing in or walking around the lake Delsjön. It can be a good way to experience nature.

LisebergslinjenA vintage tram line that runs during summer from the central station to Liseberg.

BörjessonsDoes tourist boat tours in the archipelago every day in the summer and is very popular.

Southern Archipelago. For a low price one can visit the islands in the southern archipelago with regular passenger boats. These islands are car free and very picturesque. The boats go from the tram stop "Saltholmen". It is difficult to park there. Tram tickets are valid on the boat too.
Charter a Sailing Yacht sBoats.com or yachtbooker.com give you independent information on how to find a yacht charter in Gothenburg.
Concert and entertainment venues
phone: +46 31-726 53 10

address: Götaplatsen

The concert hall is home of the Göteborgs Symfoniker (Gothenburg Symphony Orchestra) which is the National Orchestra of Sweden and offers regular concerts there.

phone: +46 31-7087100

address: Götaplatsen 4

phone: +46 31 - 10 80 00

address: Christina Nilssons Gata

By Lilla Bommen is the modern opera house of Gothenburg where great operas are performed regularly.

address: Berzeliigatan 4
Events
Sport events
Once a year during July, football playing youths from more than 50 countries take part in Gothia Cup, the world's biggest football tournament with over 1,000 teams.

GöteborgsvarvetA half a marathon (21 km) which is run in May in central Gothenburg once a year, with more than 30,000 participants.

On weekends during season Ullevi stadium hosts soccer games featuring one or two of the local teams IFK Göteborg, Örgryte IS or GAIS. The fourth major team, Häcken, plays at Rambergsvallen.
At Scandinavium hockey stadium the local team Frölunda Indians plays games every week during season.
On occasion you can see wrestling in different locations in Gothenburg.
Learn
While the Gothenburg University or Chalmers University of Technology generally require longer stays to partake in their courses, if you want to do a shorter course, for example a language course or pottery course there are a few options:
Medborgarskolan
Folkuniversitetet
Vuxenskolan
Sensus
Buy
Gothenburg hosts most of the types of shopping that is available internationally. Swedish design goods and local specialties can be found at some places. The main shopping districs and malls are:
ArkadenIf you cannot find your favourite retail store at Nordstan, it is probably at the Arkaden.
address: Nordstadstorget
Gothenburg's largest shopping centre with 180 stores is just outside the Centralstation, to which it is linked by an underground tunnel. Walkways also link the centre to Lilla Bommen and the Opera. Inside you will find the usual mix of convenience stores (including a Systembolaget), global retail formats, including Espirit, H&M and Yves Rocher, as well as an outlet of the Swedish department store chain Åhléns City and some popular Swedish shopfronts such as Hemtex or Nilson Shoes. The centre also hosts a Tourist Information stand in its middle.
Avenyn
address: Kungsportsavenyn
Ranging between Kungportsplatsen with
Kopparmärra
, the statue of king Karl IX, to Götaplatsen with the statue of
Poseidon
and the Gothenburg art museum:
Avenyn
and Kungsportsplatsen hosts a variety of shops that cater to most wants. Quite a few restaurants lie along the street as well, and it is the main tourist street, where in the summers few Gothenburgers will be found, apart from at the tram stations and by the Gothenburg city library at the Götaplatsen end.
Inom vallgraven
address: Fredsgatan, Kungsgatan, Vallgatan, Östra Hamngatan
Gothenburgs major retailers outside Nordstan and a number of out of city-center malls lie around these four streets in the area
Inom Vallgraven.
Some interesting shops lie off the beaten track, but for general shopping these are the main locations.
Swedish design
Acne
address: Magasinsgatan 19
While a Stockholm design studio there is a smaller shop in Gothenburg. A larger outlet store can be found south of the city in Freeport Outlet in the Kungsbacka suburb. More interestingly the Acne store is in the same house as Artilleriet.
address: Vallgatan 15
Nudie Jeans is a Gothenburg based design house specializing in jeans. Made to last, and with a number of repair shops in the city and elsewhere they are a good buy when in Gothenburg. This shop lies close to the very picturesque
Victoriapassagen
which hosts cafés and some smaller shops.
Unique finds
Saluhallen
address: Kungstorget
A charming indoor food hall.
VictoriapassagenOne of several "passageways" between major shopping streets, this one is the most picturesque, with a café, a hipster bakery, a bookbinder and some other shops.
BengansStigbergstorget 1. A big, famous Swedish record store with lots of records, old and new, in all kinds of genres. You will find something to buy here, no matter if you're a record collector, hipster, or chart music fan. They also have a cafe. Don't confuse it with Bengans City, which while a record store is not at all the same thing. If you like records or just atmosphere it's worth leaving the city centre for.
Artillerigården
address: Magasinsgatan 17
A small square with building repurposed from old factories around, it hosts some of the cities hipper shops, such as Artilleriet and Grandpa. Strömmingsluckan is a must if you are here at lunch-time. It also hosts a number of other food trucks. Ragtime are two high quality second-hand shops nearby.
Haga Nygata
address: Haga Nygata
Haga is a unique part of town, well worth visiting for other things than shopping, but if you are looking for unique things to buy, this is where to go. Several Swedish fashion shops as well as a hatmaker, many antique-shops and other "odd" shops such as an olive oil store make Haga an ideal place. On fall Sundays the square hosts a farmer's market, and in December each weekend hosts a Christmas market. Apart from in December the area is a little bit less hectic than the other shopping areas.
Antikhallarna
address: Västra Hamngatan 6
Originally a bank, these "halls" hosts 10 shops specializing in various antiques. There is everything from certified ancient Egyptian and Greek statues to stamps and silver spoons. A very nice café lies here as well.
World Report
address: Torggatan 13
Without a doubt the weirdest shop in town. A tiny little antique shop filled to the brim with books and oddities from weird trips around the world. In one of the rooms a 10 foot anaconda scin hangs from the roof, which the manager insists he "cannot legally sell". Open very irregularly.
Book-shops
While few shops cater to English readers, there are two with somewhat more than the average business bestsellers:
Sci-fi BookshopPlenty of merchandise and a café on the ground floor, but the basement has a rather large section for books. Not everything is science fiction, fantasy, or manga either, and more than half is in English. With Swedes being generally very good at English, this book-shop caters to young Swedes who read anything in English.
address: Rosenlundsgatan 3
The largest truly multilingual bookshop in town, with a rather decent selection of English titles, but also in French, German, Italian and Spanish as well as some other smaller languages.
Upscale
address: Östra Hamngatan 42
Stockholm's famous upscale department store has branched out to Gothenburg, bringing in premium brands such as Paul Smith, Patek Philippe, Audemars Piguet, Dior, YSL and Prada and equally well-known Swedish brands - for instance the crystal manufacturers Orrefors and Kosta Boda. Situated just opposite Arkaden, the NK also features an upscale-ish cafe and sushi restaurant.
address: Västra Hamngatan 19
With another shop in Stockholm, ABCD hosts collections from major European and international designers such as Givenchy, Prada and Dolce & Gabbana. The interior of the store is pretty and is reminiscent of an old bank vault. For men and women. Doorbell.
phone: +46 31 15 23 33
address: Södra Hamngatan 59
Probably the most upscale shop in the city, with women's clothing from Valentino, Kenzo, Max Mara, Armani. Doorbell.
Eat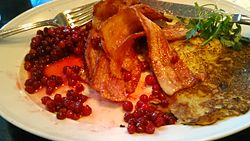 The main restaurant street in Gothenburg is Linnégatan running from Järntorget to Linnéplatsen. It has a high concentration of good restaurants of all kinds in the low to moderate price range.
Most restaurants offer lunch menus ranging 90-130 kr, mostly they are served between 11:30 and 14:00.
Budget
Andrum

address: Östra Hamngatan 19A

Tasty and healthy vegetarian/vegan buffet.

Bombay Palace

address: Södra Vägen 19

Serves tasty Indian food in a good atmosphere. Seating arrangement is not so good, but the food will leave you happy. A 3-course meal could cost 150-180 kr (without alcohol).

address: Fisktorget 4

The fish market is not only a nice tourist attraction, but all fishmongers offer fantastic fish dishes to take away at low low prices (50-60 kr). Make sure you try the fish soup sold at the last booth, under the restaurant.

phone: +46 31 13 62 33

address: Nordstadstorget

"Korv" means "sausage" in Swedish and this restaurant has them in abundance. There are 13 different choices of sausage, and these are served as portions with potato salad or mashed potato, and your choice of mustard. The service is very fast, your order should be ready in less than fifteen minutes. No table service, you have to carry your food to your table yourself. The most central location of the restaurant is on the second floor of the shopping centre Nordstan, but there are also other locations in the city. You can also buy sausages, potato salad, sauerkraut and mustard by the kilogram to take home with you.

address: Timmermansgatan 8

They speak German (natively), English, and Swedish.

address: Karljohansgatan 16

Vegetarian buffet.

Japan Shop

address: Kungsgatan 9C

Small, unassuming place with good, cheap sushi.

Grillköket Jonsborg på AvenynMake a stop here for some traditional Gothenburg street food. The Halv Special is a hot dog served on a grilled bun topped with a mound of mashed potatoes. This dish can be topped with shrimp salad.

Kastells Pizza

address: Kastellgatan 15

Excellent kebab offering massive amounts on the cheap. Kebabrulle (kebab roll) is strongly recommended. Pizzas are very good, large enough for two people to share. Staff is very friendly, but speaks little English and only accepts cash (no cards).

Maharani

address: Första Långgatan 4

Indian food in a cozy atmosphere. Starters for 30-40 kr and main courses for about 110 kr.

Sunset Falafel

address: Erik Dahlbergsgatan 4

Classic falafel place. Used to have a mobile stand on Kungstorget. There are more falafel places around the city but far from all make good ones.
Mid-range
Splurge
Drink
In the summertime there are outdoor serving along Avenyn and Linnégatan.
You can pick up the free Nöjesguiden and Djungeltrumman magazines in various stores to read more about Gothenburg's nightlife. They are only available in Swedish though.
The Bishops ArmsA chain of English pubs. In Gothenburg there are three located at Kungsportsavenyn 36, Västra Hamngatan 3 and Järntorget. Good selection of beer on tap and fine single malt whiskey. A bit pricier than other pubs.

Dancin Dingo

address: Kristinelundsgatan 16

Australian pub on a street parallel to Avenyn. "Let's put another shrimp on the barbie!"

Kellys

address: Andra Långgatan 28

Cheap beer. Lots of vegan food. Mixed crowd of middle-aged regulars and young people.

phone: +46 31-24 20 40

address: Andra Långgatan 32A

On this street well known for its cheap pubs and porn stores, this pub is an alternative for those who wants to spend time in a little more sophisticated environment. The clientele is more well adjusted in this place.

address: Mässans gata 22

one of the finest bars in town if you want cocktails and a nice view.

Jamesons Pub

phone: +46 31-18 77 70

Kungsportsavenyn 32. Swedish pub with live music.

address: Lorensbergsgatan 7

A traditional rock bar

The Rover

address: Andra långgatan 12

A freehouse known for its knowledgeable staff. Specializes in Swedish micros on tap and US micros on bottle. Has Gothenburg's second largest selection of whisky (according to local newspaper G.P.), including the Swedish brand "Mackmyra".

Sejdeln

address: Andra Långgatan 28

When Kellys is packed Sejdeln is a perfectly adequate option, it's right next to Kellys and has even cheaper beer and roughly the same clientele.

phone: +46 31-361 88 08

address: Kungsgatan 7

Scandinavia's first Steampunk-themed restaurant and bar. Has one of Gothenburg's widest selections of drinks, gin & tonic, as well as a unique atmosphere.

phone: +46 31-181904

address: Kristinelundsgatan 4

The top priority is the well-selected beers both draft and bottled, in combination with carefully selected jazz that flows from the speakers

Ölhallen 7:an

phone: +46 31 136079

address: Kungstorget 7

One of the best places for good beer, and the only traditional "Beer-hall" left in the city. It is situated next to Saluhallen

address: Kronhusgatan 2B

A good selection of beers on tap with a bias toward British and Belgian beers, this pub is an excellent alternative to the mid centre locations. Found not far from Kronhusbodarna a couple of hundred meters from Nordstan.
Clubs
There are several different clubs in Gothenburg, with a wide array of music styles.
Cafés
Gothenburg has a vast array of cafés practically everywhere. In the district Haga (near Järntorget) you can find a lot of nice cafés. It is quite normal to get a free re-fill if you buy filter coffee (bryggkaffe in Swedish).
Bar Centro

address: Kyrkogatan 31

Small Italian-style espressobar, takes coffee very seriously.

Ethels

address: Linnégatan 72

A charming family-run café that also offers warm sandwiches and soup.

Guldhedens vattentorn

address: Dr. Sven Johanssons backe 10

A little nice café placed on top of an old water tower. You get a good view of Gothenburg and around.

Café Husaren

address: Haga Nygata 28

This cafe is famous for its tasty, giant kanelbullar (cinnamon buns). You can easily share one of these with three or four people. Or, if you don`t care about diabetes, you can eat one for lunch or dinner.

address: Nämndemansgatan 1

The antithesis of a trendy cafe with affordable prices and large sandwiches to fill you up.

address: Esperantoplatsen 7-9

Nice café with language evenings Mondays to Thursdays (5:30 pm – 9:00 pm) with opportunities to learn Swedish, Spanish, Japanese, Arabic and many other popular languages. You must buy for 45 kr before you can participate in the language groups.
Sleep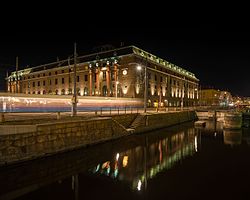 Budget
Many Youth Hostels only offer their lowest prices to members of STF or IYHF. The Tourist Bureau just off Avenyn organises an excellent private home B&B service.
phone: +46 31-12 06 21
Private accommodation. The owners can profit from their home, even when they are away, and companies and individuals can gain access to a different type of accommodation during their visit. All apartments are located in the central of Gothenburg.
address: Olbersgatan 9

phone: +46 31-42 65 20

Vegagatan 21. Open 24 hr. Popular among travellers. Free Internet. Prices start at 195 kr for dorm beds. Situated in the lively Linnéstan - an area with a lot of pubs, restaurants, cafés etc. Tram stop: Olivedalsgatan (tram 1,2,6 and 13). The backpackers section is clean and modern. All beds in dorms have lockers under the bed, and some beds have curtains around them for privacy. Arrive early if you want one of these since beds aren't assigned - when you check in you just go and grab any free bed in the dorm. Sheets and towel are an extra 65 kr. Breakfast is quite nice - fairly standard buffet style with bread, cheese, meats, cereal, muesli, coffee, juice etc. But it is a bit expensive at 70 kr.
Mid-range
Splurge
Stay safe
Most crimes against tourists are crimes of opportunity, such as
pick-pocketing
, bicycle theft, auto theft and auto vandalism. Pickpockets converge in Gothenburg during the summer months so beware. As always, do not leave valuable items in your car or in a cloakroom, and watch your bag in crowded places. Most shops and all major taxi companies accept credit and debit cards, so there is no need to carry a lot of cash.
Downtown Gothenburg is plagued by illegal taxis by night, and they are considered very unsafe, especially for women. Check the taxi rate, which should be on a yellow window sticker; the preferred price should be in the range of 300-350 kr. Generally speaking, crime rates in Gothenburg are quite low from an international perspective.
Respect
People of Gothenburg, as with Swedes in general, are relatively tolerant to the behavior and statements of outsiders.
Most native people are patriotic for their hometown, and appreciate even the simplest compliment to the city. As in most second cities, comparisons with the country's capital are less popular.
A controversial current event is the construction of Västlänken, a rail tunnel.

Cope
Religious services

Protestant churches:
Roman Catholic churches:
Church of the Anglican community:
Mosques:

Go next
Near Gothenburg is the beautiful Gothenburg archipelago. Here you can enjoy nature, have great views over the islands, swim in the ocean, buy ice cream and maybe eat at the restaurants on Brännö, Styrsö or Vrångö. The ferry terminal in Saltholmen which connects to the islands is easily reachable by tram from Gothenburg city center. There's a resident population on most islands, so ferries run all year.
Älvsborgs fortress (Älvsborgs fästning) from the 17th century was built on an island to protect the city from being attacked from the sea. Tourist boats Stromma make the trip regularly during summer.
Vinga - the last outpost before the sea and the place where Evert Taube (a famous Swedish poet) grew up.
Gunnebo House and Gardens, in the neighbouring municipality of Mölndal, is a large 18th-century wooden mansion built in the neo-classical style with Rococo interiors set in a Baroque park. There is a restaurant, a gift shop, guided tours and annual markets in the autumn and at Christmas.
Tjolöholm Castle, in Kungsbacka municipality south of Gothenburg, is an anachronistic Tudor castle built in the years around 1900 for the Scottish-Swedish merchant and factory-owning family Dickson, one of Gothenburg's many generous donors (they founded Gothenburg's first public library and built decent homes for the families of their factory staff).
Bohuslän region with its scenic coastline landscapes is easily reachable by Västtrafik busses and trains, the company also operating the public transport in Gothenburg.
Denmark: Frederikshavn on the northern tip of Denmark has daily ferry connections operated by Stenaline. Depending on the ferry, the ride takes between 2 and 3 hours. The ferry itself can also be attraction in its own right, as you get good views of the Gothenburg Archipelago, and you will see a lot of Scandinavians going crazy because of the duty-free alcohol sale on the boat. Copenhagen can also be easily reached by bus.