Grand Isle County
Grand Isle County
is a county in
Northwest
Vermont
. It is the smallest county in Vermont by area and only has around 7,000 people.
Understand
Grand Isle County is made up of several islands in the middle of Lake Champlain as well as a large peninsula at the northern end of the lake. Most people refer to Grand Isle County simply as "the islands." It is not connected by land to any other part of the U.S.. Grand Isle County has a milder climate than the rest of the state because of the presence of the lake.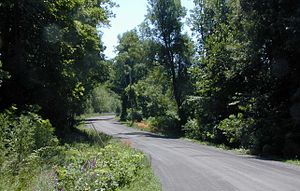 Get in
By car
Grand Isle County can be reached by car using US Route 2 using either the bridge from Rouses Point, NY or the causeway from Colchester, VT. There is also a bridge connecting Grand Isle County to Swanton, VT. Grand Isle County is about 1.5 hours from Montreal, 4 hours from Boston, and 30-45 minutes from Burlington.
By ferry
Lake Champlain Ferries
runs a 24-hour service connecting
Plattsburgh
with
Grand Isle
.
Get around

Most people will need a car to get around the islands as there is no public transportation. Although the attractions are fairly spread out, the terrain is relatively flat so some people may enjoy cycling. U.S. Route 2 is the only major road, running north to south from South Hero to Alburgh where it crosses a bridge into New York State.

See
The islands aren't exactly packed with things you can see in the traditional sense (i.e. I came to take a picture of this specific attraction). However, the islands are one of the most beautiful parts of Vermont and gorgeous scenery is the norm. Obviously, the islands are surrounded by Lake Champlain, which is quite scenic on its own. To the east, you can see the Green Mountains rising in the distance. Look southwest and you will see the Adirondacks meeting the shoreline.
Here are some specific things to see: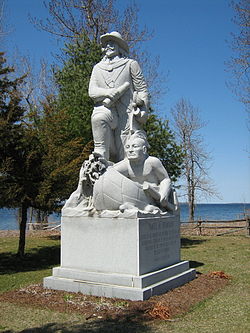 Chazy Reef FormationPossibly the world's oldest coral reef.

phone: +1 802 378-4591

address: 259 US Route 2 Grand Isle, VT 05458

Hyde Log Cabin, Route 2, +1 802-828-3051. Considered one of America's oldest log cabins and is home to the society collection. Open Th-Mo, 11AM-5PM.
St. Anne's Shrine: Isle la Motte +1 802-928-3362. Visit this shrine marking the site of the oldest European settlement in Vermont. There is a visitors center and gift shop.

address: Knight Island State Park

The Lake Champlain Monster, Otherwise known as Champ, this prehistoric seamonster supposedly lives in Lake Champlain.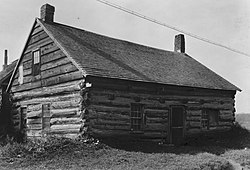 Do
One reason many people come to the islands is to simply do nothing. There aren't any cities, crowds, or traffic. You may just want to relax. If you do feel like doing something, there are many outdoor activities.
phone: +1 802 796-3586

address: 230 Rte 129South Alburgh, VT 05440

18 hole lakeside golf course.

Biking/HikingBike along the Champlain Bikeway or along a quiet road. Trails can be found around the islands.

FishingCharter a boat or bring your own

phone: +1 802 863-5988

address: 237 East Shore North Grand Isle, VT 05458

Take a seaplane ride of learn how to fly one.

phone: +1 802 372-8343

address: 3 Camp Vermont Court, Grand Isle, VT 05458

9-hole golf course with attached cottages. Call first to make sure you can play if you aren't staying here.
State Parks
Buy
Grand Isle County certainly isn't a shopper's mecca, however you will be able to find antiques, VT made crafts & art, and specialty foods. Listings for
South Hero
can be found in its respective article.
Eat
The islands are not exactly a dining destination. Some of the bed & breakfasts and inns will have a restaurant in them and there are a few other standalone spots. Most of the options consist of snack bars and general stores that sell sandwiches or maybe pizza. There are some apple orchards in the islands so if you come in the fall, grab a bag of apples and maybe some donuts.
South Hero
is home to most of the islands' restaurants. Here is a listing of restaurants in the rest of the county.
phone: +1 802 372-4161

address: 3537 Route 2, North Hero

Choose from a variety of sandwiches at this general store. There are also baked goods and coffee for sale and a small convenience store area with packaged food for sale. The sandwiches are all named after a local landmark or historical figure. Across the street is a patio which overlooks the ironically named "City Bay" and the Green Mountains beyond.

phone: +1 802 372-4732

address: 3643 U.S. 2, North Hero, VT 05474

This fine dining restaurant features views of the lake, a pub, and outdoor seating in the summer.

phone: +1 802 928-3200

address: 1002 Quarry Rd., Isle La Motte

Shore Acres Inn & Restaurant:

phone: +1 802 372-8722

address: 237 Shore Acres Dr, North Hero, VT

Steamship Pier Bar & Grill:

phone: +1 802-372-4732

address: 3643 Route 2, North Hero

South End Cafe

phone: +1 802-928-3091

address: 4445 Main St, Isle La Motte

phone: +1 802 378-4591

address: 259 US 2, Grand Isle, Vermont

Grab a sandwich or salad at this art gallery cafe.

address: Route 2 at Route 314

Kim's Snack Shack-best burgers, fries, and clam strips on the north end of the island

The Blue Paddle

phone: +1 802 372-4814

address: 316 US Route 2

This bistro is the perfect place to eat with all your friends and family. The Blue Paddle offers entrees for lunch, dinner and brunch. It has a nice "homey" feel to it, large deck outside, full service bar and a nice "campy" theme that blends well with the atmosphere of South Hero. All food is available for take-out, morning pastries and coffee are available and the bistro is open year-round!

Pan's South Hero Pizza

phone: +1 802 372-4729

address: 326 Route 2

Pan's Pizza is the place to order from when it's a rainy night and there's nothing else to do. Although they don't do delivery, you can call up and order take-out. Very friendly service and great pizza makes this place a very popular eatery for all Vermonters.

Seb's Snack Bar

address: Route 2 and South St

A good place to stop after a long day on the water, featuring an old style pickup window and a selection including burgers, fries, red hots , and grilled cheese. It also has an ice cream counter with over 20 different kinds of ice cream flavors, and they make milk shakes too. Outdoor seating available and gift shop attached to building.

phone: +1 802 372-4666

address: 3 Ferry Road right next to the Mobil Station and right by Route 2

Wally's Place-Bagel & Deli was established only two years ago, but has quickly become a popular destination. They have over a dozen different types of bagels, spreads and breakfast sandwiches, baked goods and they always have fresh Green Mountain Coffee brewing along with other sodas and juices.
Drink
The islands are home to East Shore Vineyards in Grand Isle and Snowfarm Vineyard in South Hero. Both have tasting rooms, but East Shore's is actually located in
Burlington
phone: +1 802 928-3091

address: 4445 Main St. Isle la Motte, VT

Hall Home Place is part of the Hall family farm which has been on Isle LaMotte since the late 18th century. The tasting room is located in a stone farmhouse built in 1828. It is a simple affair with a single table and a few chairs. This remote farm is really off the beaten path. Hall Home Place produces a variety of ice ciders from the farm's apple orchard that you can taste on-site or purchase a bottle to take home with you.

phone: +1 802-372-9463

address: 190 West Shore Rd

Offers many different types of wines that are made right on their vineyard. With all the able space on their vineyard, they are always open to host weddings and receptions. Also, they host many live concerts in the summer time that occur once to twice a week. They also have a year round tasting area located in Stowe, Vermont, which is on the mainland located minutes away from the Ben and Jerry's Factory. Snow Farm's South Hero tasting room is located near Crescent Bay at the south end of the island. The property contains the highest point on the island and you are free to walk the vineyards. Inside, you can order a tasting, a full pour, or even a full bottle to enjoy at the bar or on the patio. They also offer a selection of meats and cheeses to have with your wine.
Sleep
You won't find any chain hotels in the islands, just B&Bs and family owned inns.
Stay safe

There is almost no crime in the islands, just don't get eaten by Champ.

Go next
The Islands are a quick drive or ferry ride from: