Grand Marais
Grand Marais
is a harbor village along
Lake Superior's
shoreline
in
Minnesota
.
Understand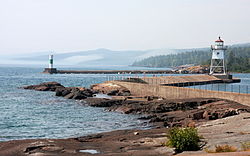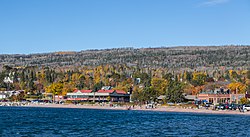 Grand Marais is a small village built along the North Shore of Lake Superior in
Minnesota
. Grand Marais is situated on a doubled-harbor stone outcropping of the shoreline. It is 110 miles (177 km) northeast of
Duluth
and 40 miles (64 km) southwest of the
Canadian
border along Highway 61, an All-American road and national Scenic Byway. Fully half of the full-time residents of Cook County, Minnesota live in Grand Marais - that's about 1,300 people.
"Grand Marais" is from the French: "big marsh," to distinguish it from the town of Little Marais, which is about 60 miles (96 km) down the road and apparently was built on a smaller marsh. This is apparently boosterism run amok, "You think you have it bad, we have it worse!" Never fear, the town is no longer swampy.
Grand Marais offers a great deal to multiple kinds of visitors. Whether you are interested in getting into the outdoors, shopping while your husband fishes or getting a great bite to eat, there is a lot to be had in this small town.
Please keep in mind that many restaurants and shops are only open seasonally. Call ahead or you may be disappointed.
Get in
The only way in, and the only way out (at least by car), is Minnesota Highway 61, which parallels Lake Superior. There are other roads that leave town, but they just head into the woods and eventually stop. Highway 61 is the only paved through road in Cook County, so enjoy it. As a historical note, Highway 61 didn't open until the 1920s; before that, most travel to much of anywhere was by scheduled steamer on Lake Superior. This meant, of course, that between sometime in November and about April, there was no service due to ice. During that time, you had your option of horses or dogsled, but this was confounded by the fact that there was really no continuous road where highway 61 is now.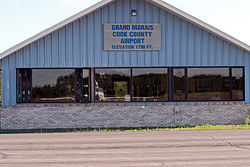 There is an airport a few miles out of town, up on the ridges overlooking the lake, but no scheduled service.
And of course, you can boat in via Lake Superior. There is a municipal marina to dock at and get fuel. The harbor generally has a few fair-sized sailboats or powerboats in it, often having sailed across the lake from the Apostle Islands. Boating on Lake Superior isn't necessarily dangerous but isn't for novices, either. The State of Minnesota has created about 15 "safe harbors" up and down the North Shore, because there are virtually no natural harbors along this 130-mile (209 km) stretch. There's a reason they're called "safe harbors;" think about it before you just up-hook and set out.
Get around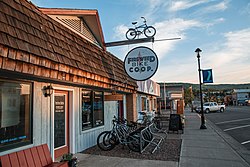 There appears to be little public transport in Grand Marais, however the average person should be able to walk the entire town with no problem. Most people drive in and park their car and then proceed to window shop and walk around town. Some rent bikes. Crossing MN 61 is a risky endeavor. Be forewarned.
See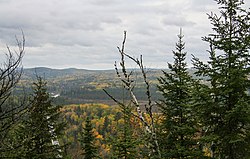 Grand Marais is one of the principle gateways to the Boundary Waters Canoe Area Wilderness, via the
Gunflint Trail
, which starts in the middle of town and heads up and back into the woods. The Gunflint Trail is 65 miles (105 km) of blacktop winding through very beautiful woods and lakes, with numerous resorts and cabins along the way. Deer, bear, and moose are often seen along (or on) the road at all hours, so keep the right foot light on the pedal. At resorts, or from outfitters, canoes and kayaks are available by the day or week, along with complete or partial outfitting and even guides, for day-to-week-long canoe trips. The BWCAW is one of only a few areas in the U.S. where you can canoe back into a significant true wilderness for weeks at a time, and it adjoins the Quetico Wilderness of Ontario; if you want, you can canoe all the way to Hudson's Bay.
Do
Fisherman's PicnicThe first full weekend in August (31 Jul-2 Aug 2008) is a fun event to be in town for. Fireworks on Saturday night of the festival.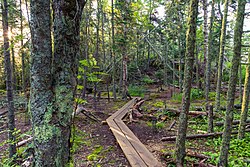 WalkOut on the natural outcropping of stone that creates the harbor. Great place for kids and dogs to run around in the lapping waves. Artists' Point is a cool thing to see too.

Grand Marais is home to a thriving art colony , has lots of galleries with local and regional artists' work, and a well-attended summer arts festival
Grand Marais also has several outfitting and charter companies. Call ahead for reservations and spend the day, afternoon, or evening sailing Lake Superior with lunch served, or earn your keep fishing.

Superior Hiking TrailTake a hike on the Superior Hiking Trail. You can actually hike this trail all the way from Two Harbors to the Canadian border if you like. Otherwise, pick a portion of it and enjoy the beauty of Lake Superior.

Near Grand Marais are several smaller villages, including Lutsen and Schroeder, as well as other State Parks with trails and natural beauty to keep you plenty busy. Try Cascade River State Park, Judge C.R. Magney State Park, and Grand Portage State Park. At Judge C.R. Magney State Park, be sure to hike the Devil's Kettle trail, which leads to a magnificent 50-foot (15-m) waterfall that mysteriously disappears into the rock.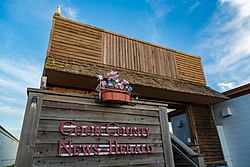 Pick up a copy of the Cook County News-Herald to connect and find out more about what to do while in Grand Marais.

Sawtooth Mountain StablesTake a scenic, guided trail ride thru the Superior National Forest on a horse. May-Oct W-M.

address: 211 W. Highway 61

Full fitness center with cardio equipment, free weights and strength machines. Private showers. Day passes can be purchased at the Holiday Station during un-staffed hours.
Learn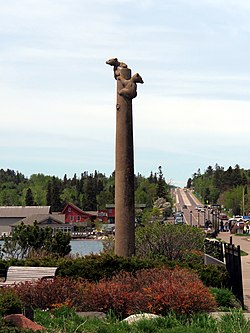 Take a class at North House Folk School, teaches traditional northern crafts, everything from wooden boat building to knife making to baking.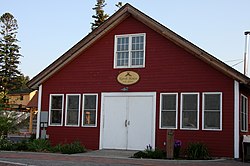 Grand Marais Art Colony, Begun in 1947, it is Minnesota's oldest art colony. Offers classes in oil, water colors, ceramics, glass, print and more. Special events include the Grand Marais Art Festival, held in the middle of July, and the Plein Aire Painting Competition at the end of August.
Buy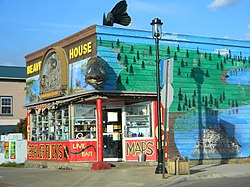 Betsy Bowen artworkThe author and artist of many books (such as Antler, Bear, Canoe) calls Grand Marais her home and picking up one of her wood-block prints would be a great souvenir.

phone: +1 218 387-2020

address: 10 S 1st Ave W

A classic style trading post exterior houses pretty much anything you could need. Camping gear, maps, clothing, gifts, books, toys, footwear, etc. A Grand Marais tradition since 1971.

Sivertson's GalleryFeatures Minnesota artists as well as northwoods themed artwork from Canada and Alaska.

Drury Lane Books

address: 12 E Wisconsin St

Look for a small house on a dead-end street, brightly painted and usually waving a flag. Enter the small book store for a variety of books on local topics. Local authors are also found there and you can often get an autographed copy of a book.

Joynes Ben Franklin

phone: +1 218 387-2233

address: 205 W Wisconsin St

Catering to your needs in outdoor clothing, camping supplies, souvenirs, gifts and life's everyday necessities!

phone: +1 218 387-9228

address: 12 1st Ave W

Made-from-scratch Fudge, Turtles and Truffles and each and every soup and cookie mix is put together by hand in our kitchen. Jams & Syrups made locally. 100% Arabica Fair Trade Coffee is roasted in Minnesota and all rice, pasta, and beans come from Bemidji. Stop by for a free sample!
Eat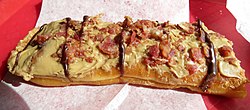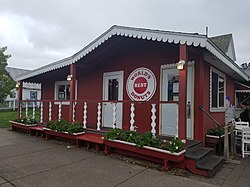 The Pie Place, known for having great breakfast and pie

Angry Trout CafeA cute waterfront restaurant that serves great food and supports local artists as well as local craftsmen. Anything seen in the restaurant was made in the area and is available for purchase. The building itself features indoor and outdoor eating in an old commercial fishing house turned restaurant. Open seasonally from May to mid-October.

Gunflint TavernOffers many vegan and organic choices, a fine wine list and a plethora of micro-brews. On weekends live music is often playing, reggae, jazz or blues. Great atmosphere for dinner and a couple drinks.

Sven & Ole'sRenowned for great pizza, they also offer salads, sandwiches, etc. Many Minnesotans have often seen the yellow S&O's bumper stickers around the area so feel free to pick one up from your visit as well. Great for groups, S&O's is the type of place where you order at the counter and they bring it out piping hot from the oven to your table.

Johnson's Foods, a family owned grocery store known for their friendly smiles, located next to the only stoplight in the county!

Blue Water Cafe

World's Best DonutsGet 'em before they run out.

Beth's Fudge & Gift

address: 11 S Broadway Ave

While this place is more of a tourist trap, offering bobble-head moose, Grand Marais sweatshirts, and shot glasses - among other things - Beth's Fudge & Gift is a must-see for the fudge one can get in the back of the shop. If you buy 1 lb of fudge, you get a 1/4 lb free. Fudges include mint, rocky road, and peanut butter and the best chocolate amaretto you have ever tasted!

My Sister's Place

address: 401 E Hwy 61

This is casual northwoods dining at its best. Serves burgers, sandwiches, soups, and locally caught fish.

Sydneys Frozen Custardknown for great frozen custard, featuring their custom blended sydnami cocretes, Sydneys also serves Chicago Dogs, Gyros, and an eclectic choice of pita wraps, situated on lake superior with its own beach it has outdoor seating with a dining deck on the roof that offers a great vantage point of the harbor and east bay. One of a kind a must stop.

phone: +1 218 387-2503

address: 20 E 1st St

Natural Foods Grocery Store with a grab n go deli carrying soups, sandwiches,salads,spreads and hot coffee. We carry healthy juices, trail foods, organic produce, cheese, meats, bulk foods and grocery items.
Drink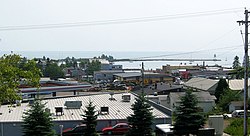 Pickled Herring ClubAfter you've eaten your way through a Sven & Ole's pizza, head up to the Pickled Herring Club for a drink. Very, very small, but cozy atmosphere.
Sleep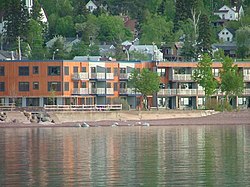 Grand Marais has many lodging options, depending on the kind of vacation that you would like to have. Options include wonderful hotels with fire places, jacuzzi tubs, and beautiful views, all the way down to simple cabins with running water and not much else. Many smaller lodging places that are family run may only be open seasonally.
Anderson's North Shore Resort

phone: +1 218 387-1814

These are simple cabins, perched on the top of cliff overlooking Hwy 61 and Lake Superior. Though nothing fancy, these cabins have a beautiful view from the decks, especially on a moonlit night.

address: 21 Wisconsin St

Well designed, fully furnished beachfront suites with private decks or patios, fireplace, soaking tubs, flat screen LCD televisions etc.

Grand Marais Hotel CompanyGrand Marais Hotel Co. operates six properties, from economy motel rooms to luxury condos on the Harbor. Indoor pool and wireless internet are available. Open year round.

Grand Marais RV ParkIf you have an RV, this is the only place in town to go. 300 sites. Options for water and electric hookups. Bathhouses, public phones, boat launch.

phone: +1 218 387-1191

address: 207 Wisconsin St

Good harbor views and easy walks to town, free Wi-Fi and a on-site restaurant, Pets with permission. Free hiking shuttle to nearby trailheads.

phone: +1 218 387-4827 or +1 218 387-2256

address: 401 Cty Rd 14

Hostel located on a farm outside of town. Private rooms available along with single bunks in the communal dorm. Property features a deck with a view of Lake Superior a couple miles downhill. Free WiFi.

Kahneetah Cottages & GalleryThese are quaint cottages without lake views. The owners are friendly and a gallery with local art is located on-site. Pets were accepted at last visit.

address: 520 W 2nd St

Views of the lake, WiFi, gourmet breakfast, inroom bathrooms, and discounts on classes at North House, Art Colony, and AARP.

Nelson's Travelers Rest

address: US Hwy 61

These are pleasant cabins, many with fireplaces. Other lodging options at this resort are motel-style rooms. Not all cabins have a lake view, but the property does go down directly to the shore line. Pets not allowed.
Go next
Take a short road trip out from Grand Marais to visit the many sites. Travelers can head north on Hwy 61 to the Canadian border and visit Fort William Historic Park in Thunder Bay. The kids will enjoy this historical fort with actors recreating many activities. Otherwise, head south on Hwy 61 from Grand Marais and visit Lutsen. Here you can ski (in winter), ride the gondola, and hike. On your way south on Hwy 61, be sure to stop in Tofte and visit Coho Cafe Bakery & Deli where you can munch on gigantic sandwiches and fantastic spreads.