Grand Trunk Road
The
Grand Trunk Road
(or GT Road) is one of Asia's great historical roads and a major route connecting much of the
Indian subcontinent
; it runs through parts of
Bangladesh
,
India
,
Pakistan
and
Afghanistan
. Rudyard Kipling describes it in his novel
Kim
:
And truly the Grand Trunk Road is a wonderful spectacle. It runs straight, bearing without crowding India's traffic for fifteen hundred miles—such a river of life as nowhere else exists in the world. They looked at the green-arched, shade-flecked length of it, the white breadth speckled with slow-pacing folk...
History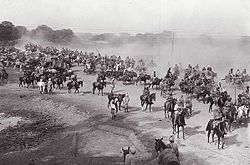 There was trade along parts of the route far earlier, but the road became clearly established during the Maurya Empire, 322 – 185 BCE, when it was known as
uttarapatha
(road to the north) and ran from the mouth of the Ganges (near what later became known as Calcutta and is now called
Kolkata
), through the Empire's capital in what is now
Patna
, then via the then-great trading city
Taxila
and through Afghanistan, all the way to the
Central Asia
region of
Bactria
.
Later Indian rulers, especially the
Mughals
, did quite a lot of work on upgrading the Calcutta-Kabul part of the road and extended it east into what is now
Bangladesh
. However, the Kabul-Bactria section was not considered part of their Grand Trunk Road since Afghanistan was outside their influence.
The British also improved the road
when they ruled India
and, after the British left, the various nations along the route have done so as well.
Route
Some of the main places on the route today, listed east-to-west, are:
In Bangladesh
In India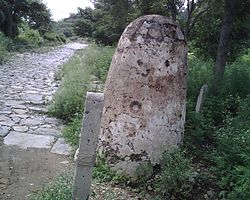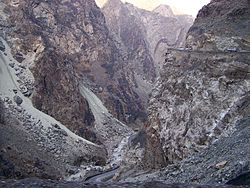 Mathura
In Pakistan
In Afghanistan
UNESCO attractions along the route
In Bangladesh
Sundarbans, a national park along the Bangladesh-India border with extensive mangrove forest and some tigers
Mosque City of Bagerhat, home to several notable Turkic-Bengali mosques, including the Sixty Dome Mosque
In India
Sundarbans National Park, the Indian park; the two parks together make up the world heritage site
Bodhgaya, where the Buddha reached enlightenment, is not far off the GT road
Delhi has several world heritage sites
In Pakistan
Lahore — Fort and Shalamar Gardens, Wazir Khan Mosque, Badshahi Mosque, Tombs of Jahangir, Asif Khan and Akbari Sarai
Hiran Minar and Tank near Sheikhupura
Rohtas Fort near Jhelum
Taxila
Shahbazgarhi near Mardan