Guadeloupe
Guadeloupe
, known as
Gwadloup
in the local creole, and sometimes known as the
Butterfly Island
(
French: l'île Papillon
) on account of the shape of two of its major islands, is a group of islands in the eastern
Caribbean
, and is a
French
overseas department, southeast of
Puerto Rico
.
Islands
Basse Terre: green and lush vegetation, mountainous with a sulphuric volcano.
Grande Terre: flat and dry with a lot of beaches, some of them very touristic.
Marie Galante: the biggest island out of mainland Guadeloupe.
Les Saintes: composed of Terre de Haut and Terre de Bas, one of the most beautiful bays.
La Désirade: dry and cliffy.
Petite Terre: uninhabited and untamed.
Cities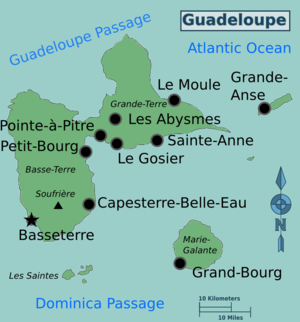 Grande Terre
: with its suburbs, it is the economic capital of Guadeloupe
: maybe one of the most interesting places of Guadeloupe to enjoy nightlife. (You can enter most nightclubs with proper clothes, that is, no sneakers, no shorts)
if you go at the eastern point of Guadeloupe, you will reach La Pointe des Chateaux, a scenery made of sand and rocks which have vaguely the shape of a castle. From there, you can look up at the islands La Désirade, Petite Terre, Marie Galante, Les Saintes, La Dominique but also have a perfect view of the islands Grande Terre and far away Basse Terre.
a very nice but also very touristy city and beach (maybe the tourists primary area of Guadeloupe). L'Americano, bd Georges Mandel, 0590 88 38 99: bar/restaurant offers free salsa courses on Saturdays and live performances some days. You will find all kind of bars. You can try Club Med, 0590 85 49 50 fax: 0590 85 49 59 (for instance, others resort may propose this formula too) for a one day all inclusive (breakfast, buffet, bars, drinks, beach volley, windsurf, boat, gym, dance courses...) for about €46, so it may be a good deal (as it costs €7 one hour of windsurf).
, renowned for its amazing cemetery composed of burial places made of black and white tiles.
, not far from there, you can visit La pointe de la Grande Vigie, northern point of mainland Guadeloupe. You can also go to Porte d'Enfer, a beautiful still stripe of sea between a scenery of reefs. From there, walk one hour along the cliff, and you will discover a Souffleur, kind of geyser due to the pressure of the sea.
nothing special to see, but the weekend, there are 3 local nightclubs: L'instant, Caraibes and Latin Club. They are located at the same place.
: the industrial and commercial zone of Guadeloupe, nothing special to do or see. Here stands the biggest shopping mall of the island. Not too far from there, you can find a local bar/nightclub named Bik Kreyol, Beau Soleil, 0590 25 80 46 or 0590 92 06 48 (Entrance €5, Drinks €3). Local music (ragga, zouk, rnb) and local customers. The building is typical, it's a former warehouse.
Other destinations

Don't miss the spectacular waterfalls in the jungle of Basse-Terre (Carbet Falls). Some are within 5–10 minutes walking distance from the nearest parking lot, some require at least 3–4 hours of hiking (those are, of course less frequented by other tourists and you might find yourself alone at a spectacular waterfall in the middle of nowhere - an amazing experience!).
The local rum distilleries offer tours (check for opening times as they may vary from season to season) which are certainly worth the while since rum production is a very integral part of Guadeloupe's economy. And sampling the local rums is definitely worth the while.
Even though they might not be the best way to get around the island, a ride on the bus is still an experience you should not miss. Cheap, full of locals, conducted by fearless drivers, you can enjoy the beautiful Caribbean panorama to the sound of Guadeloupean zouk music. Some routes are not good for passengers with weak stomachs.

Understand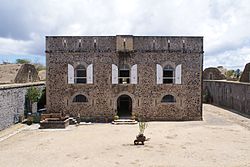 Guadeloupe has been a French possession since 1635 except for the years 1813-1814 when it came into Swedish possession as a consequence of the
Napoleonic Wars
. The island of Saint Martin is shared with the Netherlands; its southern portion is named Sint Maarten and is part of the Netherlands Antilles and its northern portion is named Saint-Martin and is part of Guadeloupe.
Guadeloupe is an archipelago of nine inhabited islands, including Basse-Terre, Grande-Terre, Marie-Galante, La Desirade, Iles des Saintes (2), Saint-Barthélemy, Iles de la Petite Terre, and Saint-Martin (French part of the island of Saint Martin).
Climate
Subtropical tempered by trade winds; moderately high humidity.
Terrain
Basse-Terre is volcanic in origin with interior mountains; Grande-Terre is low limestone formation; most of the seven other islands are volcanic in origin.
Talk
French
is the official language, although Guadeloupean Créole (very different from French) is the native language. Everyone speaks French but few people understand English. Most people working in the tourism industry will speak English and sometimes Spanish or German.
Get in
Passports and visas
Being an integrated part of
France
, Guadeloupe is considered as European as Paris politically, so
European Union
immigration rules apply.
By plane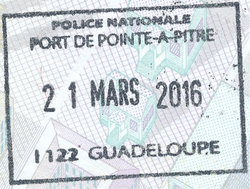 By car
From some neighbouring islands, you can travel with your car on ferry companies (See section by boat).
Rentacar - One of the largest agencies of car rental in Guadeloupe, agency at the airport and English speaking counter agents. All types of passenger vehicles and several types of contracts possible.
Quickly - Agency at the airport of Pole Caraibes, presents 14 years on the islands of Guadeloupe. All types of vehicles.
Locacar - Car rental implemented on Grande-Terre, near to the hotels. Shuttle from airport services.
By boat
From Martinique, Dominica, Saint Lucia, Marie Galante, and Les Saintes: Express des Iles, Brudey Frères, and Star Ferries.
Windward Islands - Windward Islands, one of the worlds largest yacht charter companies, can take care of all charter requirements, from bare boat to crewed in Guadeloupe, Martinique, and St Martin. Operating from its international offices (USA, UK, Germany, France, Spain, Switzerland, Caribbean, Hong Kong, and Dubai).
Canadian Sailing Expeditions - Tall Ship Caledonia - Travelers can embark at Pointe-a-Pitre and sail on to various locations such as Deschaies.
Get around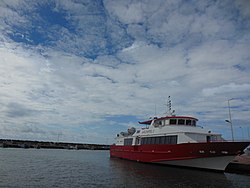 By car
Cars can be hired at the airport in Pointe-à-Pitre. The main roads are of the same quality as metropolitan France, but smaller roads are often uneven, pot-holed and frankly dangerous. Prudence is required! Drivers are often undisciplined, but rarely aggressive.
See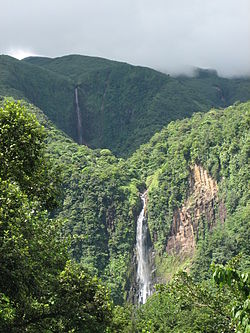 Natural beauty
is perhaps Guadeloups main attraction, and tourists flock to its sandy beaches, azure waters and vast forests. The southern coast of Grande-Terr is the main resort area, where you'll find developed, beautiful beaches and calm waters. It's a good place to kick back and enjoy a cocktail in one of the beach bars or join the many French women bathing in the Caribbean sun. Or, head for one of the many diving schools and explore underwater wildlife. For a fun day trip, hop on a ferry service around the scenic eight islands cluster of
Les Saintes
, skirting Guadeloupe's southern coast. The gorgeous and rustique island of
Marie-Galante
makes another perfect trip for a day or even two, as it has lovely scenery, great sands, 19th century windmills and sugar cane plantations to see.
In contrast to the rolling hills and flat plains landscape of Grande-Terr, Basse-Terre (the western wing of the island) has a rough volcanic relief. Here you'll find the splendid
Parc National de la Guadeloupe
, a 74,100-acre protected rainforest with plenty of trails for expert and novice hikers. The park is home to the 1467m high peak of the
La Soufrière volcano
, the highest mountain peak in the
Lesser Antilles
. On its lower slopes are the grand
Carbet Falls
, a series of 3 waterfalls on the Carbet River and one of Gouadeloup's main attractions. For wildlife lovers, the
Zoological and Botanical Park of Guadeloupe
offers a great insight in tropical flora and fauna and its animal collection included rare and endangered species.
Basse-Terre
city, the administrative capital of Guadeloupe, is home to a range of colonial buildings. Furthermore, there are the 19th century
Cathedral of Saint-Pierre-et-Saint-Paul
, the main square and adjoining
Jardin Pichon
. In
Pointe-à-Pitre
, there are
museums
, a bustling
creole market place
and
aquarium
and of course the impressive colonial
fort
to explore.
Guadeloupe is the
filming location
for the Franco-British TV series
Death in Paradise
, with the island doubling as fictional British Overseas Territory "Saint-Marie". The real village of Deshaies doubles for "Honoré", where the characters' police force is based.
Do
Scuba diving and snorkeling. There is an amazing assortment of tropical fish, even in water less than one metre deep. For those who can't swim, glass bottomed boat trips are on offer.
There are many festivals to attend to in Guadeloupe. In Guadeloupe they call them "parties on the street". They use colourful ribbons and tie them round their wrists to resemble the colours of all the nations. Their parties last all through the night until the early morning. They sometimes call them "swatson".

Buy
Money
Like the rest of France, the official currency is the
euro
("
€
", ISO currency code:
EUR
). It is divided into 100 cents.
Shopping
Characteristic of the Antilles is the colourful tiled Madras fabric.
The local made rum is also distinctive and very cheap to buy. Certainly worth sampling (during an evening at one of the beautiful beaches or at home when showing vacation pictures to friends and family to warm everyone up to Caribbean temperature)
Eat
Not to be missed, the plate Colombo (chicken, rice, curry), imported from India, has become the typical regional plate. The expected cost for a restaurant meal is anywhere from €5-40.

Drink
The local drink is white rum. Do try the "'Ti Punch" (petit punch/small punch) made with rum, lime, and sugar cane/brown sugar. Packs a wallop, so be prepared to melt into the island way of life.

Sleep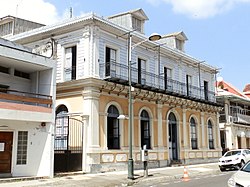 Work

For European people coming from an EU country, working in Guadeloupe is allowed without problem. If you're from outside the EU, you will probably need a work permit - check with the French Embassy in your country. Do not forget though that the unemployment rate is around 28%. But if you work in the health sector (doctor, nurse), it will be much easier. Else you could find a job in bars, restaurants, and/or nightclubs. The better is to have a precise idea of what you want to do, inform yourself and prospect before going there.

Stay safe

The main tourist areas (city center of Point-à-Pitre, Le Gosier, St. Anne, St. Felix...) are pretty safe, especially by day. When it gets dark, you should avoid walking around in Point-à-Pitre alone and stay on the main roads and plazas and be aware of smaller side streets. Always try to keep a low profile as a tourist to avoid attracting unwanted attention.

Stay healthy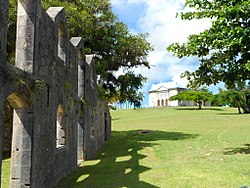 There is no particular disease but you should protect yourself from the sun.
Sanitary and medical facilities in Guadeloupe are good.
Health care in Guadeloupe is controlled by a state-owned organisation (
Sécurité Sociale
).
Doctors are available in almost every village.
Tap water is usually safe for consumption. Public sources of water are unsafe if labeled with "Eau non potable" (no drinking water).
Visitors from
European Union
should bring their European Health Insurance Card with them. Ask details at your local health care organisation.
Emergency phone numbers
emergency services: 112 (which can be called from any mobile phone, even if not connected to a GSM network);
fire brigade: 18;
police station: 17;
specialised emergency medical service (called SAMU): 15.
Respect

While officially a part of France, the country does not have a very Europeanized way of life — life in the Caribbean has a much slower pace. Buses run very infrequently, taxis are hard to find, smaller stores open or close not always on time, queuing in stores is sometimes very time consuming... Try to fall into the local pace and do not complain about minor annoyances as Guadeloupeans will see that as an offense to their way of life. And they are proud of the distinction between caribbean and metropolitan (French) life style!

Connect
Phones
Country code: 590
Dialing within Guadeloupe: all numbers have 10 digits. Landlines begin by 0590 and mobile phones by 0690.
Dialing to Guadeloupe: international prefix + 590 + phone number without the first 0 (this leads to dial twice 590 which is normal). If you dial from France, just use the 10 digits number.
Dialing from Guadeloupe: the international prefix is 00.
Calling to a mobile phone is more expensive than to a landline. Number beginning by 0800 are free phone. Number beginning by 089 are premium-rate.
Few foreign mobile phone companies offer international roaming to Guadeloupe so double-check before leaving. Your company should provide specific roaming to Guadeloupe since it has deferent mobile phone companies than in mainland France.
Alternatively, you should be able to get a Pay-as-you-go SIM card from various locations. There is one company offering wireless services:
Orange Caraïbe
.
Post
Post offices are found in all cities.
Letter boxes are colored in yellow.
Rates
Less than 20g (postcard, letter with one or two pages in a regular envelop) :
France (including Oversea Territories DOM-TOM): 0,53€
area 2 (rest of the world) : 0,90 €
The basic stamp for regular mail is red with the head of "Marianne" (the Republic logo). It does not carry its value and can therefore be used even after a price increase. It is sold in all Post Offices, Bureaux de Tabacs (Tobacco sellers identified by a red lozenge) and postcard vendors. The latter may also carry other common stamps.
In most Post Offices you will find an automatic machine (yellow) with a scale and a screen. Just put your mail on the scale, tell the machine (French or English) the destination, pay the indicated amount and the machine will deliver a printed stamp.