Guayaquil
Guayaquil
is the largest city in
Ecuador
.
Understand

Guayaquil is a sea port, and its personality derives much from that fact. Also, the climate is hot and humid. These two factors give the city a 'Caribbean' soul, where foreigners are usually well received, tropical music rules and seafood is a must do. An old travel book once counted the attractions in Guayaquil as one: "The Public Cemetery". Not so, anymore; the city has undergone a great change as a result of great efforts made by the city administrators. Now you can find great parks and green areas all over the city (for example Peñas and the Malecon), and the city has a new look which attracts tourism from inside and outside the country.

History
Guayaquil was founded on July 25, 1538 with the name "Muy Noble y Muy Ciudad de Santiago de Guayaquil" by Spanish Conquistador Francisco de Orellana. Before the city was founded by the Spanish, it was a native village.
In 1600 Guayaquil had a population of about 2,000 people; by 1700 the city had a population of over 10,000.
In 1687, Guayaquil was attacked and looted by English and French pirates under the command of George d'Hout (English) and Picard and Groniet (Frenchmen). Of the more than 260 pirates, 35 died and 46 were wounded; 75 defenders of the city died and more than 100 were wounded. The pirates took local women as concubines. Quito paid the ransom demanded by the pirates with the condition they release the hostages and not burn Guayaquil.
In 1709, the English captains Woodes Rogers, Etienne Courtney, and William Dampier and 110 other pirates looted Guayaquil and demanded ransom; however, they suddenly departed without collecting the ransom after an epidemic of yellow fever broke out.
In October 9, 1820, almost without bloodshed, a group of civilians supported by soldiers from the "Granaderos de Reserva", a battalion quartered in Guayaquil, overwhelmed the resistance of the Royalist guards and arrested the Spanish authorities. Guayaquil declared independence from Spain, becoming the "Provincia Libre de Guayaquil". Today Guayaquil is the main port and financial center of Ecuador.

Get in
By plane
José Joaquín de Olmedo International AirportElected as best South American airport, it is near the new business district center and is next to the international bus station. It offers flights to New York, Miami, Houston, Buenos Aires, Caracas, Madrid, Amsterdam, Lima, Bogotá, Panama City, San José, San Salvador. There are flights 4 times a week to Cali and twice a week to Medellín, Colombia. Taxis to a hotel in the northern suburbs shouldn't cost more than $3 and a ride to downtown, where most attractions are located, is about $5. There are plans to build a new international airport about 20 minutes from Guayaquil, near Daular.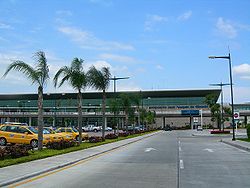 If you are planning to visit the
Galápagos Islands
, Guayaquil is the cheapest place from which to fly. There are three air carriers that will take you to the Galapagos Islands and to the Ecuadorean mainland:
Avianca
,
LATAM
,
Aerogal
and
TAME
, which have non-stop daily flights. Departing from Guayaquil is cheaper than leaving from Quito ($375 vs. $500, Jan 2019); it's closer and most of the Quito flights make an stop at Guayaquil's airport for refueling and picking up passengers. An international departure airport tax is included in the price of the ticket.
By car
If you are driving, your horn is your best friend. Be careful, as the city is full of aggressive drivers, but if you are always on the defensive you won't get anywhere. Gas stations are full service.
You can also rent a car cheaply just outside the airport, paying around $40 a day (Apr 2019).
Carmax
is one of the less expensive yet reliable companies available. Avis and Europcar also have offices at the airport.
By bus
Cruz del Sur operate international bus services from Peru.
Within the city the local bus system is confusing but the locals will help you get where you want to go. It is also the cheapest way to get around the city as there is no metro system. For women it is safest if you sit at the front near the driver, but don't be alarmed, the bus is a safe way to travel around Guayaquil.
Guayaquil's bus terminal is well organized, but keep an close eye on your belongings. There are frequent connections to almost every destination in
Ecuador
. Keep your items close to you during the midnight check points. The police will steal valuables when the men leave the bus to be checked for weapons; this occurs on night busses around Ecuador.
By boat
Guayaquil´s port is the biggest in Ecuador. You can travel to the Galápagos Islands and other destinations from here.
Get around
By Metrovia
Metrovía
is a modern bus rapid transit system that runs mostly from north to south and east to west of the city. The fare per ride costs 25 cents (as of 2017). You can use either cash or an electronic card (
la Tarjeta Metrovía
) to pay. It is a reliable and easy-to-navigate transport system; has modern buses and stops. It offers a good connection between downtown and to the main bus terminal and the airport. The Rio Daule terminal is across the street from the main bus terminal and some blocks away (around 15 minutes walking) from the airport. Match the code of the bus (e.g. T1, CS, T3) with the station where are you heading to, since not all buses stop at all stations. You can use the map posted at each station for this purpose. The following stations will drop close by to some tourist attractions: La Catedral, Las Peñas, Jardines del Malecón, Banco Central and Biblioteca Municipal.
By bus
Within the city the local bus system is confusing, but the locals will help you get where you want to go. It is also the cheapest way to get around the city as there is no metro system. For women it is safest if you sit at the front near the driver. The bus is not a good idea in Guayaquil. The boys take your cell phones and other items. Ask for a taxi at the hotel you are staying. Get the driver's ID and a business card from him. Not all yellow taxis are safe. Travel in pairs at night.
By taxi
Taxis range from "taxi amigos" (un-marked taxis you call to pick you up) to the standard yellow cabs. Taxi drivers will try to overcharge tourists. Nicer taxis are metered by GPS, but the majority of taxis do not have meters. Always agree on a price (or make sure the meter is running) before you get into a cab.
Cabify
, a Spanish ride-hailing app, and
Uber
are available in Guayaquil. The apps provide guaranteed pricing, payment by credit card, and an English-language interface.
By car
You can also rent a car at one of the places just outside the airport. Prices range from $40 (Apr 2019). Anyone with a driver's license from their home country can drive as a tourist in Ecuador. However, if you are involved in a crash the police may take both drivers to jail until they sort everything out and decide what happened. Just take a taxi. It's the safest way to travel in GYE. Always take the taxi at night.
See
These places are located in the downtown area, near the main hotels and at the heart of the regenerated area, a very secure walk.
The Malecon Simón Bolivar. It is a long park beside the Rio Guayas ("Guayas River"), with shops, an IMAX theater, gardens, and a beautiful view of the river and downtown.
The "Malecon del Salado" is next to the "Estero Salado" (an estuary of sea water). Here you can enjoy fresh air and wonderful sunsets, with restaurants of local food, in a very safe park.
The renewed downtown area (Area regenerada), very secure to walk and look around.
Museums (Museo Municipal, Museo Nahim Isaias, MAAC and Presley Northon Museum are located in the center of the downtown)
Santa Ana & El Carmen hills. You can see almost the whole city from here. You can walk up the 400-odd steps to the top from the Malecon Simón Bolivar. There is a lighthouse, museum, small chapel and park at the top. Along the stairs, vendors sell water, ice cream and other snacks.
Las Peñas, where the city was founded, has been rebuilt and painted bright colors where most of Guayaquil's colonial buildings are.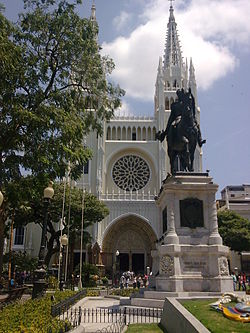 Parks. Visit the "Parque de las Iguanas" downtown, which is home to hundreds of tame iguanas, some fish in a pond, a black squirrel or two, and some turtles.
The Central Bank Building has several giant paintings on the outside of the building.
Markets. You can visit the "Mercado Artesanal", where you can buy some very cheap souvenirs from all regions of Ecuador. Near the Malecon Simón Bolivar.
The cemetery north from the centre has a few impressive graves and statues and plenty of more normal graves. Worth a visit if you're into graveyards.
Other interesting places near Guayaquil:
"Parque Histórico", an interesting recreation of the early 20th century years of Guayaquil, the look, the people and the food. Includes a small zoo.
"Crucero Discovery", rides up and down the Rio Guayas. You can catch it at Malecon Simón Bolivar. Crazy parties at night.
Traditionally, Salinas has been the main beach, but since 2008 General Villamil Playas has attracted a big part of the local and international tourism. Fishing, surfing, and other water sports. Many modern hotels and delicious sea food. Interesting night life. Wonderful whalewatching during June to September.
The following places are interesting to see if you are daring:
6 de Marzo is an interesting street to visit about 10 blocks from the downtown area during the week before New Year's Eve, because the street is lined with "Años Viejos" or old years, papier-mâché figures ranging in size from about 30 cm (12 in) up to 3 m (10 feet) tall. These are often political, movie or cartoon characters.
La Bahía, just off the southern end of the Malecon Simón Bolivar. Huge market area full of shops and stalls of almost anything imaginable. Because it is so cheap you will have lower social class people and have to be a little careful with belongings.
Cocoa or banana plantations are located around Guayaquil city.
Learn
Biblioteca Municipal de Guayaquil (Municipal Library of Guayaquil) serves as the public library of Guayaquil.
There are many language schools and some universities. Guayaquil is also home to the only U.S. accredited college in all of South America, Broward College, Ecuador.

Work

Lots of English speakers work at English academies or schools teaching English. Legally, they should have some kind of visa that permits them to work, but some schools don't pay much attention to the legal status of the teachers. Wages are not up to U.S. standards and hours can be rough (mornings, evening and Saturdays), but a passable living is possible. Some people come to Ecuador to work specifically because the economy is dollarized.

Buy
There are about 20 malls in the city. A nice place to buy is Via Samborondon.
Mall del Sol
Mall del Sur
Riocentro Norte
City Mall
Riocentro Los Ceibos
Riocentro Sur
Riocentro Entreríos
San Marino
Alban Borja
Garzocentro
Policentro
Village Plaza, near Riocentro Entreríos.
Besides that, there are several popular spots like:
Mercados Artesanal
La Bahia
Eat
There are many traditional dishes to try, such as encebollado, seco de pollo, ceviche, and caldo de salchicha.
There are also many international fast food chains throughout the city such as Burger King, Wendy's, KFC, McDonald's, Taco Bell and Pollo Tropical.
Parrillada del Ñato; foods such pizza, grilled meat, and more are served.

Red CrabCoastal food: fish, crabs, shrimp; a big variety of dishes and combinations. A little pricey for the medium. Has two locations: 1. in Urdesa: Av. V.E.Estrada 1205 y Laureles. 2. in Samborondón: Plaza Nova, Km. 2,5 vía a Samborondón.

Chinese restaurants (Chifas) are found throughout the city, and their food is very good.
'El Patacón' restaurant in Urdesa serves local cuisine, mostly based on verde (green bananas also known as 'Plátano Macho' in Central America).
Vegetarian food is not very common in Guayaquil, but there is a guesthouse in the Centro called Manso that serves quinoa and lentil hamburgers and other dishes that combine Ecuadorian ingredients in fast food format for veggies.
Budget
There is a lot of great cuisine in Guayaquil's centre. If you are more daring, you can go to this downtown area, near 9 de octubre avenue; there are Chinese restaurants called "chifas" and local restaurants where you can eat the seco de pollo, caldo de salchicha, etc.
A myriad of more upscale shopping opportunities and bars can be explored around the Urdesa neighborhood, especially along its main drag, Victor Emilio Estrada. Wonderful small food carts are scattered throughout, called "Carretillas". Common on the streets, those with "Shawarma" (the Lebanese gyro) are particularly delicious. These abound, due to a large expatriate Lebanese community which has been a part of Guayaquil for almost a century.
Mid-range
Lo Nuestro has a good variety of traditional dishes.
You can also go to a restaurant where the best 'encebollado' is sold. The place is called "Encebollado cordero"; it is near the IESS.
Splurge
Samborondon is in the northeast of the city. There are a lot of restaurants with a great variety of food. Here you can find Japanese, Italian, American, and local food, too.
Taberna Libanesa is an excellent place, located just behind the Supermaxi, Via Samborondon. Cozy and elegant, with excellent Lebanese food. They serve lunch and dinner and have a few tables on the veranda of this upscale shopping center.
Urdesa. In the Victor Emilio Estrada you can found a great variety of good food and also a nice place to visit.
Drink
Great nightlife; you can go to 5 or more discos in one night, and don't need to travel much.
The usual price for entering is $10-$15 consumable, depending on where you go.
Usually the parties there last to 04:00. but you can always find something else to do in this city.
Visit the "Zona Rosa", located at the secure regenerated area, with several options of night life.
Several brands of beer are available.
El Gran Yate

address: Alborada

Crabs and beers, $1 a crab

Bloom Club

phone: +593 9 931 5800

address: Aventura Plaza Local 46

It is a mid-size club for 200 people approx. offering a broad selection of music and drinks, very popular among people from 20 to 40 years old. The Shopping Center "Aventura Plaza" offers security and has a nice park inside, with a huge iguana sculpture on it; it features other sport and karaoke bars, small discos and some good restaurants as well, at affordable prices. A parking lot is available at no cost but if you plan to drink, taking a cab is better, and at your departure it is recommended to ask the host to get you a secure taxi.
Sleep
The city has hotels for every pocket and decent hotel rooms can be had for around $10 a night.
Budget
Guayaquil Airport Suites Mall del Sol

phone: +593 988899774

address: Av. Juan Tanca Marengo Y Abel Romeo Castillo, Torre Del Sol 2

Luxury suites with full kitchen and fridge in the most exclusive area of Guayaquil near the airport complete with hot water, TV, Wi-fi, 24-hr staff and airport transfers, A/C, restaurants.

phone: +593 4 2532000

address: Luque 1107 y Avenida Quito

Neat and clean hotel, cheapest in its category, just a few blocks from 9 de Octubre Ave. Has hot water, TV, WIFI, internet cafe in lobby, A/C, restaurant, laundry service, room service.

Hotel Andes Inn

phone: +593 4 2329796

address: L. de Garaycoa 1233 y C. Ballén

Clean, good value hotel. Large sunny windows. Cable TV. Hot water. Internet in lobby.

phone: +593 4 2524648

Cable TV, air conditioner, free and reliable Internet, kitchen. In the center of Guayaquil (very noisy!) near to Malecon 2000, Seminario Park.

phone: +593 4 2320030

address: Luque 1101

Simple and clean place just a few blocks from the center of town. Rooms have TVs, fans and towels.

Murali Hostal Airport Guayaquil

phone: +593-4-227-5533

address: Garzota 2 La Salle y 3er Callejon esq. mz 135

Clean, safe, good value hotel 2 blocks from the airport and bus terminal in Guayaquil. Friendly dog on campus, AC, patio for smokers, free Wi-Fi in rooms.

phone: +593 4 220 1143

Ciudadela La Cogra, Manzana 1, Villa 2, off Avenida Julio Arosemena km 3,5. From bus terminal terrestre $5 by taxi. Most recommendable. Enjoy lovely views of Guayaquil in one of the hammocks on the large terrace or refresh yourself in the pool. Starting from $15 for dorm, private rooms are available up to matrimonial class with own Jacuzzi. Breakfast included, free internet access, modern cooking facilities, warm water and towels, friendly staff, nice guesthouse, very clean.

'MansoLocated in the city's centro, across the street from Malecon 2000, is a budget guesthouse that has full service riverview suites, and more economic rooms with and without air conditioner. Also rooms with shared bathroom and dorms @ US$10 per person. Nice deco, beautiful historic landmark building.

phone: +593 4 2690885

address: Near Airport Jose Joaquin de Olmedo

Free internet (Wi-Fi, laundry, private rooms, cable TV, hot water, clean rooms.
Mid-range
La Fontana. One of the best mid-range hotels in town, exceptional location, friendly staff, nice rooms, cable. Price is around $45 for a single, $50-55 for a double, but discounts are available. P. Icaza 404 y Cordóva. +593 4 230396.

phone: +593 4 6009200

address: Av. Francisco de Orellana #236

144 guest rooms with complimentary high speed Internet access, comfortable beds and large work desks.
Splurge
Grand Hotel Guayaquil (known locally as the Hotel Guayaquil) - 5 stars, 10 minutes from the airport in the heart of the city. Beautiful pool, waterfalls, stunning stained glass windows of the Cathedral and a 14 m (45 ft) hanging garden.
Hilton Colón International- 5 stars, located at the heart of the Northern area
Hotel Oro Verde (not to be mistaken with the Hotel Loro Verde)- 5 stars run by the Swiss Administration
Hotel Continental - 5 stars, in front of the Parque de las iguanas.
Howard Johnson Hotel - 5 stars, near the airport
Sheraton Four Points Hotel - 5 stars, in front of the Mall del Sol
Best Western - 4 stars, near the main attractions
Marriott Hotel by Courtyard - in the new downtown of Guayaquil at Kennedy's North area
Best Western Guayaquil - 4 stars hotel located in the downtown area
Hampton Inn Hotels - 4 stars hotel located at the main street on 9 of Octubre Avenue
Unipark Hotels - 4 stars hotels inside the Unicentro's mall
Northern suburbs
address: Alborada 12 Av. Etapa, Mz-02 Villa 21

A friendly hostel with a nice outside area. They offer a book exchange and the accommodation comes with a delicious breakfast. Prices are on a room basis, but if it's possible you can share it with other people. A dorm is $10 with breakfast. A single room with private bathroom and with air conditioner is $20, without a/c $18, breakfast included. They can pick you up from the airport and it will cost $10. $3 taxi to Malecon. 25 cents bus drive. Close to airport and bus terminal. However, be forewarned. DreamKapture does not allow Ecuadorians to stay on the premises. If you are traveling with an Ecuadorian, you'd best look elsewhere.
Ecuahogar, Av. Isidro Ayora (Sauces Uno
* Mz F-31 * Solar 20 ), +593 2245357 email youthostal@telconet.net ). Basic, but expensive rooms with a ventilator and television. Bathrooms are shared. Two bread rolls with marmalade and a coffee for breakfast is included in the price. A night in a single room costs $12. It is far from the attractions area but near the airport and the national bus station (Terminal Terrestre).
Connect

There are cyber cafes around to communicate with distant friends and relatives. These often have telephone booths for making VoIP phone calls. Some malls (Mall del Sol, Riocentro Los Ceibos) even offer free
Wi-Fi in the food courts, in addition to free entertainment. Buy $30 worth of groceries at Mi Comisariato and get a two for one coupon to the movies.

Stay safe
Guayaquil is considered to be a dangerous place as of 2018. There is violent crime, and women travellers should be particularly careful. The port area and south Guayaquil are especially dangerous. Be aware in Plaza Centenario, especially when it is very crowded.
The U.S. Department of State warned in 2018 that:
"Visitors should exercise extreme caution in the downtown area and the southern part of Guayaquil. Tourist sites the Christ statue (Sagrado Corazon de Jesus) on Cerro del Carmen, the Malecon 2000, and Las Peñas -- though well-patrolled by police, are targeted by criminals hoping to prey on unsuspecting tourists. There have also been reports of armed robberies at restaurants in the Urdesa and Samborondon areas."
Always remain aware of your surroundings. Don't pay attention to anyone trying to speak to you on the streets, not even to wealthy-looking people or beggars. Avoid walking alone around the downtown area at night, especially off Avenue 9 de Octubre or well-lit areas. Don't flash money or valuable things in public. Never walk in suspicious areas. Guayaquil is especially dangerous at night, so avoid walking on streets at night.
Attacks have been reported where someone will distract the target so that the attacker can put a choke hold on the victim from behind and make the victim pass out in order to easily rob the person.
Use only official taxis, and radio taxis instead of hailing one off the street, as there have been many cases of robberies involving taxi cabs. Avoid wearing jewelry that is expensive or appears to be of high quality.
The only drinkable water is bottled water.
Cope
Several countries have consulates in Guayaquil such as:
United States
Germany
Greece
The Netherlands
Syria
Switzerland
Japan
Colombia
United Kingdom
Israel
Mexico: Pedro Carbo No. 555 y Vélez. +593 4 232-0964, 232-8114, 232-8117.
Go next
Other places that you can visit are the beaches at Playas which is about 90 minutes away, and the more popular Salinas beach which is about two hours away up the Via la Costa.
Quito
is about a 7-hour drive (less than an hour flight also for about $125 round trip, September 2009)
Cuenca
is about a four hour drive (half-hour flight for about $120 round trip, September 2009) through beautiful and interesting scenery, including a mangrove preserve, cocoa and banana plantations, cloud forests and mountains.
Not too far out, perhaps 30-50 minutes, there is a beautiful cocoa plantation where they also make chocolate. The owners entertain tour groups by serving cocoa juice and plantain snacks before you are taken on a tour of the cocoa plantation right up to the final chocolate tasting. You are then entertained with a delicious local lunch. Absolutely fabulous! It is past the orchids farm on the same road. The cost is $110 per person when booked via tour operator Canodos. The tour operator is essential if you don't speak Spanish.
International buses
There are several bus companies that cross the border to Peru that are available from Guayaquil. Most services stop close to the main cities along the Panamericana motorway; such as Machala, Tumbes, Máncora, Piura and all the way to Lima.
CIFA: They have a stand inside the main terminal, within the international section. Usually this is the company that provides the cheapest services and a popular choice among backpackers. They have several departure times a day and different services. Procure the direct service that goes to your desired destination, since some services do stop a lot along the way. Their buses might have somewhat low cleaning standards.
Ormeño : Buses leave daily around 11:00 close to the main bus terminal, where their office is located. Just go to the terminal, ask for the office of Ormeño and walk 5 minutes outside the terminal. Ormeño has been in business for several years. Unfortunately, the buses were never renewed and are known for bad services, so air conditioning might not work. In case one should have problems at the Peruvian border, the bus drivers might not wait until the formalities are done.
Ecuatoriano Pullman : Departs everyday at 23:00 from the main station, where their stand is also located at the international section.
Nevertheless, other companies like Ruta De America and Caracol can be valuable alternatives. Routa de America goes from Guayaquil to Lima every Sunday. Call their office in Quito for more information.