Guntur
The municipal corporation of
Guntur
(also called
Guntur City
) is located on the plains, 40 miles (65 km) west of Bay of Bengal on the east coast region of
India
. It is one of the major cities in the Indian state of
Andhra Pradesh
. Its district is surrounded by the River Krishna, where it merges into the ocean.
In ancient times the city was referred as "Garthapuri". Its estimated population is around 700,000. It is one of the larger cities in the state of Andhra Pradesh.
Understand
Climate
Get in
By plane
There are flights to Vijayawada from Hyderabad, Chennai and Bangalore. Vijayawada is an hour by bus.
By train
There are plenty of long-distance trains available at the Vijayawada Station to get to any part of the country and Guntur also has a railway station but with less frequent trains. So, one can plan for a train to Vijayawada and get to Guntur by bus.
There is also a newer Guntur Railway Station, with long-distance service from many cities, including
Hyderabad
,
Chennai
,
Bangalore
,
Kochi
,
Howrah
,
Puri
,
Vizag
,
Lucknow
,
Delhi
,
Jammu
and
Tirupathi
. See the
Indian Railway site
for detailed schedule and pricing information.
Local (suburban) train travel is available between
Guntur
,
Vijayawada
and
Tenali
.
By bus
Local city buses are run by state owned APSRTC and also private City buses are also there. They cover not only the entire city region, but also the suburban and near by rural areas with a bit low frequency.
Deluxe buses travel to longer distances with in the state as well outside the state, for example to Hyderabad and Bangalore.
Private buses many private buses travel across the region covering both center city, suburban and rural areas. But the draw back of the private buses is that they don't maintain good schedules.
Parking in the city is improving. It may be easy to park two wheelers, but finding parking for Cars bit harder. Generally parking is provided by the city government as well as the business owners.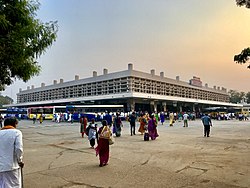 Get around
On foot
Buses
By car (Local)
Commuter rail - Using the local trains, Guntur city region can be accessed with the following train stops. The circular trains are to be introduced in the near future.
Nallapadu (Guntur West Suburban)
Main Central (Downtown)
New Guntur (Guntur North Urban)
Nambur (Guntur East Suburban)
Vadlamudi (Guntur Rural)
Taxi
Auto
Motorbike/Bicycle: Motorbiking or cycling in downtown and busy areas can often be quicker than taking the auto-rickshaw or a taxi.
See
Ancient & archaeological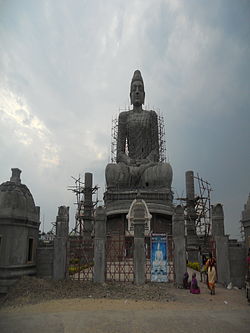 Amaravathi: 26 km (16 miles) northeast from Guntur City, Amaravathi is named after its famous temple of Amareswara Swamy with the swayambhu linga. Also the Mahachaitya stupa, built in the 2nd century BCE in Amaravathi, is richly adorned with carvings depicting the life and teachings of the Buddha. The stupa houses a small museum with a collection of old monuments, and a pictorial depiction of the Buddha's life and teachings and terracotta antiquities. The temple walls have a number of inscriptions that throw light on the different dynasties that reigned over this place. The Museum at Guntur, has collection of various relics and antiques such as Stupa-slabs, railings, sculpture, coins of gold, silver and lead, potsherds and crystals caskets.
Bhattiprolu 20 miles (32 km) southwest of the city, formerly the Kingdom of Prati Palaputra, appears to be the earliest known kingdom in Guntur District.
Kondaveedu 17 miles (27 km) from Guntur City. This historical fort was built during the reign of the Reddy kings in 14th century CE. There are 21 structures in the fort. The ruins of the fort located on the hilltop offer unraveled mysteries to the tourist. A place of natural scenic beauty with natural wonders it is an ideal place for trekking. The Gopinatha temple and Kathulabave at the foot of the hillock, numerous temples, residential structures, pillared halls on the hill and the entrance gate ways on east and west sides are the attractions at Kondavidu.
Kotappakond, Guthikonda Caves: Kotappakonda, the temporal abode of Trikoteswara Swamy, is a village, 40 km (25 miles) southwest of Guntur City near Narsaraopet. Its original name is Kondakavuru, but is more popularly known as Kotappakonda or Trikutaparvatam, a three-peaked hill nearby. Though surrounded by other hills, the three hills, also known by the names of Trikutachalam or Trikutadri, can be distinctly seen from a distance from any direction. The three peaks are named after the Hindu Triumvirate, Brahma, Vishnu and Maheswara. Guthikonda popularly known as Dakshina Kasi is located near Narasaraopeta. The Guthikonda Caves are a place of deep mystery attracting many tourists to explore.
Sitanagaram 16 miles (26 km) north-east of Guntur City on the banks of river Krishna with a vast sandy beach for recreation and leisure. The famous Someswara Swamy temple is situated here According to the legend Lord Rama wept here for Sita when she was abducted by Ravana, hence the name Sitanagaram.
Undavalli-caves, Mangalagiri: 13 miles (21 km) northeast of Guntur city, these two places are easily accessible on the Guntur-Kolkata Express Way. Managalagiri is famous for its temple of Lord Lakshmi Narasimha swamy. The hill used to be an active volcano. It is at an altitude of 30 m above the sea level. Latitude is 16.44 degrees north, and longitude is 80.56 degrees east. Here at the temple, jaggery water is offered to the lord by the devotees. According to the ancient scriptures, the lord is being worshiped since Satya Yuga (The first of the four yugas). In the down hill there is another temple dedicated to Lakshmi Narasimha Swamy. It is said that, Yudhishtira (Dharmaraju, the eldest of the Pandavas) installed the main deity in this temple. The temple has a very tall tower with beautiful sculpture which has 11 stairs.
===Downtown and other===
Downtown and city centres Guntur City has its own nice/modest downtown, midtown/city centers and uptown/residential areas. To name a few, 1. Center of Brodipet and ArundelPet, 2. Jinnah Tower Center, 3. Naaz Center, 4. Inner and Outer Ringroads, 5. Old Guntur, 6. Brindavan Gardens: A name which is identified with one of the famous residential areas, 7. Manasa Sarovar: This is like the Central Park for Guntur City. Located on the Eastern part of the city, it is one of the man made parks located in Guntur. Managed by the GMC and UDA together.
Krishna Barrage (also known as Prakasam Barrage) is on the northeastern part, located around 18 miles (29 km) from the Guntur City on the Krishna River connecting Guntur and Krishna Districts. On the other side of the River Krishna is Bezwada which is like a twin city to Guntur. Together the two/twin cities provide major medical, educational facilities in the state. This region is also a major transportation hub in the country. There is a future plan to make 'Greater Guntur' and twin cities comprising this area.
Nature
Nagarjuna Sagar Dam & Ethipothala Falls Nagarjuna Sagar, a massive irrigation project on the River Krishna, about 100 miles (160 km) from Guntur City, has a rich and interesting past. It was a valley in the Nallamala range of the Eastern Ghats with civilizations dating back to thousands of years. Recorded history, however, assigns the first signs to the later Satavahanas and subsequently the Ikshvakus in the third century. The Sriparvata and Vijayapuri of yore were really temples where the famous savant and Philosopher Acharya Nagarjuna preached the message of the Buddha. The Ethipothala Falls located 11 km (7 miles) from Nagarjunasagar, the water here is used for crocodile breeding.
Uppalapadu Nature Conservation Uppalapadu is located to the southern part of the Guntur City (4Miles). The water tanks in the village are unique as they provide refuge to many species birds including endangered Spot-Billed Pelicans and Painted Storks. The bird population in these tanks used to be around 12,000, however lately only about 7000 birds roost in this dwindling habitat through the year.
Spiritual
Viswa Nagar. southwest of the City near Chowdavaram (10 miles/16 km), easily accessible using the GNT-Chennai Express way (NH5). This is the place of Sri Viswayogi Viswamji and the Universal Integration Pillar. It is an envisioned symbol of oneness of humanity. Also located here is the VIMS/Viswayogi Institute of Medical Sciences (Mother and Child Care Hospital).
Famous temples and other shrines
Temple of Chaturmukha Brahma Lingeswaralayam 8 miles (13 km) to the center city of Guntur. It is one of rare temples of India built for Lord Brahma.
Sri Anjaneya Swamy Temple at Ponnuru (which has large idols) and Kothapet.
Sri Bhavanarayanaswamy Temples at Bapatla(built at the time of Shri Krishna Deva Raya) and Ponnuru.
Temple at Ramalingeswara Agraharam. It has old inscriptions dating to 1000 years ago.
Kakani Malleswara Swamy Temple at Pedda Kakani built during the era of Krishnadevaraya.
Hinkar Tirtha (Jain Temple, Mangalagiri), VaikuntaPuram (Tenali).
Sri Kali Gardens at Namburu.
Sri Venkateswara Swamy Temple (Anantavaram) 32 km from Guntur and 10 km from Amaravathi.
Churches
St. Matthew's West Parish, Near Grand Trunk Road
St. Matthew's East Parish, Near Old Bus Stand
St. Matthew's North Parish, Brodipet
Telugu Baptist Church, Nagarampalem
St. Joseph's Church, Opposite A.C.College
Church of South India, Opposite A.C.College
Laymen's Evangelical Fellowship, Opposite ILTD, Grand Trunk Road. Peter Paul Mobile: 9394111519
Mosques
Masjid - e - Markaz, Near Pottur-pet, Old city
Masjid - e - Barah Imam, Near Brahma Nanda Reddy Stadium, Old City
Masjid - e - Firdouse, Alinagar, Old city
Masjid - e - Azad Nagar, Old City
Masjid - e - Madeena, Small Market, Old City
Masjid - e - Al Aksa, New City
Masjid - e - Big Mosque, Constructed by Aurangazeb, Old City
Masjid - e - EK Minar, Big Market, Guntur, Masjid-e-Mohammad, 5/7 brodipet and Masjid_e_Athiqur Rahaman at Jute Mill are good mosques with nice architecture.
Nearby
GarikapaduA small village in Jaggayyapeta Mandal, in the Khammam district. It is near Madhira and Wyra. It has approximately 1000 houses, which includes the 700 houses of Kammas (Chowdaries) and 150 houses of members of Scheduled Castes and 150 houses of members of Scheduled Tribes from the lower castes. About 80% of the lands are owned by the Kammas. They take the help of people from lower caste. This is the main resources of earning for the people of lower caste. One of the main incomes in the village is milk from buffalos. A unique thing about the village is its water system. Britishers dug the big canal from Vijayawada to Madras. "Krista kaluva" canal, originally named "Bakim Ham" Canal, is 480 km long. In this canal 2 cusecs of water will pass, the total cultivated land depends on this canal.
Do
Visit Guntur mirch (red chilly) yard , which is biggest in Asia.
Eat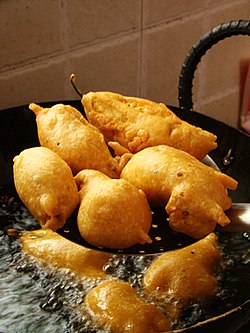 Markets
Restaurants
Ananda Bhavan Hotel- (beside Sankara Vilas bridge), well known for tasty and delicious vegetarian meals, and tiffins. Andhra style meals are famous
Guntur has three star hotels like Vajram Recidency, Sindhuri, and Vijya Krishna International.For biryany Hyderabadi house,
Hotel Surya Mahabodhi located in Arundelpet 10th line is very famous for its delicacies. Especially the Vada Sambar variety they serve is a feast for your appetite. Also don't forget to taste Guntur Mirchi Bajji. You may get it elsewhere in AP also but the taste that you get in Guntur is absolutely matchless. Two more restaurants namely Nakshatra (a 3-star hotel, located at Lakshmipuram main road) and Grand Nagarjuna are very famous in Guntur.
For grocery shopping, one can go to the super markets like Triveni supermarket, Reliance Fresh. Moreover Spencers and Subhiksha are famous for grocery shopping. Apart from these supermarkets, the Guntur vegetable market is one of the biggest in Andhra Pradesh.

Bismillah Biryani Point

address: Gunturvarithota, Beside Bilal Masjid

This hotel serves authentic Guntur biryani. Its mutton biryani is special and its chicken biryani is also worthwhile. Also try side dishes of mutton and chicken.

Hotel Madras Bilal

address: Near Markaz Mosque, Potturivarithota

Hotel Madras Bilal serves authentic Guntur mutton and chicken biryani.
Sleep
There are many three-star hotels in Guntur like Grand Nagarjuna, Sindhuri, Vijaya krishan, Nakshatra.

Cope
Hospitals - As Guntur is a district headquarters, it has a number of good hospitals including Amaravathi medical research Center, Sankar Eye hospital and Bommidala Cancer Center.
Ramesh Hospital has the most advanced medical systems and is a multi-specialty hospital.
Go next