Guwahati
Guwahati
, also Gauhati, is the largest city in the state of
Assam
,
Northeast
India
.
Dispur
, the state's capital, is in the circuit city region. Today, Guwahati is one of the fastest growing cities of India and is the second-largest metropolis in eastern India after Kolkata.
Understand
Excavations trace the origins of the city to around the 4th century and it was the capital of Assam until the 10th century. The rapidly-growing metropolis has a population of more than 1.8 million and encompasses an area of over 360 km 2 , making it the largest city in the state and the region. It is the main center for shopping, retail and business; attracting people from all over the
north east
as well as from
Eastern Bhutan
. The slow, meandering Brahmaputra River is a focal point of the downtown while the lush hills of the Shillong Plateau provide a verdant backdrop for the suburbs. The pleasant environment, however, is somewhat tempered by the inadequate investment in the region, which is apparent from the low quality of roads. Still, despite the average infrastructure, private investors have been drawn to the city in recent years and there has been something of a boom in the construction of shopping malls and high quality condominiums, which has helped raise the economic profile of the city. The end of decades-long insurgency in Assam has also helped in the economic boom of Guwahati.
Climate
Guwahati's climate is subtropical. Summers last here from April to May, monsoons from June to September and winters from October to March. Temperatures here approximately range between 19°C and 26°C. 161.3 cm is the average yearly precipitation level here. Humidity is more than 80/90% often.
Get in
By plane
Lokpriya Gopinath Bordoloi International AirportA major hub for flights to North-East India and limited international destinations. The hill resort cities of Shillong and Tura are connected by regular scheduled helicopter services run by Pawan Hans. Shillong (30 min), Tura (50 min), Naharlagun (Itanagar), Tawang (75 min).
Airlines
Destinations
Air India
Air India Regional
Druk Air
GoAir
IndiGo
JetLite
Pawan Hans
SpiceJet
Vistara
Bagdogra, Delhi, Imphal, Kolkata Agartala, Aizawl, Delhi, Dibrugarh, Dimapur, Imphal, Jorhat, Kolkata, Lilabari, Silchar, Tezpur Bangkok-Suvarnabhumi, Paro, Singapore Bagdogra, Bangalore, Delhi Chennai, Delhi, Imphal, Jaipur, Kolkata, Mumbai, Bengaluru Agartala, Bangalore, Delhi, Dibrugarh, Goa, Imphal, Jorhat, Kolkata, Mumbai Itanagar, Naharlagun, Shillong, Tawang, Tura Agartala, Ahmedabad, Bagdogra, Bangalore, Delhi, Kolkata, Mumbai Delhi, Bagdogra, Kolkata, Goa, Banagalore
By train
Guwahati is connected by train with major cities like
Kolkata
,
New Delhi
,
Bangalore
,
Thiruvananthapuram
,
Chennai
,
Hyderabad
,
Chandigarh
and
Mumbai
. Reservation office is 30 m north of the station, and at #3 window you can book a foreign tourist quota on trains originating from Northeast Frontier railways network.
By car
By road - NH-31, NH-37 and NH-40 pass through Guwahati. It is a 3-hour drive to the
Bhutan
border town of
Samdrup Jongkhar
.
By bus
It is connected to all major cities of North East India by bus. There are overnight bus services for
Dibrugarh
,
Kohima
,
Imphal
,
Itanagar
,
Siliguri
.
By boat
Luxurious vessels with A/C upper deck connect Guwahati to
Dibrugarh
, passing through Kaziranga & Tezpur.
Get around
By bus

Bus is the cheapest way of travelling around the city. Guwahati is well connected to most of its city area with local service buses, with air conditioned bus service having recently begun between the airport and the city.

By auto

Compared to other cities in India, autos charge a hefty price for the ride. There is no meter system used by the autos, the auto driver will simply refuse to drive you if you insist on the meter - the best you can do is negotiate in advance (check with a local on what it should cost you). Small distance charges are high.

By motorbike
River crossing

If you can not go on the river cruise, at least cross the river on the ferry. Ferries provide transport to the local people - they leave the jetty at Fancy bazar every half an hour and the round trip will take around 45 minutes. Tickets are ₹10, 1 way. It is a simple way to enjoy the scenic beauty of the Brahmaputra river.

See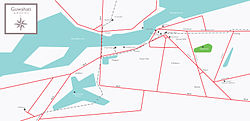 Bhubaneswari Temple

Digholi PukhuriDighalipukhuri derived its name from the word 'dighal' which means long. The lake is believed to be dug by Bhagadutta, the king of Pragjyotishpura. It is also mentioned in the Mahabharata,the great Indian epic. Dighalipukhuri is a prominent tourist attraction in the heart of Guwahati with boating facilities and recreational activities. It is an old rectangular lake of half a mile long originally engraved out from the Brahmaputra. Later, it was separated from the river when a portion was filled up. There are some nearby restaurants where one can have lunch or dinner.

Guwahati Planetarium

address: Uzan Bazar

A great place to visit for science geeks and also for lover of entertainments.

Indian Institute of TechnologyIt is around 20 km from the heart of the city and around 35 min drive from the airport.

Janardana Temple

address: Shukaleswar Hill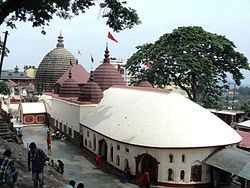 Kamakhya Temple

address: Nilachal Hill

Atop the Neelachal hill, the highest spot in the city draws pilgrims from all over India especially during the Ambubachi festival. A high seat of the shakti sect, one of the 54 Shakti Peethas of the Tantric cult, it is associated with the legend of the mother goddess who slayed the legendary demon king Narakasur who ruled ancient Assam. The Goddess Kamakhya is made of eight metal alloys, and seated on a throne with five jewels. To reach her statue pilgrims have to go down a dimly lit flight of steps. Further within the cave shrine is the well and yoni mandala clearly indicating worship began with the spring and cave long before the temple was built. Goddess is also worshiped in the aspects of Durga, Kali, Tara, Kamala, Uma, Chamunda, and Shakti. The temple dates to the 17th century and follows the Assamese style in its design.

Navagraha Temple

address: Chitrasal Hill

An 18th-century temple dedicated to nine celestial bodies is atop the second highest hill in Guwahati.

Pandu PortA river port on the south bank of Brahmaputra in West Guwahati was the entrepot to Guwaahati before construction of the Saraighat bridge in the early 1960s.

Regional Science Centre and Museum

address: Khanapara

Shankardev Kalashetra

address: Panjabari Rd

Ugro Tara Temple

address: Lotaxil

A temple dedicated to the deity Tara. The goddess in the sanctum sanctorum is not an idol but a pit of water.

Uma Nanda TempleA 17th-century temple on a river island of the same name is dedicated to Shiva. It was built by Ahom king Gadapani on this picturesque Brahmaputra isle, also called Peacock island. You can hop into a shared ferry/motorboat for ₹10 and return on the same or another boat free of charge, or reserve the entire boat for yourself. All shuttle boats leave from the KachariGhat between the Deputy Commisioner's office and the lower courts. The island is also a sanctuary for an endangered population of golden langurs which you can see from very close quarters. They have thrived on this uninhabited island chosen for their translocation from their last refuge in the Manas National Park. The island also has a Ganesh temple and is small enough to be explored on foot.

phone: +91 96133 86546

address: Cotton College Road, Pan Bazar Road, Pan Bazaar

This is an outdoor park opposite Guwahati Cotton College in the area of Pan Bazaar. This beautiful park is great to visit with your spouse or partner. Sitting arrangements are nice and organised. There is a child park inside the main area where children can have a lot of fun and activity.
Do

AccolandAirport Rd. Amusement park.

North Guwahati- Guwahati Ropeway, M. G. Road, Panbazar.
Buy
Handicrafts, of the north east and Assam are available in many shops in the city.
Handlooms & Handicrafts, the Assam Silk & Golden SIlk "Muga" is world famous. You will be fascinated to see the designs and colours of the local dress called "Mekhela - Chadar".

phone: +91 92 0704 7683

address: Digholi Pukhuri East

One of the largest stand alone leather goods stores in India with a wide range bags and accessories for men, women and travel.
Malls. The city boasts several shopping malls. These are the major ones: Sohum Emporia, Sohum Shoppe, Guwahati Central, Central Mall, FBB, The Hub Mall, Vishal MegaMart, Big Bazaar, Pantaloons.
Tea Bags, of the north east and Assam are available in many shops in the city. Assams Green tea is world famous.
Eat
If you have just exited the airport or have to wait sometime before boarding your flight, then you can head to the Airport Restaurant right opposite to the domestic terminal for some reasonably priced food.
Budget
There are many good dhabas on the main roads, highways and at the outskirts of the city.
City Dhaba

address: Bora Service, Ulubari

Dispur Dhaba

address: Ganeshguri

Get Tagged

phone: +91 9401057578

address: Zoo Road

Hotel Shyama

address: AK Azad Road, Rehabari

JBs

address: G S Rd, Christian Basti

Good bakery with sweets.

JBs

address: M G Rd, Riverside

Momo Ghar

phone: +91 9435019810

address: Bharalumukh

Chinese

Shaikh Brothers

phone: +91 36 1273 6615

address: Shaikh Building, 195 Hem Baruah Road,Panbazar

Century old bakery. Well known throughout entire North East India for its delicious pastries, cakes, bread and cookies. Established by Golam Ibrahim in 1885, Shaikh Brothers is the oldest and largest bakery shop in North East India. It is managed by its fourth generation partners namely Shaikh Sakhawat Hossain, Shaikh Azizul Hossain, Shaikh Khoda Nawaz and others. It is renowned for its tasty birthday and Christmas cakes. In 2015 it completed its 130th year of service. It is locally known as "the Heritage Bakery Of Assam".
Mid-range
Bon Jaluk

phone: +91 8254063369

address: Ganeshguri

Famous Assamese thalis.

Gam's Delicacy Restaurant

phone: +91 361 2233402

address: Ganeshguri

Famous for ethnic Assamese cuisine.

Gopal Maharaj

phone: +91 9864351111

address: Kamrup Chamber Rd, Fancy Bazar

Heritage Khorikaa

phone: +91 9706034838

address: Silpukhuri, Chandmari

Famous for delicious ethnic Assamese cuisine.

Khorikaa

phone: +91 9864982948

address: Bora Service, Ulubari

Assamese restaurant with delicious thalis.

Maach

phone: +91 9854061725

address: Christian Basti.

Famous for various fishes.

Makhan Bhog

address: Ulubari

Mast Biryani

address: Zoo Road

Biryani restaurant.

Nashraj Restaurant

phone: +91 361-251-9465

address: S.S. Rd, Fancy Bazaar

This restaurant is popular with locals and foreigners, and serves tasty Indian, Chinese and selected Continental cuisine.
Splurge
Barbeque Nation

phone: +91 9864109282

address: Ulubari

Mocha

phone: +91 8486000401

address: Christian basti

Italian restaurant

Tandoor @ Hotel Dynasty

phone: +91 361 7120055

address: SS Road, Fancy Bazar
Drink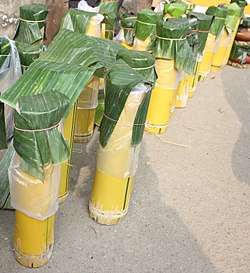 Guwahati is said to have the most wine shops.
Pub, disco, and bar
Cafe Copa

address: GS Rd

Club Ozone

address: GS Rd

Ivory

address: Ulubari flyover

Bar/pub.

The Lounge Bar

address: Christian Basti

Mazbaan

address: Ganeshguri

Bar, disco, DJ Ronnie

Q'Ba

address: Ulubari

Disco

Silver Streak

address: Hotel Bramhaputra Ashok

Terra Mayaa

address: Anil Plaza-2

Topaz

address: Ulubari

Urban Mantra

address: Sixmile

XS

address: GS Rd
Sleep
Budget
There are many budget hotels around the station but only a few are licensed to accommodate foreigners.
Brahmputra

address: Panjbari, Sixmile

Small family hotel. Clean rooms, simple food, nothing fancy but economical.

Hotel Biswanath

phone: +91 361 2633597

address: M.E. Road, Paltan Bazar

Not a great value, but one of a few budget hotels licensed to take foreigners.

phone: +91 361 291 2222

address: Paltan Bazar, M E Rd

Hotel Suradevi

phone: +91 361 254 5050

address: M.L.N Rd

Slightly out of the action, but a decent budget choice with a restaurant.

Prashaanti Tourist Lodge

phone: +91 361-2544475, +91-9435042063, +91-94640 83579

address: Station Road, Kamakhya, Navagraha

The lodges are operated by Department of Tourism and Assam Tourism Development Corporation Limited.
Mid-range
address: G.S. Rd

phone: +91 361 251 9465

address: S.S. Rd

A decent mid-range choice, it is centrally located, reasonably clean and friendly, and has a good restaurant on site. Hot running water, TV with satellite connection, same-day laundry available.

Hotel Rialto
Splurge
phone: +91 361 2602281

address: M.G.Road

It is a luxury hotel near the bank of mighty Brahmaputra river having all the modern facilities.

phone: +91 361 251 6021

address: S.S. Rd

Centrally located, warm and comfortable, and the staff are friendly. Tandoor is one of the two in-house restaurants, and a good place to splurge on food in the city, with live music in the evenings.

phone: +91 361 2222666

address: Beltola

Luxurious hotel with comfort and modern facilities.

phone: +91 361 7100100

address: National Highway 37, Gotanagar

On NH37 12 km from the railway station and 15 km from Lokapriya Gopinath Bordoloi International Airport.

Taj Vivanta

address: Khanapara
Go next
Shillong
is an old hill station established by British and stepping point to
Cherrapunji
and further south. Meghalaya state transport provides several buses departing in the morning and also regular shared 7-passenger jeep service for ₹170 (more comfortable than usual 10-pax Sumo) from the bus terminal south of the train station.
Balaji Temple - Balaji temple is on the National Highway By-pass easily reached by taking the National Highway from the city head towards Maligaon/Adabari and beyond till you reach the Jalukbari junction. It takes about 20 min from the junction to the temple. It is supposed to be a replica of the temple in Tirupati - the temple provides a nice place for solitary meditation, being in a peaceful setting.
Deepor Beel - A wetland and a very picturesque picnic spot. A bird-watchers paradise, especially in winter when the migratory birds come down. Access is from the National Highway, Gorchuk Ali.
Hajo - Hajo is an interesting place to visit near Guwahati. The place has religious significance for Muslims, Hindus and Buddhists. It takes about an hour and half from the city center to reach Hajo by own transport (buses are there from Adabari bus stand). Interesting places to visit are the Hayagrib Madhab temple and Pua Mecca. While at the temple, make sure to go down to the temple pond to see the resident turtle.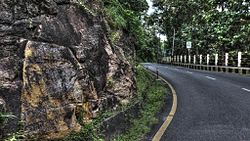 Kamakhya Temple - A famous Hindu Temple and Pilgrimage. Attracts visitors and devotees from all around the world and country. A 25-30 minutes drive from the heart of the City.
Pobitora Wildlife Sanctuary - Wildlife reserve about 50 km from Guwahati. Sort of a miniature Kaziranga, home to one-horned rhinos, buffalo, and other animals, which you can see from a jeep. Elephant rides are also available at certain times of day.
Resorts on Sonapur Road - The Sonapur Road (Guwahati-Nagaon Road, NH 37) has many dhabas that are within 10-15 km of the city outskirts (Khanapara). These resorts provide a good weekend break. Brahmaputra resort,Disang Dhaba in Tepesia are good for family outings.