Haridwar
Haridwar
(हरिद्वार), also spelled
Hardwar
, is a city in the state of
Uttarakhand
,
India
.
Understand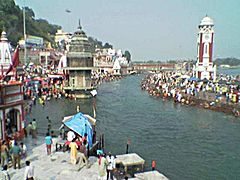 Haridwar, literally translated as the
Gateway to God
, is one of the Hindu holy places in India and a centre of Hindu religion and mysticism for centuries. Located on the banks of the River Ganges (
Ganga
), at the point where the Ganges descends from the hills to the North Indian plains, Haridwar attracts a large number of Hindu pilgrims from all over the world.
Festivals
Haridwar is the site of many religious festivals. Most notably, once every twelve years it is the venue for the
Kumbh Mela
, the world's largest festival, which drew a record
70 million
in 2003. (The festival rotates between Haridwar and
Allahabad
,
Ujjain
and
Nashik
.) The
Ardh Mela
, or "half mela", is held every six years. The last Maha Kumbh Mela was in 2010, and the last Ardh Mela was in 2016.
Other yearly festivals include:
Baisakhi, It is held in the month of April and devotees from Jharkhand, Bihar, Gujarat, Uttar Pradesh, Delhi and Haryana converge here to celebrate the auspicious festival Baisakhi.
Kanwar Mela, July. The largest yearly festival, drawing up to 300,000 visitors.
Kartik Purnima, held 15 days after Diwali on the first night of the full moon in November.
Somwati Amavasya, July. Almost as large as the Kanwar Mela.
While the festivals are colorful and fascinating, they also strain the town's limited infrastructure to the breaking point and sometimes beyond. Book rooms and tickets well in advance, and avoid travel by road as the traffic jams can be horrendous.
Get in
Haridwar is about 200 km from Delhi, the capital of India and is well connected by road and rail network from all parts of India. It is better to avoid travelling to Haridwar during the Hindu month of Sawan (around July) since there is a heavy crowd and all important roads are blocked and most of the hotels/ buses/ trains are crowded.
It is also not good choice to visit this place during the monsoon season (late May to August) as the rain will hinder your visit.
To travel from Delhi to Haridwar you can rent a car or private taxi. You can also prefer to go by train as frequent trains are available and those are less costly as compared to private cabs.
By plane
Dehradun
's
Jolly Grant Airport
is nearest airport to Haridwar. It is domestic airport and located at a distance of 20 km away from the city centre. Taxis from the airport to Haridwar cost ₹400. Frequent flights from Delhi are available as well.
Around 200 km away,
Delhi
is the nearest international airport, which is well connected to domestic and foreign airports.
By train
Haridwar Junction Railway Station (
IR station code : HW
) is well-connected by train, with frequent trains to
Delhi
(4-5 hours) and
Dehradun
(1 hour). There are also a few trains per day to
Rishikesh
, but buses are faster and much more frequent. The train station is located on the south side of town, within walking distance to most hotels but a 2-km hike to Hari-ki-Pairi.
Here are some useful trains to reach Haridwar:
Also see Rail travel in India
By bus
Haridwar's bus station, a stone's throw from the train station, is chaotic and has no signage whatsoever in English. There are regular bus services from
Delhi
(theoretically 4 hours, in practice 6-8 hours),
Rishikesh
(1 hour) and other important towns of North India to Haridwar. Before booking the bus check the bus condition. Always go for cushioned and push-back seats. The long and bumpy ride will take a toll on your mood and body.
As there is shortage of AC buses during summer vacations so always go before 1 or 1.5 hour your suitable time so as to get the prior reservation.
Get around

Central Haridwar can be comfortably covered on foot. However, taxis and auto-rickshaws can be available at train and bus stations.
Haridwar is nicely connected by train and bus, but remember to book in advance, especially during pilgrimage season.
Cycle rickshaws usually cost ₹10 for nearer distance, while ₹25 for longer distance such as from main station to Har-ki-Pairi. If you want to hire a taxi for more than three hours to visit ashrams and local temples then it may cost you 400. For similar distance, auto-rickshaws can cost around 200.

See
Bharat Mata Mandir

Chandi Devi MandirA temple dedicated to Chand Devi on the Neel Parval. It was built in 1929 by Suchat Singh the King of Kashmir. The deity was said to have been installed by Adi Shankaracharya in the 8th century. A cable car is available for the long journey

Har-ki-Pauri

Maya Devi MandirLocated on upper road. This temple is one of the 51 "shakti peeths" and its the presiding deity of Haridwar. It is from this temple Haridwar derives its other name Mayapur.

Mansa Devi MandirAt top of hill near the center of town. Can be reached by cable car (₹48 for a return ticket) or by a road that gently winds uphill (about 2 km), starting from Railway Rd. The temple is aesthetically not particularly noteworthy, but the views are grand. Expect to queue to board the cable car and once more to enter the temple: despite some rudimentary attempts at crowd control, the crowds of jostling devotees can make this a pretty intense experience.

Sureshwari Devi TempleLocated outside of Haridwar and within the Rajaji National Park, this serene and religious site is a place to see. Permission to enter this site is required from forest rangers.
Do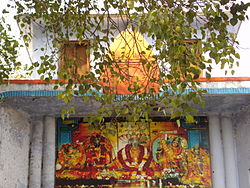 A day out in Rajaji National ParkWhile walking around the park you can spot elephant, leopard and deer. The bird life is prolific here and there is a large elephant population. The 5-hour tour costs around ₹1,800 per person, and it can be done during mid afternoon or early morning. It is spread over the foothills of the Himalayas and Haridwar, Dehradun and Pauri.

Divya Yog Mandir Trust UniversityFounded by Baba Ramdev.

address: Dehradoon Road, Haridwar

Nine days (Personality Development Camp) through practising Scientific Spirituality i.e. Yoga, Yagna, Meditation, Prayer, Motivational Seminar, Workshop, Song and art of living. Registration required. Dates: 1-9, 11-19, 21-29, three camps every month, throughout the year.

Learn Yoga in AshramPatanajali Yog Peeth is a center of Ayurveda and Yoga activities in Haridwar. It is built as a tribute to Maharishi Patanjali, who significantly contributed to the invention of Yoga. This ashram is operated under the supervision of Swami Ramdev Ji Maharaj, who has been promoting Yoga all over the world.
Buy
Haridwar, the holy city is one of the most renowned pilgrimage centers in India. Pilgrims from all over the world flock to this sacred city to take a dip in the holy waters of River Ganga. Being a destination for pilgrimage tourism, shopping in Haridwar is not on the itinerary of the tourist.
However shops in Haridwar have some interesting things to offer to the tourist. The main shopping centers are Moti bazaar, Upper Road, Jwalapur and Kankhal. You can also check out the Government Handloom and Handicrafts Emporiums and the Gandhi Ashram. Offers a range of handicraft decorative pieces. If you are interested in jewellery, then you can choose from a variety of imitation ones which make good fashion accessory.
In Haridwar, you will find neatly and intricately carved stone idols, which make unique souvenirs. It is fascinating that these stones have traversed with Ganga all along and they are eventually deposited in Rishikesh as the river enters the plains. This gives the stones amazing shapes and a natural polish. Besides idols, there are kitchen set toys made from stone, which are interesting.
Shri Ganga Gift kendra

address: Moti Bazar

Sells rudraksh mala, sphatic mala, chandan mala and other chandan articles.
Eat
Haridwar is a purely vegetarian town.
Bhagwati Chole Wala

address: Upper Road Haridwar

Good for breakfast and lunch. Bhagwati choley wala is an old institution making a scrumptious breakfast of chole (Bengal gram) baturey, bun bread and choley, mixed minced buns in choley gravy and rice choley. They attract a large crowd and usually serve piping hot choley stew with every meal. The meal priced ₹30 each is served on a plate and leaf covering along with salad. Their buns in choley and lassi are particularly good.

Chotiwalas Asli

address: Subhash Ghat

Claiming to be the original, unfranchised Chotiwalas, this is the first shop right below the steps when walking south from Hari-ki-Pairi. The "Chotiwalas Special" (₹75) is a super-filling concoction of paneer and veggies in a creamy tomato base, topped with cheese and yogurt.

Chotiwalas

address: Subhash Ghat (and other outlets around town).

The closest Haridwar gets to McDonald's (not very), serves up a wide menu of South and North Indian favourites, with some Indian-Chinese thrown in. Most meals around ₹60.

Dada Boudir Hotel

address: Railway Road

This is a tasty Bengali eatery, serving lunch and dinner. Dehradun rice with ghee, fries, 2 curries, chutney, dal, etc. are ₹45 per head including multiple servings.

Didir Hotel

address: Opposite Hotel Vishrant Vishnughat

Didir Hotel is a convenient location located at Vishnughat and famous for its multiple serving Thalis. Costing ₹40, as of August 2011, it consists of hot rice with ghee, fritters, 1 dry and 1 curries, along with Daal (which is typically sweet sour) and a sweet chutney at the end. Known for its Dhokaar Dalna, and it serves multiple rotis along with curries at ₹40.

Dosa PlazaA chain that offers 104 varieties of dosas, along with Indian and Chinese food.

HoshiyarpuriwalaThis shop is old and claims to have started in year 1935. It has a wide variety of North Indian delicacies. The thali used to cost ₹80, but they have reportedly stopped serving it. They also have a house special dessert: Khaao India Khaao.

Hotel Alpana

phone: +91 1334-225544, +91 1334 224567

address: Ram Ghat

Claiming to be the new, clean Alpana. The "Alpana Meal" is ₹75 breakfast & ₹150 for lunch & ₹150 for dinner.

Kwality Mysore Restaurant

address: Upper Road towards Mansa devi and har Ki pauri

A good South Indian restaurant serving South Indian thalis and snacks. Dosas are the speciality.

Mashir Hotel

address: Vishnughat

Completely Bengali eatery serving basmati rice, along with dal, 2 seasonal curries, 1 fried item, chutney and ghee, unlimited servings. Breakfast of puri sabji is priced at ₹15 for 6 pooris and 1 sabzi.

Sindh dugdh Bhandar

address: Rly. rd. Haridwar

Popular since 1948, it is well maintained and a multi-cuisine restaurant with very good service and air conditioned, which is unusual in the town.

Spice N NiceServe Punjabi, South Indian, Chinese and Continental cuisines.
Drink
Alcohol is banned in Haridwar.
Deluxe Dada Boudir Hotel

address: Below Hotel Lions

Bengali cuisine, such as Basmati ride, Dal, 2 seasonal curries, 1 fried item, chutney and ghee.

Kreams n Kountry

address: Station road haridwar

The Pao Bhaji Is delicious speciality .But the other notable products include Rajma chawal, veggie burger, chats of all kind, and ice creams..The staff are helpful and polite.

Mohan Puri

address: Harki Pauri

The most famous food shop at harki pauri and everything fits in budget. But due to high tourist rush its bit congested in festival seasons.

Sushanto Choley Kulche wala

address: Ramghat main bazaar en route to Mansa Devi Temple curve

Excellent chloe for kulche with hot stew.
Sleep
For most of the hotels the check-in time is 12 Noon. Plenty of
Dharmshalas
are also available in Haridwar. A cluster of new, modern hotels has sprung up in
Bhopatwala
, some 5 km north of the city center.
Budget
Ambience Guest House

phone: +91 9837061220

address: Shravan Nath Nagar, near Harmilap Bhawan

AC/Non-AC rooms available.

Hotel Bhagwati Niwas

phone: +91 1334224328, +91 1334327491

address: Sabzi Mandi, (near Vishnu Ghat), Haridwar

On the banks of the Ganges. All room facing Gangaji with private ghat!

Hotel Haridwar Residency

phone: +91 9837420086

address: 55 Kankhal Road

Modern, clean and peaceful hotel located 3 minutes' walk from the Haridwar railway and bus station. Air-conditioned and non-air-conditioned rooms available, all with private bathrooms. Singles, doubles, triples and four bed rooms available with 24-hour reception. Contact Mohit Manchanda via email or mobile for reservation.

address: Sharawan Nath Nagar (Sadhubela Marg), Haridwar

Located in mid of Haridwar. Air-con and non-air-con rooms available. Online bookings can be made at this address

phone: +91 334-220938

address: Railway Road, near Shivmurti

. Small, not entirely clean rooms. Hot water available from 06:00-08:00 only, but the shower may be broken. The hotel restaurant (Big Ben) is well liked, but somewhat below-priced.

Hotel Gayatri Classic

phone: +91 1334322473

address: Shravan Nath Nagar, near Harmilap Bhawan

AIr-con & non-air-con rooms.

phone: +91 9756930661 (Manager - Mr. Negi)

address: Near Shivmurti, Kankhal Road

A budget hotel.

phone: +91 9897810055

Sharawan Nath Nagar (Sadhubela Marg), Haridwar. Located in mid of Haridwar. Air-con & non-air-con rooms with hot/cold water. Has a cyber cafe.

Rahi MotelGovernment Tourist Lodge.

Shri Ram Sharnam Ashram

phone: +91 9810011735

511-A, Sapta Sarovar Marg (near Agrasen Ghat), Bhopatwala.
Mid-range
Bhaj-Govindam, near Bhimgoda Bridge (entrance is through a narrow alley and around a corner, look for the signs). Charming,hut-style accommodation, with a common lawn area over-looking the river. ₹900/₹1550. (Air-con in some rooms).
Chitra Heritage Chitra cinema Street, Haridwar. It is 3 mins walk from the railway station and 10mins walk from har-ki-pauri. Air-con & non-air-com rooms available at ₹700/₹3490. All room are spacious and front sided. Parking facilities are available. Tel:+91 9760129990 +91 8954776655 (chitraheritage@yahoo.com, .

Hotel Ganga DarshanIs situated at Har-Ki- Pauri Haridwar in close proximity to Banks, Shopping Complexes and local market. Air-con & non-air-con rooms available at ₹950/₹1250/₹1550. All room are spacious and front sided. Parking facilities are available.

Hotel LandMarkMain Jwalapur Haridwar Road. Prime location provides easy access to Har-ki-Pauri in the heart of the haridwar, Daksh Mahadev Temple in the Khankhal city, and the commercial market area on the Main Jwalapur Haridwar Road. Rooms have air-con.

TeerthSubhash Ghat, Hari-Ki-Pairi. Riverside accommodation right next to Hari-Ki-Pairi, the main selling point is the great river views from the balconies. Rooms have air-con, and are spacious & clean.

Virasat ResidencyChitra cinema Street, Haridwar. It is 3 min walk from the railway station and 10 mins walk from har-ki-pauri. Air-con & non-air-con room at ₹1050/₹550. All room are spacious and front sided. Parking facilities are available.
Splurge
County Inn & SuitesHaripur Kalan, Motichur. Run by the Carlton group, this is the only international branded hotel in Haridwar and probably the best of the bunch. The main drawback is the location, some 6 km out of town.

Ganga Lahari

address: Gou Ghat

Close to Har Ki Pauri, rooms open to a central corridor facing the river. Part of the same management running Haveli Hari Hanga

Ginger HaridwarOpp. Dudhadhari Temple, Bhopatwala. Clean, minimalistic hotel operated by the Ginger chain.

Haveli Hari Ganga

phone: +91 334 226443

address: 21 Pilibhit House, Ram Ghat

A comfortably appointed hotel/spa with a private ghat and balconies (few rooms) overlooking the river. ₹2800+.

phone: +91 334 262648, +91 93680 47844

address: 1 Shyamlok, Opp. Shantikunj, Rishikesh Road

Can also be stated as pride of Haridwar in terms of redefining hospitality, quality of Rooms, Service and Restaurant Temptation and Banquet Celebration

Hotel Shiv Murti

address: Railway Rd (near Shivmurti chouk)

A big hotel with more than 30 air-con & non-air-con clean rooms with attached bathroom. Hot water available 06:00-09:00 only. The hotel restaurant serves good food.
Stay safe
During festivals, especially the Kumbh Mela, Haridwar is packed to bursting and beyond. Stampedes are a regular occurrence, with over 50 killed in 1986, 21 killed in 2003 and 5 killed in 2010; the bridges across the Ganges are the most dangerous spot.
Alcohol is strictly banned in Haridwar. So don't get trapped in any illegal alcohol consumption as no one wants to end his journey in prison.
Similar to other holy places, Haridwar has significant number of beggars and charlatans. Watch out for the motives of Sadhus trying to offer some one-to-one tutoring in return of money. Beware of greedy monkeys which may attack anytime to grab food from your hands. Be watchful when you walk, as cows and their abundant leftovers can be seen on the roads.

Go next
Rishikesh - "Haridwar lite" 26 km upriver, popular with backpackers; literally meaning Lord of Senses, Rishikesh stands for Lord Vishnu and the city is blessed with holy river Ganges
Rajaji National Park - developed by integrating Motichur sanctuary, Chilla sanctuary and Rajaji Sanctuary, Rajaji National Park lies between Haridwar and Rishikesh and is worth a stopover on your way to Rishikesh
Sapta Rishi Ashram - a few km from Haridwar, the ashram is believed to have been the meditation ground of seven sages