Hat Yai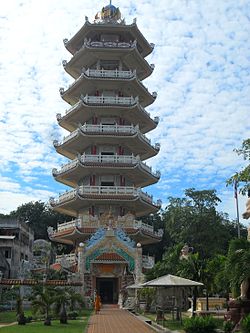 Hat Yai
(หาดใหญ่; also
Hatyai
,
Had Yai
,
Haad Yai
) is the fourth largest city in
Thailand
, the largest city in
southern Thailand
, and is in Songkhla Province on the
Southern Gulf Coast
. It's a popular tourist spot for Malaysians, Singaporeans, Indonesians on holiday, and for Thais from neighbouring provinces. It's best avoided if you are looking to get off the beaten path. Prices are relatively high in tourist areas. This place has comparatively few Western visitors. The city can be a stop for tourists on a journey to Southern Thailand's beaches and islands, or further down south to
Malaysia
and
Singapore
.
Understand
Hat Yai was a small village that used to be known as Khok Sa-Met Choon. Its population has been growing since the railway station was built.
Today, Hat Yai is one of the biggest and busiest cities in Southern Thailand. The population is around 156,000 in the city and roughly 360,000 in the whole Hat Yai District. Hat Yai city is bigger than the capital district
Mueang Songkhla
, and sometimes mistakenly reckoned to be the capital district. It is 60 km from the Thailand-Malaysia border at
Dannok
and
Padang Besar
in Sadao district. The city has become a business, education, transportation, tourism, and shopping centre in south Thailand due to the well-established connections by road, rail, and air. The city has been a melange of Thai, Chinese, and Malay for generations. Trading, manufacturing, and tourism industry contribute much of its economy.
Southern Thai dialect is prominent, although Central Thai is used in offices and schools. Many Thai Chinese of older generations can speak a Chinese dialect called
Teochew
. English can be spoken by some younger people.
Climate
It is either dry or wet season in Hat Yai. The dry season is from January to April, which is the hottest month of the year, and wet season is from May to December. Major flooding occasionally occurs in November or December.
Tourist information centre
You can pick up Hat Yai maps and brochures at the
Tourism Authority of Thailand, Hat Yai Office
phone: +66 74 231055
address: 1/1 Nipatuthit 3 Rd Soi 2
There is a separate Tourist Assistance Centre at the corner of Odean Shopping Mall.
Get in
By plane
phone: +66 74 227000, +66 74 227131-3

address: 99 Moo 3, Klong Luang Subdistrict, Klong Hoi Kong District

Facilities and services include restaurants, ATMs, currency exchange, left luggage (10 baht/bag/day), post service, VAT refund, airport limousine service, car rental services from Avis, Budget, and Master Car Rental (Sixt).
Taxi rides to the city can be found at the airport entrance. Drivers will ask around 250 baht. You also can use the airport limo service which costs 300 baht. A minivan service into the city costs 100 baht. A blue coloured songthaew runs into town for 40 baht and can be found at the far end of the parking lot. The last songthaew leaves the airport at 18:00.
The currency exchange booth (Siam Commercial Bank) is on the first floor near the arrival hall, operating daily 09:00-18:00. The staff of the limo/minibus booth will exchange ringgits or US dollars for you (or accept them for their service), but at a disadvantageous exchange rate.
International flights: AirAsia operates daily flights to Kuala Lumpur (KUL), Malindo Air operates flight to Kuala Lumpur's Subang Airport (SZB), which is closer to the KL city centre than KLIA. Scoot and Jetstar operate services to Singapore.
By train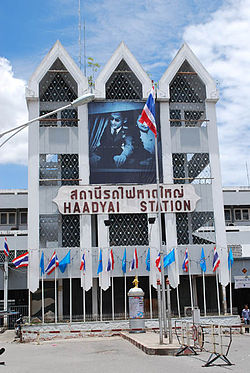 Hat Yai Junction Railway Station

phone: +66 74 261290

Hat Yai is a main stop on the southern line connecting Bangkok to Butterworth and Kuala Lumpur in Malaysia. Left luggage at the station is open 05:00-20:00.
From Bangkok: Five trains run daily from Bangkok. Inbound "Express" trains depart Bangkok at 14:45, 15:10, and 22:50 while the slower "Rapid" trains depart at 13:00 and 15:35. Outbound Express trains depart Hat Yai at 16:23, 18:10, and 18:45 while Rapid trains depart at 14:45 and 15:39. Trains go via Nakhon Pathom, Ratchaburi, Phetchaburi, Hua Hin, Chumphon, Surat Thani, Nakhon Si Thammarat, and Phatthalung.
A 3rd class ticket with reserved, upholstered seat sets you back 259 baht (Hat Yai-Bangkok) on "Rapid" trains and 339 baht for "Express" trains. A ticket for the 2nd class fan upper sleeper on the Rapid trains cost 555 baht. Buy tickets at the railway station. Surcharges are imposed if bought elsewhere.
From Sungai Kolok: Six trains run daily from Sungai Kolok. Inbound "Express" train from Sungai Kolok departs there at 14:20, "Rapid" trains at 11:30 and 14:55, and local trains at 06:30, 08:55, and 12:25. Outbound "Express" train departs Hat Yai at 07:35, "Rapid" trains at 06:30 and 06:45, and local trains at 07:55, 10:18, 13:12.
From Yala: Nine trains run daily from Yala. Inbound "Express" trains from Yala depart there at 14:55 and 16:09, "Rapid" trains at 12:35, 13:26 and 16:37, and local trains at 06:35, 08:28, 11:22, and 14:32. Outbound "Express" train departs Hat Yai at 07:35 and 12:50, "Rapid" trains at 06:30, 06:45, and 09:30, and local trains at 07:55, 10:18, 13:12, and 14:33.
From Malaysia: Train service between Hat Yai and Butterworth is frequent, punctual, and comfortable. Travel time is 4-5 hours including waiting time at the border and costs less than USD5 (200 baht or RM20) in total.
KTMB (Malaysian Railways) operates Komuter trains between
Padang Besar
and
Butterworth
, and ETS trains further south to
Kuala Lumpur
to
Gemas
. Komuter trains are non-reserved, air-conditioned train sets but no toilet on board. Travel time is one hour and 51 minutes and costs RM11.40 (approx 90 baht) to cover the 158 km distance to
Butterworth
. ETS Gold/Platinum trains are with all-reserved seats and travel up to 160 km/hr. Refer to
KTMB Berhad
for ETS train booking, and
KTM Jadual Train site
for Komuter train schedule.
The new shuttle service began operating between
Hat Yai
and
Padang Besar
using Thai diesel A/C trains to connect Malaysian ETS train. The journey takes about 1 hour and costs 80 baht. The outbound trains leave Hat Yai twice daily at 07:30 and 13:05, and the inbound trains leave Padang Besar at 08:55 and 14:40 (Thai time). The ticket for these trains are sold one hour before departure and cannot be reserved advance, but don't worry they never sell out the ticket. For up-to date schedule refer to
The State Railway of Thailand
.
There is also one direct train from
Bangkok
. Special Express train number 46 leaves Padang Besar at 18:00 (Malaysian time) and arrives Bangkok at a 10:10 (Thai time), and train 45 leaves Bangkok at 15:10 (Thai time) and arrives at Padang Besar at 9:53 (Malaysian time). This train is only with second class A/C berth and costs 960/760 baht lower/upper berth. If you are in Malaysia it is advisable to book this train on-line directly at
SRT website
as KTMB (Malaysian railways) does not sell ticket for this train. It would be very expensive if you take this train just to Hat Yai (approx. 400 baht) as you need to buy berth ticket.
Both Thai and Malaysian immigration inside the trains station open one hour before departure of Thai trains.
Malaysian time is one hour ahead of Thai time
(e.g. 12:00 in Thailand is 13:00 in Malaysia). When connecting trains in Padang Besar, be sure to check the departure time is in Malaysian or Thai. There is also no ATM or official currency exchange in Padang Besar station. It is advised to exchange enough money to buy the onward ticket before heading there.
If twice daily shuttle train to/from Hat Yai does not fit your schedule, take a local bus from clock tower in Hat Yai central (departs every hour on hour) or a minivan (departs when full) from Hat Yai bus terminal. It costs 43/50 baht and travel time is 1-1½ hour depending on traffic. The bus stops in front of Thai immigration complex, and you need to walk to the Malaysian immigration complex 600 meters away. Mototaxis touts you for 100 baht/RM12 for the very short ride.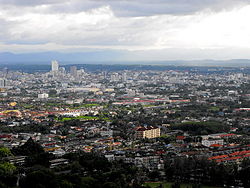 By car
Many Malaysians and Singaporeans drive to Hat Yai in their own vehicles. Like Malaysia and Singapore, Thailand drives on the left. Starting from immigration at Dannok, take Rte 4 straight to Hat Yai (60 km).
Parking in business areas such as Niphat Uthit Rd during office hours is not free. An officer in khaki uniform will give you a small ticket once you pay for the time-based fee (5 baht/hour). Be prepared with small change.
Petrol in Thailand is significantly more expensive than in Malaysia. Big petrol stations also function as rest stops, with minimarts, coffee shops, and food courts.
By bus and minivan
Hat Yai Bus Station
phone: +66 74 232789 (Bus), +66 74 232404 (Minivan)
This main station includes Bus Terminal for all buses to Bangkok and other destinations, as well as Southern Minivan Terminal for minivans to
Songkhla city
,
Padang Besar
,
Betong
,
Yala
,
Pattani
,
Narathiwat
.
Hat Yai Minivan Station
phone: +66 74 255333
Located in Hat Yai Nai (หาดใหญ่ใน) area called Talat Kaset (ตลาดเกษตร, lit: "farmers' market"); it's designated Northern Minivan Terminal for minivans to
Satun
,
Phatthalung
,
Trang
,
Nakhon Si Thammarat
,
Surat Thani
,
Krabi
(4-5hours),
Phang Nga
,
Phuket
.
Buses go to all major towns in south Thailand and up to
Bangkok
. Depending on the route, different classes of bus are available. These range from local orange coloured buses without air conditioning to luxurious 24-seat coaches with toilets and reclining seats.
Buy tickets only from ticket counters. Do not allow yourself to be directed to agencies by touts (this included tuk-tuk drivers in the bus station). You will pay more and most likely get a later time.
Minivans connect with all major locations in south Thailand from Hat Yai. Where they depart from depends on the destination, but the locals will be able to point you in the right direction. They are generally cheap and quicker than the buses but often overcrowded thus making them uncomfortable and dangerous.
Air-con buses by
The Transport Co. Ltd.
(บริษัทขนส่งจำกัด (บขส),
baw-kaw-saw
) run between Bangkok's southern bus terminal (สายใต้,
Sai Tai
) and Hat Yai bus terminal daily. The distance is ~954 km and normally takes 12 hours.
24 seat VIP bus (พิเศษ, phiset) costs 1,070 baht, departs from Bangkok at 17:00, 18:00, 19:00, and 20:00. For the return, the departure is at 16:00, 17:00, and 18:00.
32 seat Class 1 bus (ม1พ) costs 828 baht, departs from Bangkok and Hat Yai at 17:30.
47 seat Class 2 bus (ม2) departs from Bangkok at 07:00, 17:00, and 21:45. Departs Hat Yai at 08:00, 15:30, and 17:00 for 535 baht.
Other scheduled, inter-provincial buses serve Hat Yai:
Surat Thani
,
Phuket
,
Satun
,
Trang
,
Nakhon Si Thammarat
,
Phatthalung
,
Krabi
.
The bus to
Songkhla
goes past the clock tower along Phetkasem Rd (ถนนเพชรเกษม), at the intersection close to Montri 1 Rd (ถนนมนตรี 1).
Kuala Lumpur: There are several Malaysian bus companies that go to KL, you can get tickets either at tour agents or from the bus company shop. Cost of ticket varies depending on company and time of departure. It's a 10-hour journey if you factor in waiting at immigration, a meal stop, and traffic when you arrive in Kuala Lumpur.
Alisan Golden Coach Express

phone: +66 74 243775

address: 17/1 Chee Uthit Rd

Has 3 buses every day which leave Hat Yai to Kuala Lumpur, departure at 09:00, 11:00, and 19:00. Free Wi-Fi and power outlet for each seat. The A/C can be pretty cold and the blanket provided might not be adequate. Better bring your own blanket/jacket. The overnight bus from Hat Yai will stop after the Malaysian border checkpoint for a meal.
phone: +66 74 232218, +66 74 354783, +66 74 239351

address: 3 offices: 140 Niphat Uthit 3 Rd, 7 Chee Uthit Rd, 230 Niphat Uthit 1 Rd

Buses depart Hat Yai for Kuala Lumpur (Pudu Sentral) at 09:30, 10:00, and 19:00. Buses depart Kuala Lumpur for Hat Yai at 09:00 and 10:00.
Konsortium Bas Ekspress Semenanjung

phone: +66 74 351280, +66 74 351281

address: 32 Prachathipat Rd

Has 5 buses every day which leave Hat Yai to Kuala Lumpur. Departures at 09:00, 09:30, 10:00, 12:00, and 19:00.
phone: +6674 233241, +6693 7592557

address: 12 Chee Uthit Road, Hatyai Songkhla

Has buses and VIP Vans every day which leave Hat Yai toPenang
Penang: Scheduled air-conditioned minivans connect Hat Yai to Penang in Malaysia. There is no standard price, different agencies quote prices between 400 baht and 650 baht. Cathay Guesthouse, which is not far from train station, has probably the best rate set at 400 baht. Agencies near the bus terminal usually ask for 450-500 baht. Minivan times to Penang are 09:30am, 12:30 and 15:30. Journey takes about 4-5 hours, depending on time spent at Sadao border.
Minivans leave hourly during daylight on the full hour from Georgetown's Lebuh Chulia (Parking Lot of E & A Hotel) The fare is RM35-40, advance booking is recommended.
Border crossings
There are three border crossings to choose from, all easily accessible from Hat Yai.
Dannok: Vans run from Hat Yai right up to the Thai immigration complex in Dannok in Sadao district. Journey time is about one hour and the fare is 55 baht. Vans leave Dannok in front of the 7-Eleven store on the left side of the street after leaving the immigration complex. The distance between the Thai and Malaysian immigration checkpoints is about 1 km, quite a distance to walk in the heat. You can take a motorcycle taxi between them. Bus and minivan to the border stop running around 18:00, so ask if there will be a return before boarding.
Padang Besar: Regular local buses (43 baht) depart from Hat Yai centre in front of clock tower, and minivans (50 baht) depart from Hat Yai's bus terminal for Padang Besar (only to the Thai side). Journey time is about 1½ hour. If you are crossing to Malaysia immediately, ask to be dropped off right at the gates of the Thai immigration complex before your enter town. If you are coming out from the immigration complex, just cross the road and wait for a bus or minivan beside the pedestrian overpass. Ignore touts insisting to take you to the bus stop in the town centre for 100 baht or so. Red local bus heading to the Hat Yai centre will stop at bus terminal and train station (but not on the other way leaving from Hat Yai centre).
Sungai Kolok: A minibus runs from Hat Yai bus terminal right up to the Thai immigration complex in Sungai Kolok by passing through the provinces Pattani and Narathiwat in about 4 hours for 180 baht. When considering this option, consult local advice on current security threats. Many travel advisories caution that this an area to avoid.
There is a bus from Hat Yai at 13:00 arriving in Singapore at 05:00 on the day after. The cost is 900 baht leaving from Davis Tour in Hat Yai. However you can buy the ticket in easybook.com and redbus.my for EM85 (cheaper than in Davis Tour).
Golden Mile Complex

address: 5001 Beach Rd.

The main terminal for buses to and from Thailand.
Grassland Express

phone: +65 6293 1166

has a bus at 19:00 to Hat Yai for USD55.

Transtar Travel

phone: +65 6299 9009

Sri Maju

phone: +65 6293 4160

City Line Tour

phone: +65 6396 6969

Konsortium

phone: +65 6392 5000

Star Mart Express

phone: +65 6396 5681, +65 6396 5682

Five Star Tour

phone: +65 6294 7011

Alisan

phone: +65 6292 2112
Get around
The city centre itself is quite compact and covers three parallel roads: Nipatuthit (นิพัทธ์อุทิศ) 1, 2 and 3 Rd, colloquially called
Soi Nueng
(ซอยหนี่ง, lit. "road one"),
Soi Song
(ซอยสอง, lit. "road two") and
Soi Saam
(ซอยสาม, lit. "road three"). It is practical to get around on foot, but getting to most attractions will require some kind of transportation.
By tuk-tuk or motorbike taxi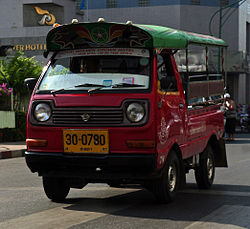 Tuk-tuks and motorbike taxis are abundant in Hat Yai. Fares should be negotiated beforehand and often can be overpriced, so haggle if possible. They are available from any hotel. A ride within the city costs 20-60 baht. Ask the person at reception to write down the Thai address for you and show it to the driver. Rides to places outside the town are negotiable. Shared taxis going outside town can be found at the old market.
By metered taxi
Metered taxi (known as "taxi meter") is a good option if you want air conditioner and don't like to haggle with tuk-tuks.
Phromsut Transport

phone: +66 74 257281 (05:00–22:00) or +66 83 1857538 (outside working hours)

50 cars are operated by the company. It is best to reserve in advance.
By songthaew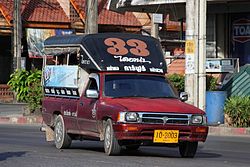 Songthaew
(สองแถว, lit. "two rows") is a kind of truck-based bus running in the city. There are several routes and colours. The route and the fare are fixed. It can be stopped at any point along the route by pressing the buzzer. The route is displayed on the front and side of the vehicle, albeit in Thai.
Blue songthaew runs from Hat Yai International Airport, passing Tesco Lotus 2 (Hat Yai Nai), Hat Yai Minivan Station (Talat Kaset), the intersection near Kim Yong Market, the clock tower, the fountain roundabout, Big C Extra (Carrefour), Kho Hong T-junction (the road to Hat Yai Park), Tesco Lotus 1 (opposite Prince of Songkla University), Green Way Market, ASEAN Trade Market, ends at Hat Yai Bus Station, and runs the same route back to the airport. 20-30 baht.
Red/Maroon songthaew numbered 33 runs between the Bus Station and Koh Me, passing Diana, Kim Yong Market, the Clock Tower, BigC Extra (former Carrefour), Hatyai Park. Make sure it's numbered 33 since there are similarly-colored songthaews with different routes. The service ends around 18:00. 10 baht flat rate.
White songthaew runs between Hat Yai Nai - Hatyai Park - Kuan Lang, passing along the route Kim Yong Market, the Clock Tower, Big C Extra (Carrefour). 10 baht flat rate.
By car or motorbike
Car rental is available at the airport from Avis, Budget, and Master Car Rental (Sixt).
The Cathay Guesthouse rents motorbikes starting at 200 baht/day for semi-automatics. Malay and English spoken.
There's a place close to the Genting Hotel about 2 km east of the train station that rents motorbikes. .
You can rent a used motorbike or a scooter in some repair shops. For example, there is one at 47, Nipatuthit 1 Rd. The owner speaks English, he is a decent man, so better be careful with the motorbike otherwise he will stop renting them out.. Normally requires your passport as a deposit and 250 baht a day for a scooter.
See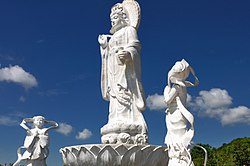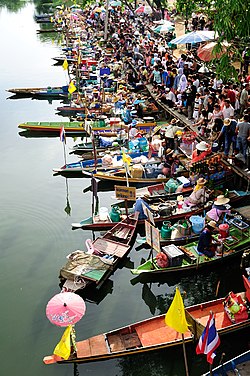 phone: +66 74 200000

address: Kanchanawanit Rd

The city's municipal park is 6km from the city centre. It is a major recreational centre for the people of Hat Yai and surrounding areas. The park is full of beautiful flowering plants, with a pavilion in the middle of the pond, aviarium, and food stalls. At the foot of the hill near the aviarium stands the statue of King Rama V. There is a Brahman shrine at the hilltop. And at the southern foothill near the Boy Scout camp stands the jade statue of Guanyin (กวนอิม Kuan-im), the Chinese Goddess. The park covers rather vast area with several attractions far apart. Walking between places is not recommended unless you have a full day and stamina to do lots of walking up and down hills. The road in some spots can be pretty steep and winding as well.
Hat Yai Cable CarThere are two stations: one at Phra Buddha Mongkol Maharaj (พระพุทธมงคลมหาราช) and the other at Thao Maha Phrom (ท้าวมหาพรหม). The second phase will add two more stations at the playground and Guanyin statue, connecting four stations altogether. There is also a tram service running between the cable car station and the Hat Yai Ice Dome during 10:00-17:00 for 50 baht. A one-way cable car ride takes only a few minutes.
phone: +66 74 219333

At -15°C, the building contains a seasonal display of ice sculptures created by sculptors from Harbin, China. Mid-Dec through Sep, featuring ice sculptures of the Great Wall of China, Mount Rushmore, Mount Fuji, Colosseum, Sphinx.
Khlong Hae Floating Market

address: Khlonghae-Khutao Rd

The first floating market in south Thailand. Sells mainly local foods.
Sino-Portuguese Townhouses

address: Nipatuthit 1 Rd

These old Peranakan-inspired houses have been re-painted in vivid colours.
Songkhla Central Mosque

phone: +66 74 237844

address: 352 Lopburi Ramesuan Rd, Moo 10, Khlong Hae

This beautiful grand mosque is 400 m off the road from Hat Yai to Songkhla.
Stainless Steel Pagoda

address: Moo 8 Ban Nai Rai, Poonnakan Rd

This unique pagoda was made of stainless steel to celebrate King Bhumibol Adulyadej's 60th year on the throne.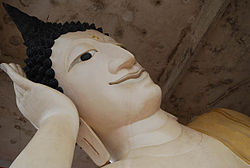 Wat Hat Yai Nai

address: Phetkasem Rd

The temple is the site of a large reclining Buddha measuring 35m long, 15m tall, and 10m wide, named Phra Phuttha Hattha Mongkhon, believed to be the third-largest reclining Buddha in the world, and revered by both Thai and foreign tourists.
Outside the city
Khao Nam Khang National Park

address: Na Thawi

The park has two waterfalls: Ton Dat Fa and Ton Lat Fa.
Khao Nam Khang Historic Tunnel

address: Moo 1, Khlong Kwang, Na Thawi

This large, long man-made tunnel was once inhabited by Communist insurgents. It is three levels deep and contains several rooms. Entry fee for foreigners is 150 baht.
Khu Khut Waterfowl Park

address: Khu Khut, Sathing Phra

You can hire a boat for birdwatching (200 baht/hr) and have a pleasant meal at the restaurants beside the serene lake. The best time to visit is during Dec-Mar.
Thale Noi Waterfowl Reserve

address: Khuan Khanun, Phatthalung

Home to staggering 287 bird species. The best time for bird watching and seeing a sea of blooming pink water lilies is during Jan-Apr. Go early in the morning to avoid strong sun. A boat ride costs 500 baht and takes about 1½ hr.
Ton Nga Chang WaterfallThe waterfall is in the Ton Nga Chang Wildlife Sanctuary. It is one of the beautiful waterfalls in the south, about 26 km from the city. This waterfall has seven levels. The third level is the most beautiful and is named after the waterfall. At the third level the stream separates into two, resembling an elephant's tusks. One can hire a tuk-tuk to the waterfall for two to three hours at 300-400 baht, or one can take the minibus from the fresh market (ตลาดสดเทศบาลหาดใหญ่ Talat Sot Thesaban Hat Yai).
Events and festivals
Chinese New YearUsually fall in Jan or Feb depending on the Chinese calendar. With a sizeable Thai-Chinese population, Chinese New Year is celebrated everywhere in Hat Yai especially in the city center. The Chinese New Year is on 5 Feb 2019.

Hat Yai Midnight SongkranThe festival marks Thai New Year, which is traditionally celebrated during 13-15 Apr. The most prominent part of the festival is blessing people with sprinkles of water. As you can guess, this devolves into massive water fights. The main activities are held near/around Odean Shopping Mall and Lee Garden Plaza, including foam party, free concert, and Songkran beauty contest.

Hat Yai Vegetarian FestivalA yearly event held during the ninth month of the Chinese calendar (usually in October). Observed mostly by Chinese and, increasingly, some Thais.

Loi KrathongFestival to pay respect to the river by floating beautifully decorated krathong (กระทง). It usually incorporates a Nang Noppamas (นางนพมาศ) beauty competition where contestants dress in Thai traditional costume. The festival is held on the full moon night of the twelfth lunar month.

Tham Bun Duean SipA Southern Thai tradition held in/around October (the full-moon day of the tenth lunar month). The main purpose is to make merit for their ancestors. There are specific foods made for this. Business may close for the day.
Do
CinemaMovie tickets in Thailand are more affordable than in Western countries. There are multiplexes and an IMAX theatre at Hatyai Cineplex on 5F of CentralFestival. The other venue is at Diana Cineplex on 5F of Diana.

Thai MassageNo trip to Thailand would be complete without a Thai massage and Hat Yai is one of the best places to get one. Some of the many good places would be Garden Home Hotel or Hat Yai Central Hotel. The rooms are nicely decorated and provide a soothing environment to go with a good massage. Ask the doorman at any good hotel for a recommendation if you want to avoid the more dodgy places.
Learn
phone: +66 74 243558

address: 635/1 Thammanoonvithi Rd

An international non-profit Buddhist college. Offer a curriculum of Bachelor of Arts in Buddhism, major in Mahayana Studies.

phone: +66 74 446824

address: 15 Karnjanavanich Rd

One of the top universities of Thailand. Offer many international courses at undergraduate, masters, and PhD level.
Buy
There are many Thai banks around the city, as well as Chinese money changers. Exchange rates from the latter for Malaysian ringgits may be significantly better than in the banks.
ATMs are abundant in Hat Yai, although most of them, as everywhere in Thailand, charge a 220-baht fee for foreign card transactions.
Western Union
can be found at Central Department Store's underground floor and on the 3rd fl. of CentralFestival.
Minimarts such as
7-Eleven
are ubiquitous and open 24 hours. Good for a quick meal, stocking up food and personal items. Or head to
Tops Market
for more high-end groceries at Robinson Department Store, Central Department Store, or CentralFestival.
A variety of English-language books (travel guides, fiction, children's, cookery, Thailand interest) can be purchased at
Asia Books
shop inside the
B2S
on the second floor of CentralFestival.
Markets
ASEAN Trade MarketWide market famous for second-hand designer clothing, bags, and shoes, but interesting locally-designed new clothes and some vintage decorative stuff can be found here as well. Lots of food stalls inside.

Green Way MarketVery similar to ASEAN Market.

Kim Yong Market

address: Supasarn Rungsan Rd

This is the most attractive place for shopping. There are plenty of foods, home appliances, chocolates, cosmetics, watches, CD games.

Suntisuk Market

address: Nipatutid 1, 2, 3

The famous market sells electric appliances, gadgets, gaming consoles, IT devices and accessories, clothes, shoes, bags, cosmetics, imported food.
Shopping malls
Eat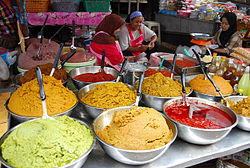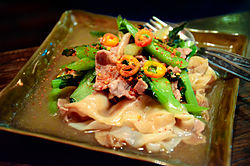 Although not in the same league as Bangkok, there are a lot of different food options on offer in Hat Yai. Typical Thai street food is abundant. Big international chain restaurants have branches in town offering Japanese and Western food.
Restaurant chains
are located mostly in
shopping malls
. International restaurant chains such as KFC, McDonald's, Sizzler, Pizza Hut, Dunkin' Donuts, Mister Donut, Swensen's, Dairy Queen, Starbucks. Local restaurant chains such as
MK Restaurant
(Thai-style sukiyaki),
S&P
,
Black Canyon Coffee
,
Chester's Grill
,
The Pizza Company
,
Jeffer Steak
,
Fuji Restaurant
,
Shabushi
,
Oishi Ramen
. Food courts are also available in most of the shopping malls.
Owing to the ethnic diversity, you can find Thai, Chinese, and Malay (Muslim) food available throughout the city. Most restaurants offer a variety of Thai, Chinese and/or Western fusion cuisine.
Ethnic Chinese from Malaysia and Singapore make up the bulk of Hat Yai's tourists so many restaurants and hotels cater primarily to them. Just opposite Lee Gardens (next to the Regency Hotel) you will see a restaurant which spit-roasts suckling pigs every day. Large, open-air seafood restaurants are also popular with Chinese visitors and the quality of seafood available in Hat Yai is good. Some Chinese are vegetarians and the town has a good selection of small vegetarian restaurants that offer tofu and soy meat substitutes.
There is a large resident Muslim population and some visitors from Malaysia are also Muslim so finding halal food isn't a problem.
Food hawkers
can be found all over the city. Some stay open until very late at night. Grabbing a bite in late night is not uncommon. A spot for a variety of night hawkers is at Suphasarnrangsan Rd around Wat Cheu Chang near Kim Yong Market. Other places are such as at Tanrattanakorn Rd called
Talad Mai
(ตลาดใหม่) and at Thung Sao 1 Rd. There are also a number of small roadside places to eat on Nipha Phakdi alley behind the Florida hotel.
A typical meal for one can
start
at as low as 50 baht for street food, 80 baht in general restaurants, and 120 baht in more upscale restaurants.
Bakery and cafe
B's Sweet

phone: +66 74 221909

address: 75 Thumnoonvithi Rd

B's Sweet serves up Americanos, cappuccinos, lattes, smoothies, pork or prawn omelettes, local rice and noodle dishes, and a wonderful selection of cakes, ice creams, and sorbets. The chocolate lava should not be missed. Open breakfast, lunch, and dinner.

E.P.'s Artisan Bakery

address: Nipatuthit 1 Rd

Good cakes & coffee.

Cha-Chak Forseen

phone: +66 74 462122

address: Thumnoonvithi Rd

Sipping drinks and having snacks including roti and murtabak in open-air atmosphere.
Dim sum
Chok Dee Tae Tiam

phone: +66 74 356779

address: 58/25 Lamaisongkrew Rd

One of the most famous dim sum restaurants in Hat Yai. The restaurant fills up fast, so go early to ensure a table. If you order bak kut teh, you'll get refilled constantly.

Khor Nang Tae Tiam

address: Niphatuthit 3 Rd

Another dim sum restaurant famously known by locals.
Halal food
phone: +66 82 4399590

address: 32/7 Thungsao 2 Rd, Soi Khamuthit 2

Nice small cosy restaurant at a walking distance from the bus station, ASEAN Market, or Green Way market. Halal, genuine Thai food (spicy, not sweet Malay cuisine). Excellent kaeng som. Serves fresh fruit juices and coffee. Free Wi-Fi for patrons. The cook/owner is married to a Muslim Frenchman. You can usually meet him on Saturdays.

Decha Fried Chicken

phone: +66 81 098 3751, +66 87 2895008

address: Chee Uthit Rd

Muslim fried chicken restaurant. Also serve seafood, Thai, Isaan food.

Hamid Restaurant

phone: +66 74 243008

address: 73 Prachathipat Rd

Nice, clean, and good halal food. There are a couple of other Muslim restaurants nearby.
Indian
Namaste Hatyai

phone: +66 74 354131, +66 89 7394400

address: 236/1 Niphatutit 1 Rd

Indian-Thai restaurant. Chicken biryani/murtabak, roti/chapati, lassi, and more. (No pork or beef served.) Free Wi-Fi.
Japanese
There are lots of Japanese restaurants on the 4th floor of CentralFestival.
Marichan Japanese Restaurant

phone: +66 74 230636, +66 81 3688827

Authentic Japanese food by Japanese chef.
Thai/Chinese
phone: +66 74 261111

address: 33F at Lee Gardens Plaza Hotel

The hotel has a top floor restaurant with panoramic views of the city. It offers an excellent all-you-can-eat buffet at lunch and dinner.

192 Rat Na

address: 192 Supasarnrangsan Rd

Good Chinese food served here and very busy but worth waiting for some good fried stuff. Fried rice a specialty.

Bon Khao Restaurant

phone: +66 74 218124, +66 74 211929

address: 1/9 Karnjanawanich Rd in Hat Yai Park

Good Thai food and great view looking onto Hat Yai.

Chongkhao Seafood

phone: +66 74 244060

address: Suphasarnrangsan Rd

Large seafood restaurant.

Daothiam

phone: +66 74 243268

address: 79/3 Thammanoonvithi Rd

Friendly staff and tasty breakfasts, Thai, and vegetarian food. Grab a pad Thai and Chang beer among a collection of framed world currency.

Nai Roo Restaurant

phone: +66 74 237680, +66 81 8987656

address: Soi 1, Nipatuthit 3 Rd

This hidden gem of a small Thai-Chinese restaurant may fill up quickly during meal time. Try fried popiah, tom yam omelette, fish dishes.

Nakorn Nai

address: Nipatuthit 2 Rd

A stylish restaurant with free Wi-Fi. They serve very tasty Western food such as pasta and pizza, Thai food, and Muslim food such as roti for reasonable prices.

Samila Sea Sport

phone: +66 74 223416-7

address: 39 Rajyindee Rd

Serves delicious seafood.

Sugar Rock

phone: +66 74 235270

address: 528 Thumnoonvithi Rd

Tasty Thai food.

Ta-kun

address: Nipatuthit 1 Rd

If you're looking for cheap and good local food, try this small and very friendly little spot.

Tor Huad Restaurant

phone: +66 74 231030-1

address: 32/1 Rajyindee Rd

Upscale Chinese restaurant.
Vietnamese
Thong Poon

phone: +66 74 357831

address: 399 Thammanoonvithee Rd

One of a few Vietnamese restaurants in Hat Yai.
Western
Dé Van Cuisine Coffee & Bistro

phone: +66 74 351438, +66 90 7199060

address: 162/4 Prachatipat Rd

Italian cuisine.

Gäp's Garten German Restaurant

phone: +66 86 9636551 (German/English), +66 84 7293542 (Thai)

address: 516/1 Soi Chuntarajanusorn, Thumnoonvithi Rd

Serves authentic German food and beer (Erdinger, Warsteiner, Weihenstephan, and Köstritzer) for reasonable prices. Best to book a table in advance as it is usually quite full.

McCafe

address: Sripoowanart Rd
Drink
Bee ClubLive music, pool upstairs and decent food.

Co ArtA cafe-style place to hang-out in the evenings. There is a live band almost every day covering internationally-known songs.

Deep WonderStreet side and downstairs bar. Live music.

Living Room

address: 94 Thamannoonvithee Rd

At the site of the now-defunct Monkey Club. It's a nice place with fairly quiet atmosphere, and no longer a nightclub.

OceaniaA beautiful open-air restaurant and bar set on 2 floors with a landscaped garden of waterfalls and palms, and soft lighting. The kitchen is open until well after 02:00, serving decent Thai food at around 100 baht a dish. A large Heineken is 90 baht, with draft available also. The theme is quiet and romantic, ideal after an hour or two in the disco nearby. Live acoustic music is inflicted on diners every night until 24:00.

phone: +66 74 232027

address: 82-84 Thamannoonvithee Rd

Air-coned and pool. Best band in town playing from 21:00 onwards. Farang hangout.

Sunrise Coffee

address: She-Utit Rd

A nice little coffee shop offering a variety of coffee blends and smoothies; very cosy atmosphere.

The Swan

address: Thamannoonvithee Rd

Nice atmosphere with books and 2 TVs with UBC cable. A slight British pub feel.

The West Side SaloonCan get crowded and very noisy. They have a good bar food menu. The only pub/bar in town that writes the prices on the menu excluding service charge and VAT. Can be a surprise when you get the bill.
Sleep
Travel agents around town can nearly always give better rates for hotel rooms compared to dealing directly with the hotel. Hat Yai has an abundance of accommodation. Tourism in Hat Yai consists mainly of the weekend trade from Malaysia and Singapore. Accommodation can be found very easily mid-week but hotels in the centre of town tend to get booked up for the weekends and Malaysian and Singaporean public holidays. In the budget hotel you may well be asked if you want company. A shake of the head is all that is needed (up or down or from side-to-side is up to you). Don't be put off by the hotel because of it.
Budget
Cathay Guesthouse(update Dec 2014) Simple rooms, squat toilet, no toilet paper. Sells European breakfast and homemade meals and has transport service. Basic rooms with good mattresses, but needs a renovation, helpful staff. No bugs of any sort. Not a classy place, but OK rooms with a cold shower (ask for a backside room if you don't like car noise), close to the train station. They charge for Wi-Fi and Internet.

phone: +66 74 239-6514

address: 263 Samchai Rd

Airy. Much better rooms than you can get in the city centre for similar prices. 495 baht for a spacious room with queen bed, 570 baht for a room with two beds. Clean; free Wi-Fi; TV and big fridge; air-con; hot water. Some decent local food places to eat over the road. A long stroll or short ride to the city centre or the bus station. Cheap massages available. Not much English spoken. Gym downstairs: 30 baht/day or 600 baht/month, or 450 baht/month for restricted memberships (morning or afternoon only).

Indra HotelNice inexpensive place to stay near market and transportation (bus agents). Strongly recommend you see room before booking.

Laem Thong Hotel

address: 46 Thammanun Withi Rd

Louise GuesthouseBig rooms and European toilets. Staff friendliness appears to fluctuate. Bedbugs reported and mattresses old and sagging.
Mid-range
phone: +66 74 230130-41, +66 74 353140-9

address: 62 Nipatuthit 3 Rd

phone: +66 74 262909, +66 74 352298

address: 42-44 Nipatuthit 3 Rd

The standard rooms are very nice and comfortable.

Grand Pink HotelClean and inviting. The rooms are distinguished by their huge bathtubs, presumably for two. On the premises is a large room with selection of masseuses on offer.

Hi-Season Hotel

phone: +66 74 365010

address: 33/2 Ratyindee Rd

King's Hotel

address: 126-134 Nithakuthit 1 Rd

Cable TV with English channels, hot shower, double bed. Free Wi-Fi access in the hotel lobby and rooms. The hotel badly needs a fire escape.

phone: +66 74 261111

address: 29 Prachatipat Rd

phone: +66 74 352888

address: 106 Prachathipat Rd

Deluxe hotel in the heart of Hat Yai. 112 deluxe rooms and 7 junior suites, including non-smoking floors, with panoramic view of the city and mountain. Every room has Internet access, touch memory door locking system, smoke detector, safety deposit box, minibar, and colour TV. 24 hour surveillance and car park. On-site there is a Thai massage with 17 luxurious rooms and a coffee shop serving a variety of cuisines: Thai, Western, and Chinese.

Siam City Hotel

phone: +66 74 353111

address: 25-35 Nipatuthit 2 Rd

Decent city views. Mini fridge. Feels 30 years old. No English TV channels.

address: 152-156 Nipatuthit 2 Rd

Add-ons including air-con, towel, toiletries, cable TV, and Wi-Fi have to be purchased separately.

phone: +66 74 223660-3, +66 74 352201-3

address: 1-3-5-7 Niphatuthit 1 Rd

Winstar Hotel

phone: +66 74 465222

address: 54/7 Sripuwanart Rd

Winstar Hotel is a new standard hotel designed and decorated in Chinese modern style. Wi-Fi, air-con, hot shower, minibar and colour TV with cable channels. Fountain Beer Park, Lim Breng Restaurant, Star Coffee Shop, and Thai ancient massage.
Splurge
phone: +66 74 353400

address: 55-59 Nipatuthit 3 Rd

Basic facilities. One of the older bigger hotels from several decades back.

BP Grand Suite Hotel

phone: +66 74 355155

address: 75/1 Sanaehanusorn Rd

phone: +66 74 352222

address: 3 Sanehanusorn Rd

President Hotel

phone: +66 74 349500

address: 420 Phetkasem Rd

Pretty large rooms, air-con, free Wi-Fi, TV, and OK room service.
Stay safe
A series of bombings in September 2006 that specifically targeted restaurants and shopping centres popular with visitors (and locals) killed two tourists. There were another 7 bombs in May 2007 in Hat Yai which killed one person. Strict security measures (bag searches, metal detectors) are to be expected in most gathering places. The most recent bombing was 3 Apr 2012.
To check water level during monsoon season, visit
Hatyai City Climate
. For air quality, visit
Air4Thai
.
Emergency numbers
Medical Emergency

phone: 1669

Police (General Emergency)

phone: 191, +66 74 243333, +66 74 231645

Tourist Police

phone: 1155, +66 74 246733

Fire Station

phone: 199, +66 74 243111
Connect
Telephone
Hat Yai's area code is
074
. To make a call to anywhere in Thailand, always add a preceding "0" to the fixed line/mobile number. For example, +66 74 123456 will be dialled locally as 074 123456.
The major telephone service providers are
AIS
,
DTAC
, and
TrueMove
. Thai prepaid SIM cards can be purchased in minimarts, mobile retailer shops, or telco service centers, all of which can be found on CentralFestival's 3rd floor. Domestic calls usually cost only about 1 baht/min depending on your prepaid plan.
Thailand Post
Talad Mai Post Shop

phone: +66 74 800139

address: 15/30 Phadungphakdi Rd

A franchise of Thailand Post.

Thailand Post, Ban Phru

phone: +66 74 210255

address: 190 Moo 4, Karnjanawanich Rd, Ban Phru

Thailand Post, Hat Yai

phone: +66 74 243121, +66 74 245293

address: 43 Nipatsongkraw 1

Thailand Post, Hat Yai Nai

phone: +66 74 255880

address: 25 Moo 1, Soi 35, Petchkasem Rd, Khuan Lang

Thailand Post, Kho Hong

phone: +66 74 212603

address: 176 Moo 5, Karnjanawanich Rd

Thailand Post, Rathakarn

phone: +66 74 244480

address: 158 Rathakarn Rd

Thailand Post, Sripuwanart

phone: +66 74 231477

address: 19, 21, 23 Po Natthapon 2 Rd

Thailand Post, Thung Lung

phone: +66 74 291990

address: 2/1 Moo 1, Karnjanawanich Rd, Phatong
Cope
The Chinese, Indonesian, and Malaysian consulates are in
Mueang Songkhla
, the capital district of Songkhla Province, 35 km from Hat Yai.
Dentist
phone: +66 74 287620

Prince of Songkhla University's Faculty of Dentistry offers very good and reasonably priced treatments. But always put a few notes in the collection box. Government-operated hospital, so expect a wait.
Hospitals
phone: +66 74 272800

address: 75 Soi 15 Phetkasem Rd

Private hospital.

phone: +66 74 273100

address: 182 Ratthakarn Rd

Regional public hospital.

phone: +66 74 200200

address: 119 Rajyindee Rd

Private hospital.

Sikarin Hat Yai Hospital

phone: +66 74 366966

address: 169 Niphatsongkhro 1

Private hospital.

phone: +66 74 455000

address: 15 Karnjanavanit Rd

Public hospital.
Go next
Border crossings
Visa Run
If you need to extend your stay in Thailand for another 15 days, you can cross the border at Dannok, near Sadao. Getting there from the airport is easy and takes about 2 hours. From the terminal, walk straight out into the parking lot to the parking lot ring road. You can wait here for a light blue songthaew to take you into town and get dropped off at The Plaza for 13 baht. The ride takes about 20-30 minutes. You can also take an airport taxi into town. At The Plaza, you can find a van waiting just across from the TOT office, which makes regular trips to Dannok. If you can't find it, just say "Sadao" or "Dannok" to people till they point you the right way. The trip is 60 baht, and vans leave once they are full. The trip should take about 1 hour 30 minutes. It will drop you off near the border at Dannok and you can just walk to exit Thailand. You will be approached by motorcycle drivers who will offer to take you to the Malaysian side. Walking takes about 10 minutes, so it could be worth it to pay 20 baht each way if you are in a hurry. If you have time, a stop at the duty free shop is worthwhile. Minivans returning to Hat Yai depart from outside the 7-Eleven in Dannok. Back-to back stamps are only allowed for a total stay of 90 days within any given 180 day period of time.
Royal Thai Consulate-General in Penang

phone: +60 4 2268029, +60 4 2269484

address: 1 Jl Tunku Abdul Rahman, Penang, Malaysia

60-Day Tourist Visas can be obtained in Penang, Kota Bharu, and in Kuala Lumpur at the Thai consulates or embassy. In Penang 60 day tourist visas cost generally RM110. Bring 2 photographs. A copy of passport main page is required. It is possible to copy it in a high school library nearby. To get there: take Bus 1 from Komtar (RM1) down Jl Burma. After 10 minutes get off at the crossing with Jl Cantonment, turn left and walk down Jl Cantonment for 10 minutes and turn right to the consulate. Open 09:00-12:00 and you will have your tourist visa after 15:30. While waiting it's worth taking a bus ride to Batu Feringgi Beach (RM2). You can also find visa services in Little India and Chinatown for about RM20 (will also be ready after 15:30). Cost: 280 baht/RM30 one-way to Georgetown (via minibus) and usually lets you off in Little India. There are return buses as late as 16:00.