Historic High Country
North Georgia
is a mountainous region in the state of
Georgia
.
Regions
Cities
- historic gold rush town, including the Dahlonega Gold Museum
- A recreation of an alpine village
Other destinations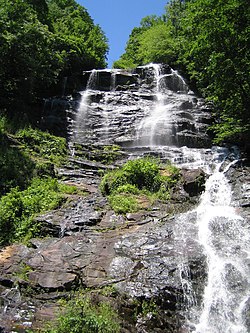 Amicalola Falls
Black Rock Mountain State Park
Fort Mountain State Park
Tallulah Gorge State Park
Unicoi State Park
Vogel State Park
Understand
Climate
Although the climate and weather is usually mild with warm to hot summers and tolerably winters there is the possibility of severe weather. Although the chances of such weather are rare it is important for travelers to understand what to do in
severe weather
especially in cases where events are unfamiliar.
Flooding- In recent years this area suffered from severe drought and more recently increased amounts of rainfall. In 2009 the increased rainfall caused flooding. In the case of a flood find high ground and do not try to cross water flowing over a roadway.
Thunderstorms- Are large rain storms that contain high winds, rain, lighting, thunder, and sometimes hail. Thunderstorms can quickly develop into tornadoes. During a thunderstorm stay inside also be prepared for power outages caused by falling trees. More people are killed or injured in the United States by thunderstorms than by hurricanes and tornadoes combined.
Tornadoes- A tornado is a spinning column of very low-pressure air, which sucks the surrounding air inward and upward. See Tornado safety for more information.
Winter Weather- In this area of Georgia winter weather can cause lots of problems. There is a variance as to how much and what type of winter weather a specific area in this region will receive because of the differences in elevation caused by mountainous areas. Winter weather can be expected 2-3 times a year. Northerners often scoff at the locals fear of winter weather but caution should be observed. During such occasions the temperature usually hovers near freezing causing a wild mix of weather and conditions. A mix of snow, freezing rain, and sleet is usually expected. Local drivers are not accustomed to driving in this type of weather. Black ice can occur on roadways especially bridges. Ice storms are more common than blizzards.
Get in
By plane
The closest major airports are
Hartsfield–Jackson Atlanta International Airport
(
ATL
) and the Chattanooga Metropolitan Airport CHA. Many of the counties in this region also have their own airports, though no major commercial airlines fly to these airports.

By car
The Historic High Country is linked to the rest of the country by the Interstate Highway System. The principal interstates in the region are I-75, I-85, I-575, I-985, I-24 and I-59. If coming from Atlanta, another popular highway to use is Georgia 400, which starts at I-285 in Atlanta, travels through Forsyth and Dawson countries and ends just south of Dahlonega.

Get around
The main way to get around this region is by car.

See
In Cartersville, one can visit the Booth Western Art Museum. The museum features contemporary Western art, Western illustration, Western movie posters, Civil War art, Presidential portraits and letters, authentic stagecoaches, and an interactive hands-on gallery for children based on a working ranch. Near Cartersville is the Etowah Indian Mounds, the most intact Mississippian Culture site in the American Southeast. The Etowah Indian Mounds Historic Site is home to six Native America earthen mounds, a plaza, village site, borrow pits and defensive ditch.
Moving to the eastern part of High Country, one can visit the Dahlonega Gold Museum Historic Site in Dahlonega. This museum commemorates the Dahlonega Gold Rush, the first gold rush in the United States. The Ty Cobb Museum in Royston contains art and memorabilia, film, video, books and historical archives of baseball Hall of Famer Ty Cobb, as well as several other notable people from Franklin County.

Do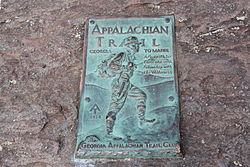 Hiking: There are numerous hiking opportunities in the north Georgia mountains. The Appalachian Trail begins in Georgia and runs 75.2 miles from Springer Mountain to the North Carolina Border. Other long trails in the High Country include the Benton MacKaye Trail and the Silver Comet Trail. Several mountains in the region are popular with hikers, such as Blood Mountain, Sawnee Mountain, Yonah Mountain and Brasstown Bald. There are also numerous hiking opportunities in the region's state parks such as Fort Mountain State Park, Vogel State Park and Tallulah Gorge State Park.
Caving: There are over 400 known caves in northern Georgia. The most notable caves are Ellison's Cave and Petty John's Cave, both located on Pigeon Mountain in Walker County.
Hunting and fishing: There are several wildlife management areas (WMA) in northern Georgia where hunting is allowed. Some WMAs include the Crockford-Pigeon Mountain WMA in Walker County, Rich Mountain WMA near Ellijay, Pine Log WMA north of Cartersville, the Dawson Forest WMA near Dawsonville and the Blue Ridge WMA in Fannin County. A Georgia Outdoor Recreational Pass may be required to visit these WMAs. Fishing is allowed on Georgia's rivers, as well as in designated Public Fishing Areas. Be sure to read about regulations on the Georgia Department of Natural Resources' website.
Lakes and rivers: Popular lakes in this region include Lake Lanier near Cumming, Lake Allatoona near Cartersville, Carters Lake in Murray County and Lake Blue Ridge in Fannin County. Rivers such as the Etowah, Cartecay and Chattahoochee rivers are opened to kayaking, canoeing, and inner tubing. If you are planning a tube trip in the Helen area, call ahead to check the water level as this area has been in "severe" drought for most of 2016.
Sports: Rome is home to the Rome Braves, a Class-A minor league affiliate of the Atlanta Braves. In college sports, Berry College and Shorter University (both in Rome) both sponsor NCAA Division II varsity sports. Shorter's athletic teams are known as the Hawks, while Berry College's teams are known as the Vikings.
Drink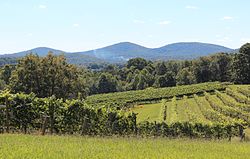 Historic High Country is home to the Upper Hiwassee Highlands American Viticultural Area, a maritime wine region. Vineyards in the High Country includes Sharp Mountain Vineyards near Jasper and Three Sisters Vineyards near Dahlonega.
Near Cartersville is the Anheuser-Busch Brewery.
Blue Ridge
is also home to a few small breweries.
Go next