Houston/Downtown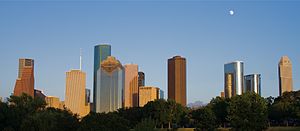 Downtown
is the central business district of
Houston
. It is bounded by the I-10, I-45, and I-69 freeways.
Understand

Downtown is, like many American cities, strictly a 9AM-5PM operation. Most restaurants close after business hours, but there have been some efforts lately to encourage more activity.
If you visit downtown during the day, don't be surprised to see fewer people on the street than a typical city. Most people use an underground walkway system that connects many buildings and food courts.
Just north of the core of downtown, across the Buffalo Bayou, is a warehouse district that has somewhat recently attracted unique music venues, artists, and Oxheart, a popular upscale restaurant. Houston's biggest brewery, St. Arnold's, lies just a mile from the UH-Downtown rail station, but the journey requires crossing a freeway and walking through a sleepy industrial area.

Get in
By car
Interstates 10 and 45 link together and form a tight loop around downtown. Many exits are marked as leading to downtown.

By public transit
The METRO Rail light rail has several downtown stops along the red line: Downtown Transit Center, Bell, Main Street Square, Preston, and UH-Downtown. Most of the restaurants and bars are located near Preston and Main Street Square.

By bus
Megabus, Greyhound and the Mexican bus services all have their stations located near the Downtown Transit Center light rail station.

By train
The is just to the west of downtown, a mile-long walk from the Preston light rail station that requires crossing some busy streets with minimal pedestrian facilities.

See
Chase Tower Observatory

address: 600 Travis St

The Chase Tower is the tallest building in Texas and the tallest five-sided building in the world. The sky lobby on the 60th floor of the building is the observatory. Since 2016 this observatory has been permanently closed to the public.

Discovery Green ParkDiscovery Green opened April 13, 2008. The downtown Houston park is located across Avenida de las Americas from the George R. Brown Convention Center and the Hilton Americas Hotel. Toyota Center, Houston Center and Minute Maid Park are only blocks away.

Downtown AquariumSeen as pretty mundane by locals, but might still appeal to fish fanatics. Situated right on Buffalo Bayou. Not just an aquarium, it has a ferris wheel and other carnival-style rides.

Downtown Tunnel SystemThe majority of Downtown Houston's buildings are connected by an intertwining, complex tunnel system. Scores of lunch restaurants and easy access to building entrances from underground keep Houston's workforce primarily underground during the day. Only open during the weekdays, the tunnels are an interesting spectacle to observe, but try to avoid getting lost. There are a few street level entrances, but it can also be accessed from various buildings.

Market Square ParkSurrounded by some of the city's oldest buildings, the site was once home to City Hall in previous years. In 2010, the block-sized space was transformed into a modern park, with features akin to Discovery Green but on a more compact scale. At the center of the park is local favorite Niko Niko's.
Do
phone: +1 713-228-6737

address: 510 Preston St

World-class opera in the heart of downtown's Theatre District.

address: 615 Louisiana Ave

Concerts throughout the year including both a classical series and a pops series.

Mercury Baroque

phone: +1 713 533-0080

address: 510 Preston St

Baroque music for the historical purist.

Theatre Under the Stars

phone: +1 713 558

address: 800 Bagby TUTS

Broadway style big theatre productions in one of Houston's newest downtown arts venues.
Professional sports
phone: +1 713 259-8000

address: 510 Crawford St..

The city's Major League Baseball team, playing at Minute Maid Park, celebrated its 50th anniversary in 2012. It was also the last season for the Astros in the National League; they moved to the American League in 2013.

phone: +1 713 627-DUNK

address: 1510 Polk St

The city's NBA (basketball) team plays at the Toyota Center.

phone: +1 713 276-7500

address: 1001 Avenida de las Americas, Ste. 200

Houston's Major League Soccer team plays in BBVA Stadium. Located in the East End, it is the first major soccer-specific stadium in the US in a downtown area.

phone: +1 713 276-7500

address: 1001 Avenida de las Americas, Ste. 200

Houston's representative in the National Women's Soccer League. The team is owned and operated by the Dynamo and also plays at BBVA Stadium.
Events & Festivals
Eat
Irma's

phone: +1 713 222-0767

address: 22 N. Chenevert St.

A Houston institution! Fun, traditional atmosphere with authentic, unwatered down Tex-Mex cuisine.

phone: +1 832 830-8592

address: 1302 Nance St

Nestled in a small, nondescript space in the Warehouse District, culinary couple Justin Yu and pastry chef Karen Mann dish out 4- or 8-course seasonal Texas Gulf Coast tasting menus (including a veg-centric option - "oxheart" is also a type of carrot, cabbage, and tomato, after all) in a restaurant lauded locally and nationally as one of the best around, period. Sit back with a beer or glass of bubbly from the expertly curated beverage list, watch the crack team of chefs go to work, and be prepared to be wowed. By reservation only.
Drink
Flying Saucer Draught Emporium

address: Main at Texas

A staggering variety of beers, some wine, scantily clad staff.

The Saint Arnold BreweryBilled as Texas' oldest microbrewery. Their brews are often sold in local bars. Very popular beers are the Texas Wheat, Oktoberfest (August through October), and Christmas Ale (November through December). Brewery tour every Saturday at 1:00.
Sleep
Budget
Mid-range
Club Quarters

address: 720 Fannin St

This hotel is private and club-like but it has 24 hour room service and it accommodates your needs, for example there are state of the art televisions.

Courtyard by Marriott Houston Convention Center

phone: +1 832 366-1601

address: 916 Dallas St

Houston Downtown Residence Inn

phone: +1 832 366-1000

address: 904 Dallas St.

In the historic 1921 Humble Oil Building. Offers free shuttle to George R. Brown Convention Center and Minute Maid Park.
Splurge