Houston
Houston
is a sprawling port city in Southeastern
Texas
. An oil boom and continuing international immigration has brought explosive growth to the city, and it is now the fifth largest metropolitan area in the
United States
. While at first glance, the city appears to be a 9-5 central business district surrounded by a sea of suburbs and strip malls, there are many hidden gems to be discovered.
Districts
The city's districts used to be called "wards" and they tended to have distinct populations. Today, the lines are blurring and continual sprawl has created new districts, some with a distinct character.
Center of the city, still the home of high finance and big business. Houston is second only to New York City in corporate headquarters of Fortune 500 companies. Many of them are located downtown including some of the world's largest energy companies. Downtown Houston also boasts the second largest theater district in the United States and the city has world class permanent organizations such as the Houston Symphony and Houston Ballet. The Rockets, Astros and Dynamo all play downtown.
Neartown encompasses Midtown, an older light industrial area cum trendy apartment archipelago; Montrose, a pleasant streetcar suburb that was abandoned and resurrected by Houston's LGBT community; and the historic 4th Ward, a Freedman's town that was built by the hands of freed African American slaves and now facing gentrification by a development company.
A large district of gingerbread Victorian homes as well as early 20th Century bungalows. Like its sister neighborhood Montrose, the Heights is home to a diverse population from artists and musicians to wealthy professionals. Parts of the Heights are still dry, fostering a large number of BYOB restaurants ideal for those who enjoy their own selected wine.
To the south and east of downtown lie Rice University, the many attractions of Hermann Park, Reliant Stadium, and the Texas Medical Center (or just "the med center"), including some of the world's best hospitals. The Rice Village is a highly concentrated area of restaurants, bars, and shopping. The Museum District is the center of Houston's visual arts and museums.
River Oaks is home to Houston's most exclusive and affluent neighborhoods and businesses, home to eye-popping mansions and the River Oaks Shopping Center, one of America's first suburban shopping districts and a great display of Art Deco architecture. This area has many great restaurants, vibrant nightlife, and infamous traffic jams during peak hours.
Uptown or The Galleria Area is known for its namesake, a huge high-end shopping mall complex and has the tallest building in the United States outside of a main downtown area, the Williams tower.
Outside 610
These districts are located outside the I-610 freeway loop (except part of East Houston). Off the beaten track, these areas have plenty to offer for the patient traveler.
Understand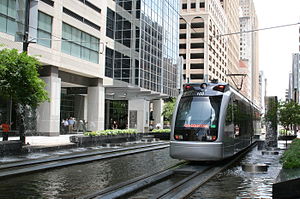 Houston has a character that, while very "Texan," is also a great melting pot of many cultures and socio-economic groups. You'll find well-to-do suburban mansions, LA-style shopping strips, Latin-American neighborhoods, towering skyscrapers, historic African-American neighborhoods fighting off gentrification, massive refinery complexes, large Asian communities, and pockets of artist communities. From October to May, the weather is relatively pleasant, and many restaurants and bars take advantage of it with plenty of outdoor seating and beautiful lighting. Houston's proximity to the Gulf of Mexico also makes it a lush, tropical paradise compared to the rest of Texas.
In a sense, Houston is the gritty step-cousin of wealthy Dallas and middle-class hippie Austin. You won't see many cowboys or giant hairdos in downtown Houston (outside of Rodeo season), but you will see a quite diverse mix of people servicing the oilmen, petroleum engineers and high-end doctors.
Houston is the largest city in the United States without any appreciable zoning. While there is some small measure of zoning in the form of ordinances, deed restrictions, and land use regulations, real estate development in Houston is only constrained by the will and the pocketbook of real estate developers. Traditionally, Houston politics and law are strongly influenced by real estate developers; at times, the majority of city council seats have been held by them. This arrangement has made Houston a very sprawled-out and very automobile-dependent city. The benefit of this lack of zoning is that some neighborhoods like Montrose contain a plethora of hidden bars and art galleries nestled among historic neighborhoods - an arrangement not possible in zoned cities across the country.
For one desiring a walkable visit, the areas close to downtown are gradually becoming more dense and walkable as islands of trendy mixed-use developments pop up. Many areas can be downright hostile to pedestrians and bikers as sidewalks are privately built (if at all) and roads are littered with massive potholes. The city is primarily built on the energy industry and nearly everyone owns a car and drives everywhere they go, even to a destination less than a mile away.
With a few exceptions, almost everything to see or do is in Houston's urban core inside the 610 Loop and more specifically in between downtown, the Galleria, and the Texas Medical Center.
Visitor information
The Greater Houston Convention and Visitors Bureau
operates the
Houston Visitors Center
. The center is located in the heart of downtown Houston at 901 Bagby (corner of Bagby and Walker St.), on the first floor of the historic City Hall. Find information on Houston's history, attractions, restaurants, hotels, directions, maps, purchase Houston merchandise and watch an 11-minute film on Houston. You'll find over 10,000 brochures and magazines to help plan your visit to the Houston area. The center is open Monday - Saturday, 9AM to 4PM
Climate
Houston's climate generally ranges from a hot humid summer to a mild winter. The months of October to April make for fantastic times to visit to avoid the heat. Visitors from areas with mild summers or dry climates should be extremely careful if planning to travel there in the summer months, especially around August. The combination of high heat and thick humidity can result in stifling and oppressive weather. It's by no means "a dry heat"! Even some lifelong residents of Houston complain about the August weather. If visiting in the summer, stay hydrated and try to limit outdoor exposure during the hours between 10AM and 7PM. The nights are very hot too, but not as dangerously hot as during the day. Visitors from cooler, drier places will be amazed at the tolerance levels of some of the locals. You can see people wearing long sleeve shirts, boots and jeans when the temperature is above 100°F (38°C) and humidity is over 90%. But it can not be stressed enough: this place is extremely hot and if you're not prepared or used to this type of heat, you're in for one rude awakening. But have fun!
Get in
By plane
Houston is served by two major commercial airports and two smaller regional airports (
QHO
) (IATA code for all Houston area airports).
The large airports for commercial traffic are:
, (IAH). The larger of the two airports and is located 23 miles (37 km) north of downtown near Beltway 8, between IH-45 North and US-59 North. It is the second largest hub for United Airlines and it serves 24 domestic and international airlines. METRO bus line 102 departing from terminal C runs to the downtown, which it reaches in 1h 10m for $1.25 . From the downtown, the easiest place to catch the bus is the Downtown Transit Center station of the METRORail. During the day, the bus runs approximately every 30 minutes.

William P. Hobby AirportIt is convenient if you're travelling downtown or south of the city, such as to Galveston. Its main carrier is Southwest Airlines, and it also served by Delta Air Lines, American Airlines, JetBlue and Via Air.
Private Aviation
Houston offers a total of 27 airports within 50 miles, and although William Hobby is the most popular choice for private charter flights, there are several airports that focus on serving the business and luxury aviation community. Air charter companies including Tavaero and Houston Jet Charter offer access to planes based at airports across Houston, ranging from twin-engine aircraft and light jets to luxury Gulfstreams and executive airliners.

, (SGR

). Located southwest of downtown on TX 6, just north of U.S. 59. It is a popular choice among the well-heeled corporate aircraft set.

, (EFD

). Located southeast of downtown, just off I-45. A former air force base, it is now used for general aviation, non-passenger commercial traffic, and government aviation (NASA, Texas Air National Guard, U.S. Coast Guard).

Houston Executive Airport (). Located about 28 miles directly west of downtown Houston in Brookshire, TX. Primarily caters to executives jets in the Energy Corridor area of Houston.
David Wayne Hooks Memorial Airport (). Located on the north side of Houston just off the Grand Parkway in Spring, TX. It's the busiest general aviation facility in the state, and consistently ranks as one of the busiest general aviation airports in the United States.
Pearland Regional Airport () Located 17 miles (27 km) south of Downtown Houston just south of the Sam Houston Tollway and just east of US 35 in Pearland, TX. The airport was formerly known as Clover Field, the airport and its FBO are both managed by Texas Aviation Partners, LLC.
Conroe-North Houston Regional Airport (). Located about 37 miles north of downtown Houston near I-45 and U.S. 105 in Conroe, TX. Formerly know as Lone Star Executive, CXO is popular for international business jets, with a U.S. Customs and Border Protection Federal Inspection Station located on-site to serve international business travelers.
Houston-Southwest Airport (). Located 15 miles (24 km) southwest of downtown Houston in Arcola, TX. Located near State Highway 6 (SH 6), the South Freeway (SH 288), and the Fort Bend Parkway.
By train
Amtrak, 902 Washington Ave. Amtrak's Sunset Limited line is the only passenger train route with a stop in Houston on its way between New Orleans and Los Angeles (via San Antonio) three times a week. There is a daily Thruway Bus (Operated by Lone Star Coach) that provides a direct connection from the Houston Amtrak station to the Texas Eagle in Longview.
By car
Houston's major freeways include:
IH-45 North ("North Freeway"): To Dallas
IH-45 South ("Gulf Freeway"): To Galveston
IH-10 West ("Katy Freeway"): To San Antonio
IH-10 East: ("Baytown/East Freeway", not to be confused with "Eastex freeway") to Beaumont
IH-69 South ("Southwest Freeway"): to Victoria; signed as US 59 south of Rosenberg
IH-69 North ("Eastex Freeway"): to Lufkin; signed as US 59 north of Cleveland
IH-610 ("The Loop"): Loop around downtown
US-290 West ("Northwest Freeway"): to Austin
SH-249 North ("Tomball Parkway"): to Tomball
SH-288 South ("South Freeway"): to Freeport
SH-225 East ("Pasadena Freeway"): to La Porte
BW-8 ("The Beltway/Sam Houston Tollway"): Loop about twice as far out as IH-610.

Approximate distance to nearby cities (in miles):

By bus
Buses connect Houston to Dallas, Austin, San Antonio, Baton Rouge and other cities in the southeastern U.S. to as far as North Carolina, Chicago and Florida in the U.S. Southbound buses towards Mexico typically cross through Brownsville/Matamoros, Laredo/Nuevo Laredo or McAllen/Reynosa. Locally a number of bus companies have multiple terminals and stops in different parts of the city. Several companies have terminals, one next to the other, along Harrisburg Bvd between 65th St and 75th St in the Magnolia Park neighborhood, in the eastside of town in addition to other locations:
phone: +1 254 634-3843

address: (Greyhound Bus Terminal) 2121 Main St

From Killeen to Temple, Waco, Round Rock, Austin and Houston in Texas.

phone: +1 713 222-7543, +1 713 237-8227

address: 915 Collingsworth St

Goes towards Morelia, Mich through San Felipe, TX; San Luis Potosi, SLP; and Celaya, GTO in Mexico

phone: +1 713 650-6565

address: (office & terminal) 2201 Main St

They go to various cities in Texas, Illinois, Florida, Georgia, Arkansas, Tennessee, North and South Carolina and Alabama from Houston and to various Mexican cities south of the border. Connections to other Mexican bus lines for onward travel further south. They have additional terminals at:
Harrisburg (southeast), 7100 Harrisburg Blvd, Houston Tx 77011; Tel: +1 713 670-3263
Company Headquarters & Terminal, 800 Lockwood Dr, Houston Tx 77020; Tel: +1 713 928-5500
Baytown Travel Center (East), 1901 I-10 East, Baytown Tx 77501
Handi Plus 42 Chevron (Southeast), 17230 Hwy 6, Manvel Tx 77578
Katy Food Mart (West), 653 Pin Oak, Katy, Tx 77494
Southeast Bus Terminal, 7000 Harrisburg Blvd, Houston Tx 77011
Agencia de Autobuses (Southwest), 6590 Southwest Freeway, Houston Tx 77031
Katy Mills Mall Entrance #8 (Katy), 5000 Katy Mills Circle, Katy Tx 77494, bus stop at south entrance (#8) of the mall by AMC 20 movie theater.
Select Shell Station (Northwest), 13250 FM 1960 W, Houston Tx (Off of US Hwy 280)
Katy Mills Mall Entrance #8 (Katy), 5000 Katy Mills Circle, Katy Tx 77494, bus stop at south entrance (#8) of the mall by AMC 20 movie theater.
Select Shell Station (Northwest), 13250 FM 1960 W, Houston Tx (Off of US Hwy 280)
Southwest, 5800 Bellaire Blvd, Houston Tx 77081
Hillcroft Terminal (Southwest), 6580 Southwest Freeway, Houston Tx 77031; Tel (713) 785-0035
Greater Heights (North), 1829 Airline Dr
Get around
By car
Houston has a number of major highways that make getting around the city fairly easy. (See list of freeways under the "Get in" section.) A number of obstacles, however, can make driving in Houston a less than pleasant experience. One is construction, which seems to be ever-present, and the other is traffic. Evening rush hour in Houston begins as early as 4PM and can last more than 2 hours. Morning rush hour is between 7 and 9AM. During rush hour, traffic on the highways can come to a halt. The strip of the West Loop near the Galleria, between IH-69 and IH-10, is an area you should definitely avoid during rush hour if possible.
Some of the freeways have an
H.O.V. (High-Occupancy Vehicle) lane
, which are limited-access lanes located in the median strip of the highway. The HOV lanes are operational Monday - Friday in the morning hours (5AM - 11AM) in the inbound direction and in the outbound direction in the afternoon and evening (from 2PM - 8PM). The HOV lanes are restricted to cars with 2 or more passengers, however some HOV lanes require 3 or more passengers during peak travel periods (6:45-8AM and 5-6PM, for IH-10 west; 6:45-8AM only for US-290). The HOV lanes are marked with signs bearing a white diamond on a black background. Highways with HOV lanes are: IH-45 North, IH-45 South, IH-69 North, IH-69 South, IH-10 West (Katy Freeway), and US-290. The Katy Freeway HOV lanes have been expanded into the Katy Toll Road, a 24-hour multi-lane HOV with paid Single-Occupancy Vehicle access cost-adjusted based on HOV usage.
By public transportation
Public transportation in Houston is operated by
METRO
, which runs light rail lines called
METRORail
, as well as bus lines. The cost to ride is $1.25 each way (Feb 2017).
If you pay using your METRO Q Fare Card, METRO Day Pass, or METRO Money, you get free transfers in any direction for up to three hours. METRORail provides 23 miles (37 km) of light-rail service to some of the region's most popular destinations:
Red Line (North Line) - Travels from NRG Park to the Texas Medical Center, Museum District, Downtown, Northline and numerous stops in between.
Green Line (East End Line) - Travels along Harrisburg from the Magnolia Transit Center through the Historic East End to a variety of downtown and entertainment and business destinations.
Purple Line (Southeast) - Travels from downtown along Capitol and Rusk to popular destinations such as Texas Southern University and the University of Houston.
There have been some extensions of the rail network in the 2010s and more are planned for the coming years.
By taxi
Taxis are easily found in Downtown, Uptown, Midtown, the Medical Center, the suburb of Galveston and both airports. Taxis in Houston are generally dispatched by various companies the largest being Yellow Cab, 713-236-1111 or from their web page.
By limousine
Many Houston limousine companies offer full ground transportation options such as town cars, classic cars, stretch limos and luxury vehicles that can be utilized for special occasions like airport transportation, parties, school dances, business functions and weddings. Consider hiring a limousine service to handle your travel needs.
By bicycle
Houston is so spread out and (most of the time) hot and humid that
bicycles
are often best used for exercise or to get to somewhere that is close by. On the other hand, if you have a little bit of stamina and perseverance, Downtown, Midtown, Rice, Uptown and the Medical Center/Hermann Park/Museum District area are within a 30-minute ride. Multi-modal transportation is also possible, since most city buses have easy to use racks in the front that can get traveler and bicycle near to a final destination.
Houston has 290 miles (460 km) of marked bike routes, plus another 80 miles (130 km) of hike and bike trails in city parks, with concrete plans for even more expansion. For more information on the Houston Bikeway program, including a complete map of all marked bike paths, visit the
City of Houston Bikeway Program website
.
Talk

Houston is home to more than 100 languages. Signs can be found in Spanish, Vietnamese and Chinese, among others, but English is the lingua franca. Knowing some Spanish may help in certain neighborhoods, but most people will speak English.

See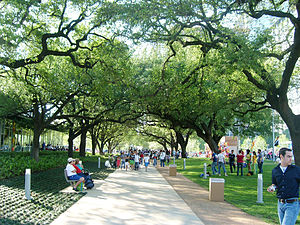 Travelers planning to visit multiple attractions may benefit from the
Houston CityPASS
, which grants admission to 6 Houston attractions within 9 days of first use for a much reduced rate and includes expedited entry in some cases. The included attractions are: Space Center Houston; Downtown Aquarium; Houston Museum of Natural Science; Houston Zoo; Option Ticket One with choice of either Museum of Fine Arts or the Children's Museum of Houston and Option Ticket Two with choice of either George Ranch Historical Park or the Health Museum.
AstrodomeDubbed the "8th Wonder of the World," it was one of the world's first fully indoor stadiums and the birthplace of astroturf (that was vacuumed by people in astronaut suits between innings). It was abandoned when the Astros threatened to move unless Minute Maid Park (formerly Enron Field) was built. The stadium is no longer open to visitors, but it is still a spectacle.
Do
Golf
Wildcat Golf Club

Houston Country club

River Oaks Country Club

Redstone
Parks
Eleanor Tinsley Park - The beautiful city skyline backdrops this scenic portion of the park. It remains one of the most popular outdoor spaces for recreation and relaxation.
Lost Lake - At this location, visitors can rent kayaks and discover the water trails.
Discovery Green
Houston Arboretum
Hermann Park
McGovern Centennial Gardens - Home to a diverse collection of gardens including an arid garden, a rose garden, a woodland garden, an interactive family garden, and more. Visitors can also enjoy walking the spiral path to the top of a 30-foot (9 m) mount.
Events & festivals
Houston CaribFestCelebrating Caribbean/West Indian Cultures.

address: Runs along Allen Parkway

A parade that must be seen to be believed. For example, last year there were cupcake motorcycles, fire breathing chicken cars, and many other spectacular cars. There are vendors nearby selling water, hats, and food as well. It can get very hot!
Houston Livestock Show & Rodeo, Reliant Park. March. HLSR is one of the largest live entertainment and livestock exhibitions in Texas. It runs for 20 days and includes activities for everyone. The rodeo in Houston is considered the city's "signature event" akin to "Mardi Gras" in New Orleans, the Texas State Fair in Dallas, Comic-Con in San Diego, and the "Ball Drop" in New York City.
McDonald's Houston Children's Festival, April. Quite possibly the largest children's festival in the United States. It runs for 2 days and includes activities for kids of all ages, including face painting, stage shows, and a whole lot more. The festival is usually held on the first weekend of April.
Houston Gay Pride Parade, Downtown. June. The Houston Gay Pride Parade and Festival is an annual event that celebrates the city's LGBT community. The parade is a colorful and campy affair. You see people of all ages and ethnicities including families, drag queens, and people dressed in campy, kitch, or costumes. Free
Texas Renaissance Festival, Todd Mission, October & November. Located an hour outside of Downtown Houston, the Texas Renaissance Festival ("Ren Fest") runs during the weekends from the months of October to November. Guests are welcomed to attend in costume. Tickets run from $20-40.
Sports
Professional sports
Houston Astros - the city's Major League Baseball team, playing at Minute Maid Park in Downtown.
Houston Texans - the city's National Football League (NFL) team, playing at NRG Stadium in the South Inner Loop area, next to the now-vacant Astrodome.
Houston Rockets - the city's NBA (basketball) team plays at the Toyota Center in Downtown.
Houston SaberCats - the city's Major League Rugby team (rugby union) plays at Aveva Stadium at the Houston Sports Park just west of the South Freeway (SH-288) between 610 and the Beltway.
Houston Dynamo (Major League Soccer/MLS) and Houston Dash (National Women's Soccer League/NWSL) play in BBVA Stadium, in Downtown across from Minute Maid Park.

Houston Motocross

address: reliant

Factory motocross racers from all around the world. to race once a year.
College sports
Houston has four universities whose sports teams play in the top-level NCAA Division I:
Theater
Houstonians like theater and the community supports many types of performing arts companies. Most professional theater is centered in the
Theater District
, but other companies are located in different districts around town. The lively culture of Houston also includes numerous community theater organizations and several well regarded university programs.
The major downtown performing arts venues include The
Wortham Center
The
Hobby Center
Jones Hall
and the
Alley Theater
.
Learn
Houston is home to one of the top universities in the country,
Rice University
. Its beautifully wooded campus is ideal for an afternoon stroll or jog with loved ones.
Baylor College of Medicine
is one of the nation's top medical schools, though it does not admit undergraduates. It is also home to the University of Houston and St. Thomas.
Buy
Many of the shopping malls are concentrated to the west of downtown in
Uptown
.
In general, prices in Houston are lower than in other major US cities.
A very popular place to go shopping in Houston is the Houston Galleria. The Galleria is the largest mall in Texas and the ninth largest in the United States. At the Galleria you can find people shopping at high end stores such as, Bebe, Coach, Neiman Marcus, Cartier, Gucci, Macy's, Tiffany & Co., Saks Fifth Avenue, The Sharper Image, Ralph Lauren Collection, Louis Vuitton and Houston's only Nordstrom. You can also find people ice skating in the ice rink on the bottom floor. Also, you will find nail salons, 375 stores, restaurants, and two Westin hotels.
Eat

Houston has outstanding dining options, and is widely considered the most restaurant-oriented city in the United States, with a thriving community of ethnic restaurants, superb Tex-Mex, classic Texas steakhouses and Gulf Coast seafood, as well as chain restaurants. Houston's fine dining scene has exploded, with Downtown, Montrose, Midtown, and the Heights (including the Washington Corridor) as the epicenter of what's hot-and-happening now.
Although high-quality, authentic Mexican food can be found just about anywhere in the city (for some of the best surprises, stop by any nondescript taqueria and order nearly anything at random), the best ethnic dining is generally found in West Houston - in particular the area west of Highway 59 and south of I-10, with everything from Middle Eastern to Ethiopian to Bosnian. The bustling Mahatma Gandhi District around Hillcroft St. is the place to go for top-notch Indian and Pakistani cuisine. In years past, you'd go east of Downtown or to Midtown for your Chinese or Vietnamese fix (respectively); nowadays the new Chinatown (or sometimes "Asiatown") is the new one-stop shop for your cravings. Lying just north of I-10, Long Point Drive and North Gessner sport crowded Korean joints, fantastic taco trucks, and hidden Thai gems.
With hometown stars such as Monica Pope (T'afia) and Bryan Caswell (Reef, Little Big's, El Real) making their debut on TV shows such as Top Chef and on the Food Network, and more and more chefs and restaurants getting name-checked in media (such as the GQ magazine, Best Of lists, or the declaration by Bon Appetit of Houston as the best food city in Texas) and earning award nominations (Randy Rucker's Bootsie's Heritage Cafe was up for the James Beard Award for Best New Restaurant - the "Oscars of the restaurant world"), Houston's dining scene seems slowly but surely to be staking out room on the national stage.

Eating local
Like any city with a respectable, trendy food scene, Houston's top restaurants seem to be all about what's seasonal and local these days (oh, and Houston is just now getting into gourmet food trucks), as well as becoming increasingly prominent in stores as well. Fresh produce to seek out include tomatoes, sweet "1015" onions (not as sweet as the Hawaiian variety, but pretty impressive), watermelon, strawberries, peaches, corn, carrots, and squash blossoms. Look for local cheese from the Houston Dairymaids - who make just about any variety you can think of - and bread baked daily and shipped to restaurants from the Slow Dough Bakery. Houstonians are just as crazy for crawfish (no "crayfish" down here, Yankee) as Louisianans are, as well as catfish and Gulf seafood such as red snapper, blue crab, and shrimp; gaining in popularity are local species that were previously overlooked, such as blackfin tuna, tilefish, grouper, almaco jack, and black drum. Houston has always had a steady supply of oysters from Galveston Bay, but the program of oyster "appellations" has been revived, meaning high-quality specimens are labeled with their reef of origin, just like the well-known varieties from the east and west coasts - look for varieties such as Ladies Pass and Pepper Grove.

Drink
Sleep
Connect
By phone

Houston has several telephone area codes and mandatory 10-digit dialing. For any number, even within your own area code, you need to dial areacode + number. For local calls, you do not dial a 1+ or a 0+ before the number. Some calls within Houston are considered long distance, and for those you need to dial 1 + areacode + number.
Houston's area codes are: 713, 281, 346 and 832.

By internet
WiFi
At the George Bush International Airport, the wireless connection is paid and organized by Boingo (wireless network Boingo Hotspot). From the Boingo welcome page, one can also choose (slow) sponsored free internet connection, which is good for an hour. Sometimes, after one hour the next sponsored connection could be opened.

Stay safe
Crime
While not as infamous as Detroit, Baltimore, or Memphis, the crime rate in Houston is high and the city has a reputation among Texans as a dangerous city. Houston is the largest hub for human trafficking into the United States and is also a major hub for illegal drug trafficking and weapons trafficking. Certain areas of Houston are considerably more dangerous than the rest of the city, including the area within Loop 610 on the east side and some areas in Southwest Houston near Beltway 8 (Sam Houston Tollway).
As a general rule, the areas of Spring Branch, Alief, and Bellaire should be avoided during the night. Even during the day time, it is best that you exercise special caution in these areas as they have relatively large homeless populations and moderate levels of gang activity. The Third Ward, Fifth Ward, and the Sunnyside area should be avoided during both the day and night as violent crimes including mugging, armed robbery, home invasion, carjacking, rape, assault, and murder are common in these areas. Criminal elements in Houston are known to target random people. The city center is relatively safe during the day time, but special caution should be exercised in the early morning and evening hours, and it is best to avoid the city center during the night, especially if you are alone.
Travelers to Houston should follow common safety procedures: stay away from deserted areas in the middle of the night, keep your valuables stored out of sight, keep purses/wallets in a secure location, and always put valuables in a car trunk. Call 911 for emergency assistance or report a crime in progress. For non-emergency assistance and for crimes not in progress such as minor assault, car theft, home invasion, property damage, and theft, dial 713-884-3131 and request police assistance. The Houston Police Department also allows citizens to file online reports for minor property damage and theft if they are under $5,000 in damages. Residents of Texas are allowed to carry concealed firearms after completing training and a thorough background check
Natural disasters
Like much of the Gulf Coast, Houston is very vulnerable to hurricanes. If a hurricane is forecast to make landfall anywhere near Houston, listen to officials and heed mandatory evacuation orders if applicable. Even if there isn't a mandatory evacuation order, consider avoiding the city if a hurricane is coming—officials may be hesitant to order an evacuation, even in severe situations, because the city is so huge. The last major hurricane to hit Houston was Hurricane Harvey in 2017, which caused historic flooding and widespread damage. Hurricane season is June through November, peaking in September.
Houston is very hot and humid in the summer, with temperatures around 31-38°C (87-100°F), similar to tropical cities like
Manila
or
Panama City
during the summer. However, in the winter, Houston can be mild with temperatures ranging from -1-18°C (30-64°F), and winter climate is usually similar to winters in the rest of the Southern United States or in
Southern California
.
METRO Rail
Please be careful when coming near the METRO Rail track, especially at intersections.
Follow the signs
since the trains move very quickly and run at almost all hours of the day and night. It runs almost silently. At many streets, left turns are not permitted. Also watch the signs and signals, because some will change as trains approach. Do not drive on the tracks as there are large raised white domes that separate the roadway and the rail line. In some areas signs may indicate driving (or walking) on the tracks is permitted (only in the Texas Medical Center) but make sure it is safe to do so.
Drive across the tracks
only
when you are sure it is safe to do so, especially
at night
as an oncoming train may not be heard by a driver inside a car.
Cope
If that isn't your thing. try the simple thing most Houstonians do when they need to release tensions of big city madness: take a walk in the beautiful parks or go walking and shopping downtown. If you know someone who lives in Houston, you can have a lunch on a gorgeous spring day outside. Sometimes the most relaxing and peaceful things don't always involve money.
Consulates
Houston is home to many people of different nationalities and language backgrounds. Therefore, many countries have established full service consulates (Consulate General) in Houston to provide consular services for their nationals living in Texas and in the adjacent states in the southeast part of the U.S. as well as visa services for others seeking to visit their respective countries (if required). The Honorary Consulates are there for commercial and business purposes and offer limited or no consular services except in emergency situations. Most of the consulates are located in/around the
Galleria/Uptown
area and the
West Inner Loop
neighborhoods, west of downtown. They can also be located in other parts of town too:
phone: +1 713 871-8935

address: 2200 West Loop S, Ste 1025

Tel: 832-279-5096 for emergencies only.

phone: +1 832 962-8420

address: 3009 Post Oak Blvd, Ste #1310

phone: +1 713 426-3933

address: 2009 Lubbock St

phone: +1 713 961-3063

address: Park Tower North @ 1233 West Loop S, Ste 1150

NE of intersection of I-610 & Post Oak Blvd. Access from Exit #9 (San Felipe Rd Post Oak Blvd) from the northbound lanes and #9B (Post Oak Blvd) from the southbound lanes

phone: +1 713 821-1440

address: San Felipe Plaza @ 5847 San Felipe St Ste 1700

NE of intersection of I-610 & Post Oak Blvd. Access from Exit #9 (San Felipe Rd Post Oak Blvd) from the northbound lanes and #9B (Post Oak Blvd) from the southbound lanes and go west along San Felipe St to Augusta Dr

phone: +1 713 621-5853

address: 1300 Post Oak Blvd, Suite 1130

phone: +1 713 520-1462

address: 3417 Montrose Blvd

phone: +1 713 572-8731

address: 2603 Augusta Dr Ste #810

phone: +1 346 571-5198

address: 8300 Bissonet St, Suite 400

address: 777 Post Oak Blvd Ste 600

phone: +1 713 627-7770

address: 1330 Post Oak Blvd Ste 1850

phone: +1 713 840-7522, +1 713 840-7523

address: 520 Post Oak Blvd., Suite 450

phone: +1 713 953-9531

address: 6300 Richmond Ave Suite #103, Houston 77057

They also have "mobile consulates" for a couple of days once monthly or every other month for their nationals living in other cities in Texas, Oklahoma, Kansas and Arkansas. Check their website for dates, times and locations.

phone: +1 346 201-6711

address: 3731 Briarpark Dr Suite #155

phone: +1 713 626-2148, +1 713 626-2149

address: 4300 Scotland St

The processing of Indian passports, visas, OCI cards, PIO cards and the renunciation of Indian citizenship has been outsourced to Cox and King Global Services (CKGS) at 1001 Texas Ave, Suite #550, Houston, TX 77002. Tel 888-585-5431

phone: +1 713 785-1691

address: 10900 Richmond Ave

Ireland (Honorary)

phone: +1 713 961-5263

address: 2630 Sutton Ct

phone: +1 832 301-3500

address: 24 Greenway Plaza, Suite 1500

phone: +1 713 850-7520

address: 1300 Post Oak Blvd Ste 660

phone: +1 713 652-2977

address: 2 Houston Center Bldg 909 Fannin St Ste 3000

phone: +1 713 271-6800

address: 4507 San Jacinto St

Mexico maintains additional consulates in Austin, Brownsville, Dallas, Del Rio, Eagle Pass, El Paso, Laredo, McAllen and San Antonio

phone: +1 713 973-8680

address: San Felipe

phone: +1 281 620-4200

address: 3410 West Dallas St, Suite #100

phone: +1 281 890-2223

address: 11850 Jones Rd

Portugal (Honorary)

phone: +1 713 515-5272

address: 721 Buckingham Drive

phone: +1 713 337-3300

address: 1333 West Loop S, Suite #1300

NE of intersection of I-610 & Post Oak Blvd. Access from Exit #9 (San Felipe Rd Post Oak Blvd) from the northbound lanes and #9B (Post Oak Blvd) from the southbound lanes

phone: +1-713-785-5577

address: 5718 Westheimer Rd, Suite #1500

phone: +1 713 783-6200

address: 1800 Bering Dr Ste 660

phone: +1 713 626-7445

address: 11 Greenway Plaza, Suite #2006

NW of intersection of Greenway Plaza Blvd & Edloe St, just north of the Edloe St Exit from I-69/US Hwy 59.

phone: +1 713 622-5849

address: 1990 Post Oak Blvd, Suite #1300

phone: +1 713 210-4000

address: 1301 Fannin Street, Suite #2400

phone: +1 281 242-6654

address: 123 N Post Oak, Suite #410

phone: +1 713-974-7855

address: 1220 Ripple Creek Dr

phone: +1 713 974-0028

address: 2401 Fountain View Dr. Suite 220

Vietnam

phone: +1 713 850-1233

address: 5251 Westheimer Rd, Suite 1100
Go next