Hsinchu County
Hsinchu County
(新竹縣) is in the northern region of
Taiwan
.
Overview
Hsinchu County contains 13 settlements:
Cities
Townships
Baoshan

BeipuKnown in Taiwan as a center of Hakka culture, especially for production of dongfang meiren tea and its special Hakkanese blends of tea and nuts called lei cha

Emei

Guanxi

Hengshan

Hukou

Qionglin

Xinfeng

Xinpu
Rural areas
JianshiThe main population are indigenous Atayal people.

WufengThe population is mainly of the indigenous Atayal people and Saisiyat people.
Understand
Before the arrival of the Han Chinese, the Hsinchu area was home to Taokas plains aborigines, the Saisiyat, and the Atayal. Presently, the population of Hsinchu County is mostly Hakka people (73% as of 2017). There is also a population of about 20,000 indigineous people, mainly from the Atayal and Saisiyat tribes.

Talk
As in most of Taiwan, the most widely-spoken language is Mandarin Chinese. According to the 2010 national census, the languages spoken at home in Hsinchu County are:
Get in
Hsinchu County is connected to the Taiwan High-speed Rail network via
address: 6 Gaotie 7th Rd
, in Chupei City.
Get around
By rail
Hsinchu county is connected to other parts of Taiwan by the TRA network. This is also a useful way to get between townships. Stations located within Hsinchu County are:


See
History and culture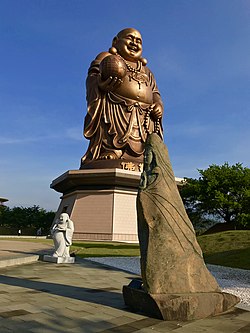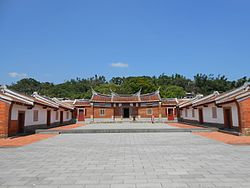 Beipu Old StreetAn old Hakka street featuring stores selling local delicacies.

Former Residence of Zhang Xueliang

phone: +886 3 585 6613

A museum about Zhang Xueliang, the person who declared the Chinese reunification in 1928 after the end of the Northern Expedition by the National Revolutionary Army led by Chiang Kai-shek to unite the Beiyang Government under the Republic of China. The house spans about 150 m2 in area. It is decorated with Zhang's old furniture and more than 500 pictures donated by his two nieces. A bronze statue of him and his wife is displayed outside the front of the historical house.

Hsin-Pu Upper Fang-Liao Liu Family House

address: No. 460, Alley 10, Lane 359, Section 2, Yimin Road

Hukou Old Street

phone: +886 3 599 3911

address: Hukoulao Street, Hukou Township

Jin Guang Fu Hall

address: No. 6, Zhongzheng Road, Beipu Township

An old Chinese-style mansion built in 1835.

Maitreya Bronze StatueA large bronze statue of the bodhisattva Maitreya.

Neiwan Old Street

phone: +886 3 593 2001

address: Guangfu Road, Hengshan Township

An old street selling a variety of local snacks and delicacies.

Tapung Old Fort

phone: +886 3 584 1001

Constructed in 1912, during the period of Japanese occupation, the fort was built by the then governor to help with the effort to subjugate the local Altai indigenous people.
Museums
Liu Hsing-chin Comic Museum

phone: +886 3 584 8019

A museum about the comics creator Liu Hsing-chin, located in Hengshan Township.

Old Hukou Catholic Church Museum

phone: +886 3 569 5963

address: No. 108, Hukoulao Street, Hukou Township

A free museum housed in a 1960s Catholic church building.

Rueylong Museum

phone: +886 3 592 2521

address: No. 1, Alley 21, Lane 42, Wenshan Road, Qionglin

A natural history museum in Qionglin Township.

Zhudong Timber Industry Exhibition Hall

phone: +886 3 595 2012

address: No. 141, Donglin Road, Zhudong Township

The exhibition hall features the history of timber industry in Taiwan and traditional logging equipment.
Temples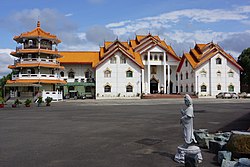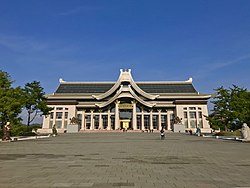 Baozhong Yimin Temple

phone: +886 3 588 2238

address: No. 360, Section 3, Yimin Road, Xinpu Township

Chaoyin Chan Monastery

phone: +886 3 587 2267

Cihtian Temple

phone: +886 3 580 1575

address: No. 1, Beipu Street, Beipu Township

A small temple built in 1835, dedicated to the Bodhisattva Guanyin which was constructed to promote peace with the local aboriginal populations.

Hukou Sanyuan Temple

phone: +886 3 569 2667

address: No. 278, Hukoulao Street, Hukou Township

Kuanhsi Taihe Temple

phone: +886 3 587 2216

address: No. 30號, Datong Road, Guanxi Township

Lian-Hua Mountain San-sheng Palace

phone: +886 3 588 2153

address: No. 488, Sansheng Road, Xinpu Township

A hillside temple complex that was constructed in 1902.

Sacred Heart Catholic Church

phone: +886 3 587 2104

address: No. 126, Zhengyi Road, Guanxi Township

Tianen Maitreya Temple

address: No. 3, Kuaile Road, Emei Township

Wenchang Shrine

phone: +886 3 588 6578

address: No. 7, Lane 202, Chenggong Street, Xinpu Township

Wuhe TempleA Mazu temple in Yilin county that was constructed in 1796.
Architecture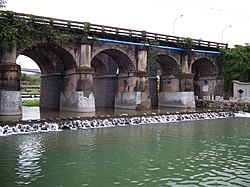 Kuanhsi TungAn Bridge

address: Zhongshan East Road, Guanxi Township
Parks and nature
Shei-Pa National ParkThe park covers a wide range of ecosystems between 760 meters at the lowest point, the Da-an River Valley (大安溪) and 3,886 meters elevation at the highest point, the top of Xueshan (雪山主峰).
Dabajian MountainDabajian Mountain is known for its steep grade, beautiful surroundings, and rugged terrain, making it a popular rock climbing mountain. There are many companies in the area that offer rock climbing tours to the mountain.
Do
Theme parks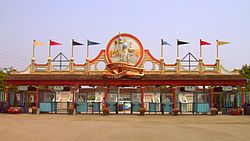 Little Ding-Dong Science Theme Park

phone: +886 3 559 2330

address: No 199, Kanghe Road, Xinfeng Township

An outdoor natural science park in Taiwan intended to promote scientific knowledge and creative thinking in children.

Leofoo Village Theme Park

phone: +886 3 547 5665

A theme park and a safari located in Guanxi Township. It features three roller coasters, as well as an old mining railway.

Green World Ecological FarmA theme park in Beipu Township that focuses on ecological education. Covering 70 hectares, the park includes an educational farm, a house, a zoo, and a botanical garden that occupies about 173 acres and hosts over 2,000 species of plants and animals.
Eat
phone: +886 932 178 177

A 2-storey, vine-covered brick building nestled in the hills surrounded by gardens.
Local specialities
Vegetarian
The V:F Zhubei

phone: +886 3 658 5997

address: No. 78, Section 1, Jiafeng South Road, Zhubei City