Huddersfield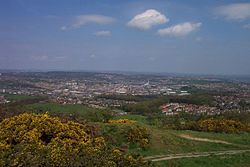 Huddersfield
is in the metropolitan borough of Kirklees in
West Yorkshire
in
England
. This article covers the town of Huddersfield, and the district around it including the Colne and Holme valleys. Historically a textile town, the area is now re-inventing itself as a residential and tourist centre.
Understand
John Betjeman described Huddersfield Railway Station as having 'The finest façade of any such building in the country'. Make up your own mind when you visit as there is no better way to arrive than by train from
Manchester
or
Leeds
. Huddersfield has the third largest number of listed buildings in the country after Westminster and Bristol.
In the 1920s Huddersfield Town F.C. became the first football club to win the English League Championship three times in a row, a feat only matched by Arsenal, Liverpool and Manchester United.
Huddersfield can be considered a university town as the University of Huddersfield, formerly Huddersfield Polytechnic, is one of the town's largest employers and much of the local economy now depends upon it.
Famous connections include former Prime Minister Harold Wilson and actors James Mason and Gordon Kaye.
Get in
By plane
Leeds/Bradford International Airport (LBA) is the nearest airport, by road. It can be reached by taking a train to Leeds and then a bus to the airport departing from the train station.
Manchester Airport (MAN

) is the easiest and quickest to access. It is the UK's busiest airport, outside London, with many European and inter-continental flights. There is a rail station within the airport complex, with services running through Huddersfield to Newcastle, at least half hourly throughout the day (see by train below).

London Heathrow Airport (LHR) or London Gatwick Airport (LGW

). From there, frequent flights operate to Manchester, or you could travel from London to Huddersfield by train (see by train below).
By train
The principal
Huddersfield station
is in the town centre and is served by trains to and from
Hull
,
York
,
Newcastle
,
Middlesbrough
,
Leeds
,
Manchester
and
Liverpool
, as well as a local services to
Barnsley
,
Wakefield
,
Halifax
and
Sheffield
. When passing through, keep an eye out for station cats Felix and Bolt, who have become internet famous. There are several smaller stations within the Huddersfield area, served only by local trains.
From
London
, you can travel from London Kings Cross and change at either Wakefield Westgate or Leeds. Or you can use London Euston, and change at Manchester Piccadilly. Alternatively, there are less frequent services operated by Grand Central Rail from London Kings Cross where you can change in Wakefield, Mirfield, Brighouse, Halifax and Bradford Interchange.
Train times for these and other journeys can be found on the
National Rail Planner
or by calling 08457 484950 from anywhere in the UK.
By bus
By car
M1. Huddersfield is served by the M1 motorway which runs from London to Leeds. It is between 3 and 4 hours drive from central London. The best junction to use is junction 38 and then follow the signs.
M62. Huddersfield is also served by the M62 motorway which runs east-west from Hull and Leeds to Manchester. The best junction to use is junction 24.
Get around

For the main shopping streets and everything inside the ring-road, it is best to explore on foot. Many of the shopping areas are pedestrianised anyway, and there is not much car parking space inside the ring-road.
Many bus routes run from the central bus station to the surrounding towns and villages. This is on the north side of the town centre off Westgate. Most buses operate on repeating hourly timetables up until 11PM. Taxi services are mainly available from outside the train station.

See
Castle HillFrom all around the area, Castle Hill can easily be picked out, crowned with the Victoria Tower, built to commemorate Queen Victoria's silver jubilee. It can be reached by car and taxi, just beyond the suburb of Almondbury, and gives wonderful views in all directions, including that at the top of this article. Victoria Jubilee Tower is open to the public at weekends during the summer.
Do
Kite flyingKite flying is practised extensively here with local council backing. The local electrical company, Npower, has also moved power lines underground to prevent kites getting tangled up in cables. This has also encouraged the users of powered hang-gliders to also use the site as a take off point.

Watch football ie soccer at Huddersfield Town. They were relegated in 2019 and now play in the Championship, the second tier of English football. They play at the 24,000-capacity Kirklees Stadium, Huddersfield HD1 6PG, about a mile northeast of town centre. The stadium, now called "John Smith's Stadium" (and you may see old signs for Galpharm or even McAlpine stadium), is shared with the rugby league team.

address: Kirklees Stadium, Stadium Way HD1 6PG

A rugby league team who play in Super League, the highest level competition in Europe. They were one of the founding members of the break-away Northern Union who created the sport of rugby league. Nicknamed "Fartown", they were the dominant team in the early history of the game.

phone: +44 1484 469801

address: Lockwood Park, HD1 3UR

Huddersfield Rugby Union Football Club was founded in 1909 and celebrated its centenary season with promotion to National League 3 North, the highest level it has achieved. It founded mini-rugby in England in 1969.

address: Birstall
Learn
University of Huddersfield, . A former polytechnic which applied for and achieved university status in the early 1990s. Its main Queensgate campus is just outside the ring road. Follow the signs from main arrival points. A students' union building opened in 2005 in the centre of the campus.
Buy
phone: +44 1484 542777

The usual assortment of shops contained in a light and breezy atmosphere. Open 7 days a week.
Huddersfield Open Market - offers a range of high quality goods from the continent - mainly France - and tours the area stopping in different towns each weekend.
Eat
The Huddersfield area has many restaurants of different types and costs. The following small selection are restaurants which have been visited and recommended by Wikivoyagers:
Fenay Bridge, Penistone Road. This place can be excellent but sometimes awful. They have a 2-for-1 deal on all year which is a big serving. But sometimes the food can take a while and isn't up to scratch, but other times its top notch. Give this place a try you might like it. It is on Penistone Road going towards Kirkburton you can't miss is!

Balooshai

address: 3 Viaduct St

Balooshai is one of a number of excellent Indian restaurants in Huddersfield. There are an increasing number of restaurants on this small street.
Gringo's, Possibly one of the best restaurants in W. Yorkshire. They serve a wide array of great tasting, affordable Mexicans food. Their drinks, however, can be rather expensive though. Tip: Go for the 'early-bird' special food offers for the best deal - order before 7PM. 8 Railway Arches Viaduct St, tel. 422411, .

LaxmiWoodhead Road, Berry Brow. Excellent Indian restaurant. Tu-Sa 5:30PM-11PM & Su 5:15PM-10PM. Two course meal about £15 (per-person including drinks).

phone: +44 1484 662066

address: 6 Westgate, Honley

A small friendly restaurant; Mustard and Punch is expensive when compared to other restaurants in Huddersfield. £35 per-person including wine and tips.

phone: +44 1484 450159

address: 5 St. Johns Street

The Weavers Shed Restaurant With Rooms

phone: +44 1484 654284

address: Knowl Road, Golcar

Converted 18th-century Woollen mill - a Modern British restaurant specialising in home-grown, locally-sourced produce (the restaurant has its own farm) Voted 'Best Restaurant With Rooms' Good Food Guide 2006, Restaurant of the Year and Chef of the Year 2007, Yorkshire Life.

Azeem Takeaway

phone: +44 1484 667471

address: 325 New Mill Road, Brockholes
Drink
There are plenty of pubs in Huddersfield, many of which get packed with people on Friday and Saturday nights.
Coffeevolution, Church Street - the best coffee in town can be found in this unpretentious, fiercely independent coffee shop which is licensed and open late at weekends. Light but pricey meals available.

Head of Steam

address: St Georges Square

Popular real ale pub in the train station. Good blues on a Monday night. Great Jazz on a Wednesday night.
Revolution, Cross Church Street - Vodka bar from very popular chain which attracts a large, diverse crowd most nights. Outdoor area & DJs at weekends.

The Vox Bar

address: Church Street

Good music and good drink, young crowd. Resident DJ Friday and Saturday nights. It's down a back alley near the train station.
Verve, Church Street - a slightly older crowd than Vox, with pre-club cheesey dance pumped out over the weekend. By day, it's a cafe selling reasonable paninis, coffee and smoothies.
Warehouse - Large pub. Charges entry on F Sa. Part of the scream chain. Young crowd.
Zephyr, King Street - Small, trendy. Good range of foreign beers.
Northern Tea House, 36 Kings Street - A small tea shop offering afternoon tea with gluten free and vegan options.
The Sair Inn, Take a 183, 184 or 185 bus about 4 miles out of the town centre, alighting at the bottom of Hoyle-Ing in Linthwaite on Manchester Road, after the "Royal Oak" pub. There's a sign advertising "The Sair Inn". After a five minute climb up the hill you'll find this gem of a hostelry, selling its own beers brewed on the premises that can be enjoyed in a uniquely authentic, old pub atmosphere. Popular among locals, students and real ale tourists, you may become a regular.

Bar 1:22

address: 120 New Street

Live music venue with a range of genres seven nights a week. The original and best live venue in town, beware of cheap imitations. Featured The Feeling, The Pigeon Detectives and Enter Shikari before they all went on to be Top Ten Album selling bands. The home of live music in Huddersfield
Have a drink in The Founders Bar of the George Hotel where the finer points of the game of Rugby League were hammered out. The bar is considered the birthplace of the game.
The Bridge at Longroyd Bridge. A few hundred yards out of the centre of Huddersfield. A great live music venue. Live bands Friday night and Sunday afternoon. A great DJ on Thursday and Saturday nights.

phone: +44 1484 841270

address: 2 Peel Street

The Rat and Ratchet at the junction from Lockwood onto the ring road has a large selection of cask ales on tap and the staff are usually quite knowledgeable. Nice atmosphere.
The Parish, by the Parish church - Huddersfields finest alternative/metal bar and live music venue. Excellent food and drink and a great atmosphere. Well worth a visit.
Tokyo, Queen Street - 'The club to finish off the night' Tokyo opened in June 2005 after a £2-million re-investment of a 19th-century, Grade II listed former courthouse.

The Live Lounge

address: 75 Lidget Street Lindy

Old brownstone type of building with a nice lounge downstairs and dining room is upstairs. This is fine dining at it's best with great service and well known for the lamb. There is soft music and also a great place for small parties.
Sleep
phone: +44 1484 421552

address: Kirkgate

The Huddersfield Hotel complex was built up slowly from an early start in the 1960s by two brothers, Johnny and Joe Marsden and up until the end of 2003 was still owned and run by the Marsden family. It is now owned and run by London and Edinburgh Inns and comprises a Bistro, Pub, Cafe and Hotel. Rooms and service varies but locals are generally very fond of the family who still run the lodge and car park across the road.

phone: +44 1484 515551

address: Southgate

The Central Lodge Hotel is run by the Marsden family who previously ran the Huddersfield Hotel complex across the road before selling most of it to London and Edinburgh Inns in 2003. They retained the lodge and car park and although the atmosphere is lacking in warmth, the rooms are new and relatively modern and the service traditional. Most people in Huddersfield know the Marsdens or Johnny's nightclub, or both.

The Weavers Shed Restaurant With Rooms

phone: +44 1484 654284

address: Knowl Road, Golcar

Converted 18th-century woollen mill - a Modern British restaurant specialising in home-grown, locally-sourced produce (the restaurant has its own farm) Voted 'Best Restaurant With Rooms' Good Food Guide 2006, Restaurant of the Year and Chef of the Year 2007, Yorkshire Life. 5 Deluxe en-suite bedrooms in former mill-owners' residence.

phone: +44 1484 663808

address: Castle Hill

Idyllic holiday cottages in beautiful and tranquil countryside on the edge of Summer Wine Country. Offering stunning views of the Pennine hills and valleys. Ideally located between Huddersfield and Holmfirth in the rural south Pennine area of Yorkshire under Victoria Tower at Castle Hill, Huddersfield's most prominent landmark and ancient hill fort.

address: Emley

A collection of three former farm buildings that have been converted into luxury holiday accommodation. The working dairy farm on which they are located is ideal for exploring the beautiful countryside around Emley Moor, and for visiting Huddersfield and Holmfirth. Two of the cottages have disabled access facilities.

The Loft

address: 9a Brook Street, HD1 1EB

F-Sa 11PM till very late. Su-Th private hire only, Live DJs with all the top tunes.
Stay safe
Huddersfield town centre is generally considered safe as it professes "24 hour total CCTV coverage inside the ring road". In 2007 a student, Tobiasz Minski from Poland, was murdered in Slaithwaite (5 miles from Huddersfield). Walking by yourself, especially if you are female, through Fartown, Bradley, Thornton Lodge and Birkby during late at night can be quite dangerous so if you do wander out stay in groups or get a taxi home.

Connect
Phone
Huddersfield's area code (for landline numbers) is 01484 when dialed from within the UK or +44 1484 from outside the UK.
Internet
If you are travelling with a laptop then you will find broad-band internet access in the rooms of most, but not all, medium to high end hotels. If this is important to you check before booking. Alternatively there are many WiFi hot spots in and around Huddersfield.
There are also several places that offer web and other internet access if you are travelling without a laptop.
Vox bar. Offers internet access to wireless laptop owners at no additional charge.
Coffeevolution. Open Wi-Fi hot-spot for customers at no charge.
EasyInternet Cafe. Above KFC on New Street. However, the general cleanliness of the terminals leaves much to be desired.
BT phone booth in the main square has broadband access however this is expensive and best reserved for only basic internet use such as checking emails.
Radio
The Pulse of West Yorkshire 102.5FM and Pulse Classic Gold 1530AM the local radio stations for the area, including Huddersfield (and the wider Kirklees district, plus neighbouring Calderdale and Bradford). The university sometimes broadcasts a student radio station during term time from its media centre. Regional radio stations include Real Radio and BBC Leeds.
Go next
Huddersfield has good connections to the Yorkshire Dales and Peak District.
For shopaholics Meadowhall near Sheffield, the White Rose Centre near Leeds (bus number 202 and 203 from Huddersfield) and the Trafford Centre near Manchester are all easily accessible.