Hyderabad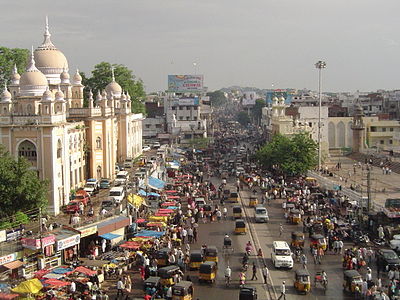 Hyderabad,
the pearl city of India, is the capital of
Telangana
in
Southern India
. It sits on the banks of the Musi River and on the Deccan Plateau. Hyderabad and Secunderabad are "twin cities" near Hussain Sagar Lake (also known as
Tank Bund
in local parlance) but both cities have grown so much that now they have become one big metropolis. The city and district of Hyderabad are coterminous. Hyderabad district is entirely contained within the
Ranga Reddy
(formerly "Hyderabad Rural") district of Telangana. Many of the suburbs of Hyderabad have been merged into the city, now called Greater Hyderabad.
A city rich with history and tradition, Hyderabad now competes with
Bangalore
and
Chennai
for the crown of India's IT capital; Microsoft and Google have their India headquarters here.
Districts
Two important water bodies - the
Musi river
and the
Hussain Sagar Lake
- define much of Hyderabad's geography. They also influenced the city's history.
The Musi river flows from the west to the east, a few kilometers south of Hussain Sagar Lake. As you will read in the
History
section, the city was established on the banks of the Musi. The crowded bylanes of the
Old City
, as the district is now called, are steeped in history and home to many of the monuments that hark back to its glory days.
Secunderabad
, to the north of Hussain Sagar, is an army base first established by the British and which continues to serve that function today for the Indian Army.
Administratively, Hyderabad is divided into six zones - North, North-East, South, East, West, and Central. Our articles follow these zones, except that the Old City has an article of its own (separate from the South Zone), and Secunderabad (which is not part of Hyderabad) is included in the North article. Locals rarely refer to these zones, but rather to one of dozens of neighborhoods of which the city is made up.
Understand
If you are visiting Hyderabad on business—as is increasingly the case now—it is easy to miss the 400-year-old Hyderabad. The city that immediately hits the eye is a sprawling metropolis of shopping malls and office buildings with glass facades. The whole of the city seems to be under construction or renovation and the roads are jammed because the metro is under construction.
The magnificent "old city" that was once the seat of the Nizam, the ruler of the largest and the most opulent "princely state", and the twin city of Secunderabad where the British maintained a cantonment to keep the army within striking distance of the Nizam can be seen only if you take the time out to see them.
Hyderabad's many epithets include the
City of Pearls
, the
City of Nawabs
, the
Biryani City
and, because of its high-tech industries,
Cyberabad
.
History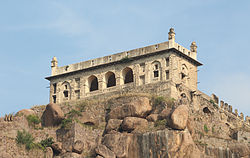 In the 10th century, the kings of the Kakatiya dynasty built the fortress of
Golkonda
about 8 km to the west of what is now Hyderabad's old city. Over the next few centuries, the fort became a major centre of diamond trade fed by the mines of
Kollur
, so much so that the word "Golkonda" became synonymous with great wealth. The fort changed hands many times before it came under the control of Quli Qutb-ul-Mulk in 1463. He had quelled rebellion in the Telangana region and was appointed the
subedar
, or administrator of the region by the Bahmani sultan as a result. By 1518, he had become independent from the sultan, declared himself the Sultan under the name "Quli Qutb Shah" and established the
Qutb Shahi dynasty
. In 1589, Muhammad Quli Qutb Shah, a grandson of Quli Qutb Shah, moved his capital from the Golconda fort to the present-day location of Hyderabad due to water shortages at the old location. In 1591, he ordered the construction of the Charminar, reportedly in gratitude to Allah for stopping a plague epidemic before it could do too much damage.
The name "Hyderabad" reportedly had its origins in an affair between Mohammad Quli Qutb Shah and a local Telugu courtesan named Bhagmati. He named the city
Bhagyanagar
after her, and after she converted to Islam and took on the name of "Hyder Mahal", he named the city Hyderabad. Hyderabad was built on a grid plan with help from Iranian architects. French traveller Jean-Baptiste Tavernier favourably compared Hyderabad to Orleans.
The Qutb Shahi dynasty lasted till 1687, when the Mughal emperor Aurangzeb defeated the sultanate and took over Hyderabad. He appointed a governor to rule the region and granted him the title of Nizam-ul-Mulk. However, Mughal rule was short-lived and in 1724, the Nizam Asaf Jah I gained independence from a declining Mughal empire. Legend has it that while on a hunting expedition, he met a holy man who offered him some
kulchas
(flatbreads) and asked him to eat as much as he could. Asaf Jah ate only seven, and the holy man prophesied that his dynasty would last for seven generations. Sure enough, the seventh ruler in the dynasty was the last. In honour of the legend, the flag of the Nizams featured a
kulcha
.
Around 1763, Asif Jah II, defeated by the Marathas and threatened by Tipu Sultan of
Mysore
, entered into a subsidiary alliance with a British. Hyderabad state became a "princely state", protected by, and under the overlordship of the British. The British maintained their army in nearby Secunderabad to protect the Nizam and to ensure that he did not do any mischief. Hyderabad state was the richest in the country, and in the 1930s Time magazine rated the Nizam the richest man in the world. In 1947, with India's independence, the seventh Nizam was reluctant to cede his principality to the newly independent India, preferring Pakistan instead. India sent in its troops and the 200-year-old prophesy was fulfilled. On 17 September 1948, it was merged into India.
Hyderabad become the capital of Hyderabad state. In 1956, Telugu-speaking areas were consolidated into the state of Andhra Pradesh. Hyderabad became the capital of this new state. The new capital's administrative buildings were constructed in the "new city", between the "old city" (as the Nizam's city came to be called) and Secunderabad. However, in 2014, the merger of Telangana and Andhra Pradesh was reversed, and the state of Telangana was officially formed. In 2016-7 the capital of Andhra Pradesh was moved to Amaravati, leaving Hyderabad as the capital of Telangana alone.
Culture and attitudes
In many senses, Hyderabad is the meeting ground between North and South India. The city has a culture that is distinct from the rest of Telangana, showing Islamic influences and a courtly presence imparted from its period as the capital of the Nizamate. This is more evident in the old city. The new city resembles many provincial state capitals in India. Secunderabad is more cosmopolitan, as the Cantonment area is in this part of the city.
Due to an influx of young men and women from various parts of the country, Hyderabad's culture and attitudes have taken a turn towards "modernity". However, the city is still a deeply conservative place, so dress appropriately, especially in the old city.
Climate
Hyderabad has a tropical climate. The best time to visit the city is from mid-November to mid-February. Temperatures are mild with abundant sunshine during this time and average temperatures range from a low of 15°C (59°F) to a high of 29°C (85°F).
March to June is hot and dry with occasional thunderstorms. Highs can reach 45°C (113°F) or more and a lack of air-conditioning can make it feel very uncomfortable. July, August, September and October can be quite warm and humid. Low pressure systems from the Bay of Bengal during the monsoon season can cause heavy rain for days.
Talk
Telugu
and
Urdu
are widely spoken in Hyderabad, and most educated people speak Telugu, Urdu, Hindi and/or English. English signs are common.
The city is one of the main places where Urdu developed, and the dialect spoken primarily by the large Muslim population is known as "Deccani Urdu" or Dakhani Urdu" (which both translate to Urdu of the Deccan). Because of the influence of Urdu, a dialect of
Hindi
is also spoken in the city and your Hindi phrasebook may still be useful.
Get in
By plane
(
HYD
) is 22 km (14 mi) from the city. The sleek and well-organized airport is one of the best in India. It has one integrated terminal (although passengers departing on international flights must now complete security, immigration and customs at the interim international terminal first, then go to the main terminal, with a free shuttle and premium check-in available) as well as a special Hajj terminal.
There are direct international flights from many countries. International carriers are Air India, British Airways, Emirates, Malaysia Airlines, Oman Air, Qatar Airways, Saudi Arabian Airlines, Silk Air, Etihad Airways and Thai Airways. International destinations: Abu Dhabi, Bangkok, Chicago, Dammam, Doha, Dubai, Hong Kong, Jeddah, Kuala Lumpur, London, Muscat, Sharjah, Singapore.
Domestic connectivity is provided by Indian airlines including Air India, Air India Express, Indigo Airlines and SpiceJet.
The airport can be contacted on their (toll free for BSNL/MTNL subscribers) number +91 1 800 419-2008 for all services and enquiries including arrivals and departure information, facilities, transport availability, etc.
The Pushpak - Airport Liner, an air-conditioned bus service operated by TSRTC, goes to various designated points in the city such as (1) Begumpet (Paryatak Bhavan) (2) Secunderabad (Keyes High School) (3) Hi-Tec City (Opposite Shilparamam), and two designated points in the city (4) Charminar (City College) (5) Mehdipatnam (Sarojini Devi Eye Hospital). Travel time runs from 45-100 min depending on time of day and traffic conditions). Tickets cost between ₹106 and ₹265 depending on the bus stop. The buses have a frequency of a bus every 30 min from 3:30AM-11PM and every hour at midnight, 1PM, 2PM and 3PM. You can reach the designated points and then take an auto or metered cab from there.
Alternatively, you can hire metered air-conditioned radio cabs starting from ₹20 per km (see Get around section). Easy and Meru are approved by the airport @ ₹15/km and are available just after exiting the terminal building. For the rest, you need to call and book with a lead time of 15 min to one hour. These cabs charge 25% surcharge in the night (i.e., ₹18.75 per km). Hyderabad traffic police counter is on the ground floor with prepaid taxis. Beware of taxi soliciting touts at the airport greeting area; they will try to charge exorbitant rates.
Hired cars are also available from a blue and white booth at the exit of the airport, adjacent to the parking lot. This gives you the advantage of paying in advance and receiving a ticket with your fare and destination, thereby avoiding any disagreements over price. The elevated expressway to the airport takes 20 minutes.
Another option for cheap travel from the airport to Hyderabad city is: When you arrive at airport, go to the departure gates, where you can get a car that has just dropped off passengers and would otherwise return empty to the city. Such vehicles will drop you off in city for only ₹30. The same is true if you hail a taxi near Mehdipathnam, where the flyover starts.

By train


Indian Railways has service to Hyderabad from all over India.
There are three major railway stations serving the twin cities: Hyderabad Station (Deccan or Nampally), , and Kachiguda and a minor station at Begumpet. Most of the trains bound for South India and North India originate from Hyderabad and leave via Secunderabad. Destinations include:
From these major railway stations you can easily get connected buses or private taxis which will take you to the destination of your choice. You can also ask taxi drivers about getting around Hyderabad as they have adequate experience and guide you appropriate to save your significant amount of time.

By car
Hyderabad is well connected to other major Metros by road. Bangalore is connected by NH7 and is at a distance of 560 km. The road between Bangalore and Hyderabad is excellent, and the distance can be covered in 6 hours. The city is 752 km from Chennai (using highways NH9 and NH5) and 800 km from Mumbai (NH9 till Pune and the expressway to Mumbai.).

By bus
Hyderabad is well-connected to all parts of Andhra Pradesh and Telangana and most parts of South and Western India.
MGBS Bus Station

phone: +91 40 24614406, +91 99 59226257 (inquiry counter), +91 40 24613955 (ticket reservation office)

This is said to be the largest bus station in the world with around 84 bus bays side by side.
Buses going to

Anantapur

(350 km, 5-8 hr, ₹380-600, 10 or more per day),

Ahmedabad

(21 hr, daily),

Bangalore

(10-12 hr, 8 or more per day),

Chennai

(12½-13½ hr, ten or more per day, from ₹710),

Coimbatore

(14 hr, 5 or more per day, from ₹1610),

Madurai

(14-16 hr, four per day, ₹1600),

Puttaparthy

(366 km 10-11 hr, two evening buses, ₹600-700),

Rajahmundry

(422 km, 10-12 hr, 6 or more per day, ₹500-750),

Tirupati

(570 km 10-13 hr, ₹600-950, 15 or more per day), Vijayawada (270 km, ₹300-400, half hourly, 7-9 hr), Vijayawada (5½-6 hours, every half hour, ₹200-330),

Visakhapatnam

(627 km, ₹600-1100, 12-14 hr, 20 or more per day).

JBS (Jubilee Bus Station)

phone: +91 40 27802203

In Secunderabad. APSRTC runs direct air-conditioned coaches to Mumbai, Bengaluru (Bangalore) and Chennai. AP tourism runs air-conditioned coaches to the same cities. You have to book the tickets in advance. There are many online bus ticketing portals to book bus tickets.
South India is largely well served by organised private bus operators. They run luxury buses like Volvo, Mercedes, Kinglong Cerita buses including multi axled buses. These are air-conditioned, semi sleeper or sleeper services with online ticket booking facilities. Important private travel hubs are KPHB Colony, Lakdi-Ka-Pool, Paradise centre in Secunderabad and Dilsukh nagar. Luxury services run to many cities from these places.
It may be difficult to find direct buses from North India.

Bus companies
Telangana State Road Transport Corporation is the most luxurious bus transport corporation in India and is run by the Telangana state Government: The bus stations of TSRTC in Hyderabad and Secunderabad are MGBS and JBS respectively. TSRTC runs all types of buses including air-conditioned, non air-conditioned and Volvo, Garuda-Plus, Garuda-Sleeper, Indra, Super Luxury and express buses to all major cities in South India and all major cities around Hyderabad.
Private travel services which provide decent to excellent services from/to major cities like Bangalore, Chennai, Nagpur and other cities in Andhra Pradesh, Telangana, Karnataka and Tamilnadu are Orange Travels, Kaveri Travels and many more. They can be easily found using online services like Redbus Myticketbuddy who also provide details of other services and amenities provided.
Get around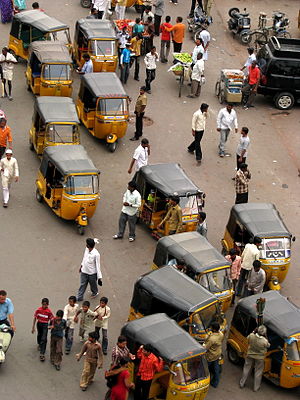 There are many ways to get around in Hyderabad. It has good bus service, passable auto-rickshaw and taxi services and a grossly inadequate local train service.
By metro
The first segments of the
Hyderabad Metro
(HMR) rail system opened in November 2017. It has a
Red Line
and a
Blue Line
. Extensions of both lines are under construction, as is a third line. The Metro is efficient, but serves few places of interest to visitors.
By Multi-Modal Transport System (MMTS)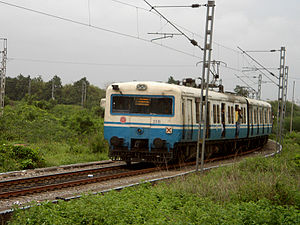 Local trains called
MMTS
are available, albeit for only a few places in Hyderabad. The peak frequency is about every 10 minutes, much less frequently during the daytime and on Sundays (see
schedule
). It is a fast way of travel to the few stations it covers, and the cheapest option as well. Foreigners are advised to take first class. Daily, monthly and quarterly passes are also available at the MMTS stations.
By bus
Hyderabad has good local bus connectivity and is run by
TSRTC
, a state-government owned corporation. Most buses start at the Mahatma Gandhi Bus Terminus more commonly known as Imlibun. Apart from normal local buses, you have a choice of Metro Express and Metro Deluxe aka Veera. There have also been air-conditioned buses all over the city (minimum fare ₹22). Local buses tend to get extremely overcrowded and traveling on the footboard of a bus is very common.
As of 2011 a fleet of new, more comfortable, buses include blue-liveried Tata Marcopolo buses of the Metro Deluxe class and the City Sheetal buses (Volvo or Tata Marcopolo). They are air-conditioned and have limited stops. They are not crowded and you can get a seat most of the times.
The routes displayed on buses are normally shown in at least two languages, one of which is English. The best way to get to a location by bus would be to get to a bus stop and ask people waiting there. You could also get into a bus going in your direction and ask the conductor for help.
By autorickshaw
Autorickshaws in Hyderabad should be metered, though it can be difficult for non-locals and locals alike to find an auto-rickshaw driver who ever agrees to a metered fare. (This is especially true when hailing an auto in front of a 5-star hotel and near Hi-Tech area.) However, traffic police are very helpful and will help engage an Auto with metered fare. Autos can carry a maximum of 3 passengers excluding the driver, but it is common to find them being overloaded to carry up to six passengers. The minimum fare is ₹20 which covers the first 1.6 km. Each additional km is another ₹11. There are also shared 8 seater Maxi Vans available to and fro from the suburbs to a main location of the city in that direction. Fares are mostly ₹2 more than bus fares, but are far more comfortable and fast for short distances up to 5 km. Fix the fare before you step into the auto-rickshaw.
Auto drivers in Hyderabad are a nightmare and are absolutely uncooperative. Finding a needle in a haystack is easier than finding an auto driver who agrees to go by the metered rate with a common excuse that their meter is not functioning. They always demand a much higher fare even though the fare has been increased from ₹12-14. It is advised to keep extra change with you since most of the auto drivers will claim that they don't have change, even if they have. If you have a choice then always opt for a prepaid cab.
Reckless driving and accidents are very common in this city.
Most of the auto drivers want you to check out Govt. Authentic pearls shop in exchange for a lower fare; however, they are okay if you don't buy anything from these shops, just sit there for 10 minutes. They get 25 kg rice if they take 15 customers to these shops. The pearl shops are notorious for persuasive sales tactics and they won't let you out easily. So pay the complete fare to auto drivers instead of being diverted to a pearl shop.
Auto drivers get some percent of the entry fees (around ₹10) if they take you to the places like Chow Mahal or Salarjung museum for free. If you are around these areas get into some auto instead of walking down and ask them to drop you there.
By taxi
Metered taxis are available, but they cannot be hailed off the street. One needs to call their centralized call centre and book the service. Service is very good, especially if you are booking for longer distances. It can be next to impossible to be able to get a taxi without prior booking since demand far outstrips the supply. All metered taxis have digital meters that show the distance and fare. Smartphone applications can be used to hail a ride – Uber and the Indian company Ola or Ova Cabs.
Operators offering metered taxis at ₹10 per km (most of them are now charging ₹12 per km for an Indica, ₹10 continues in case of Maruti Omni) with a minimum charge is ₹80 in most cases. Many taxi services prefer not to book trips that are only a short distance.
By car
Hyderabad has an underdeveloped road system, leading to traffic jams during rush hours. The 160-km-long
Ring Road Expressway
circles the outside of the city, and may be faster than driving straight through the city.
Like elsewhere in India, driving is "exciting" in Hyderabad. You find cycles, motor cycles, rickshaws, hand carts, autos, share autos, mini trucks, buses, vestibule buses, and double deckers jostling along. There are long stretches of roads passing through thickly populated areas that have no median breaks, so vehicles, including motorbikes and cars, simply drive on the wrong side of the road. Several modern flyovers now link the arterial roads.
Rental cars
Several car rental agencies are available at the Rajiv Gandhi International Airport as well in the following locations.
On foot
Hyderabad's interesting districts are fairly spread out, but are enjoyable to explore by foot on their own. The Old City is composed of a maze of disorienting alleyways that expand outward from the Charminar. Getting lost in the markets (where you can buy anything from hand-sequined saris to freshly slaughtered goats) and alleyways in the Old City can make for a thoroughly enjoyable afternoon. The famous Chudi Bazaar (Lad Bazaar) across from the Charminar is a chaotic tumble of goods, people, animals and vehicles are navigated quickly on foot. The Chowmahalla palace and the Mecca Masjid are easily accessed from the Charminar. Necklace Road, Sultan Bazar (Koti) and Abids are worth taking some time to wander around. Walking can be hazardous in Hyderabad. It is common for roads to be missing pavement, or simply unpaved, and bikes and auto-rickshaws may go to right up to the edge of the road and climb any barrier to get ahead in traffic. Walking alongside and crossing the road can be very dangerous and it is important to stay alert for erratic driving. Always use the foot-over bridge if there is one available.
See
Do
address: Char Minar

They are organized by the AP tourism department and led by a knowledgeable guide and Tourist Police. There are several flavors of walks so far, one that ends at Chowmohalla palace, and the other that ends at Badshahi Ashoorkhana. Bonus - breakfast served too. It's probably better to call beforehand and confirm which walk is operating.

Friends of Snakes Society

phone: +91 83 74233366-77-88

For reptile conservation work and field trips.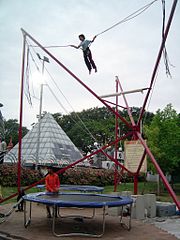 Hatsclub Hyderabad Adventure & Trekker's club

phone: +91 7799096396

Active and well organized trekker's group organizing out of the Hyderabad area. It makes an effort to be as inclusive as possible by offering adventure treks at all levels, from bouldering and trekking to birdwatching and exploring wilderness.
Buy
Eat
No visit to Hyderabad would be complete without sampling its unique cuisine - a rich blend of royal Mughlai flavours, Nizams special, and spice-up culinary traditions of South India such as: Hyderabadi biryani, pathar-ka-ghosht, nahari, haleem, double-ka-meetha, khubani-ka-meetha, seviyon-ka-meetha and kheer.
A popular dish of Hyderabad is
biryani
. It is prepared with a blending of Mughal kitchen and the style of cooking practised by the Nizams. Hyderabadi biryani has a distinct aroma. Garnished with pudina, fried onion & boiled eggs. Mostly it is served with dahi-ki-chutney and mirchi-ka-salan. Biryani has many variants like mutton biryani, chicken biryani, biryani khaam, biryani zard or zafrani or the most exotic of all joban malti biryani in which mutton, partridges and quails were cooked with rice.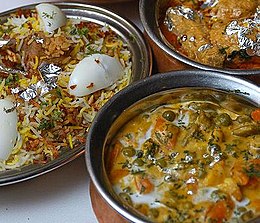 Culinary delicacies of Hyderabad include:
Street food
in Hyderabad is better than most other cities in India and it is cheap.
Restaurants
There has been an explosion in the number of restaurants in Hyderabad, fuelled by demand from young professionals with money to spend. Quality and variety of food, however, has not kept pace. There is a disproportionately large number of restaurants that aspire to be called "fine-dining" restaurants, but the food they serve is usually indifferent. In general, keep away from restaurants that call themselves "multi-cuisine" or if you see multiple cuisines on the menu, as the chances are that they are attempting to serve every kind of palate and will not satisfy any.
The older areas of Hyderabad are better places to find good and cheap food. Places close to Hi-tech city, such as Madhapur and Kondapur, tend to have expensive and bad food, while in Banjara Hills and Jubilee Hills you will find restaurants that are expensive, but which sometimes serve good food. Those misled by the fact that Hyderabad is in South India and expecting South Indian food may be disappointed. While there are excellent South Indian restaurants in some of the older areas like Koti and Abids, the average South Indian food served here is quite bad.
Two of the biggest names in Hyderabad's restaurant business are
Ohri's
and the
BJN Group
. It will seem as if every second restaurant in the city is run by either one or the other. BJN generally runs upscale restaurants, while Ohri's runs both upscale and mid-range restaurants. It also runs numerous fast food places all over the city, including at Prasad's Imax, Banjara Hills, Somajiguda, EatStreet, Hyderabad Central & Basheer Bagh.
Budget
Mid-range
Bakeries, cafes, sweet shops and fast food
Hyderabad has a large number of outlets that are positioned as
bakeries
. These are primarily takeaway places, where one can buy sandwiches, burgers and puffs to go (called
parcel
in local parlance.) Usually, there are a few chairs and tables thrown in as an afterthought.
Many Western chains have set up shop in the posh areas of Hyderabad. Among these are
Texas Chicken
,
McDonalds
,
KFC
,
Pizza Hut
,
Dominos
and
Subway
. Most of these have multiple outlets and all of them have Indianised their fare to varying extents. The Indian pizza chain
Pizza Corner
also has many outlets.
Barista
,
Cafe Coffee Day
and
Java Green
outlets are good places to have coffee and conversations.
Drink
There is plenty to do at night in Hyderabad, though local regulations have most places serving last drinks by 11PM. On weekdays, drinks in the some of the pubs have best offers, as most clubs are empty until Thursday or Friday nights, when the clubbers emerge. But the sheer number of nightlife spots makes it hard to choose which ones to list. As a general rule they tend to be clustered around Begumpet (
Secunderabad
) and Road No.1, Banjara Hills (
Central
).
Alcohol is available easily from numerous liquor shops, known as
wine shops
in local parlance, spread across the twin cities, in restaurants with bars attached (includes most upscale ones) and in pubs.
Warning: Drunken driving is not tolerated and police enforce the rule strictly. After 11PM almost all the roads have police patrols and check drunk driving. If caught you may end up paying fines, apart from vehicle being seized and couple of rounds to police station in worst scenarios.
Some of the good pubs and bars are part of hotels, and they have been covered along with their hotel listing under
Sleep
.
Sleep

Accommodation in Hyderabad is unlikely to bust your budget, especially when compared to cities like Mumbai or Bangalore, and rooms are usually easily available. However, because the city sprawls so much, you need to be careful about the hotel location if you want to avoid a long commute and traffic bottlenecks.
Plentiful budget accommodation is to be found around the Nampally railway station and in Abids, Koti and other new city areas for a few hundred rupees a day, and tourist attractions aren't very far off. However the facilities tend to be basic, the towels aren't necessarily clean and air-conditioning tends to be extra. It might make sense to pay a little more and choose mid-range accommodation. The area around Hussain Sagar Lake, Begumpet, Punjagutta, Somajiguda, Banjara Hills and Lakdi-ka-Pul are close to both tourist attractions of the old city and the business areas of the new city. Hotels in Secunderabad might be slightly far for the tourist, but may still work for the business traveller.
Hotel rooms tend to be expensive and scarce closer to Hi-tech city, and commuting from any of the above areas, except perhaps Banjara Hills, is not a good option because of the traffic. Areas around Hi tec city are Madhapur, Kondapur and Gachibowli. For longer term stays, you might want to consider serviced apartments.

Connect
Post Office
India Post
, a government-owned enterprise, has its headquarters at Abids known as GPO. And its second biggest centre is in Secunderabad.
Landlines
The dialing code for Hyderabad is 040. When calling from overseas, dial +91 40 XXXX XXXX. If you have a non-working phone number with only 7 digits try to add "2" in front of it. There are public booths scattered around the city.
Mobile phones
It is very easy to get a prepaid mobile in India, which is very cheap to buy and for calls. As per government regulations a photo ID and a photograph are required for buying prepaid and postpaid SIM connection.
Internet
Internet cafes are spread around town and most easily found in the city and residential areas. Charges vary between ₹5-15/hr. Reliance WebWorld provides Broadband internet centres.
For a longer stays with a laptop, it's better to get a Data plan either from
Tata Indicom
or Reliance Mobile, which are around ₹1,000 a month. If you have a WiFi enabled laptop or other digital device there are many public WiFi networks available in Hyderabad for free access to high-speed internet.
Stay safe
Since 2007, Hyderabad has suffered from several terrorist bombings, the last one in 2013. These blasts have taken place at Mecca Masjid, Lumbini park, places often frequented by travellers; and also at busy marketplaces. Though the chance that you will be in danger is quite low, you should obviously make your own risk assessment. Rather than physical danger, it is more likely that the
intrusive security
will dampen your enjoyment of your Hyderabad vacation. Every shopping mall, theatre and palace has metal detectors and security guards patting you down.
The
old city
area used to be a
communally sensitive zone
and a venue for religious riots between Hindus and Muslims. It was common for the police to impose a curfew in that area while the rest of the city went about life without any problems. The old city continues to be at the heart of Hyderabad's crime wave and though many tourist attractions including Charminar are in this area, it is best to avoid late night visits.
Outside of these, Hyderabad is rather safe. Muggings and violent crime are uncommon, most crime involves thefts. Avoid staying out late at night, especially if you are a woman.
The usual tourist-oriented scams in India are not as bad in Hyderabad as in other places. However, foreigners will be hounded for money at tourist sites like the old city. Just ignore the beggars and they will go away.
Chain snatchings have become common in the city. One has to be watchful in crowded areas.
Emergency numbers
Medical

phone: 108

Child Line Facility

phone: 1098

Police

phone: 100

Fire

phone: 102

For any other basic information call up Just-Dial ten 8s

Blood Bank

phone: +91 40 24745243

Crime Stopper

phone: 1090

Railway Enquiry

phone: 131, 135

Traffic Help

phone: 1073
Cope
Banking
address: Koti Main Road / Sultan Bazar Rd, Gandhi Nagar

address: Gunfoundry Main Road / Abids Rd
Money changers
Many hotels will change money for you at the front desk. However, they may not offer the best rates.
It is best to change money at the city-based money changers than the ones at the airports. You'll find many money-changing operations in Saifabad, some with door-step service. It's also possible to call them and agree on a rate before the transaction.
Janaki Forex

phone: +91 40 2436 5441

address: 204, Saidatha Arcade, 3-6-517, Main Road, Himayat Nagar

Secure Forex Private Limited

phone: +91 40 2321 2734, +91 40 2321 2759

address: Nasir Arcade

Thomas Cook

phone: +91 40 2323 1988

address: Nasir Arcade, Saifabad

UAE ExchangeCurrency

phone: +91 40 2789 7528

address: 1-8-303/33/C, Nagam Towers
Newspapers
The
Deccan Chronicle
is Hyderabad's oldest newspaper, and indispensable if you need to look up classifieds, for, say, renting a house. The
Times of India
with its new office in Hyderabad has good local content and is increasingly widely read.
Eenadu
is the most popular local language (Telugu) newspaper. For events, business listings and movie listings,
fullhyderabad.com
is popular.
Siasat
and
Munsif
are the main newspapers for the Urdu speaking population.
Other newspapers include
Vaartha
Andhra Jyothy
,
The Hansindia
,
Hello Hyderabad
,
Full Hyderabad
,
The Hindu
,
Indian Express
,
Metro India
,
Namaste Telangana
and
Sakshi
.
Hospitals
Apollo Hospital

phone: +91 40 2360 7777

address: Jubilee Hills

Medwin Hospital

phone: +91 40 2320 6666

address: Chirag Ali Ln

phone: +91 40 23551034

address: MLA Colony Main Rd

Osmania General Hospital

phone: +91 40 2460 0122

address: Afzal Gunj

Owaisi Hospital

phone: +91 40 2444 3129

address: DMRLX Rd

After Santosh Nagar. This Hospital is one of the largest hospitals in Asia.

Yashoda Hospital

phone: +91 40 2455 5555

address: Raj Bhavan Rd, Somajiguda

Dr.Sridhar International Dental Hospital

phone: +91 040-23057722
Pharmacy/chemist
Modern medicine is widely available at pharmacies around the city.
A.P. Medical Hall

MOR Medical Hall

Medplus

phone: +91 40 6674 3000

Mukesh Medical Hall

Sonee Medical Hall
Books
The British Library

City Central Library

phone: +61 40 2763 7632

address: Chikkadpally, Near Tyagaraj Gana Sabha, Hyderabad, Telangana

A library with wealth of Books and archives.

State Central Library

address: Afzalgunj, Hyderabad, Telangana

Contains many important archives.
Consulates
phone: +91 40 2335 0728

address: Road No 1, Beside Syndicate Bank, Banjara Hills, Hyderabad-34

phone: +91 40 4033 8300

address: Paigah Palace, 1-8-323, Chiran Fort Ln, Begumpet, Secunderabad
Go next
Basara — the home of Sri Gnana Saraswati Temple, in Adilabad District
Bhuvanagiri Fort — around 47 km from city of Hyderabad on the outskirts moving towards Warangal via Uppal, is a huge rock fort on very smooth rock. At the foot of the hill is Bhongir bus station. It is a marvelous experience to climb the fort and needs great skill and balance at few places. An attractive place for trekkers and rock climbers.
Guntur — around 282 km southeast of Hyderabad by train.
Medak Church — around 90 km from Hyderabad.
Nagarjuna Sagar Dam — 165 km from Hyderabad - one of the earliest hydroelectric projects in India, the dam impounds the Krishna river.
Ramoji Film City — The world's largest film studio, though most of the shooting takes place outdoors. Many Telugu and Hindi films are produced here. Tourists can tour the studios, and there are two hotels. A 1-hour drive east of the city.
Sangareddy — around 55 km from Hyderabad
Sri Mallikarjuna Swamy Temple — 212 km from Hyderabad can be easily reached by state run buses or private taxi. Srisailam referred to as Tirupparuppatham in the Thevaram hymns, near Kurnool in Andhra Pradesh is a venerated Shivastalam, the second of the 12 Jyotirlinga shrines spread all over India. This is a vast temple with several gopurams, on a hill which is said to be a manifestation of Nandi. This temple has been a site of Vijayanagar patronage, and is well visited and well endowed. Several other related Siva temples are in the vicinity of Sree Sailam. Kannada poetess Akkamahadevi made this spot her hermitage
Srisailam Hydel Project — around 245 km from Hyderabad. The dam is surrounded by beautiful natural flora.
Vijayawada — 270 km from Hyderabad, has many important Hindu pilgrimage sites.
Visakhapatnam— around 620 km, R.K. Beach and Many other beaches. Important Hindu pilgrimage sites.
Warangal — 144 km from Hyderabad, is a beautiful city of lakes and temples. Location of Bhadrakali Temple.
Yadagirigutta — around 60 km east of Hyderabad, features the Narsimha Swamy Temple.