Hyderabad/Central
Central Hyderabad
is the modern city center of
Hyderabad
, lying between the Musi river and Hussain Sagar lake. This article covers the entire Central Zone of Hyderabad.
Hyderabad's "New City", opposite the Old City north of the Musi river, developed after Independence to house the government offices of the capital of the new state. This area is now the city commercial and government center.
The Hussain Sagar lake and its surroundings have been beautified in the last two decades and you will find some nice amusement parks, promenades and restaurants around it.
To the west of the lake are the prosperous suburbs of Punjagutta, Banjara Hills and Jubilee Hills, with shopping and restaurants. Banjara Hills is where Hyderabad's swish set lives - the industrialists, movie stars and politicians. The neighbourhoods contain some good parks and restaurants.
Get in
Both the metro lines and the MMTS are centered around this area.
Hyderabad Deccan railway station, also know as Nampally railway station, is the major station in the heart of Hyderabad.

See
Telangana State Archaeology Museum

phone: +91 40 2323 4942

address: Public Gardens, Nampally

Displays a stunning array of artifacts dating back to the 1st century to the 20th century. Ranging from the Lotus Medallion of the 1st century to the Amazing Kalankari work that adorned the bed-spreads of the Nizams to a period room that displays the typical living room of the Nizam time to the Jain sculptures and Statues - this place has it all.

address: Osmania University, Amberpet

Built during the period of the last Nizam, Mir Osman Ali Khan. The imposing facade of the building is a great sight.

The B. M. Birla Science Centre

phone: +91 40 2324 1067

address: Secretariat, AG Office Rd, Adarshnagar, Hyderabad -63

The show at the Planetarium lasts 35 min and is moderately interesting. The Science Museum, on the other hand, is poorly maintained. The Dinosaurium at the upper level is interesting. It contains a complete skeleton of a dinosaur Kotasaurus yamanpalliensis discovered in the village of Yemanapalli in 1988. Modern Art Gallery is now located near the Dinosaurium (ignore the signboard near parking directing to lower level). It's the personal collection of Nirmala Birla; also quite interesting.

address: Ravindra Bharathi complex, Saifabad, Lakdikapul Rd,

An art gallery

address: Necklace Rd

phone: +91 40 2701 8371, +91 40 2700 2373

address: Rajya Abhilekha Nlym, Upl Road, Tarnaka, Hyderabad-7

Exhibition

phone: +91 40 2460 3266

address: Nampally (Vanitha College)

An exhibition that runs in the months of January & February every year. It showcases various items made across India. It runs every year starting 1 Jan-15 Feb in the Exhibition grounds.

phone: +91 40 2473 7692

address: Koti Main Road, Essamiya Bazaar, Kachiguda
Charminar HyderabadThe Charminar Hyderabad, an architectural 4 minarets composition in Indo-Saracenic type with open arches and, is regard as the supreme achievement in the Quṭb Shāhī period.

Charminar Hyderabad is in the center of the city.it has four miners constructed and that's why its name is Char minar. A famous market Laad bazaar or chudi bazaar is also located near to the Charminar.

Charminar was built by Muhammad Quli Qutb Shah in 1591.he was the fifth king in the dynasty of Qutb shahi. Char minar is the first building in Hyderabad at the time of Qutb Shahi new capital establishment. After the passing year, it has become the best heritage cities in India and the monument of Charminar become an iconic symbol of the city.

charminar Hyderabad structure is the best architecture example of Indo-Islamic with Persian influences. The arch dome in monument influences of Islamic architecture.persian prominent from minarets influence. The outside walls, balconies and the embellished with delicate stucco the floral ornamentations on monument ceiling, showcases the Hindu style of architecture.

address: Anaspur Village, Hayathnagar Mandal, Hyderabad, Hyderabad Telangana, 501512, India

Ramoji Film city hyderabad is the best attractions in Hyderabad city. It was nearly 30 Kilometers away from Hyderabad city. It was made in the year of 1996.Hyderabad tourism Ramoji film city is the favorite spot of every filmmaker because it has every spot for pre and post film making.Hyderabad Tourism ramoji film city is also placed in the Guinness book of world record.It has been spread more than 2000 acres to 2500 acres space.it was the largest and beautiful place for each and every filmmaker.
Ancient sites
Golconda FortThe Golconda Fort was the capital of the Qutb Shahi kingdom. Set aside a minimum of 2 hr to do justice to your visit the outer wall measures 10 km. Learning a little about the fort ahead of time is recommended, as it is easy to get confused or lost in the massive space. If you accept one of the local guides (who hustle you at the entrance gate) try to pick one who actually knows his stuff (₹ 500 per tour and the guide would also ask you for tips in the end, however it is entirely up to you whether to give tips or not), rather than someone who was actually just passing by, spotted you and will tell you bits he once read in a guidebook. The genuine old Muslim guide who gained his encyclopaedic knowledge of Golconda as an infant from his 118 year old grandmother knows the history of every inch of the place and will show you with expertise the echo/architecture system built into the fort that the ruler used as a communication/spying system. After sunset, there is an hour-long light and sound show telling you the story of the Golconda fort which is worth seeing, though it could be a little boring. Price for foreigners ₹50/100 for normal/executive ticket. The English show runs Nov-Feb 18:30 daily and Mar-Oct until 19:00 daily. Hindi and Telugu shows are run afterwards on certain days. Afterwards, have a wander through the tiny streets and shops surrounding the fort. The beautiful scruffy old shops and houses will sell you everything from naan bread to bangles, and the fading and gaudy old painted gates and houses are a delight, as are the friendly locals.

Hussain Shah Wali Dargah

address: Madhapur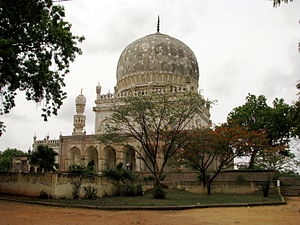 address: Seven Tombs Colony, Shaikpet

The tombs of the Qutubshahi dynasty. Most of them were built by Quli Qutb Shah, the founder. Sadly in May 2010 local newspapers revealed that shoddy 'restoration' work allegedly using unskilled labour with road drills (bought in by one government department that didn't bother to seek professional advice or inform the local archaeological or environment departments) has been damaging these beautiful buildings.

Qutub Shahi Tombs Site Museum

phone: +91 40 2351 341

address: Seven Tombs Colony, Shaikpet, Toli Chowki

Toli Masjid

address: Karwan

300 years old. Known for its splendid architecture.
Places of worship
Birla Mandir

address: Adarsh Nagar, Naubat Pahad

The industrial house of the Birlas have the tradition of building magnificent marble temples in cities of India, all of which are known as Birla Mandir. This one is one of the best. The temple manifests a blend of South Indian, Rajasthani and Utkala temple architectures. It is made of 2,000 tonnes of Rajasthani white marble. The granite of the presiding deity is about 3.4 m tall and a carved lotus forms an umbrella on the roof. The consorts of Lord Venkateswara, Padmavati and Andal are housed in separate shrines. There is a brass flagpole in the temple premises which rises to a height of 13 m. Located on top of Naubat Pahad (mountain), this clean, sparkling white temple dedicated to Venkateshwara has viewing areas that afford a great view of the city. Sadly, cameras and camera mobiles are banned; your bags are checked at the entrance. Shoes are not allowed, so come early in the morning so the ground will not be too hot. There is a free cloakroom available for both electronics and shoes.

Khairtabad Mosque

address: Chilkur, RTC Cross Roads

Chilkur is an important pilgrim centre in Hyderabad. The Lord here is Sri Venkateswara Swamy in a standing posture, beside whom is Goddess Sridevi and Goddess Bhudevi. People with wishes, take 11 rounds a round the core of the temple. Once their wish as been fulfilled they return to perform 108 more rounds. You will find people ticking away at the pieces of paper with the numbers to track the count.

Jama Masjid Musheerabad

St Joseph's Cathedral

address: Gun Foundry Area

Established in 1820, this is the cathedral of the Archdiocese of Hyderabad.

St George's Church

address: Abid Rd

St George's Church is one of the oldest churches in the city of Hyderabad, India. It was built in the year 1844 AD. The church was built as an Anglican church but is now under the auspices of the Church of South India.

address: Abids

Peddamma Temple

address: Jubilee Hills
Parks and lakes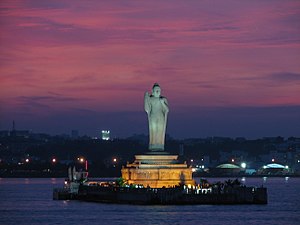 Hussain Sagar Lake

address: Necklace Rd

The artificial lake is a historical landmark, built during the reign of Ibrahim Quli Qutb Shah in 1562 by damming the Musi. This forms the boundary between Hyderabad and Secunderabad. Surrounding the lake are various parks, temples, statues and historical buildings. This is one of the few walkable places in the city. At the centre of the lake stands a famous 18m high installed in 1992. Boat rides to the Buddha statue are available from Eat Street (near Necklace Road MMTS Station) and Lumbini Park. Speed boats do not stop at the Buddha statue. The road circling the lake on the north and west is known as Necklace Road, and is nicknamed "the Chaupati of Hyderabad" due to its resemblance to the Chowpatty promenade in Mumbai.

Indira ParkA sprawling 76 acre park located near Tank Bund with a nice, but polluted, little pond and boating.

Public GardensKnown as the Bagh-e-aam (Garden for the commoners), it has well laid out gardens and is surrounded by the imposing State Legislative Assembly building, the Jubilee Hall, the Jawahar Bal Bhavan, the Health Museum and the State Archaeological Museum. This was the old zoo and now is a beautiful place for both children and adults.

Sanjeeviah ParkGood for bird watching

Chacha Nehru Park

address: Masab Tank

For pleasant morning walks with kids.

Krishna Kanth Park

Jalagam Vengal Rao Park

address: Banjara Hills

With lake.

Kasu Brahmananda Reddy National ParkThe Chiraan Palace is located in the park.

Lotus Pond

address: Jubilee Hills
Art galleries
phone: +91 40 4020 7171

address: 41 A, Kakateeya Hills Ext. of Jubilee Hills Road No. 36

Le Cafe De Art

phone: +91 40 6550 6661

address: Rd No.1 Banjara Hills

Gallery Space

phone: +91 40 6554 1836

address: Rd No.12, Road Number 86, MLA Colony, Banjara Hills

Kalahita Art Foundation

phone: +91 40 2335 0543

address: Lakshmi Towers, Nagarjuna Hills

Pegasus Art Gallery

phone: +91 40 23608883

address: Road No.72 Jubilee Hills

State Gallery Of Art

phone: +91 40 2311 3308

address: Road No. 1, Kavuri Hills, Madhapur, CBI Colony, Jubilee Hills

phone: +91 40 6661 5039

address: Banjara Hills, Panjagutta, Dwarakapuri colony, Esteem House, Backside of Model House
Do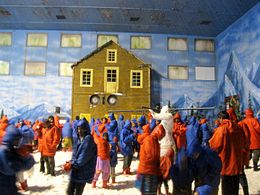 Lumbini Park

address: NTR Marg

See water cascades, go on guided car rides. Go on a boat ride and see the Buddha statue at the centre of the lake. It also offers nice Laser Shows in the evening which is first in India.

NTR Gardens

address: NTR Marg

Built by Chandrababu Naidu in memory of N. T. Rama Rao, his father in law and ex-Chief Minister, this is an amusement park which houses some nice attractions like a mini-train, a haunted house, a boat ride, etc. There is a cafe where the seating is in the shape of vintage cars. You can either spend money on the rides or generally stroll around and gape at the fountains and the giant insects. For rides, the ₹ 45 combo you can buy at the entrance is a good deal.

phone: +91 40 6599-0167

address: Lower Tank Bund Road

Asia's largest Snow Theme Park.

Diginet Digital Experience Zone

phone: +91 40 5558 0009

Gamecentre. WiFi hotspot, coffee shop, shopping.

phone: +91 40 2322 5660-2322 3824

address: Gandipet

A water-theme park.

Treasure IslandTheme park with go-karts.

phone: +91 40 2356 7207

Golf course.
Buy
Bazaars
Sultan BazaarWholesale clothes market.

Mozamjahi Market

address: Nizam Shahi Rd

Fruit market.
Begum BazaarWholesale market.
Jewelry
Ghanshyamdas Jewellers (opp Abids Police Station). Genuine pearls

C. Krishniah Chetty & Sons-The Flagship Boutique

phone: +91 40 3256 1869

address: Taj Deccan

phone: +91 40 6656 6777

address: Gupta Estate, Basheer Bagh

One of the oldest and the largest pearl companies in India.

Lilac Boutique

phone: +91 92 4658 1851

address: Liberty Rd, Himayathnagar

Designer and made-to-order & customised heavy suits, sarees and fancy blouses.
Mohal Jewells. On the Golden Mile Somajiguda for Pearls, Silver, Gold. phone=" +91 40 2341 9757"
Ornaments & jewellery (Punjagutta, Abids and Somajiguda)
Pearls of Hyderabad, (Abids and Somajiguda Jewellery shops). Choose from 3 varieties, natural pearls, cultured and imitation.
Handicrafts
Bidri Crafts

phone: +91 40 2323 2657, +91 40 2323 3663

address: Gunfoundry, Abids

Kalanjali

phone: +91 40 2323 1147, +91 40 2329 7196

address: Margadarsi House, 5-10-195, Fathemaidan Raod

phone: +91 40 2766 8178

United Designers

phone: +91 40 2335 5441, +91 98 85404944

address: Banjara Hills Rd#4

Designs by a new wave of young Hyderabadi fashion designers, they also have natural hand-made soaps for body and hair.
Other
The Golden Mile of Hyderabad for shopping, consisting of shopping plazas, malls, designer boutiques and upmarket shops - Starting from Lifestyle near the Begumpet Flyover and extending all the way till Road No.1 Banjara Hills.

phone: +91 40 40020267

address: #2, R.K.Plaza, Greenlands Rd, Panjagutta

Lingerie shop (lingerie, ladies wear, nightwear).
Eat
Budget
Chutneys

phone: +91 40 2335 0569, +91 40 2335 8484, +91 40 5557 8651

address: 1: 2: Nagarjuna Circle, Near Punjagutta flyover

Vegetarian, and quite well-known in Hyderabad. South Indian dishes like dosas, idlis and uttappas. "North Indian" also available, but best avoided. Is extremely crowded on weekend nights, and there is a waiting time of up to 30 min. Does not serve alcohol.

Cafe Bahaar

phone: +91 40 2324 3798, +91 40 2323 7605

address: Opp. Commissioner Office, Old MLA Quarters, Basheerbagh

Biryanis and meat curries, moderately priced.

phone: +91 40 2760 5308, +91 40 2763 4490

address: Plot no. 66, RTC Cross Rd's, Chikkadpally Musheerabad

Biryanis

Kholani's Kitchen

phone: +91 40 2475 3444, +91 40 2475- 657

address: 4-3-548/1, Shop No. 16 & 17, Needs Arcade, Tilak Rd, Abids

Try the excellent malai kebabs (chicken) and apollo fish

Rayalseema Ruchulu

phone: +91 40 6510-0033, +91 40 6510-0044, +91 98 85650789

address: 1st Main Rd, Shanti Nagar, In The Lane Behind JNTU, Masab Tank

Mildly spiced food from Rayalaseema, rustic decor. Not for vegetarians.

Taj Mahal Restaurant

phone: +91 40 2475-8250, +91 40 6551-1122

address: # 4-1-999 Abids

One of the original "Udupi" style restaurants, this is strictly vegetarian and does not serve alcohol. It is part of the Taj Mahal Hotel, not to be confused with the Taj chain of luxury hotels. The food in the restaurant is tasty and good, and like Udupi restaurants, serves South Indian, North Indian and "Chinese". You are advised to stick to South Indian. The ambiance in the air-con section is old-school.
Mid-range
4 Seasons

phone: +91 40 65578671

address: 9-4-77/3/D/4/5/6, Yousuf Tekri, Tolichowki

Serves multiple cuisines, but raved about for its Arabic and Lebanese food. Lunch and dinner. Credit cards accepted.

Ming's Court

phone: +91 40 2329 8811, +91 40 2329 8822, +91 40 2329 8855

address: Baseraa Inn Hotel, Basheerbagh

Mostly Indian Chinese.

Ullaasa

phone: +91 40 2373-9091, +91 40 2373-9097

address: 7-1, 59/1, Athithi Inn, 5th Floor, Dharam Karam Rd, Ameerpet

Nice ethnic ambience and the rooftop setting is amazing, and the food is excellent.

Bombay Palace

phone: +91 40 2333 5555

address: # 6-1-79 & 80 Hampshire Plaza, Lakdi-Ka-Pul

Has a decor that reminds you of Mumbai. Menu specialities include ragda patties and other items popularized by Mumbai's streets in addition to Mughlai and Hyderabadi dishes. Live Ghazals every evening.

Moksh

phone: +91 40 6620 0111, +91 40 6620 0112

address: Necklace Rd

The ₹ 199 Non-Veg, Lunch-buffet is really tasty. Service, ambiance and the lake-side location is awesome.

phone: +91 40 2752 1222,

address: 1-3-1024 Lower Tank Bund Rd

Mughlai, Chinese and Hyderabadi dishes.

phone: +91 40 4010 0888, +91 40 2360 2888

address: Plot No.66A, Rd No.1, Jubilee Hills

A complex of four restaurants and one bar.

Chinese Pavilion

phone: +91 40 6678-5680

address: Road Number 1, Banjara Hills

Makes an attempt to move away from Indian Chinese.

IndieJoe

phone: +91 40 6657-0000, +91 40 6668-3333

address: 5th Floor, City Center Mall, Road No. 1, Banjara Hills

Serves global cuisine. Only buffet for lunch and only a la carte for dinner.

phone: +91 40 2330-4500,+91 40 5521-4500, +91 40 2330-4700

address: G. S. Plaza, Gr. Floor, S-2-672, Road No. 1, Banjara Hills

Excellent Chinese place, though it tends more towards Indian Chinese. Try the dim sums and the darsaan for dessert. Good ambience and excellent service.

Our Place

phone: +91 40 23353422

address: 8-2-602/E, Charan Pahadi, Rd No. 10 Banjara Hills

Has received great reviews for its kebabs and tandoori dishes. But avoid the Thai stuff, as it looks like a pale imitation. The ambience is great, the seating is outdoors amidst much greenery. Often, they have live gazal music for dinner.

phone: +91 40 2331-7284,+91 40 2331-7285

address: MJ Towers, Rd No.12, Banjara Hills.

Kitschy decor, good food, but overpriced. As the name suggests, serves Punjabi and Mughlai food, but the menu is entirely mainstream. The drink menu has exotic stuff like golgappa with vodka, and gulab jamun with brandy.

Serengeti

phone: +91 40 2330-2200

address: 8-2-682/3, Rd No. 12, Banjara Hills

Cuisine is from the Northwest Frontier Province while the decor tries to create the ambience of an African safari. The food is good, the wine list is extensive and quite good.

Sahib Sindh Sultan

phone: +91 40 66683337

address: City Centre, 5th Floor, Road no. 1 & 10, Banjara Hills

Themed on the eponymous 19th century train. Seating is available inside the "carriage" or on the "railway station". Waiters are dressed in turbans and railway announcements are interspersed with the music. The food is good, the pickles interesting and you have a good choice of drinks. Try the licchi ki taheri for dessert.

Southern Spice

phone: +91 40 2335-3802, +91 40 2335-3803, +91 40 6682-2619

address: 8-2-350/3/2, Road Number 3, Plot Number 34, Banjara Hills

Highly rated for Andhra delicacies like ragi sangati and gongura mamsam

Tex Mex

phone: +91 40 2354-1493, +91 40 2354-2835

address: Plot 217, Road No 2, Banjara Hills

Indian and World cuisine.

Zafraan Exotica

phone: +91 96521 15500

address: Road No. 12, Banjara Hills

A rooftop restaurant with an exotic ambience. Serves Mughlai and Chinese.

Angeethi

phone: +91 40 6525 5550

address: Unit 701-703, 7th floor, Reliance Classic, Rd # 1 Banjara Hills

The ambience is of a Dhaba, complete with a pan shop, a well and a quack peddling herbal remedies for "marital problems". Interesting variations on traditional Punjabi dishes, but the dessert selection is meagre.

Barbecue Nation

address: Banjara Hills

Unlimited starters on a barbecue grill on your table. Desserts are OK.

Terrace Bay

phone: +91 40 2341-8545, +91 40 2341-8546

address: 501, 5th Floor, Babukhan Mall, Punjagutta

A fairly successful attempt to recreate Mexican cuisine in Hyderabad. To be visited more for the food than for the ambience.
Splurge
phone: +91 40 2330 8899, +91 40 6527 8899

address: Beside Eat Street, Necklace Rd

Has a nice view of Hussain Sagar lake, but the food, at its best, is passable.

phone: +91 40 6666-3939

address: Taj Deccan, Rd Number 1, Banjara Hills

Coffee shop serves Sunday brunch. Sushi Bar.

Fusion 9

phone: +91 40 6657-7722, +91 40 6657-7755

address: Number 4, First Avenue, Road Number 1, Banjara Hills

Lounge bar and restaurant, with a wide range of cuisines from different parts of the world. Closed until december 2017 for renovation.

phone: +91 40 6666-2323, +91 40 2339-2323

address: Taj Krishna, Road Number 1, Banjara Hills

Opulent Chinese restaurant.

Hall Of Fame

phone: +91 40 64516969, +91 40 64526969

address: Plot Number 1098, Road Number 36, Jubilee Hills

Sports Grill. American, Italian and Mexican food with sport viewing.

phone: +91 40 2339-9999

address: Taj Banjara, Banjara Hills

Kebabs from all over, including Hyderabad and Northwest Frontier.

Little Italy Bar and Restaurant

phone: +91 40 2355 8001

address: 275, Film Nagar

Italian style, completely vegetarian.

phone: +91 40 6666-3939

address: Taj Deccan, Road Number 1, Banjara Hills

South Indian cuisine with a trendy twist. Lunchtime platters with 10 starters, 8 main course items and 4 desserts served in a span of 40 min. Regular menu items are dosa with mutton curry and idly with chicken curry. The condiment trolley has 17 different types of chutneys, pickles, spicy powders, papads and vadiyalu from South India. Desserts; paan ice cream, all-spice chocolates and traditional south Indian sweets are made in-house.
Bakeries
Karachi Bakery

address: Mozamjahi Market, Road No.1, Banjara Hills

My Cafe Latte

phone: +91 40 2355 3709

address: Plot No. 1100, Road No. 36 Jubilee Hills

Coffee, mocktails and sandwiches, with Hollywood themed decor.

Sarvi Bakers and Confectioners

phone: +91 40 6663-1113, +91 40 6663-1114

address: Opposite Care Hospital, Road Number 1, Banjara Hills

Place for sandwiches, burgers and puffs.

phone: +91 40 2337 2205, +91 40 2337 2235

address: Plot Number 49, Road Number 10, Banjara Hills

Excellent place for breads and related foods - especially for health conscious. Includes breads like whole grain breads, ragi breads and sugar free cakes.

phone: +91 40 6458-9595

address: Plot no 268, Kavuri hills

Wonderful drinking chocolates and crepes. Also a good place to hang out and have a conversation, though it does get crowded on weekends during the evening.

phone: +91 40 2322-6068

address: Shop No. 3-6-237, Lingapur Building Himayath Nagar

Quality Indian sweets.

King & Cardinal

phone: +91 40 6661 5444

address: 3-5-907, Himayathnagar X Roads, Himayathnagar

Pizzas and burgers. Also serves Indian Chinese snacks.

Universal Bakers

address: 3-6-12, Himayatnagar, Himayathnagar Paradise, Himaythnagar & Masab Tank

Baked biscuits, cakes and burgers. Has 3 outlets.
Drink
Pubs
Easy Rider

phone: +91 498 4903 2297

Lakeview Palace, Road no 1, Banjara Hills, (opposite Taj Banjara). 11:30-23:00

Hard Rock Cafe

address: 1 Mall Rd

GVK No 1 Banjara Hills. Part of world wide chain. Excellent ambiance, check their website for events.
Club8, Life style building Ameerpet, cheap beer, usually have a (1+1) offer available before 19:00.
H20 Amrutha castle, (near lumbini garden). ₹ 150-300.
Bars
phone: +91 40 2339 2684, +91 40 6666 3939

address: Taj Deccan, Road No.1 Banjara Hills

Fashion (FTV)

address: Banjara Hills

Trendy lounge bar.

Liquids Again

phone: +91 40 6625 9907, +91 406625-9908

address: 5th Floor, ABN Amro Bank Complex, Bhaskara Plaza, Road Number 1, Banjara Hills

Sleek, trendy lounge bar.

Seventh Heaven

phone: +91 40 6666 8833, +91 40 6666-8822

address: 6-3-883/5, Seventh Floor, Venkat Plaza, Punjagutta

Nice rooftop bar and restaurant.

Touch

phone: +91 40 2354 2433, +91 40 2354 2422, +91 40 6651 6666

address: 1st Floor, Trendset Towers, Road Number 2, Banjara Hills

Upscale, celebrity hang-out, great place but very expensive. Has a dress code, shoes mandatory.

Hydrate

phone: +91 40 2333 5555

address: # 6-1-79 & 80, Hampshire Plaza, Lakdi-Ka-Pul

Elegant bar at Hampshire Plaza.
Sleep
Budget
Mid-range
phone: +91 40 6663 3888

address: #5-9-16, Opp. Secretariat, Saifabad

Designed after castles from medieval Bavarian Europe. All-suite accommodations, meeting and event space, onsite restaurants, a fitness centre and swimming pool. Close to important attractions.

phone: +91 98 493-23232, +91 40 2323-2323, +91 40 2323-3262

address: 6-1-71, Lakdi-ka-Pul

Centrally located and targeted at the business traveller who needs a place to sleep. Provides complimentary internet and most other business facilities. In addition, it has a couple of reasonable restaurants.

phone: +91 40 3061 6161, +91 40 2320 4080,+91 40 5551 4060

address: 5-8-231/2, Public Garden Rd

Business hotel, internet, conference facilities. Venue, a vegetarian restaurant is part of the hotel, as is One Flight Down, a basement pub. The location is more suited for access to the main city rather than Hi tech city.

phone: +91 40 6678-5566, +91 92 4659 1237

address: 6-1-1062, Lakdi-ka-Pul

Basic, functional and clean hotel. 2 restaurants, one is vegetarian and the other has a bar. It is located near the city centre, at a reasonable distance from both tourist attractions and office complexes, though it is not suitable if you need access to Hi tech city. 2 banquet halls, geared more towards weddings and other celebrations.

phone: +91 40 2324 4041,+91 40 2324 4042,+91 40 2324 4043

address: Opp. Public Gardens, Chapel Rd, Nampally

An adequate and comfortable hotel, located close to the Nampally railway station. Large rooms, restaurant.

Athithi Inn

phone: +91 40 2373 9091

address: # 7-1-59/1, Dharam Karam Rd, Ameerpet

Cozy hotel, slightly far from the city centre. Room service and laundry available. Has conference room facilities. Houses 2 restaurants.

phone: +91 40 2320- 2729, +91 40 2320 1188, +91 40 6663 1188

address: 39 Public Garden Rd, Nampally

Close to the railway station. Basic, but adequate facilities. Vegetarian dining available. As it is close to the main road, it is somewhat noisy.

Hotel Mandakini Jaya International

phone: +91 99 9945 5063

address: 3/1 & 3/2 Reddy Hostel Lane, Hanuman Tekdi, Abids

Chic hotel located at the market area of Abids and well connected with city and other business centres. Good for business and leisure travellers and is very close to the airport.

Minerva GrandPromoted as a "Boutique Business Hotel". Rooms are elegantly furnished and provide a cozy atmosphere without pampering you too much. It has a business centre, internet in all rooms, and both locations have branches of Blue Fox, a multi-cuisine restaurant.

phone: +91 40 2461 1726

address: 5-4-434, Station Road, Nampally

Close to the airport, strictly adequate.

phone: +91 40 2360 0060,+91 40 2360 0029

address: 1299F, Road no 68, Jubilee Hills

A good,, reasonably priced hotel. Has been renovated, and the suite rooms are luxury. Free WiFi and a complimentary breakfast.

phone: +91 40 6662 5555, +91 40 6675 9516, +91 40 6675 9517

address: 6-3-656, Kapadia Lane, Somajiguda,

Caters to business travellers and has easy access to Punjagutta, Begumpet and the secretariat areas. Complimentary breakfast, WiFi and most other facilities you'd expect from a business hotel.

phone: +91 40 6612 7373

address: 8-2-616, Road No 11, Banjara Hills

This is a newer property. Has Stir, an all-day coffee shop.
Splurge
phone: +91 40 2333 5555

address: 6-1-79 & 80, Lakdi-ka-Pul

Well worth a stay if the location is right. Well-appointed rooms, with WiFi and all amenities you would expect at the price.
Marriott has 2 properties within walking distance of each other in the Tank Bund area near Hussain Sagar Lake and the Courtyard:
phone: +91 40 2752 1222

address: 1-3-1024 Lower Tank Bund Rd

Opened in December 2009. Business hotel, many rooms have a view of the lake.

Marriott Hotel & Convention Centre

phone: +91 40 2752-2999

address: opposite Hussain Sagar Lake, Tank Bund Rd

The more expensive rooms have a view of the Hussain Sagar Lake right across the street. WiFi and wired internet available in all rooms, charged extra. There are 3 restaurants and a bar, including Bidri an Indian restaurant serving Hyderabadi cuisine.
phone: +91 40 6666 2323

address: Road No. 1, Banjara Hills

Taj Banjara is located by the side of its own private lake. The lake is not very well-maintained or clean, but the rooms are. Conference facilities and good for business events. Open-air restaurant Kabab-e-bahar serves Indian BBQ. Underdeck, a basement pub.

phone: +91 40 6666 3939

address: Road No. 1, Banjara Hills

The least expensive of the 3 Taj hotels. Restaurant Spice Junxion serves fusion South Indian cuisine, with a wide variety of pickles, spiced martinis are a speciality of the restaurant.

phone: +91 40 6666 2323

address: Road No. 1, Banjara Hills

This is the closest that Hyderabad has to a grand old hotel. Taj bought a failing property and turned it into one of the premier hotels in Hyderabad. The hotel interiors are over the top, but rooms are tastefully done, though the hotel's age shows in some places. Golden Dragon Chinese restaurant, Ahala the pub, conference facilities available.