Iguape
Iguape
is a small city in the
South Coast
of
São Paulo state
. Iguape is a town from the colonial period that combines beautiful natural surroundings with a charming historic center, a national heritage site. If you do not have plans to visit the most famous Brazilian Colonial cities (such as
Ouro Preto
or
Olinda
), then Iguape is certainly worth a visit.
Understand
It is speculated that the Spanish settlement in Iguape may have started in 1498, before the Portuguese arrived in Brazil in 1500. Iguape was founded as a city in 1538 after a bloody fight between the Portuguese government and rogue aristocrats.
Iguape remained a quiet place for a long time, until the 19th century, when rice farming brought an economic boom to the city. Many historical constructions in the city are originals from this period. However, with the failure of an attempt to construct a canal for ships in the city, Iguape's economy declined in the early 20th century. For this reason, Iguape is now a small city with an economy based on fishing and tourism.
Get in
By bus
Intersul
provides infrequent bus services between
Iguape
and other cities, including
São Paulo
and
Santos
. There are five daily buses between Iguape and São Paulo (R$52.95, 3½ hours). Between Iguape and Cananéia (R$21.80, 1¾ hours) you need to switch in Pariquera-Açu. Reserving in advance is strongly recommended. Local buses cross the bridge to Ilha Comprida.
By car
Iguape has a single access through Rod. Prefeito Casimiro Teixeira (
SP-222
). The road can be accessed from Rod. Régis Bittencourt (
SP-230
/
BR-116
), coming from either
São Paulo
or
Curitiba
. There is no direct connection between Iguape and the neighboring coastal city
Peruíbe
. With a 4WD vehicle, it is possible to drive along the long, flat beach on Ilha Comprida and take the ferry across to Cananéia, although you need to time it for the low tide. Ferries cost about R$9.70/14.60 per vehicle weekday/weekend. Passengers ride for free.
Get around

The city's Historic Center can be easily explored on foot. A car will be handy to reach the Juréia beach and explore the Juréia-Itatins Ecological Station.

See
Historic Center
Iguape's city center contains several constructions from the 17th-19th centuries. The city contains the largest colonial heritage of
São Paulo state
. As a relatively poor city, Iguape relies on state and federal help to maintain its heritage.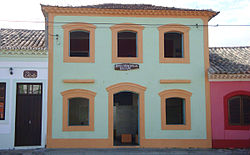 Basílica do Senhor Bom Jesus de Iguape

phone: +55 13 3841-1131

address: Praça da Basílica, 114 - Centro

The city's main church, a Colonial-style church inaugurated in 1856, took 69 years to be built due the city's many economical struggles. The churches has paintings by Ernesto Thomazini.

phone: +55 13 3841-3012

address: Rua das Neves, 45 - Centro

One of Brazil's three oldest foundries, likely founded in the 1650s and used to make gold coins. It is now a museum dedicated to the history of the city.

phone: +55 13 3841-3012

address: Rua Papa João XXIII - Centro

Colonial church built in the 17th century as a place of prayer for African slaves. Now it is a holy art museum with about 150 pieces.

Rua do Funil

address: Rua das Neves - Centro

"Rua do Funil" is a nickname for the Rua das Neves, which has the shape of a funnel when seen of above. It is one of the most picturesque spots of the city, with a large collection of Colonial buildings.

Museum of History

address: R. das Neves, 33 - Centro, CEP 11920-000
Beaches and nature
Christ the Redeemer statue

phone: +55 13 3848-6800

This is worth going to if you are in the area. The statue and viewpoint are in a park in an elevated area, that provides an excellent panoramic view of the city and the surrounding nature. This statue is significantly smaller than the famous one in Rio, but is on a cliff side giving a good view of the small town and the ocean.

Juréia beachSurrounded by Atlantic rainforest, the long and unspoiled Juréia beach can be accessed by taking a ferry boat.
Go next