Imphal
Imphal
is the capital city of the northeast Indian state of
Manipur
. It is a relatively small but developed city that many travellers visit in transit.
Understand
With an average elevation of nearly 800 m, Imphal has a cooler and more pleasant climate than most of India. It can drop below freezing in the winter. The summers are much wetter and more humid with the monsoon rains at their peak in June and July (bring mosquito spray). October is an ideal time to visit as the rains turn the town lush green.
Some tourists pass straight through but It's worth staying a day, if only to see kangla fort, buy supplies and recover from long bus rides.

Get in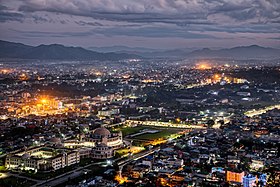 By plane
Imphal
is connected to
Kolkata
and
Guwahati
by Air India, Indigo and AirAsia.
Flights to Bangkok seem to all go via Kolkata.
By train
Imphal is not connected to India's railway network. The closest railway station for now is
Dimapur
station in
Nagaland
. Getting to Imphal is almost a 7-hour bus ride from Dimapur station.
However, a railway station for Imphal is being built and the new line is expected to be completed by the year 2020.
By bus
Imphal is well connected with Manipur's neighbouring states by road, on which there are many bus routes. There are daily bus services coming from and going to
Kohima
and
Dimapur
in
Nagaland
and
Guwahati
in
Assam
.
From specific destinations:
Kohima – One government bus leaves the main bus terminal in the morning, seats often sell out. If you miss the bus it's possible to take a shared /private jeep to "Mao gate" at the state boundary (maybe ₹80) and catch a second bus from Mao gate at around 11AM. If you fail to catch the second bus as well you can get from Mao gate to Senapati where more options are available.
Moa – It appears also shared tuk-tuks can be taken from Mao gate to Imphal directly, but this would be very uncomfortable.
Moreh – State buses to Imphal depart the bus yard/terminal in Moreh at 7AM, at 1PM and at 1:30PM. These times were obtained from a timetable at the Imphal bus terminal. The 6:30AM to Moreh bus usually departs at 7PM.
Get around
Minivans take common routes around the city and to neibouring villages, tuktuks are common and should cost ₹10-20 for short trips (though they frequently ask ₹100).

See
INA Memorial at Moirang
Loktak Lake - The largest fresh water lake in North-Eastern India and has floating lake. It is also the habitat of Curvus Eldi Eldi, an endangered species found only in Manipur. Take a bus for ₹50 from the bazzar (approx one hour). There are several homestays asking around ₹1000 a night on the islands and no hotels.
Matai Garden- The garden is in Matai, Imphal east district about 5 km north on NH-39. The garden is also called Ibudhou Asheiningthou Garden, taking the name from Ibudhou Asheiningthou (local God of Matai). The garden is known for its myriad Duranta plant, well shaped and decorating the entire garden.

Manipur State Museum

address: Kangla Rd

The museum is varied. It includes portraits of Manipuri royalty, tribal costumes, polo equipment (Manipur is one of the places in the world that claims to have invented the sport) along with weapons and other tools used by the people in the past. The biggest thing they have displayed is a 78-foot-long royal boat in the open air gallery.

phone: +91 70853 21247

address: Imphal-Kanchup Road, Lamphelpat

A smallish zoo but teeming with wildlife. Spanning 8 hectares, in total there are 55 species of animals and 420 animals overall with 14 species endangered and endemic. The rarest and most enchanting of these is the Sangai, also known as the brow-antlered deer.
Sambal- Lei-Sekpil garden. The garden is in Sagolband, Kwakeithel, Imphal, toward the Tidim road. The place is world-famous for Sambal- Lei-Sekpil. Literally sambal means fence, lei means flower, and sekpil means topiary. The flower was featured in the Guinness Book of Records in 1999 (at the height of 50 ft, 35 steps). The garden is open to visitors.
Shree Govindajee Temple- This place was considered to be the highest place for any cultural activity during the times of the maharajas. Located at a place near the royal palace of past maharajas, it has two domes and a raised congregation hall.

Kangla FortThe palace and fort had been used for hundreds of years to defend the Manipuris from invading neighbours such as the Assamese and Burmese. The British finally penetrated the fortress for good in the 1891 Anglo-Manipur War. The area is being renovated and much of it is empty land, but it houses an information centre/gift shop, several pleasant gardens, traditional boats, some small museums, a temple and a cheap cafeteria serving local snacks.;
Local kids go there to hang out. Bicycle hire is available for ₹20/hour but you can't ride far because the paths are closed. Toilet is at the right side as you enter. Certainly worth a visit and a good place for a picnic.
Do
Khongjom War Memorial

phone: +91 94351 55104

address: Lamding Mamang Leikai, Thoubal

This memorial and war complex was built the princely state of Manipur (Kangleipak) fought its last war of resistance against the British in 1891, after which it came under imperial rule.
Buy
Paona market has a wide selection of local and imported items, it has a distinct South East Asian vibe and you can find vegetables, garments, and a few food stalls. A good place to buy anything made of bamboo.

Ima Keithal

address: Khwairamband Bazar

A 500-year-old market that could possibly the only market in the world run entirely by women. Every single one of the 3000 traders running the stalls is female. Any woman regardless of religion or creed can set up a stall here. Parts of Northeast India are known for espousing gender equality, which is put into practice here. A range of products are sold here: handicrafts, textiles, vegetables, fruits, spices, black rice, pottery and jewellery.
Eat
Preparations of bamboo shoots are delicacies here, along with other common dishes of northeastern India. Try out the local variety of hot chilly (locally known as "Umorok").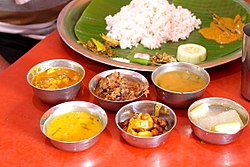 There are many budget restaurants in Imphal, most of which are near the bus stop.
phone: +91 90894 12615

address: 2nd Floor, KokSamLai Tower (oppt. Thau Ground), DM College Road, Thangmeiband, Thangmeiband Hijam Leikai, Imphal West

Diverse international cuisine with an exotic touch. Try their fermented iced teas and soybean smoked pork.

phone: +91 98561 47207

address: Kwakeithel Thokchom Leikai

Multi-Asian cafe style cuisine. Good atmosphere and food though a little pricey.

Luxmi Kitchen

phone: +91 385 244 0885

address: Wahengbam Leikai, Sagolband, Wahengbam Leikai, Sagolband

Genuine Manipuri food. Plentiful options for both vegetarians and meat eaters. However, the dishes are full of chilli. Not recommended for people who cannot take spicy food.
The People's Cafe, near the market on the road leading to Kangla Fort, south side of the overpass. Nice semi - western cafe, has instant coffee, reasonable food, good food and people-watching.
Drink
Nightlife in Imphal was at its peak in the 1980s, there is barely anything to do at night.
Alcohol is banned but you can still buy some of you ask hotel staff or in some small restaurants behind the polo ground in an alley. Don't hang out there at night.
You pay double the list price and there's no drinking culture.
MujikundLocal wine and beer.

SekmaiA traditional liquor made out of rice.

Sekmai. A very strong traditional rice wine similar to the Chinese bai-jao, often home made. It has savoury charicteristics and the yeast is sometimes taken from local tree roots.
Sleep
government youth hostel, north of kangla next to the sports complex. clean and strictly run with more than 50 beds and a nice garden, limit of three days stay. Wi-Fi and secure parking available near the office. double rooms for ₹300, dorms for ₹150. Further out of town than others but less seedy.
Hotel Gaylord - ₹150 for a single room (with shared bathroom). One of the cheapest options in the central city area.
Hotel Yaisana - Single rooms with shared bathrooms start from ₹300
Hotel Prince, a block south of the polo grounds, ₹500 for a double.
Also close by on MG Avenue, you can find single rooms from ₹300-400 at the following places:
Hotel Avenue
Hotel City Heart
White Palace

phone: +91 385 2454648, +91 8131980420

address: North AOC

Free breakfast and Wi-Fi. Has two lavish restaurants.
Stay safe
For over 30 years Manipur has been and is being effected by internal and international armed conflict. Imphal city is safe for travellers but it becomes dangerous to venture out on the outskirts and in the rural and mountainous areas surrounding the city; especially at night. Police may forcibly send you back to the centre of the city if you venture or try to hitchike in these areas.
The presence of "underground groups" (A mix of activists, rebels, Mafia, drug traffickers and terrorists) is large here and though tourists are generally safe you should avoid involvement and walk away if anything strange is happening.
The risk of violence is higher on Indian national days such as Republic Day on 26 January, Independence Day on 15 August and during elections.
Manipur's traditionally matrilineal and almost matriarchal culture (where property and surnames were passed down through female heirs) means unlike much of India women and girls will not be gawked at by strangers and will have a similar level of freedom to that of Western countries.

Cope
There are several English newspapers available in Imphal.
Go next
Moreh – State buses from the Manipur State Transport Bus Terminal to Moreh depart from their terminal in Imphal at 6:30AM, at 7AM and at 1PM.