Indio
Indio
is a city in
Riverside County
in the
Desert
region of
California
.
Understand
Climate
Get in
By plane
Palm Springs International Airport
(
PSP
). Located in the nearby city of Palm Springs. Daily flight connections serve most major cities throughout the United States and Canada from most major airlines. Some airlines serving Palm Springs Airport are seasonal and operate only during the busier winter season. One-way taxis from Palm Springs Airport to Indio take 30 minutes and cost about $50.
El Centro/Imperial County Airport (IPL), is the second closest commercial airport to Indio with regularly scheduled passenger flights. It is located about 65 miles south of Indio and has two daily flights on United Airlines. Imperial County's small airport has free parking and a motel on-site, but there are no public transportation connections to Indio.
LA/Ontario International Airport (ONT) in Ontario, about 100 miles to the west of Indio, is a mid-sized international airport served by most major airlines. There is no public transportation to Indio from Ontario Airport.
Bermuda Dunes Airport is just a few miles from Indio and is one of two nearby general aviation airports. This airport is accessed by private aircraft. Private jet charter services are provided at this airport by Desert Jet.

By bus
Indio is the nearest bus stop or station location for multiple long distance bus lines to Palm Springs. The buses typically connect Palm Springs/Indio with Los Angeles, San Bernardino, Las Vegas, Phoenix, Tucson and Calexico/Mexicali.

El Paso Los Angeles Limousine Express

phone: +1-760-342-1224 and +1-323-265-3232

address: Agency at Burger King, 81-779 Hwy 111

Travels along I-10 between Los Angeles, Indio, Phoenix, Las Cruces and El Paso on one route and on I-15 to Las Vegas and North Las Vegas on another route. The next nearest depots is at 620 W Mill St in San Bernardino.

phone: +1 855 626-8585

address: (bus stop) 6600 N Indian Canyon Dr, Palm Springs

Connects Los Angeles to Las Vegas (via Ontario, Victorville, Barstow); to Tucson (via Ontario, Palm Springs, Blythe, Phoenix, Mesa) and to San Diego (via Anaheim).

phone: +1 760-347-5888

address: 83-100 Indio Blvd

Travel along I-10 between Los Angeles, San Bernardino, Indio, Blythe & Phoenix. There's another route continuing south towards Calexico & Mexicali. They also have another stop at a Shell Station on 64-200 N 20th Ave in North Palm Springs. That location does NOT sell tickets so passengers boarding from the N Palm Springs stop must have pre-purchased tickets online or from a full service Greyhound depot.

phone: +1 213 489-8079

address: Taco Jalisco Restaurant at 43501 Monroe St

Connects Los Angeles to Sacramento (via multiple cities in San Joaquin Valley), Oakland, Salt Lake City (via Ontario, Fontana, Las Vegas, St George); Hermosillo (via Phoenix, Tucson, Nogales) and Tijuana (via Anaheim, San Ysidro) on multiple routes. They also have an additional station at 5201 E Olympic Blvd in E L.A. and a stop in a parking lot at E 3rd St & E Ford Blvd.

Sun Line's local bus routes provide a connection from Indio to other Desert cities. Indio's library, post office, and courthouse are within a 10-minute walk. Long distance buses leave and arrive from the along Indio Blvd.

By train
Amtrak Thruway Bus Service Route 19b serves Indio twice daily, with direct connections to Amtrak trains in Bakersfield. The bus stop is located at 83100 Indio Boulevard. Route 19B originates in Indio and also stops at Palm Springs Airport and San Bernardino's train station. Amtrak California's Thruway service is especially useful if you are traveling by train to Indio from either the Bay Area or Sacramento, as it bypasses Los Angeles.

Get around
SunLine Transit Agency
serves Indio on bus routes 80, 81, 90, 91, and 111. Bus fare is $1.00 and unlimited transfers cost $.25 cents. All SunLine buses accommodate bicycles. Aside from route 111 which comes every 15 to 25 minutes, other bus routes are much less frequent.
Taxis
are regulated by the SunLine Transit Agency. Taxi fares have a maximum base rate of $2.50 plus $2.96 per mile. Any taxis stopping at the airport in Palm Springs have a $2.50 surcharge. There are a number of private taxi companies serving Indio. Distances in the Coachella Valley are far apart, so be prepared for a hefty price if you are taking a taxi from Indio to Palm Springs or Palm Desert.
The
City of Indio
has an extensive bicycle route plan which connects to other desert cities. As the city is mostly flat, bicycling is a relatively easy way to get around.
There are a few
Car Rental
agencies in Indio.
Hertz
has a local branch at 81246 Highway 111 in Indio.
Enterprise
also has a local rental office at 82360 Highway 111.
See
Do
Indio is the home of the world-famous

phone: +1 855-771-3667 (tickets)

address: Empire Polo Field, 81-800 Avenue 51

A large music festival in the desert near Palm Springs, it takes place over two weekends in the spring.
Indio is also where the Stagecoach Music Festival takes place, also at the Empire Polo Grounds. Stagecoach is a country music festival usually held sometime in the spring.
Buy

The Brown Jug at 83041 Indio Boulevard and Sherman's Liquor and Food Store at 45820 Oasis Street are excellent purveyors of fine libations. Musicians and artists headed to the annual Coachella Festival often make a pilgrimage to these two establishments, both located in downtown Indio, in order to stock up for the long festival weekend. This is where they get the supplies needed to "party like a rock star."

Eat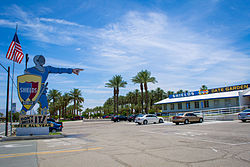 Shield's Date Garden Store and Café

phone: +1 760 775-0902

address: 80-225 U.S. Highway 111

Counter in store is the best place in Indio for a date milkshake. Store sells date gift packs and souvenirs and has a small theatre with continuous showings of an interesting video about date farming. Cafe serves American and Mexican food, $10–$45.
Sleep
phone: +1 760 347-3421

address: 81909 Indio Blvd

phone: +1 760 342-6344

address: 84054 Indio Springs Pkwy

Motel 6 Indio - Palm Springs Area

phone: +1 760 342-6311

address: 82195 Indio Blvd

phone: +1 760-342-5000

address: 84245 Indio Springs Dr

City Center Motel

phone: +1 760 347-5180

address: 83597 Indio Blvd
Go next
Slab City. "The last free place in US America" is just over an hour's drive southeast.