Inle Lake
Inle Lake
is a shallow lake in the middle of
Myanmar
, southeast of
Mandalay
. The lake is 22 km long, and is densely inhabited by many different tribes.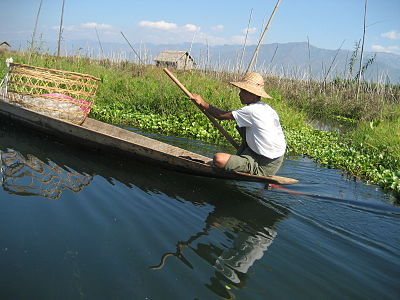 Get in
By plane
The closest airport is in
Heho
, about 45 minutes away by taxi from the main town by Lake Nyaungshwe (walk down the road towards the main highway to negotiate a better rate). Taking a taxi from the airport can be quite expensive, from 25,000-40,000 kyat. A good way to save money is to book a taxi in advance with your guesthouse for about 15,000 kyat.
There are winter and summer rates for flights through all major airlines in the country.
By bus
Buses depart daily from
Yangon
and take about 13 hours. Buses take 10 hours from
Mandalay
. Air conditioned buses from
Bagan
take 9 hours with JJ express and cost US$11-20 (2 hours from Kalaw) and operate day and night. The journey is a little bumpy although there are frequent stops including for lunch. From
Bago
13,000 kyat, 14hr. Bring warmer clothing on the bus as air-con temperatures can get low. If you are looking to sleep, earplugs are a good idea as music will be playing on the video screen in front of the bus.
By pick-up / line-ka
A very cheap option from
Taunggyi
is a pick-up (1 hour and around 600 kyat). Pickup trucks will leave from the main market.
Get around

You can walk around town easily or rent a bicycle for about 1,500 kyat per day, which you also use to tour the surroundings.

See
Kakku Pagodas2,000 pagodas dating back to the 12th century. South east of the lake in the hills and quite isolated and tricky to get to. Closes at 17:00.

Kaung Daing villageA small fishermen's village reachable by bicycle. Hot springs & mountain monastery 1 km to the north. There will be boat drivers offering to take you across the lake to Maing Thauk (max 8,000 kyat per boat, 30 minute).

Maing Thauk Monastery & Pagoda20-30 minutes walk up the hill from Maing Thauk village

Shwe Inn Dein PagodaA stupa forest. Broken down stupas, some still intact, overgrown with plants, hidden somewhere in the forest around Inle Lake, near Tone Le. You will most likely be the only one there and may feel like you're the first person to ever see them – although there are now shops all along the path. Free entrance, but a 500 kyat camera fee at the bottom. From Nyuang Shwe this is about 90 mins drive. A return taxi will cost in the region of 40,000 kyat. You can also reach it by boat (include it in your daytrip boat tour on the lake, for about 5,000 kyat). Possibly reachable by bicycle as well.
Do
Inle lake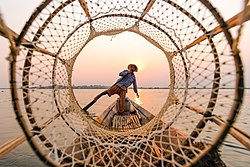 There is a 15,000 kyat (as of January 2019) entry fee per person to the lake, charged by the government. This fee is often collected at the bus or at the airport when you arrive. If you are lucky the bus driver won't bother stopping at the check point if only few foreigners are in the bus or simply cover yourself with a Longyi and pretend to be a sleeping local when the officials enter. Ticket is not checked once you have passed the check point.
A boat trip on the lake is a must do. Unfortunately, it is also one of the biggest tourist traps in Myanmar, because you will visit 3-6 workshops selling items for Western prices. Most of the workshops are only set up for tourists and if you wish, you can tell your driver that you don't want to visit any of them. However, the trip to see the local small-scale industries and arts is worth it.
Upon the canal to the open lake you may see people in traditional clothes standing on one leg in their boat and posing with a fishing basket, presenting then dead caught fish and will finally ask for tips. Full day trip takes about 7 hours and costs 15,000-20,000 kyat, driver will go wherever you tell them to, but remember that he is not a guide nor does he necessarily speak English. Any guesthouse or travel agency can arrange this trip for you. You may have a better experience by chartering a boat directly, clearly agreeing on the planned stops, and starting very early in the morning before most other tour boats, and also allowing you to arrive at market while it's busy. As of 2015, locals claim that the floating market doesn't exist any more due to too many tourists.
Note
: 1) For solo travellers in low season, it might be hard to find others to join. So, walk around the jetty and the bridge. Most boats depart between 08:00-11:00. 2) Do not photograph people when they are showering or washing plates. 3) Informative guided tours are provided by the shops for free. Bring cash if you consider buying souvenirs
Common stops
and things to do:
Teak and CherootNan Pan market contains a teak wood workshop and cheroot-making. See and learn how boats are build, and browse through small teak wood souvenirs. See the local cheroots (cigars) being made, but you want to skip buying it here because you get the same stuff at a sixth of the price in the city (normal cheroots can be bought anywhere; but note that the flavoured ones might not be available in Nyaungshwe, but only in some bigger shops in bigger cities).

WeavingIn Paw Khae, learn how thread is made and fabric weaved from lotus root string, apart from cotton and silk.

Shan paperSee how Shan paper is made from wood, into colourful lamps and fans.

Workshop of long neck peopleA few ladies in their traditional clothing as an 'advertisement'. This can be a disturbing sight for some.

Gold and silverwareMost tours will include a forge showing how the silver is poured and moulded into rings, 'Shan style earrings' and other jewellery

Floating gardensSee how the locals grow tomatoes and other vegetables on the lake (using aquatic plants for support).

Floating village and restaurantsA few restaurants sprinkled along the way. Good options for seafood

Phaung Daw Oo PagodaOne of the famous principal shrines in Myanmar. Contains 5 small Buddha statues covered with so much gold leaf that they look like golden snowmen. There are pictures on the walls that show their original appearance. There are also colourful depictions on the walls of tales from Buddha's life, and the story of how the Buddha statues were brought here through an adventurous route. An annual 18-day festival is held, usually in October (sometimes in September), during which four of the Buddhas are carried in a colourful royal barge around 14 villages on the lake. The barge is towed by the boats of leg-rowers and hundreds of boats follow the procession. Large crowds from all the villages nearby gather on the lake's shores to to pay homage to the Buddhas and celebrate the occasion. The festival is held on a grand scale with great magnificence and pageantry and is the biggest occasion held on Inle Lake. It is really a splendid sight. Among the dance shows and fun-fairs, the most interesting event of the festival, especially for foreigners, is the traditional Shan boat race – due to their unique leg rowing. It is the only place in the world that one can see such marvelous act.

Inthar Heritage HouseAlso known as "The Burmese Cat House", run by a foundation. Good lunch, and many Burmese cats.

Nga Hpe Kyaung (Jumping Cat Monastery)So called because the monks had once trained the cats to jump. But the old monk has died, and so the cats are no longer jumping. However, it is a nice monastery worth the ambience. You can lose yourself merely interpreting the Buddha stories on the walls.

Shwe Inn Dein PagodaReachable by boat but you will probably have to pay an extra 5,000 kyat more details in the #See section.

Sunset at the lakeWhen your boatman approaches a fisherman, he will likely do the iconic Inle fisherman pose for you, balancing their net on one leg and leaning over the water. But as you near them, you will find outstretched hands demanding money for the pose. You should to tell your boatman not to wait near the fishermen if you do not wish to pay them.

SwimmingThe lake temperature is not that cold. The depth is about 2 to 3 metres, ask your boatman to check before if unsure.
Around the lake
BirdwatchingAnother worthwhile experience that most tourists miss is to see some of the thousands of waterbirds that use Inle Lake either as a breeding site or on migration. Some are rare species difficult to see anywhere else. December and January are the best times, although some birds, like the spectacular pheasant-tailed Jacana, are best seen in their breeding plumage during the rainy season. The lake is a wildlife sanctuary and the local warden can arrange a knowledgeable guide who knows the English names and can show you where the birds are for a reasonable fee. The fee goes to support the staff of the cash-strapped sanctuary. Bring your own binoculars and get out early when the birds are most active. Ask at your hotel to make arrangements.

Bicycle rentalTake a day to ride through surrounding villages. Check your rental bike carefully before leaving.
Winery visitYou can reach the Red Mountain Estate (see also #Drink) easily from Nyaungshwe. The bicycle ride to the nearby winery gives a nice view of the sleepy village life, and takes you through some scenic locations. The pamphlets say that the hilly regions near Mandalay and Shan state have been producing robust good quality wine, competing with some of the best from Europe in international wine competitions. At Red mountain estate, you can eat at a restaurant, do a self-tour of the wine press and buy some wine. The ride would be about 40 minutes from NyaungShwe.

Short tour (20 km)The most common route: leave Nyaungshwe and head west towards the mountains. Once you reach the T intersection, head south and you'll find the Hot Springs (see below). There's also a small monastery in the mountain opposite. Continue a couple of minutes and you will reach Khaung Daing village. You can cross the lake from there by hiring a boat, the price should not be more than 8,000 kyat for the entire boat. You will be dropped at Maing Thauk village. There's a market a bit south of the village, and a monastery in the mountain to the East. Head back North to Nyaungshwe, you can stop at the winery on your way. The whole loop takes approximately 3 to 4 hours (up to a day if you go slowly, stop for lunch and explore around).

Full day tour to Inn Dein (40 km)Start early in Nyaung Shwe and go counterclockwise in direction to the hot springs (sign posts). There is a nice viewpoint just 200 m before the Hot springs (where road bends 90°, look for stairs and climb them). Go south and follow the main road. When you feel like it, branch off and have a look around in the villages. After some time (3-4h, 30 km in total) you will reach a bridge that crosses a canal branching in two (it's the only bridge on the way). Right after the bridge they will ask for a high entrance fee and/or a camera fee of 500 kyat, but Indein is free and the fee might only apply for the tourist shop. Just follow the main asphalt street after the bridge and turn right 50 m after the bridge, cycle up the hill where you can see broken stupas to your right. And straight ahead are the tops of the Indein stupas sticking out between the trees. So continue for about 2 min. When you see the stupas to your right look for a spot where you can pass between the bush. Explore. To go back to Nyaung Shwe go to the bridge again and ask for the jetty. Find a boat to Maing Thauk or Nyaung Shwe (1 or 1.5 h). But beware that prices rise the closer it gets to sunset. People know that you can't make it back cycling and that you depend on the boat service. Prices are around 15,000-18,000 kyat per boat. From Maing Thauk go north (ask for Nyaung Shwe). Nyaung Shwe - Hot Springs: 10 km, Hot Springs - Indein: 20 km, Maing Thauk - Nyaung Shwe: 11 km. Mountain bike not necessary. Sun screen and head cover recommended.
HikingDay hikes in the surrounding hills, or 3 day hikes to Kalaw are available, and are highly recommended. A typical day hike usually costs about 10,000 kyat per person and starts at 08:00 and ends at 16:00-18:00. The hikes can be very exhausting as they involve a lot of walking (typically 20 km, but you can ask the guide to shorten the trip if you are tired), walking up steep paths and the heat (especially in April) can make it quite tiring too. Bring plenty of water, 2-3 litres per person, as it can be difficult to buy clean water since you won't pass any shops, and good hiking shoes or boots. On a typical trip one will walk through mountains, forests and many villages inhabited by hill tribes, but don't expect to see them dressed in fancy hill tribe outfits as this is real life and for tourists. Even if a hike is tiring, it gives the opportunity to get a glimpse of real life around Inle Lake and see some nice scenery too. It's usually not a tourist trap like the boat trip on the lake often is.
Hot SpringsRent a bike for the day (around US$2) and cycle the bumpy road towards the mountains (West of Nyaungshwe) for 45 minutes to visit the hot springs for a relaxing afternoon. The hot springs are actually 3 swimming pools in a big concrete spa centre, so you do not go there for the natural surroundings. The bike ride to the spa however is very scenic and worthwhile. The private pools have a full bar.
Roller SkateRoller skating rink where the youth performs stunning tricks while Western Pop music is playing. Plastic bags for your feet are free.
Aung Puppet Show

phone: +95936201984

Myanmar traditional dancing by puppets. Aung the pupper master is the 4th generation, and the 5th is coming as he's assisted by his young son. Possible to some of the puppets.
Buy
Remember to
bargain
, Inle Lake is one of the most popular tourist destinations in Myanmar. Prices will routinely be double what locals would pay. Products that appear old are fake (such as opium weight sets) and many goods being offered by shops are cheap products made for the tourist trade.
Massage @ Phyu Phyu's Bamboo Hut

address: Yone Gyi Rd

Visit Phyu Phyu's Bamboo Hut for traditional Burmese massage by one of Phyu Phyu's family members. This wonderful young woman (with the nicest family) can also book boat trips (and guide you), canoes or trekking.

Mr A Tun

address: Nyaungshwe

Great little tour company, run only by Mu Kyi, that tries to differentiate himself from the many other tour companies in Nyaungshwe. He speaks fluent English and doesn't rip off tourists like some of the dodgier places. The bus ticket to Yangon is also 1,000 kyat cheaper than elsewhere (14,000 kyat).

Sunny Day Tour Services

address: West of market, Nyang Shwe Township

You can hire a hiking guide for a very reasonable price. The guide Ko Thwe speaks excellent English and is able to organise hikes, and is flexible depending on where you want to go. He can also guide you to Kalaw.

Ma Kyi Kyi Win Costume Shop

address: Near Market, Nyang Shwe Township

Avoid this shop. They price gouge foreigners horribly.

T.K (Bus Ticket Centre)

phone: +959428358770, +959428358770

address: Win Quarter (Paung Daw Pyan Street near the Bright Hotel)

Bus Ticket,Air Ticket,Boat Trips,House Hiding,Trekking Tour,Bike Rent,
Eat
Several restaurants located on the floating villageThere are several options for restaurants in the floating village. These are fairly clean and give a good view of the restaurant, with fairly cheap delicious food. Don't miss the Inle style spicy fish curry. One option is Shwe Kyat Pyint restaurant.

Aurora Restaurant

address: 1 Yonegyi Rd, Nandawunn Quarter, Nyaung Shwe

Burmese-run restaurant with traditional Burmese, Chinese, and pasta dishes. The portions are large. The handmade noodles and the fried fish are worth a try.

Golden Kite

phone: +95 81 29327

address: Yone Gyi Street and Myawaddy Rd

The owner Mio makes the pasta and wood-oven pizza. Complete your meal with a sweet dessert—banana pancakes drizzled with Belgium chocolate.

Unique Superb Food

address: 3 Myawady Rd, Nyaung Shwe Township

The name is rather cheesy and the restaurant is small and doesn't look very promising. They are slow at cooking, however they make superb food. It is fairly cheap at around 3,000 kyat for a main dish.
Try the freshly made Shan tofu salads at the Market. You will see women preparing these meals to go (or to eat from tiny plastic stools) in the market area. Other local spots are located across from the market where you can get good Shan noodle soups, tea leaf salads, etc., for around US$1.25.

Night MarketLook for the sign that says "Night Market" along the main road and walk into a little alley with several food stalls.

Diamond RestaurantAuthentic, delicious Indian food. Good choice for vegetarians, and the paneer is made in-house, with plenty of options for meat-eaters. Also some tasty dessert options. The owner, Mr MD is very friendly, speaks excellent English, and offers an insight into the daily life of the local people.

Red Star Restaurant

phone: +95 081 209753

address: 4, Phaungdampyan Road, Nandawunn Quarter, Nyaung Shwe

Little family run restaurant, quiet athmosphere, serves breakfast, lunch and dinner. They have different types of lassi, and are all good (1,000 kyat) and big mojitos (1,000 kyat).

Thu Kha CafeLocal place, open early from the morning. Milk tea (300 kyat), youtiao, samosa (100 kyat), fresh fruit juices.
Drink
Smiling Moon Restaurant

address: Yone Gyi Rd

Great price for milkshakes and lassi. The food is another story, so eating somewhere else is advisable. Owner also changes money.

Red Mountain EstateRent a bicycle and make your way up a small hill to this winery (20 min). Sip locally made wine as you admire the setting sun. Likely to be packed with tourists. Wine tasting of 4 different wines for 5,000 kyat (October 2017)
Sleep
Budget
phone: +95 81209352, +95 81209615

Near the lake, very friendly family-owned inn with a fantastic breakfast.

Gypsy Inn

phone: +95 08129084

address: No. 82, Kann Nar Rd, Win Quarter, NyaungShwe

A growing guesthouse, with a new building (with more expensive rooms, featuring TV & fridge) and an older building (with some rooms without bathroom, shared shower block outside). Includes breakfast. Friendly staff. Dorm US$8.

Joy Hotel

address: Jetty Rd

Friendly staff, clean, with nice view of busy canal each morning. Less touristy area, but still pleasant and close to cheap local restaurants.

Little Inn

phone: +95 081 209195

address: Phaung Daw Pyan Road

Clean rooms, private bathrooms, hot water, nice garden, pancake or omelette for breakfast, wifi, helpful staff, provides map, 5 min walk from the Jetty.

May Guesthouse

phone: +95 08129417

address: 85, Myawaddy Rd, NyaungShwe

Very friendly, clean and comfortable family-run hotel. Small garden with tables, calm but many mosquitoes (October 2017). No double beds but large single beds. Amidst many monasteries.

phone: +95 81 209 929

address: 122 Nan-da-wun St, Nan-da-wun ward, Nyaung Shwe, Myanmar

Bungalow style accommodation in a side yard, surrounded with flowers. Three rooms in one bungalow (toilet, shower, sleeping room) plus veranda with chairs and a table. Breakfast (included in the price) includes eggs (fried/scrambled/omelette), pancake (plain/banana), toasts, butter, jam, some fruit and tea or coffee. 10 minutes walk from the market. Free, stable and (relatively for Myanmar) fast WiFi.

phone: +95 81 209257, +95 9 521 4070, +95 9 42803170816, +95 9961819362

Fairly clean but old rooms and a lovely rooftop relaxation area. Nice breakfast and they are happy to help with organising flights, boats and hikes. The owner is very nice and helpful.
Mid-range
phone: +95 81 209198, +95 21 6278 (Mobile)

address: Phuang Daw Pyan Rd, Mingalar Quarter, Nyaungshwe

Super friendly staff, excellent English and very helpful if you need information or to arrange excursions. Rooms are large and clean with hot water showers. Staff can organise boat trips for 17,000 kyat and travel arrangements. A recommendation is a canoe trip around the local villages and attractions on the lake and canals. It's a different experience to the motorboat tour of Inle Lake tour that the guesthouse can also arrange.
Splurge
phone: +95-9-44546-0125

address: 76/78 Nan Thae Road, Nampan Qtr., Nyaung Shwe

3-star hotel that opened in 2017. Quiet area just out of downtown and right behind Nyaung Shwe jetty from where boats to Inle Lake leave. Spacious rooms, all on ground floor, feature comfy bed, mosquito net, AC, TV, desk, real bath + shower cabin, terrace. Outdoor swimming pool. Free WiFi accessible from the rooms, pool & restaurant. Substantial continental breakfast included, 06:30-09:30. Restaurant has a wide offer with an excellent value for money. Free bicycles and even mountain bikes available. Friendly staff that speaks good English and can help find a boatman, and can organize pickup & drop-off from Heho airport for instance.

phone: +959778212003

address: Inle Heritage, Innpawkhon Village, Inle Lake

"Rooms" are actually individual houses, on stilts like the rest of the property; there are just 10 of them, which helps getting a very personalized experience. "Rooms" are beautiful and super functional, featuring AC + fan, a bed so large that one could sleep across the width, a mosquito net, sockets everywhere, binoculars to spot birds, a private terrace, an individual solar water heater... Swimming pool. On site restaurant "Grandma's Inthar Cooking". Free/substantial/healthy breakfast (06:00-09:00) Free wifi (that reaches the restaurant, the rooms, the pool). Free guided tour of the property which includes a Burmese cats village, an aquarium, a vocational school, a cooking school, GAP vegetable gardens, a gift shop featuring original local crafts... Room made twice a day. Staff members are very smiling and speak excellent English. This social business is part of Inle Heritage not-for-profit organization (their vocational training center accepts around 40 students a year... for free, even providing them with full board accommodation!).

phone: +95 95 192952 ,+95 94 9351315

address: Thar Lay Village
Connect
The phone numbers in Nyaungshwe have changed recently. For example: +95 8129352 has become +95 81209352

Internet @ iNet

address: Ahletaung Kyaung Rd

Cheapest Internet in town (400 kyat per hr) but still fast. Don't pay the rude people at Comet for than double the price.

Internet @ Pancake KingdomInexpensive Internet (and good food). 300 kyat per hr for Wi-Fi and 500 kyat per hr for computers.
Go next
09:30 minivan (11,000 kyat)
19:30 express bus (ordinary class), arrival 04:30 (11,000 kyat)
20:30 VIP bus, arrival 05:30 (17,000 kyat)