Ios
Ios
is a small island of the
Cyclades
group.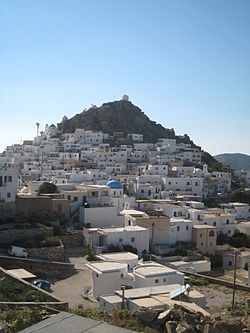 Understand

The island of Ios, in Greece, is a part of the Cyclades Islands in the south of Greece. Ios is a short ferry ride from Santorini, making an extended holiday or even a day trip a viable option.
Over the last few years, Ios has developed into an island that has something for all ages to enjoy. For many years Ios was known as a party island; however, there is so much more that Ios has to offer.
Ios has regularly been voted in various polls as having one of the "Top 10 beaches in Europe" and it in fact boasts 75 km of beautiful, white sandy beaches and turquoise coastlines.
The architecture of Ios is typically Cycladic and features whitewashed buildings perched beautifully on hill tops and dotted around valleys.
Ios still maintains a lively nightlife, the likes of which you will not see in the other islands. Unlike the "package resorts", the nightlife of Ios is concentrated in one place, Chora. The nightlife is very cosmopolitan yet still quite traditional. The main meeting point is in the main square. By day, Chora reverts to a beautiful, tranquil traditional Greek village where you can see the locals chatting in cafes and playing backgammon.
For those not wishing to experience the nightlife, Chora is wonderfully peaceful in the early evening and is awash with clothing and jewelry stores, souvlaki shops and excellent restaurants. Yialos (or the "Port"), is an excellent place to escape the crowds in the evening as is the beautiful Mylopotas beach.
Regular buses or boats are available to take you on various excursions to the other beaches on Ios, where you can find peaceful areas and avoid the crowds.
All in all, Ios has lots to offer for all age groups. It is a stunningly beautiful island and will be an unforgettable experience.

Get in
By boat
Ios
can be reached best from
Santorini
,
Naxos
,
Heraklion
(on Crete island) or directly from
Piraeus
.
Ferry boats and high speed catamaran services run daily from
Piraeus
.
All domestic ferry schedules is here
If you plan on travelling to several different islands, it is wise to book all your ferries at once for a possible discount. However, keep in mind that pickup and arrival times are subject to change at anytime.
Get around
The island has three major villages.
Ormos or Yialos, location of the ferry port of Ios. The direct way from the port up to Chora is a long stair. The bus and car traffic take a much longer and winding road uphill.
Chora, the main city. Tourist information of the municipality of Ios can also be found at a kiosk at the central bus station at Chora.
Milopotas, one of the most beautiful beaches on Ios, close to Chora.
By bus
In summer, buses operate between these three villages (KTEL IOS local bus route and timetable ).
By taxi
Taxi stations are located in Chora at the central bus station and in Yialos right infront of the ferry boat pier.
By car
Additionally you can rent cars and motorcycles in Chora.
WARNING
When driving at night, use EXTREME caution. Due to the lenient laws on this island, many people drive while under the influence. Although not everyone will be intoxicated, it is wise to take the bus at night, or if you decide to drive, make sure to drive defensively and do not allow an intoxicated person to drive at any time.
By moped and ATV
This is the generally the best way to get around. ATV's will cost you between €15-40 for 24 hours and a moped should cost between €10-30, depending on the season. By far this is the best way to explore the different parts of the island.
Ios is known for its popular beaches. Although they are extremely beautiful, they can also be extremely crowded during the peak travelling times.
With an ATV you are able to explore, go up a mountain and find a secluded beach. There are many parts of the island that go untouched and are truly a miraculous sight.
By boat
Boats run between major coastal towns on the island.
See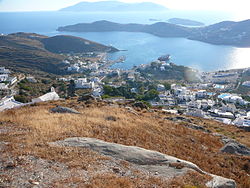 Chora or Hora - The main village of Ios is very scenic with its small alleys and white-washed houses. During day Chora is a peaceful, quiet place while during night it is the main party zone on Ios.
Homer's tomb
The open air theater
Archaeological museum
The Old castle, Paleocastro
Marina, in the port
The beach of Maganari, on the most southern part of the island, Maganari beach provides seclusion, but not isolation. Since this beach is far from the rest of the main attractions on the island not many people go or even hear about it. The beach provides many athletic activities as well as beautiful and delicious lunch spots on the beach.
Do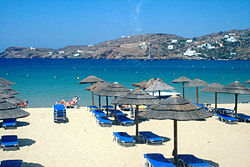 Party - If you have decided to go for Ios, simply party. Chora has plenty of bars and clubs to have fun all night long.
Watersports - In Milopotas,Yialos and Maganari Beach you can go diving, do wind-surfing, water-skiing or on blow up "donuts" behind speed boats.

Skarkos

address: Campos

Excavations on Skarkos hill unearthed a prehistoric settlement, proving that Ios has been inhabited since the early Cycladic period. The architecture at Skarkos is preserved in places up to a height of almost 3 m, with most of the buildings evidently having 2 storeys, stone-paved floors and a sewage system. Numerous well-preserved pottery, tools and utensils made of metal, stone and bone were also discovered. In 2008, Ios was among 6 European locations (out of 109 candidates) awarded the European Union Cultural Heritage prize for its exceptional conservation efforts at the archaeological site of Skarkos
Hiking, Start from Chora or Mylopotas (See OSM hiking routes or SKAI terrainmap Ios). Hike the beautiful mountainous landscape of Ios for one day excursions to the mountain peaks of Profiti Ilias or Pyrgos. Or do a 4-day circuit around the Pyrgos Mountain passing the beaches of Klima, Manganari, Kalamos, Psathi, Ag. Theodoti as well as Kalamos Monastery and the ruins of Paleocastro - Always take plenty of water, hat, sun protection, good boots and during the season of Meltemi end July and August also wind protection. - No shops, but nice restaurants and accommodation are available in Manganari, Psathi, Ag. Theodoti. Check in advance for availability. Be aware that a large area of the island of Ios is protected as a nature reserve.
Eat
In Ios there are a number of good to very good restaurants. Here are the restaurants that you must visit...
Piperri Tapas and Meze Dishes

phone: +30 69 7819 2212

Serves tapas and meze. An eclectic mix of Mediterranean and fresh fish.

Ali Babas12 lt cocktails served in two goldfish bowls with neon-coloured foot long straws for €35. Pad Thai or green curry, chicken and mushroom pie, fish & chips and "dinosaur ribs". Restaurant fills up in the later hours and the waitstaff take pictures of the partying and then flash them up on the restaurant's big screen. A/C, wheelchair access. Serves alcohol.

Koulidas

address: Koulidas

Unique view of the island with international cuisine and BBQ.

Far Out VillageLovely bar/restaurant facing the beach, and quieter than the next door Far Out Camping pool bar, where the main action is checking out the opposite sex.

HarmonyFunky Mexican restaurant with views along the beach. Only go there when it gets dark though or you'll be surrounded by flies.

KatogiServes Greek dishes, Mezze style.

Lord ByronWonderful small restaurant with good ambience. Serves Greek food, also renowned for its cocktails and home-made desserts.

ArhodikoPreviously named Pomodoro. International cuisine

The MillsServes traditional Greek dishes. Really tasty food and good prices.

phone: +30 22 8609 1016

address: Mylopotas beach

Beach bar that does sandwiches, fresh salads, veg/fruit smoothies and tasty waffles.

Porkys

address: Beside Red Bull Bar

Gyros.

The Nest

address: Next to the Orange Bar

Traditional Greek Taverna - Greek food made by a lovely Greek family. Excellent food and a warm welcome at moderate prices.

Harmony

address: Mylopotas beach

Mexican restaurant. Usually has live music.

address: Port of Ios

International cuisine with nice view of the port.

Funky GardenBeautiful spot, comfortable and with friendly staff, right on the beach.

Fiesta Restaurant

phone: +30 22 8609 1766

address: Chora, Main Village

A friendly taverna run by Greek and English management. Serves a wide range of Greek specialities and international cuisine. Famous for its homemade pizzas from a wood fire oven, BBQ and house wine.
Drink
Ios has everything to offer whether you're young or old. Fantastic nightlife with sounds from every corner of the planet; since the 70s hippies flocked to Ios for their summer solstice.
People from all over the globe converge on Ios during the summer months. Ios' bars and clubs offer a huge variety of entertainment 7 nights a week 24 hr a day. Drinking in Ios is very reasonably priced compared to Santorini and Mykonos.
In the main village there are bars such as Red Bull, Flames, Slammers, Disco 69, Circus Bar, Bulldog, Shooters, Pegasus, Orange bar, Coo, Ammos, Satisfaction, Click, Astra bar, Stellas champagne bar, Barmacy Bar, Shamrock, No name, Jonnys electric, Louies, Blue note, Ios blue, Balsamu, La cuva, Lotus, Agelos, Frankies, Fun Pub, Voodo, Liquid and Dolca Vita.
Night clubs in the village include Rehab, Sweet Irish Dream, and Scorpion.
For a complete up to Date listing of all the Bars on Ios:
Ios Nightlife
Sleep
Nikos PlaceBeautiful Studios with TV, Kitchen, Frige, Shower, Free Internet, AC, Balcony, Garden, Car Parking. Located in the Main Village (Chora) of Ios, close to all the Nightlife but far enough away to be nice and quiet during the night.

A1 Princess Sissy HotelEconomy hotel with bar.

Poseidon HotelLocated just 300 m. from the beach and 50 m. from the port.

Francesco'sSits just above the main town and it is very popular. Great breakfast, Nice Pool and amazing sunset views from the terrace.

Ios Resort

phone: +30 22860 92685

Is a newly build hotel with a great pool and bar located in the main town of Ios island, just a few minutes away from the clubs and restaurants. It is a modern, friendly and affordable hotel and the owner make you feel right at home. All rooms include free WI-FI, A/C, fridge, TV, safe box, hair dryer, private shower, telephone and a private balcony. The hotel offers double rooms, tripple rooms and rooms for 4 person.
Yialos Sandy Beach (near the port and not far from the town) is the alternative way for quiet holidays.
Glaros Hotel on the beach.

phone: +30 22 8609 1365

address: Main Rd, Ios Island Cyclades, 84001

2 star hotel situated between the port and the village. If you need to check in after 01:00 am contact the hotel first.
George and Irene's Hotel, centre of village up hill from supermarket
Sunrise

Blue Sky Apartments5 min walk from town, 5 min walk from beach. Clean with friendly staff.

phone: +30 2286091508

address: Ios

phone: +30 22 8609 1307

address: Mylopotas beach

Beachside with views. 14 rooms, studios and apartments and one private house. All have bedroom, private bathroom, A/C, refrigerator, satTV, balcony overlooking the sea and some have a fully equipped kitchenette. Spacious family accommodation can accommodate 3-4 persons and are separated into 2 areas. Studios of 1-2 rooms can accommodate 2-4 persons.

Hermes HotelViews and swimming pool.

Skala3 min walk from the village. Pool and bar, with good view, great owner and Kiriakos is a good host.

phone: +30 2286091482

address: 84001, Chora, Ios Island

Situated in the main village 'Chora' with very good close access to all the bars,clubs and restaurants.

Luxury 4BR Villa overlooking the Sea.It is a 2 storey villa built with stones that combines traditional architecture with contemporary minimal design. On the upper floor the white wooden ceiling maintains the Cycladic style of the house while the handmade ceramic tales ground you and give you the feeling of the earth. There is open plan living area with a comfortable lounge space with fireplace, a massive wooden dining area and a high end full equipped Corian kitchen. On the upper floor there is a master bedroom with double bed and en suite bathroom and two other bedrooms sharing one bathroom and a guest WC. Large terraces with fantastic sea views are all around this beautiful house where you can enjoy a fresco outdoors dining or relax and gaze at the big blue. On the ground floor there is a separate house with a comfortable living area, dining corner, kitchen bedroom with en suite bathroom and large terraces with splendid sea views. A secluded beach with rocks is just below the villa and a 2nd beach just 80 m walk.
Camping
address: Mylopotas Beach

The epicenter of daily beach life at Mylopotas. Cafeteria, Pizzeria, 2 Bars, 2 Swimming Pools and direct beach access. The rooms all come with an en suite bathroom with a hairdryer, a minibar, centrally regulated air conditioning, and a private terrace. In addition, a radio, a direct dial telephone and satellite/ cable TV are also provided in all accommodation units as standard.
PurplePig Star, in Milopotas. Cheaper than Far Out; the owners come from Holland.
Go next