Iowa
Iowa
, a state with gently rolling green hills in the
Midwest
region of the
United States
, was admitted to the Union in 1846 as the 29th state. The people are very friendly, enjoy good food, and enjoy being in the political hotbed every four years when the Caucuses roll through the state. The state is quite rural, with plenty of fields of corn and soybeans and hog farms, although some cities, namely
Des Moines
, have a strong metropolitan feel.
Regions
Cities
Des Moines – state capital and largest city, considered to be the "insurance capital of the U.S." and offers so much of it, is served alongside your steak de burgo (a favorite local food, available at many steakhouses)
– A half hour's drive north of Des Moines, home of Iowa State University
Cedar Falls – home of University of Northern Iowa and on the western edge of the larger Waterloo
– Iowa's second-largest city
Council Bluffs – western city along the Missouri River
– a hilly city along the Mississippi River
Iowa City – home of University of Iowa, just south of Cedar Rapids
– Davenport and Bettendorf are in Iowa, other half in Illinois (Iowa can't have it all)
Sioux City – northwest city along Missouri River bank, where Palmer Candies pumps out Twin Bings cherry candy
Other destinations
– founded as a German religious community
(Okoboji) – serves as a popular in-state getaway, for boating, beaching, theme parks and more
– Between May 1804 and September 1806, 32 men, one woman, and a baby traveled from the plains of the Midwest to the shores of the Pacific Ocean. They called themselves the Corps of Discovery
Understand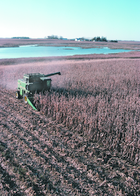 Purchased from France as part of the Louisiana purchase, Iowa officially became a state in 1846. True to form in the Midwest, settlers tended to gravitate toward rivers and established their communities there. Today, many of the State's major cities are based on rivers including Des Moines, Cedar Rapids, Iowa City, Davenport, Dubuque, Sioux City and Council Bluffs. For many years, agriculture was the primary industry of the state but recently, the State's population has tended to urbanize resulting in a diverse mixture of industries. Agriculture, though significantly diminished as the economic driver of the state, is still a major economic component.
Though Iowa has long been considered a rural state, it has a surprisingly rich cultural scene. The University of Iowa in Iowa City is home to a number of major programs including the Iowa Writers Workshop, a program that has trained a number of America's great modern writers. Iowa State University in Ames is also a major driver of culture in the central part of the State. Prominent liberal arts college also dot the state, including Grinnell, Cornell, Coe and Luther.
Talk

If you speak English, then you should find Midwestern English quite easy to understand. Locals believe that they have no accent and speak pure, general American. Customer service organizations agree with them and build call centers in the cities; linguists disagree and point out a few oddities of pronunciation and grammar. Soft drinks are usually called pop. Beans means soybeans, and you'll see them in almost half the fields. If you ask your buddy to come with to the next town, he may say that he needs to think on it a bit before he decides. A roast is an outdoor party, and if you're vegetarian, you should ask whether it's a corn roast or a hog roast before you decide whether to join. Every four years, the caucus happens (and happens and happens), and its uniqueness means that no further description is used.

Get in
By plane
The biggest airport in Iowa is centrally located, in the state capital of Des Moines (
DSM
). The second most popular is the Eastern Iowa Airport (CID) in Cedar Rapids, on the east side of the state. There are also very small airports in Dubuque (DBQ), Sioux City (SUX), Waterloo (ALO), and Burlington (BRL) that support scheduled passenger service.
For travellers flying their own planes, there are dozens of general aviation airports, and hundreds of flying strips.

By car

Most people enter (and leave) Iowa via Interstate 80 if coming from the east or west, or I-35 from the north or south. Both interstates are easy to navigate, as are many Midwestern states. A couple of 50-mile-long straight sections on the former has done more to perpetuate the stereotype that Iowa is nearly flat and empty than just about anything else, but the perception is not true: Iowa wouldn't even make a top-10 list for flattest states. Its neighbor Illinois would, however; Illinois is flatter than any state except Florida and Louisiana.
If you want to see the true face of the state, get off the interstate, ignore the fast-food signs, and find one of the small towns that make the Midwest so charming. State maps are available free of charge at state "Welcome Centers" and rest areas. State maps list such points of interest as Cedar Rock, a rare Usonian example of Frank Lloyd Wright architecture, and scenic routes, often found on county roads.

By bus
By train

Amtrak's Chicago/Denver/San Francisco route also makes stops at Omaha (just across the Missouri River from Council Bluffs), Creston (southwestern Iowa), and Ottumwa, Mt. Pleasant and Burlington in southeastern Iowa. The Chicago-Los Angeles route stops in Fort Madison as it clips across the southeasternmost corner of the state in route to Kansas City.

By foot
Get around
Most people get around Iowa by car. The roads in much of Iowa – like much of the Midwest – are laid out on a grid pattern. Drive on any of the state's outer highways, and you will quickly come to realize that there is an intersection at nearly every mile. This makes figuring out where you are, and getting from there to where you need to be, a relatively simple undertaking. It also means that if you ask for directions, people are likely to give directions according to the points on a compass. If someone says to go one mile east and three miles north, and you're feeling all turned around, don't be shy about asking which way you need to go.
Travelers unaccustomed to ice and snow may have trouble driving in Iowa winters. Plan ahead if you need to travel during the colder parts of the year. Special snow tires or chains aren't usually needed, but you do need to know
how to drive in winter
conditions. Check the weather reports and road conditions well in advance, and give yourself plenty of time. If the snowplows have been called out, you should wait until they've cleared the roads. Drive slower than normal, and triple the amount of space you leave between your vehicle and the one in front of you. Turn and brake gently, and be ready to cope with an unseen patch of ice, especially on and around bridges.
Major routes in the state include:
See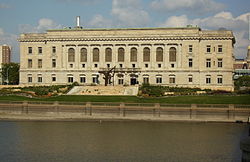 Architecture
Points of interest
address: Dyersville

Various Websites. Considered one of baseball's most-treasured landmarks. The field is the same used in the film, Field of Dreams, nominated by the Academy Awards for Best Film of the Year of 1989. The film, based upon W.P. Kinsella's book Shoeless Joe, starred Kevin Costner and James Earl Jones. The field is owned by two families amid much controversy. No admission is charged to visit the field. Various events, including baseball and softball games, take place on the field at various times during the year.
Do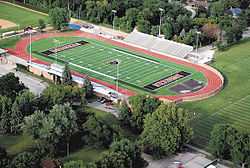 Eat
Iowans consider themselves the "breadbasket of the world", which is reflected in their cuisine. Get ready for pork chops and pork BBQ, ham steaks and baked potatoes, sweet corn on the cob and green beans, and more just-plain-good Midwestern cooking than you can possibly eat in a lifetime. Most rural towns have a fast-food restaurant or two if you're in a hurry, but the best places are the ones which take just a little more time, possibly giving you a chance to chat with friendly locals over a pie or coffee. Early morning in a rural diner might find you in the company of a bunch of farmers! A few things to try:
Maid-Rite burgers, also called "tavern" or "loose meat" burgers, are similar to hamburgers, but the beef is cooked in very small pieces, without forming a patty.
Pork tenderloin sandwiches tend to be breaded, deep-fried, and generously sized.
The hot roast beef sandwich is available in nearly every diner. This homestyle dish is a piece of white bread, a slice of roast beef, a scoop of mashed potatoes, and then drowned in brown gravy.
Taco pizza was invented in Bettendorf, but is available across the state now.
Pies are what's for dessert. It's not unusual for larger restaurants to offer a dozen varieties of pie. Try the rhubarb pie when it's available.
Towns with strong ethnic identities sometimes have restaurants devoted to a particular country's cuisine. You will find Dutch food in
Pella
, German food in the
Amana Colonies
, Czech kolaches in
Cedar Rapids
, Norwegian food in
Decorah
, and Danish food in several small towns. Iowa has a substantial Latino population, and there are many family-run Latino restaurants which generally have quite good food.
If you are having dinner in someone's home, then you may find yourself eating fried or barbecued chicken, ham balls (similar to meat balls, but made with ground pork and often glazed with a sweet sauce), spaghetti with tomato sauce, or various casseroles. At a party, you may find a bowl of salty Chex mix. A potluck at church or in the veteran's hall might seem incomplete without a gently simmering crockpot of beanie weenies (hot dogs and baked beans) and a dessert made from Jell-O tucked in between the cakes and pies.
Drink
Before Prohibition, Iowa had a healthy wine industry, which is growing once again. There are vineyards scattered throughout the state, each producing their own wines.
Des Moines boasts the state's largest number and widest variety of establishments for all age groups, but the bustling college towns of Cedar Falls, Ames and Iowa City provide the most avid nightlife in the state for (mostly) younger crowds (older crowds are more popular on game days, particularly in the fall during football season). Scores of young adults pack local bars and clubs Thursday through Saturday nights.
Alcohol purchases cease at 2AM in both bars and stores. There are no separate outlets for different types of alcohol purchases, and all alcohol content in beer is the same no matter where it is purchased. Alcohol is available seven days a week and the state does not have any "dry" counties.
Iowa is home to a thriving craft beer scene, with noteworthy breweries including
Millstream Brewing Company
, based in the Amana Colonies, and
Okoboji Brewing Company
from the Iowa Great Lakes area.
Toppling Goliath Brewing Co
., located in Decorah, is a world-renowned microbrewery that has eight different brews listed in the
Beer Advocate Top 250 Beers List
, including the
number one beer of all time
. Other notable microbreweries include the
Confluence Brewing Company
and
Exile Brewing Company
in Des Moines,
Backpocket Brewing
in Coralville,
SingleSpeed Brewing
in Cedar Falls, and
more than 80 others
scattered throughout the state.
Stay safe
Crime
The rural parts of Iowa are quite safe, with many people not bothering to lock their car doors. A traveler should take a more common-sense approach when visiting more populous areas, such as Council Bluffs, Davenport, or Des Moines, as these areas have crime rates resembling those of typical mid-sized American cities.
For the most part, a traveler will find that most Iowans are friendly, warm, and happy to help if you have trouble.
Severe weather
Iowa experiences all four seasons in abundance: Winter, Mud, Road construction, and Football. Football season produces few travel-related problems beyond a weekly traffic jam near each football field and the occasional pointed remark – usually made by people who are "from away" – that this sport shouldn't be called football, since it involves almost no ball and even less foot. The first hard frost arrives during football season, which makes things a bit slippery underfoot early in the morning, but it also releases thousands of people from the months-long grip of hay fever. However, the other three seasons can present travelers with severe weather and unexpected changes in conditions.
Thunderstorms are common. Thunderstorms are possibly at any time, as long as the temperature is above the freezing point.
Flooding can block roads. This is mainly a problem in the spring, when the combination of melting snow and additional rain saturates the ground and fills the rivers.
Tornadoes
Iowa resides in the unofficial "tornado alley" and sees about 50 tornadoes each year. The tornadoes are mostly considered weak (which is still very strong, by everyday standards for wind) and typically damage some trees, break a few windows, and blow over signs and other things. They primarily appear in the southwest edge of the state, but tornadoes can be found occasionally elsewhere in the state, especially in spring and summer months.
With that in mind, pay attention to weather conditions and frequently update yourself via television or radio of any potential severe weather threats while traveling to or through the state. Conditions can change rapidly, and you do not want to find yourself inadvertently in the path of a dangerous storm.
For more information on this issue, read the
Tornado safety
page.
Winter storms
While perhaps neither as cold nor as windy as the Dakotas, Iowa winters can still be brutal. Frequent heavy snow storms are possible throughout the winter and even occasionally into April. Ice storms and freezing rain can make roads extremely treacherous. Most major highways are well maintained, but driving on country roads in the wake of a winter storm can be nerve-racking to say the least. If you choose to travel in winter, keep yourself informed about local weather and road conditions through television, radio, and/or
the Iowa DOT website
.
Most heavy snow storms in Iowa aren't quite windy enough to qualify as blizzards, but the best advice for traveling during these storms is the same: avoid leaving your home, hotel, or other building, if at all possible. If you do go out, take extra clothes or blankets, bottled water, a cell phone, and a shovel in your vehicle. If you find yourself stranded, stay with your car, bundle up, and wait for help to arrive. Low visibility makes it easy to get turned around and lost if you set out on your own, and dangerous wind chill can cause a person to freeze very quickly.
Respect

Historically, Iowa has been a politically varied state, known for liberal and conservative politicians alike. It is also an unusually political state, owing in large part to its early role in the presidential nomination process. While Iowans tend to welcome political discussion more than most, their usual friendliness may at times give way to more hostile responses, especially around the time of the Iowa caucus, which happens in January or early February, about ten months before the quadrennial presidential election. Every four years, Iowans are subjected to every U.S. presidential candidate parading the state, hosting town forums and debates, and soliciting their votes, for a much longer time than the rest of the states are forced to withstand. Feel free to ask Iowans about their view of the presidential caucus, and don't hesitate to offer your own opinion about political matters, but be respectful and don't take it personally if they don't want to discuss politics due to "caucus weariness".

Go next
Iowa is surrounded by 6 states.