Iquitos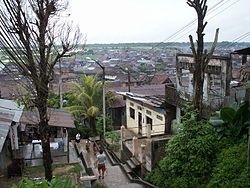 Iquitos
is in the
Amazonas
region of
Peru
. (Don't confuse it with the Department Amazonas where Chachapoyas is located.) Iquitos is the capital of the vast Department of Loreto, which covers most of the northern Amazon region of Peru.
For travellers, Iquitos offers a vast selection of activities not found elsewhere in Peru, such as Amazon boat rides and great wildlife viewing. One way to see Peru is to visit the 3 areas — Coastal, Andes, and Amazon — and Iquitos is the best way to see the Amazon.
Iquitos is also gateway to some of the top national parks and reserves for ecological conservation and wildlife viewing. Some of the best reserves are the Allpahuayo-Mishana, renowned for endemic bird species seen nowhere else; the Pacaya Samiria, which is the largest track of flood forest in the upper Amazon basin and is home to a stunning variety of freshwater aquatic life, including large arran turtles, jabiru storks and large black caiman; and the Area de Conservacion Reserva Comunal Tamshiyacu Tahuayo, which holds the world's record for diversity of species of monkeys in one reserve (16 species) as well as for mammal diversity.
Iquitos has attracted a lot of travellers from around the globe who are interested in the ancient shamanic ways of plant healing. The most popular shamanic medicine is Ayahuasca, a powerful psychedelic brew that is gaining increasing popularity worldwide.
Understand
Iquitos has a tropical climate year round. The population is very diverse: there were many periods of big wealth in Iquitos (mainly two with rubber and oil) that brought people from around the world and made it the most important fluvial port in the Peruvian Amazon. The city still has a lot of houses which were built during that age. 'Iquiteños' (or 'Iquitinos') are usually very friendly and like to party.
As a city not accessible by road, motorcycles and mototaxis dominate unlike anywhere else. Other results include remarkably fluid (if chaotic) traffic, a preponderance of motorcycle ads and repair shops, and a sub-industry of people who agree to guard your motorcycle while you shop (even placing cardboard on the seat to keep it cooler during the day).
Geography and climate
The elevation above sea level is approximately .
The time difference between the longest day and the shortest day is only 18 minutes.
The water level of the river fluctuates by as much as per year, triggered by rainfall and snow melt on the east slopes of the Andes.
Tourist office
phone: +51 65 236144, +51 1 5748000 (24/7 line)

address: 161 Napo Street-4th office (the last office) - Plaza de Armas/Main Square

Tourist information and assistance.
The Peruvian government service that gives official information on the different attractions and assistance in case the service rendered does not comply with the one agreed by you. You may write to iperu email to plan your travel and ask them for the record of the tourism companies that you consider.
iperú service is unbiased and extensive. Jungle tours are available on every street but if you want to go to a reliable operator then use those recommended by the tourist office. The office is not much to give you confidence but once you establish contact you will find the staff helpful and knowledgeable.
Get in
Iquitos is widely considered the largest continental city unreachable by road. That leaves planes and boats as the primary means of entrance and egress for people and supplies.
Do not expect to see a city with all the trappings of the western world. This city is very basic as it has no road connection with the rest of the world. Vehicles are old and most vehicles on the meager roads are
motocars
or three-wheeler motorbikes which can carry three at a pinch. The people are friendly once you get past the taxi drivers at the airport
By plane
Coronel FAP Francisco Secada Vignetta International AirportThere are numerous flights to Iquitos from the capital Lima. LATAM flies 4 to 5 times per day; Peruvian Airlines flies twice daily and offers flights without penalties and other facilities. Star Peru may offer slightly lower prices but does a stopover at Tarapoto or Pucallpa on the way to re-fuel and drop off and pick up passengers. The stopover in Tarapoto often causes delays up to several hours. Avianca also has service to Iquitos. Flights are US$55-200, depending the season and promotions. Check prices in all the airlines in advance to get cheap tickets. Prices on the domestic airlines are often cheaper when buying from within Peru (or when using a VPN). When arriving at the airport, consider stopping at the official iPeru, Tourist Information and Assistance Office of the Peruvian Tourist Board (PromPerú) before exiting the terminal. You can get a free map and brochure (without ads!), a list of tour providers, recommendations about what to see and do and safety recommendations. They may help you in case of problems and complaints in all over Peru. Their listings are broad but not comprehensive, as businesses have to pay to be listed.
Upon exiting the airport, there will be several mototaxis and a few cars waiting to win your fare to town. Average rate for mototaxi into the center of town is S/10 and for a car is S/20. Many mototaxi drivers may try to bring you somewhere other than where you requested to go because they earn commission. Communicate with your lodging before you arrive to get an idea of how long the ride should take or to arrange a private airport pick-up. Some hotels include airport pick-up in the room price.
By boat
Iquitos can be reached by boat from any navigable port on the Amazon River. Boat prices will depend on the distance, speed of the boat, number of passengers, and your bargaining skills.
Coca, Ecuador to Iquitos
The trip from Francisco de Orellana (
Coca
), Ecuador to Iquitos takes over 8 days in one of the three slow cargo boats that ply the route. This expedition goes 1,140 km along the
Napo River
and the
Amazon River
. The Napo River is one of the most important tributaries of the mighty Amazon. The source of the Napo comes from small streams flowing from the Cotopaxi and Antisana volcanoes. Normally, there is only 1 cargo ship every 10 days, but they leave on irregular schedules when full of cargo.
There is also an option of taking (daily) faster boats from Coca to Nuevo Rocafuerte (US$15, 10 hours) then after stamping out of Ecuador crossing the border to Pantoja (no scheduled service, you need to bargain). There are 2
rapido
(fast boats) per week between Pantoja and Mazán, a small village before a big bend in the river about 45 minutes by mototaxi and speedboat from Iquitos. These rapidos take 2 days from Pantoja to Mazán, with an overnight stop in Santo Clotilde halfways. The boats arrive into Mazán's Napo port - a 5-10 minute mototaxi (S/5) from Mazán's Amazon port which is a 40-minute speedboat (S/15) or 2½-hour slow boat (S/7) from Iquitos. Fluvial Vichu, (+51) 965-800-468 (Mazán office) leave Pantoja on Mondays, while Transportes Rapido Llorlli (+51 947 527 193 or 968 299 850, jepeta_75@hotmail.com ) leaves at 10AM Tuesdays. Both cost S/200.
Yurimaguas, Peru to Iquitos
Yurimaguas
has daily cargo ship trips to Iquitos that take 2-2½ days to arrive (except Sundays or on holidays). Getting to Yurimaguas is non-trivial, because its airport no longer has flights. Yurimaguas is 3 hours by bus from
Tarapoto
.
To get Yurimaguas, first you have to get Tarapoto, a large city that has daily flights from Lima on LC Perú and LAN. You can get Tarapoto by bus from
Lima
(about 24 hours) or
Chiclayo
in northern Peru (about 12 hours). From Loja, Ecuador, you can take a bus to Pedro Ruiz, a town in Peru, where you can get
Chachapoyas
or
Tarapoto
. Tarapoto and Moyobamba are known as "The Orchids Valley".
It takes around 4 days to get to Iquitos from Lima. It takes around 4 days to get to Yurimaguas from
Quito
, Ecuador.
Pucallpa, Peru to Iquitos
Pucallpa
has daily cargo ship trips to Iquitos that take about 4 days to arrive (except Sundays or on holidays). You can get Pucallpa from daily flights from Lima on Star Perú or by bus (20 hours).
Peru/Colombia/Brazil border to Iquitos
If you continue down the Amazon from Iquitos, the point at which the river leaves Peru is at both the Brazilian and Colombian borders.
Tabatinga
(Brazil) or
Leticia
(Colombia) has Monday to Saturday cargo ship trips to Iquitos, that take about 3 days. Therefore, you can choose the speedboats from Tuesday to Sunday, the trip takes 9 - 10 hours (US$65).
Get around

The most common way to move around town is by motocar (or mototaxi), a motorcycle with a small, rickshaw-like passenger cabin in the back. Regular taxis are available too, but the heat and availability of the motocars makes it advisable to take a motocar. Sometimes the S/2.5-3 ride is worth the cost just for the breeze. Most places you will want to go within the city cost about S/2.5, but places further away (for example, from Plaza de Armas to Belen) usually costs about S/3 or more (Feb 2018) The drivers often make their money by kickbacks from the hotels they take you to.
It's hard to understate how available and prevalent the mototaxis are in the city. Near the city center, it's common for 2 or 3 empty mototaxis to pass you on the street in any given minute. The driver will make eye contact with you, hoping that you are interested in a ride. Not all mototaxis are identical in the quality of their ride; older ones will tend to transfer the vibration of the motorcycle to the passenger cabin, while newer and better maintained ones won't. When taking a mototaxi, it can be comfortable on longer rides to hail a newer-looking one.
If you're economically minded, it can be fun to learn about the economics of motocarros. As of May 2010, it is typical for the drivers to rent their taxis for S/10 per hour or S/25-30 per day.
Many mototaxistas (those who drive the mototaxi) make excellent city guides. Mototaxistas are extremely friendly and outgoing, in fact, they are too outgoing and even aggressive in their pursuit to gain a passenger. So tourists can enjoy some peace in Iquitos, do not take a ride from a taxi driver who asks you for a ride when you are sitting and eating.
When you exit the airport you will be approached very aggressively by the taxi drivers (this is a more acceptable place for taxi driver aggression.) The drive from the airport to the city center is quite a distance, relative to the size of the Iquitos area, and prices are fixed at S/10 (Feb 2018), although it may be possible to negotiate a lower price. Anyone offering a lower price will likely try to take you to a hotel or hostel that pays them; if you already have a hotel in mind, stay firm and they will take you there.

See
The riverfront is just one block from the Plaza de Armas. In the low water season it will retreat and thus not be terribly visible. The waterfront walk also seems to be the place where local high schoolers go to canoodle, so if you stroll it be prepared to see lots of this. There is a somewhat big crafts market right below the walk, called Anaconda Center.
The Plaza de Armas is a mix of mostly modern and rubber boom styles. Cities like Iquitos turned into one long party during that age, where no expense was spared, nor eccentricity nor luxury lacking. As part of the legacy of this rubber boom age of abundance, Iquitos still bears traces of the extravagant taste of the rubber barons: mosaic tiles in Italian-style palaces, the bustling riverside walkway or the Iron House, a famous residence designed by Gustave Eiffel that was built from metal sheets. It was carried by hundreds of men through the jungle. There are a few street performers, a fountain, some statues, and one Catholic church. It is quite busy on a Saturday evening.
Today, in the city of Iquitos, the modest local homes - not without a certain kitsch charm - exist alongside French mansions, today largely used as public offices. When rubber seeds were smuggled out of the country, the rubber industry moved to Malaysia, signifying the end of the rubber barons. The memory of this past filled with abundance, however, lives on in the eccentric buildings which testify to an exuberant and wild era.
Casa de Fierro

address: On the corner of Próspero and Putumayo

It houses crafts shops and a restaurant.

Ex Hotel Palace

address: On the corner of Putumayo and Tarapacá

Overlooking the Itaya River.

Mercado Artesanal de San Juan

address: Km. 4.5 Av. Abelardo Quiñones

Amazonian Manatee (sea cow) Orphanage

address: Km 4.5 of Iquitos Nauta highway

This projects aims to rescue orphaned manatees, whose mothers have been killed by locals for food. They also have educational programs for local communities and schools about the importance of the preservation of this species. The employees are very enthusiastic about the animals. This is probably the only place in the world where you can bottle feed manatee babies. The entry is free, but a donation is expected. Take a mototaxi from downtown for about S/15 to get there. They also accept volunteers to educate local school kids.

Complejo Turístico de Quistococha

address: Km 6.5 of Iquitos Nauta highway

Centro de Investigaciones Allpahuayo del IIAP (CIA-IIAP)

phone: +51 65 26-7733, +51 26-5515, +51 26-5516

address: Km 26.8 Iquitos Nauta highway

Pacaya Samiria National Reserve

address: Among rivers Marañón, Ucayali and Amazonas

The most extensive national protected area in all over Peru, and the most extensive in all over the floodable Amazon rainforest in South America.

Fundo Pedrito

address: Barrio Florido village, river Amazonas

It houses around 10 spectacled alligators, paiches (the biggest freshwater fish in the Amazon basin and one of the longest fish in the world) and the Victoria amazonica (the biggest lily-pad in the world). The admission fee includes fish to feed alligators and paiches.

Pilpintuwasi Butterfly Farm & Amazon Animal Orphanage

phone: +51 65 965-932999

address: Padre Cocha Village

At Pilpintuwasi you can see the complete life cycle and learn about the impressing development of butterflies. At the Amazon Animal Orphanage you can see the rescued endangered animals that were ill-treated, such as anteaters, monkeys, tapirs or Pedro Bello, the Jaguar. Pilpintuwasi is on the Nanay River Front near the village of Padre Cocha. It's about 20 min by boat from Bellavista-Nanay. There are boats all day long. During the dry season you have to walk about 15 min from the village. Volunteers are also regularly needed for help!

phone: +51 65 23-3801

address: Timicurillo island, river Amazonas.

Here they have a variety of monkey species (some endangered), as well as a sloth, some coatis, a pair of toucans and macaws, all of which are free to roam and go into the jungle, but are domesticated and hang around for the food. They happily play, climbing on visitors (and try to take things from you such as glasses, wallets). You can go as part of a day-tour (see below), or a visit is included in the itineraries of several lodge stays, e.g. Cumaceba. To go there by yourself, catch a moto-taxi to Bellavista-Nanay, walk 100 m through the market to the water and organise to hire a boat from the boat owner's association. A return trip that can include a trip to Fundo Pedrito on the way should cost S/100 in total (per boat, not per person).

The River Amazonas and the Amazon rainforest

address: Next to Iquitos city

The Morey and Cohen houses still stand on the Prospero street, which is the main street. Worth photographing.
La Plaza 28 de Julio, the biggest square in Peru, there are very good 'Chifa' (Peruvian Chinese) restaurants around the square.
One of the major attractions of Iquitos and the Amazon Rain Forest is the native tribes.
Visitors beware: There are several so-called 'serpentarios' in and around Iquitos, most notably two called 'Las Boas'. Even though these places claim to be 'animal rescue centers', they are illegal operations, where animals are exploited for monetary gain. Tourists are charged inflated entry rates of up to S/40 per person, to see some animals that are often malnourished and sick, and kept under horrible conditions. As these places pay handsome kick-backs to boat owners who bring them tourists, it occurs regularly that tourists who hire a boat to take them to Pilpintuwasi, Monkey Island, or the Caiman Farm, are actually dropped off at one of the serpentarios. Don't be fooled, ripped off and cheated out of a visit to one of the better places; and don't support crime against nature with your money. Make sure you avoid the serpentarios.

phone: +51 65 224192

address: iquitos peru

Fossil Creek Wildlife Reserve was created in May 2016 in the Terra Firme forests of the communities of Roca Eterna and Nuevo Union de Boyador. The reserve consists of 1000 hectares of primary rain forest and the drainage system of the legendary Quebrada Piedral. There are two small jungle huts and a trail system you must be accompanied by a guide. This unique reserve is the only with quick access from Iquitos to Virgin rainforest that is teeming with wildlife. Help the sustainable development of the Amazon Region by travelling responsibly.
Do
Jungle tripsJungle trips are the main reason to visit Iquitos as it serves as a launch point for trips into the Amazon. Single day or multi-day trips can be booked. For example, Dawn on the Amazon (office on the Malecon beside the cafe of the same name) offers day-tours for US$85 per person including lunch (Feb 2018). You are taken out on a boat and can view wildlife such as monkeys, alligators, giant lily-pads, baby caimans (sort of like mini-alligators), anacondas, boas, tarantulas, and more.
Your taxi driver or hotel concierge will be more than happy to contact a tour guide for you, as they get a kickback for the referral. However by using this kickback referral system, you will be guaranteed the highest possible price and lowest possible service. Besides, in Iquitos there are no official tour guide associations so never pay attention to street guides or freelancer guides; at the best, they are expensive, and at the worst, corrupt and dangerous. Visit or contact directly a bunch of regular (licensed) tour companies' offices and compare their prices and guides. Usually, their offices are located around the Main Square. A nice-looking travel agency's office it may be a sign of quality. An unsightly office or an aggressive vendor or guide could not be good or, at worst, scammers. Guides and staff could be friendly but they are sellers expecting your money.
If you need to know regular companies or guides and their record of complaints, contact iPeru', the government tourist information office. Their nationwide service is free and reliable and they may assist you in case you have problems or need to do procedures anywhere over Peru. The Iperu address is 161 Napo street (right off from the Main Square) and they open including on holidays, or contact them by phone +51 65 23-6144 or their 24-hour line +51 1 574-8000 or they email iperuiquitos@promperu.gob.pe. In Iquitos, they work from Monday to Saturday from 9AM to 6PM and Sunday from 9AM to 1PM. They have an office in the Arrival Lounge of the Iquitos' Airport.

AyahuascaAyahuasca is a powerful psychedelic brew made from local plants. Shamans have been using Ayahuasca for thousands of years as part of their plant healing methods. Ayahuasca is considered a traditional medicine and is legal in Peru. It has been gaining popularity around the globe and is attracting growing numbers of people to Iquitos, which is considered to be the "Capital of Ayahuasca". Many Ayahuasca users have reported life-changing experiences after taking the medicine.
Most providers of jungle trips in Iquitos will offer Ayahuasca ceremonies in their jungle lodges for an additional charge of US$50-100 per person. Local shamans will run those nightly ceremonies which typically start around 8PM and end around midnight. The quality and effects of a ceremony depend on the experience of the shaman, the quality of the Ayahuasca beverage and the "set and setting" of the Ayahuasca user. Shamans recommend to follow the so-called Ayahuasca diet (no salt, no sugar, no oil, no alcohol, no sex) before indulging in an Ayahuasca experience.
More sophisticated Ayahuasca centers offer all-inclusive, full-service Ayahuasca ceremonies in their jungle retreats. People usually stay in an Ayahuasca retreat for 7 days or more at weekly rates starting at US$750 with the option of attending multiple Ayahuasca ceremonies. The number of people in one ceremony vary by retreat and range from 5 to 25 people. If you are really interested in exploring Ayahuasca, you should book a 7- or 10-day stay in a specialized Ayahuasca retreat. As with any psychedelic, inform yourself about Ayahuasca and its risks before you drink.
Please refrain from purchasing any animals or taking selfies with sloths. Many people think they are rescuing an animal when in reality, they are making way for another animal to be brought in from the wild. Also, the "Indian tribes" close to Iquitos are tourist traps as are several versions of monkey island. If you want to see good wildlife and real people living off the river and rain forest, you have to get out of the influence of the city more than .
phone: +65268159

address: Km 15 Iquitos-Nauta Highway

The Ayahuasca Medicine House holds ayahuasca ceremonies every Monday, Wednesday and Friday evenings. San Pedro ceremony is optional on Sunday. They also have hape, nu nu and sapo-kambo available. US$350 for the first week includes three ceremonies with Shipibo ayahuasqueros and ceremonial facilitator, Ronald (speaks four languages). Price includes your stay at the Ayahuasca Medicine House. Electricity 24-7, Wi-Fi, gas stove, oven, fridge and freezer, filtered water, shamanic library. Easy access to the Ayahuasca Medicine House, approximately 1/2 hour from Iquitos. For more information, Alan Shoemaker. alanshoemaker@hotmail.com
Travelling by yourself
It is possible visit most of the attractions by yourself, except the rainforest and the reserves.
iPeru
, the official tourist information office, has representatives at the airport and downtown. They are very helpful to any travellers struggling to make sense of their options.
In the case of the indigenous tribes and for visit jungle areas or the Pacaya Samiria National Reserve is suggested to hire
only
a licensed company in their offices, never in the streets. The closest indigenous tribes live according to modern life customs and only perform a show for tourists, as the Bora tribe in the river Momón (in many cases their show are most expensive than their real value).
Day 1: Pilpintuwasi butterfly farm (early in the morning, except Mondays), Fundo Pedrito and the Amazonas river (afternoon). Budget: Around S/45-55, includes transportation in mototaxi, boat and admission fees. You may save around S/10 with a Student Card in the Butterfly Farm.
Day 2: Belén market (optional), the Manatee orphanage, Quistococha and the San Juan handicraft market. Budget: around S/50-60, includes transportation in Mototaxi and admission fees. You may save around S/10 if you take a micro (the typical wooden buses of Iquitos) instead of a mototaxi to get the Sea Cow orphanage or Quistococha complex.
Day 3: Monkey Island and the river Amazonas. Budget: S/65, includes transportation in Mototaxi and admission fees. You may save S/15 with a Student Card in the Manatee orphanage and save around S/10 more if you take a micro (the typical wooden buses of Iquitos) instead of a mototaxi.
Day 4 and onwards: Taking a jungle tour. If you have 3 days or more, visit the Pacaya Samiria National Reserve, the biggest government-protected natural area in South America's floodable Amazonia and one of the best places to see animals in the wild. If you don't have enough time or money, you may visit the non-government protected jungle. A referential or average budget for a tour in a non-government protected jungle area in a cheap and registered travel agency is around S/120-150 per person per day, in an Ecolodge is around S/180-300 per person per day. Prices for the Pacaya Samiria National Reserve are slightly highter tha a regular jungle, these are from S/200-300 per person per day. See more information below.
Jungle tours and ecolodges
There are many lodges and resorts which are carefully controlled. The facilities are adequate, with some being very well appointed. You can book in the city or pay for a full package in Lima or through a travel agent. If you buy in Iquitos, is suggested contact only companies registered in
iPerú, Tourist Information and Assistance
(by PromPerú, the Peruvian Tourism Board). Contact the company offices directly (in their offices, by phone or email) and avoid intermediaries, especially taxi and mototaxi drivers, freelance guides and all the insistent people (they are not your friends: they are touts working for the most informal companies).
"Guides" who solicit on the street offer their work for a very cheap fee but they do not have any guarantee. They are no official guides in Iquitos. They will show you an ID of the company they claim to work for to gain your confidence. Most of them are scammers.
phone: +51 965 828 888 (Whatsapp)

address: 257 Loreto street (operational office - visits by prior appointment)

Licensed company operating since 2004 that organizes expeditions to the Amazon rainforest, to the Pacaya-Samiria National Reserve (a RAMSAR site and the largest government protected area over the South American floodable Amazon basin, with twice the area of the Yellowstone National Park in the USA) and survival trips. Also, off the beaten expeditions to remote indigenous tribes as the Matses (known also as Mayorunas), the Shuar people (known also as Jibaros), the Urarinas and so on. All these tribes keep their traditional customs and heritage (expeditions to remote indigenous tribes require at least 12 days, so reserve at least two weeks in advance); expeditions for scientific research or students; expeditions to unexplored areas in the Amazon rainforest; and jungle survival training courses. They also offer day trips and boat tours to the nearby tourist attractions in Iquitos.
Amazonia Expeditions Tahuayo Lodge (3 hours up river from Iquitos) Amazonia Expeditions Lodges are located in one of the most mega-diverse regions in all of the Amazon. The Area de Conservacion Regional Comunal de Tamshiyacu-Tahuayo (ACRCTT), which is also known as the Tahuayo reserve.The Tahuayo Lodge is a rustic lodge, comfortable for adventurous travelers. There are seventeen cabins; some are honeymoon cabins, with a king-size bed, others are cabins with two beds and a few are family style cabins with two floors with a matrimonial bed on the first floor and several single beds on the second floor. More than half of the cabins now have new private bathrooms. The others, often used for student groups, have shared bathrooms. Each cabin is raised above the jungle floor on stilts and is connected to the other buildings of the lodge by raised boardwalks. There are several common areas including the hammock room, a few lounges, and the dining area. Meals are served buffet style. Amazonia Expeditions Tahuayo Lodge is committed to responsible and sustainable ecotourism practices. The Tahuayo reserve is managed with one of the most innovative conservation programs in the Amazon. Consisting of 3 parts, it is the only conservation program in the Amazon where local communities, ecotourism facilities, and the regional government of Peru all work together to achieve specific long-term sustainability goals. Contact: amazonia.expeditions@verizon.net

phone: +1 704 237-0506, +51 942-139785

address: 140 km or 85 mi up Amazon River

This lodge is in primary rainforest which is exceedingly rich in species of both plants and animals, offering many opportunities for observing birds (the area has almost 500 species) and many kinds of animals and plants, including the giant water lily (the biggest aquatic plant in the world). Camping, hiking, canoeing, visiting local villages, eating exotic foods and navigating the Amazon River are all part of the experience, too.

Maniti Expeditions Eco-Lodge & Tours

phone: +51 1-707-0441 (Spanish/English)

address: Jr. Huallaga 210

Fully licensed and registered tour operator and eco-lodge that organizes all-inclusive jungle expeditions, Amazon riverboat cruises, trips to Pacaya Samiria Reserve. Tours include visits to monkey island, zip line, canopy walk, fishing, hiking, pink river dolphin spotting, etc. Tours are tailored for all ages and experience levels. All excursions are led by local, professional, certified, multi-lingual guides with many years of experience in the Amazon Rainforest. Maniti Camp Expeditions works with local communities, businesses and individuals to develop sustainable ecotourism opportunities that help the local economy while minimizing negative environmental and cultural impacts.

Mirror of the Amazons

phone: +51 965-323-416

address: http://impressiveiquitos.blogspot.com/

Experienced, reliable guide who can be counted upon for interesting tours. He knows a lot about the nature reserves, native medicinal plants and animals, and has many contacts all around Iquitos.

phone: +51 968 956 909

Offers day trips and tours in Iquitos and in the Amazon rainforest. Starting as low as US$65. Bungalow for US$17 per night.

phone: +51 986 039 061

address: Calle Ricardo Palma 540

Tapiche Ohara's Reserve is deep inside the jungle where one sees primary rainforest and an abundance of wildlife in a natural setting.
Party and nightlife
If you want to party, there are dance clubs all over the city. All Iquiteños love to party in their own way. That's non-stop partying all year round!. Beer and other cold beverages are cheaper than in Lima (subsidized by the government). Oftentimes clubs will not let men in if they are wearing sandals or unbuttoned shirts.
Renting a vehicle
Renting a motorcycle and driving around the city and out towards the airport is a cheap and an exhilarating way to experience Iquitos and the surrounding area. Only do so if (1) you are an experienced motorcycle driver, and (2) you can handle the manic traffic. A nice drive is to Nauta about 90 km away from Iquitos (pass the airport) on a nice calm road trough the jungle. The police have been known to target foreign-looking drivers, since they can often pay larger bribes. One way the police make extra money is to stand by the side of the road and flag over most everyone who drives by. The ones who do pull over will often pay a small fee for the privilege (perhaps to help the police "fix the crack in their windshield.") If you can tell that no one will come after you if don't pull over, consider pretending not to see them and continuing to drive on.
Taxi Norma

phone: +51 965-964819

Mrs. Norma Arzubialdes offers safe taxi service and reliability. Her car has capacity for 4 people comfortable (it can holds up to 5 people tight). She offers transfer from the Iquitos' airport to your hotel or downtown and vice versa, city tours, and short land tours to Quistococha Tourist Complex, the Manatees Rescue Centre, and Handicraft Market of San Juan. Pilpintuwasi Butterfly farm and Fundo Pedrito alligator farm are available upon request. She only speaks Spanish. Advisable to contact in advance (1 or 2 days or more in advance).
Visión Motos, Nauta 309 (tel. 065/234-759). Rates for 1 and 3 hours are S/10 and S/20 respectively.
Buy
The floating market, known as Belén, is on the embankment in Iquitos.
Over 150 native communities from upriver come down here to sell their produce in the market. Belen is the hub of every village within miles, chaotic, flavorful, practical and superstitious, thriving on and above a strip of land that is seasonally flooded. For a series of photo-essays on Belen, check out the Belen Street Market, Pasaje Paquito (if you want to buy exotic drinks this is the place), and Floating in Belen.
If you want to buy crafts, you can go to the San Juan crafts market.
Be careful as there are many thieves and pickpockets in this market. Take extreme caution, don't carry valuables in any outwardly accessible pockets, and dress down so you are not an obvious target. Consider striking up conversations with police as you walk through, to make yourself even less attractive. (Though many of the police can be corrupt, they also like helping tourists out.)
The area is often patrolled by police, but many are corrupt. Police may even offer to escort you through more dangerous and illegal sections of the market where rare and endangered species are traded. The police are the ones who should be shutting those sections down, but many have discovered how to profit from them insteadif they don't ask you for a tip or charge a fee for their services, they receive a kickback from the illegal animal vendors. To stay safe and prevent further crimes against nature, do not accept these kinds of deals with the police or any other guidshop
Many souvenirs in local markets and shops are manufactured from endangered species; buying such items subsidizes the continuing destruction of ecological communities in local habitats. Necklaces made from jaguar and black caiman teeth are often offered for sale, as are bracelets and other ornaments made from spotted cat skins. Other items seen in riverside tourist shops include the heads and feet of harpy eagles, the claws of giant anteaters, and jaguar skulls. All items like these are illegal to own, to export from Peru, and to import into the USA and the European Union. Shop ethically (and stay out of trouble)!
It is possible to buy a wide variety of new and used boats at the waterfront. Types and conditions vary widely but include dugouts, canoes, and small fishing boats - suitable for travelling down river.

Eat
If you are new to Iquitos and the Amazon, you are in for a real treat. The food in Iquitos is excellent. It is an exotic blend of Peruvian, Brazilian, and Colombian food with influences from the Andes and the Pacific Coast. Try the 'juane' and the 'tacacho'. If you want something cold (most likely you will need it because of the heat) there are excellent 'heladerias' (ice cream shops) like Shambo (the main Shambo is in Grau avenue, close to 28 de Julio Square, and the second in the corner of Huallaga St. and Morona St.), Giornata in Plaza de Armas, and La Favorita in Prospero St.
The Huasai, easy to find, half a block northwest of the Plaza de Armas, at Fitzcarrald # 131. One of the best values in Iquitos for lunch. US$2.50 includes a pitcher of tropical fruit juice. It is very popular with local business people.
Kikiriki, easy to find at Napo # 159, one block north of the Plaza de Armas, away from the river. Good for chicken and anticucho, good value for around US$2. Opens at 6PM.
Dawn on the Amazon - easy to find at the end of the boulevard on the corner of Nauta is the place to go to eat and meet. The food is excellent, it is right on the end of the boulevard with a beautiful view and it is the center to find out where to go in Iquitos. All the expats congregate each evening full of suggestions and great conversation. Live music and lively conversation. Open at 7AM and closes at 10PM.
Amazon Bistro - Malecón Tarapaca #268. At one block from the main square, in front of the river, a French old-style brasserie opened from 6AM to midnight. An excellent alternative to eat or to enjoy a drink thanks to the unique offers in town - real espresso, homemade bread, Argentinean steaks, Belgian beers, escargots, Belgian chocolate desert. Live music on Friday and Saturday nights.
Visitors beware:
Do not eat endangered species. Some locals do so as tradition, but many "guides" (pseudo-guides) and restaurants will offer you to taste caiman, majás, turtles, deer and other "carne de monte" (wild meat). Breeding farms for these species do not exist, so these animals come from natural environments.
Drink
Try tropical fruit juices, like Cocona. Pineapple in the Amazon region is quite different to the one found in the rest of Peru, and makes really good juices. Aguaje and ungurahui are also a good choice: you can try everything in the entrance of the Upper Belen central market. You can try also native alcoholic drinks (some of them reputedly aphrodisiac). Pasaje Paquito is the best place to buy them.
Para Para (Up and up) made with honey.
Aguajina, sweet beverage made with aguaje pulp.
Sleep
Reasonable places can be found for around US$25 per night, including air conditioning (important and very welcome in the brutal heat of the tropical environment) and a private bathroom. If you are staying in Iquitos and are not enjoying yourself, consider splurging for a room with A/C, as it can make the difference between a good trip and a great one.
Given the louder-than-average noise of traffic, ask for a room away from the street.
These are accommodations in the city:
phone: +51 65 23-2590, +51 65 23-4797

address: Jiron Fitzcarrald 191, corner with Nauta St

Located right off the Plaza de Armas (Main Square) in Iquitos, this small, charm and elegant hotel is situated close to the city's famous historic buildings, banks, ATMs, malls, tourist services, and convenient located 2 blocks away from the riverwalk. Emperador Terraza features a classical and contemporary design, with 12 comfortable rooms with modern amenities including flat screen TV, air conditioner or electric fan, telephone, fitted closet, safe box, private bathroom with shower, hot water and 110/220 volt outlet. A mini-bar is also available for a small additional charge. Additionally, the hotel features 24-hour reception desk, breakfast/bar room, room service, wireless Internet area, Internet PC (wi-fi), luggage storage and specialized tourist information. Their staff is friendly, polite, helpful, reliable, and are excellent in providing advice, some of them speak English. They accept MasterCard, Visa, American Express and Diners cards. Book in advance is strongly advisable. Rates include continental breakfast (it may be delivered to your room).

phone: +51 65 23-4394

address: Jirón Fitzcarrald 147

A 2-star hotel. An overpriced hotel. It's airy, sometimes clean, secure, spacious, and only costs about S/40. Most rooms have a fan, but the A/C room cost about S/90. They have hot water, a kitchen, a rest area (courtyard), books, free Wi-Fi Internet and Internet desktop PCs, cable TV, and a helpful and reliable staff for you. A well known place to stay in Iquitos. It is advisable to book in advance by email, specially from May to October (Peruvian high tourist season).

phone: +51-65-601138

address: Avenida La Marina 2153

Historic hotel where the team of epic movie Fitzcarraldo stayed. Includes Mick Jagger's room.

phone: +51 65 22-3283

address: Jirón Fitzcarrald 152

It's airy, clean, and secure. Most rooms have a fan and A/C. They have a helpful and realible staff. A great and cheap place to stay. Rooms close to the street may be noisy.
Marañón Hotel, on the block between the riverfront and Plaza de Armas. US$35 per night for a double. Clean and air-conditioned.
Victoria Regia Hotel, on Ricardo Palma St. About US$59 (Feb 2018) per night. Pool, and a great breakfast spread.

Las GolondrinasBackpacker's place with a swimming pool and small dorm.

address: Plaza de Armas

It is a level apart from the rest; but if you can afford it, it is worth the money. Pool area is great and food is also very good.

phone: +51 65 600805, +51 986 039061

address: Calle Ricardo Palma 540

Backpacker hostel with free Wifi, cable TV, bunk beds, shared bathrooms and kitchen. Guests travelling to Tapiche Ohara's Reserve stay here for free.

Hostal AlfertOK rooms with private bathroom, TV, and a great view over Belen. The location is a bit off the center (but within walking distance) and just at the beginning of the dirty market streets of Belen.

La Casa de Samantha

phone: +51 65 761021

address: Jr. Nauta 787

Clean rooms with shared bathroom in a friendly family setting and shared kitchen.

phone: +51-65-600270

address: Calle Nanay # 144

Accommodations in these apartments include a kitchenette with dining room, private bath, air conditioning, Wi-Fi Internet and cable TV. Ask about seasonal and long term discounts. Short and long term.
Jungle lodges are following:
La Casa de Samantha

phone: +51 65 761021

address: Jr. Nauta 787

Dirty sheets, shared bathroom, kitchen, and plenty of drug use. A hippie flop house where you can smoke pot because the owner bribes the police to look the other way.

phone: +51 968 956 909

address: San Pedro, Rio Nanay

You will find this jungle lodge at less than two hours from the Plaza de Armas. Close to the city, easy to reach, yet in the middle of the rain forest, in the sleepy town of San Pedro. Breakfast is included, the use of canoes and swimming in the lake are free. Jungle hikes, village visit, fishing and swimming. Day trips, tours and jungle expeditions are also available.

169 Pevas

address: Jiron Pevas 169

Centrally located, shared rooms, shared baths, kitchen. The local favourite of European and South American travellers/trekkers.
Stay healthy
The main danger in the jungle surrounding Iquitos is the same as any tropical zone:
malaria
. There is very little malaria in the city, but it is common outside the city in the jungle. You should get anti-malaria pills from a doctor before your visit. Malarone (if that's what you've been prescribed) should be taken two days before arrival and 7 days after leaving. Bug repellent can be purchased in pharmacies anywhere in Peru and should be applied liberally whenever going out, and especially if taking an Amazon tour.
Yellow fever vaccine is also recommended.
Go next
A next stop places are by the west: Yurimaguas, Tarapoto (offers one of the widest variety of orchids and butterflies in the world), Chachapoyas (pre-incan ruins and mummies, the tallest waterfall in Peru and the third in the world, sarcophagi and more), Chiclayo (pre-incan ruins, pyramids and museums) and Trujillo (offers pre-incan ruins as the second largest adobe city in the world, join with beautiful beaches as Huanchaco and Chicama, where is located the longest left wave in the world. Ideal places to surf). It is a beautiful route, you will go through the Amazon jungle, the Andes and the Pacific coast plenty with beautiful landscapes and activities. The route from Iquitos to Chiclayo has 60% of bird species in Peru (more than 1200 species). Peru is the second richest country in birds, with only 20 species fewer than Colombia.
From Chiclayo or Trujillo you may take route to the beautiful beaches on the north Peru (Mancora, Pocitas and others located in Piura and Tumbes) or visit the mangrove swamp in Tumbes before to get Ecuador or take route to the south and visit Huaraz (the Cordillera Blanca is here, it is one of the best places in the world to perform a trekking), Lima (offers the best food in the Americas, trips to the islands to see sea wolfs and penguins, museums and pre-incan ruins as Caral, the oldest civilization in the Americas), Ica (the Nazca Lines and Paracas Reserve are here) and the places located in the south of Peru: Arequipa, Ayacucho, Puno (the Titicaca lake) and Cusco.
Other options is travel upstream the Amazon river to the south to get Pucallpa (it takes from 4 to 5 days). From Pucallpa there is a highway to Lima and the Andes. If you want to get Cusco avoiding Lima, you may choose the route Pucallpa-Tingo María-Huanuco-Huancayo-Ayacucho-Abancay-Cusco.
If you travel downstream the Amazon river to the East to get Colombia and Brazil. In this route you may stop in Pevas (there is a remarkable Art Gallery here), San Pablo (this is the place where the famous "Che" Guevara stayed as a volunteer) and Caballococha (a town surrounded by beautiful lagoons plenty of pink and grey river dolphins).
If you want to travel upstream the Rio Napo towards Ecuador you first have to take a boat down the river to Mazan. Just ask for Mazan, they will tell you which port to go. At final stop of the speedboat, on the bank of the Amazonas you have two choices. Either you walk to Mazan, which lies on the bank of the river Napo on the "other side" or take a Tuktuk. Tuktuk will take around 10 minutes and walking around 45 which is quite pleasant, as there are no cars around.
One traveler in March 2018 reports two boats departing per week in the morning: one on Thursday, and one on Saturday. You should check it when you are there, so do not do it in a hurry. Depending on the season, and thus the condition of the river, there may be delays. In March, this was not an issue and, with three overnight stays, it took four days to arrive in Coca.