Izmir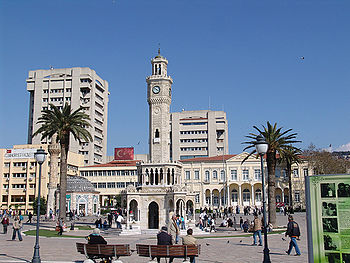 İzmir
is a rapidly growing city on the
Central Aegean
coast of
Turkey
.
Understand
İzmir is the third largest city in Turkey with a population of around 3.7 million, the second biggest port after
Istanbul
, and a very good transport hub. Once the ancient city of
Smyrna
, it is now a modern, developed, and busy commercial center, set around a huge bay and surrounded by mountains. The broad boulevards, glass-fronted buildings and modern shopping centers are dotted with traditional red-tiled roofs, the 18th century market, and old mosques and churches, although the city has an atmosphere more of Mediterranean Europe than traditional Turkey.
History
The history of İzmir stretches back to around 3000 BC when the
Trojans
founded the city in Tepekule in the northern suburb of Bayrakli, where is now the "Eski Smyrna" museum. This was the Smyrna that is the supposed birthplace of Homer; a common and consistent tradition connects Homer with the valley of Smyrna and the banks of the river Meles. The Aeolians, the first
Greek settlers
, were eventually superseded by the (also Greek) Ionians, and then the Lydians destroyed the city around 600 BC before a brief recovery following Alexander the Great's arrival in 334 BC.
After his death, Alexander's generals followed his wishes and re-established Smyrna on the shadow of Mount Pagos (Kadifekale), and the city then prospered under the
Romans
. It was destroyed by an earthquake in 178 AD but later reconstructed and became a major commercial port. After the Byzantines, the city had a turbulent time under the Arabs, Seljuks, Crusaders and
Mongols
, until Mehmet I incorporated it into the
Ottoman Empire
in 1415. Under Suleyman the Magnificent, Smyrna became a thriving and sophisticated city and a huge trading center, despite its frequent earthquakes. It was cosmopolitan, with mainly Greek Orthodox and also
Jews
and
Muslims
, and many languages were spoken among locals and visiting traders.
Following
World War I
and the defeat of the Ottoman Empire, on the basis of a major Greek-speaking population in the area, the Allies gave
Greece
a mandate over İzmir. Greece thereby took control of the
Aegean area
, and marched on Ankara. Led by Kemal Atatürk the Turkish army counter-attacked, in what became the War of Turkish Independence, and regained their territory, but a huge fire broke out which destroyed 70% of İzmir. Atatürk formally took İzmir on 9 September 1922 and this is celebrated as the date of the city's independence. As part of the peace deal, Greeks in İzmir were compulsorily re-settled in Greece, while Turks in Greece (especially around
Thessaloniki
, Atatürk's own birthplace) were compulsorily re-settled in Turkey. This ended the multicultural nature of the city.
Climate
Summers
in İzmir are hot, dry and sunny, and so air-con is highly recommended even for sleeping at night. A mild breeze coming in ashore from the sea (locally called
meltem
) may refreshen the evenings, at least in locations close to the waterfront. Temperature can drop down to freezing point (0°C/32°F) in mostly cool, windy and rainy
winters
, however snowfall is some sort of curiousness in these latitudes, which happens once or at most twice a decade, if at all.
Get in
By plane
phone: +90 232 274-21-87

This has frequent flights to Istanbul, Ankara, and Antalya, and daily to several other Turkish cities. There are also flights from Athens, Frankfurt and several other European cities. Operators include Turkish Airlines, Pegasus, Anadolujet, Onur and Sun Express (which has a hub here) so this competition keeps fares low.
To & from the airport:
İzban suburban trains run every 10 mins to Alsancak Station north of city centre. Change at Hilal for the metro downtown - this station and its surroundings are messy and not easy to navigate.
HAVAŞ shuttle buses run to city center for 14 TL, then continue north away out to Mavişehir.
Town buses run by ESHOT (transport dept of city council), are cheaper than Havaş, at 5.20 TL/passenger if you have a İzmirimkart.
Adnan Menderes Airport Car Hire Address : 1375 Sokak No : 6/e Alsancak Konak / İzmir Telephone : +90 232 313 01 13 Call Center 0850 380 01 80
By train
İzmir is not on Turkey's high-speed YHT network, so trains are ponderous overnight affairs, when daytime buses cover the distance in half the time. The main services are:
These trains all run daily / nightly. Buy tickets at the station or on the
TCDD
website. İzmir's mainline railway station is , next to Basmane metro station.
station is the terminus for the suburban IZBAN railway which runs to the airport and city centre, and connects with the metro.
By boat
From July 2019 a direct ferry sails between
Çeşme
near Izmir and Lavrion near
Athens
, operated by
Aegean Seaways
. This sails overnight M W F from Lavrion at 22:00 to reach Çeşme at 06:00, with the return sailing Tu Th Sa at 22:00. On Sunday the ferry sails from Lavrion at 11:00 to reach Çeşme at 19:00, then sails back near midnight to reach Lavrion at 08:00. It's intended to run this service year-round.
By bus
The bus station, or
otogar
(Turkish for bus garage), is 6 km north east of city centre, with frequent
dolmuş
running there. The bus station is huge and has an internet cafe, plenty of facilities for food and drink, and pay toilets. There are multiple bus operators and ticket offices; when a bus is about to depart, the agents will shout a last call for that destination.
There are free shuttle bus service that will bring passengers from the bus terminal to Basmane Square, the city center. To get to the free shuttle station, after get off the bus, go to the left most side of the bus terminal building without entering it. There should be stair going down, you'll see all the bus companies' free shuttle buses and the terminal service free shuttle. There also is a city bus route that goes to Konak through former Kemalpaşa road. Another option - take a dolmus to Bornova metro (or Evka 3), and then go by metro.
Buses to
Istanbul
run frequently and take 6½ hours, with regular rest stops. The fare of 70-90 TL will usually include water, hot drinks, and snacks. For example, Ulusoy bus from Istanbul will set you back around 85 TL (August 2016). Check http://www.otobusbileti.gen.tr/izmir-otobus-bileti for schedules and prices.
Get around
On foot
You can explore İzmir inner city by walking.
Walking Routes
to center of the city are very easy to walk and enjoyable.
By train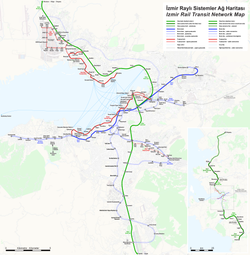 The system of
urban rail
in İzmir consists of two
lines
:
a line connecting city centre/Konak Square with the northeastern town of Bornova and western town of Balçova(for now, the line ends at Fahrettin Altay square, that is the boundary of Balçova)
a line connecting Tepeköy (to the south) and Aliağa (to the north). It also provides connection to Foça and other places north from İzmir.
By bus
There is an extensive system of public buses covering the entire province.
phone: +902323200320 (PBX)

address: İnönü Mahallesi İsmail Sivri Bulvarı No:105 Buca

ESHOT is one of two city bus operators in İzmir, other being İZULAŞ.
By boat
Public ferries are easy, fast inside the coast and provide a nice view of İzmir. Preferable to every other transportation in nice weather.
By taxi
There are many taxis with reasonable price. No night rate. Turkish taxis are not allowed to go outside province they are registered at. Meaning an İzmir-registered taxi(registration starting in 35) cannot go beyond İzmir provincial boundaries.
See
Due to the Great Fire of 1920s, there is a relative lack of historical sights in İzmir, especially when considered how old the city really is (more than 5000 years old).
Konak SquareMain square of the city center, famous for the clock tower, one of the unique symbols of İzmir. The clock tower was built in 1901. There are also Konak Yali Mosque and Kemeraltı Bazaar around the square.

AsansörThis landmark was constructed by a Jewish businessman in 1907. The purpose was to help residents to go to their districts on the top of the hill. The elevator used to work by a water-driven mechanism. Later, it was restored by İzmir Municipality and now it works by electricity. There is a restaurant on the top of the elevator, with a bird-eye view of İzmir.

phone: + 90 232 446 28 52

address: Halil Rifat Paşa Cad. No: 4 Bahribaba Parkı

Hosts a large collection of finds from Smyrna and other Ionian cities, mostly from the Roman age. There's also a numismatic department with ancient coins and jewelry.

İzmir Agora Open Air MuseumRuins of the Hellenistic and Roman Smyrna's marketplace.

Atatürk Monument

address: Cumhuriyet Meydanı (Republic Square)

Equestrian statue of the Turkish leader, erected on 27 July 1932.

AlsancakA neighbourhood of small streets with lots of bars in old Greek houses, where you can have tea or a beer and try several waterpipe flavors.

KadifekaleAn old castle named after the hill on which it stands. Be careful as this castle resides in an undeveloped neighbourhood.

Teleferik (cable car) — Since 1977, it has carried people to 423 m up above the sea level. There are restaurants, cafes and gift shops on the top of the hill.

Ancient Smyrna museum

phone: +90 232 341 50 31

address: 1912 Street Bayraklı

The ruins of the very first Smyrna.
Do
Walk along the Kordon, the waterfront promenade, now lined by rows of tall apartment buildings and palm trees on one side and the Aegean on the other, with a large patch of lawn and a cobbled street in between, where you can have a 19th-century fayton (horse-drawn carriages) ride.
Kemeraltı — A must see. A big bazaar, where you can buy clothes, presents etc. There are also a lot of lounges where you can sit.
Kızlarağası Hanı-House of Girls' Master— An old inn (kervansaray) in Kemeraltı where you can shop for carpets and jewelry.
Blend in with locals and take the boat from Konak to Karşıyaka.
See also the old fortress and the Agora. This site is usually quiet and you can roam about the ruins of the old Greek market.
Buy
You can go to Konak Pier, a small mall along the Kordon with a cinema and with local and other known brands.
Another mall is called Forum, in Bornova. Forum is a very big mall with all brands and a supermarket in a Mediterranean style one floored houses in open air. Kemeraltı (in the city center) offers great deal of souvenirs in a nice traditional atmosphere.

Eat
Melons, because İzmir has a warm climate so melons are always local and fresh.
İzmir has a famous restaurant that serves the region's specialties, especially shish kebabs.
Fish, grilled sea bass and mezes. Usually the fish is fresh and plenty in all seasons. Veli Usta offers great deal of fish in Alsancak.
Kumru, a warm sandwich, made with a special bread with sesame seeds, Turkish sausage, grilled cheese and tomatoes, also a vegetarian version is available without the sausage and with the addition of green pepper. This is something not to be missed while in İzmir, because it's almost impossible to find it anywhere else in the country. It's sold at numerous stalls in the streets. Best to be eaten earlier in the day to have it warm as they find their way out of bakeries in the morning. Two of them is more than enough to appease you hunger and 2TL is the standard price per each throughout the city.
Tulum Peyniri, a kind of cheese specially made in İzmir region.
Copsis Kebab at Topcu in Cankaya
Belkahve: İzmir from the eye of Atatürk in 1922
Boyoz, another local pastry but much oilier than kumru, to eat with a cup of tea in the breakfast.
Balcova Shopping Complex may be the most modern shopping and entertainment where in European Style. Besides, prices are reasonable.

Gümüş TabakA cafe-restaurant in Kızlarağası Hanı, Kemeraltı, which offers you the traditional Turkish delicacies, from Köfte to Kokoreç with very affordable prices. You should also try the traditional Turkish coffee that is prepared in a special way, boiled in the cup, fincan.

Kıbrıs Şehitleri Caddesi Street in Alsancak, is a nice pedestrian street with a lot of cheap restaurant. For example, Tavuk Doner for 4 TL, Iskender Kebab for 15 TL.
Drink
Join the nightlife on Kıbrıs Şehitleri Caddesi in Alsancak, and go find the Gazi Kadinlar Street. Wednesdays, Fridays, Saturdays, and Sundays are when the street is liveliest.
All pubs and cafes in Kordon (Alsancak's waterfront) are attractive in nice weather.
1448 Sokak at Alsancak is full of bars and pubs from one end to another. They also have seats out on the sidewalk, and the uniform price for a bottle of beer (a pint/0.50 litre) is 6 TL all along the street.
Sleep
In İzmir there are many hotels 5 minutes walk from the railway station to suit all tastes and wallets. Hilton is very close to city center in Alsancak, and Swissotel is also in Alsancak. Also there is Crowne Plaza, which is about 30 min from the center.
phone: +90 232 483-50-69

address: 9 Eylül Meydanı, 1368. Sokak No.8, Basmane

Rooms with shower/toilet, satellite TV, air-con, wi-fi.

Hotel Bodrum

address: 1362 Sokak No12 Cankaya

Rooms have wireless internet hot/cold shower, Turkish TV and air-con.
Splurge
phone: +90 232 482 11 11

address: Akdeniz Mahallesi, Mimar Kemalettin Cd. No:1
Cope
Consulates
phone: +90 232 464-31-60, +90 232 464-31-61, +90 232 421-69-92

address: Atatürk Caddesi 366/1A, Alsancak
Stay safe
İzmir Police Department has a "tourism police" section where travellers can report passport loss and theft or any other criminal activity, they may have become victims of. The staff is multilingual and will speak English, German, French, and Arabic.
Tourism Police

phone: +90 232 489-47-77

address: Turizm Şube Müdürlüğü, Tepecik
Go next