Jabalpur
Jabalpur
is a major city in
Madhya Pradesh
. This article also covers the small neighbouring villages of
Bagri
and
Dumna
.
Understand
Jabalpur is an ancient city in central India on the shores of the holy river Narmada and on the tributary plains of the Hiran, Gour, Ken and Sone rivers. The Narmada River valley is famous for its Marble Rocks, a unique formation where the whole river flows for nearly 2 kilometers between varied coloured and tinted marble rocks with a deep water fall.
Pleasure resort and capital of the Gond Kings during the 12th century, Jabalpur was later the seat of the Kalchuri dynasty. The Marathas held sway over Jabalpur until 1817, when the British wrested it from them and left their impression on the spacious cantonment with its colonial residences and barracks. Today Jabalpur is an important administrative, industrial and business center of MP and India. Population wise ranks 27th in the country.
Jabalpur is an industrial city with a large component of defense industry and a lot of smaller cottage industry. It is a great education center as well, with two universities, Rani Durgavati University and Jawaharlal Nehru Agricultural University, and with about 30 colleges with a range of faculties. It also has several engineering and medical colleges.
Vinoba Bhave
, the modern saint philosopher of India, christened this city as
Sanskar Dhani
- the capital of various cultural influences. He was impressed by its cosmopolitan character and communal harmony. The city has a sizeable population of people from Bengal, Gujarat, Punjab, Uttar Pradesh and South India who live in total harmony and peace and add richness to the life in the city. One can also see the fusion of cultures in this city. The culture here is also reminiscent of British and Gond Tribes, which is now shaped by local businessman and engineers and doctors. Similar to some Mexican cities, families are very close-knit and often get together for ceremonies and festivals.
The best time to visit is September to March. Summers should be avoided. Rains are beautiful too if you live in a better location (July to September).
City life
The people in this city are very artistic and culture-oriented. It is considered very friendly to sing songs for no reason at all. Unlike other cities in India, most educated people here are only good with Hindi and local variants of the language. English speaking population is generally employed in government institutes and their English could be old Shakespearean. Hence this city is the perfect place to dip into the central culture of India. People here generally listen to local radio as a part of their life.
You can eat pizza with youngsters at Domino's. However most people are likely not to eat it regularly as it is considered very unhealthy.
City life is very moderate and relaxed. Most of the residents will wake up early and go for work and come back in evening to have a hearty dinner with family.
Talk
The native language of the Jabalpur area is
Hindi
, which also happens to be the main official language of the Union Government. Almost everybody in Jabalpur speaks Hindi, maybe with different accents. Educated people speak English and taxi and auto drivers, shopkeepers and other men attached to the tourism industry speak and understand functional English. Road signage is usually in English and Hindi, though some signage is in Hindi only.
Get in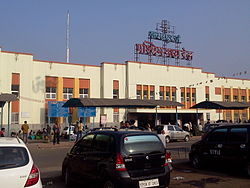 Jabalpur is well connected by air, train and road.
By plane
Air India operates daily flights from Delhi to Jabalpur. There is no direct flight to Mumbai. International travelers will be well connected to Jabalpur from both metro cities of Mumbai and Delhi.
By train
Jabalpur is well-connected with superfast trains and express trains from
Kolkata
,
Ahmedabad
,
Mumbai
,
Bhopal
,
Bandhavgarh (Umaria)
,
Jaipur
,
Lucknow
,
Chennai
,
Patna
,
Hyderabad
,
Bangalore
,
Pune
,
Goa
,
Vadodara
,
Jaipur
,
Nagpur
,
New Delhi
,
Varanasi
&
Patna
.
By car
The national highways (Varanasi-Kanyakumari Road NH7, Jabalpur-Jaipur Road NH12) passes through Jabalpur and there are daily bus services from
Nagpur
, Katni,
Jaipur
,
Gwalior
,
Bhopal
etc.
Get around
You can rent a taxi to go to places like Bheraghat, Bandhavgarh and Kanha. These should be available at the Railway station or at the hotels. Cycle rickshaws are by far the most common means of transportation inside the city.
By taxi
In order to hire local taxi for local use in Jabalpur & its near-by places visit local bus-stand or websites of Jabalpur travel agents. Before taking any taxi service it is necessary to take quotations from more than one taxi-providers and also keep in mind the credibility of Taxi provider, if is registered operator or not, service level, credibility etc. Some prominent taxi providers of Jabalpur are:
Indus Excursion,
Marble Travels,
Ervina Travels,
Bhatti Taxi,
Jabalpur Travel Agents,
Singh Travels,
Jain Travels,
MP Holiday Tours
And Online National Car rental Company,
Travelodesk
,
7mcar Rental
ClearCar Rental
See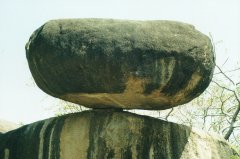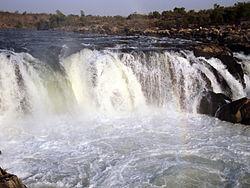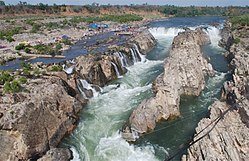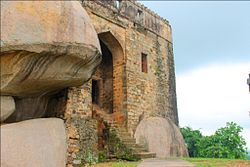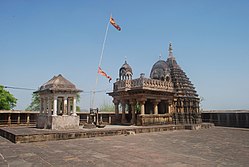 Apart from places of tourist interest within the city, Jabalpur also offers a number of short excursions.
Within the City
Bade Mahaveer Ji Ka Mandir, Jain Mandir, Kamaniya Gate, and markets of Jabalpur

address: Bada Fawwara

Old markets and wholesale markets, all are here in nearby areas.

Balancing RockJabalpur is also famous for eroded volcanic rock formations called as Balancing Rock of Jabalpur. Amazingly this rock survived even in earthquake of mag 6.5. It is said that it`s impossible to disturb their balance.

Gopal Lal Ji Maharaj Ka Mandir, HanumantalPushti Margiya Mandir of Lord Krishna and Radha. No mandir is like this in Mahakaushal region. No donations allowed here. Also see Hanumantal here, biggest tank (taalaab)of Jabalpur. Bada jain Mandir is also nearby.

Gwari GhatNearest ghat of the Namada River to have a holy dip (snan) in Narmada. There is always a small Mela present.

Khandaari Jalashay Water WorksSmall wild life Reserve and a beautiful dam, one source of drinking water to Jabalpur.
Madan Mahal FortBuilt by the Gond ruler, Raja Madan Shah, in 1116 atop a rocky hill, the fort dominates the skyline and provides a panoramic view of the town and the country side around it.

Rani Durgavati Memorial and MuseumDedicated to the memory of the great Queen Durgavati is her memorial and a museum which houses a fine collection of sculptures, inscriptions and prehistoric relics.

Sangram Sagar and BajnamathThese medieval constructions were built by the famous Gond King, Sangram Shah, between 1480-1540.

Tilwara GhatFrom where Mahatma Gandhi's ashes were immersed in the Narmada, and venue of the open session of the Tripuri Congress in 1939.
Bhedaghat Area
BhedaghatThis small place of Jabalpur situated on the banks of river Narmada and widely famous for its marble rocks is at a distance about 25 Km from Jabalpur by road. Soaring in glittering splendour, the marble rocks at Bhedaghat rise to a hundred feet on either side of the Narmada. The serene loveliness of the scene is one of cool quiet, the sunlight sparkling on the marble-white pinnacles and casting dappled shadows on the pellucid waters. Sunlight, now glancing from a pinnacle of snow-white marble reared against the deep blue of the sky as from a point of silver ; touching here and there with bright lights the prominences of the middle heights; and again losing itself in the soft bluish grays of their recesses. Here and there the white saccharine limestone is seamed by veins of dark green or black volcanic rock; a contrast which only enhances, like a setting of jet, the purity of the surrounding marble.
The Marble Rocks are best explored by boat. There are shared (₹100 per head) and charted boat (₹800 for a six seater boat. services. The boatman doubles up as a guide narrating the story in Hindi, in a poetic and comical way. The boat ride takes about 45 minutes to one hour. Their are special boat rides on full moon nights. The boat rides are suspended during the monsoon months (July - September).

Chausat Yogini TempleSituated atop a hill rock and approached by a long flight of steps,the Chausat Yogini Temple commands a singularly beautiful view of the Narmada flowing through the jagged gorge of Marble Rocks (Bhedaghat). Dedicated to Lord Shiva, this 10th century temple has exquisitely carved stone figures of deities belonging to the Kalchuri period. According to a local legend,this ancient temple is connected to the Gond Queen Durgavati's palace through an underground passage.

DhuandharThe famous waterfall is located just 25 km from Jabalpur. The waterfall is known as Dhuandhar ('Dhuan' is the Hindi word for smoke) since the water droplets at the fall go above in concentrated mass and crete illusion of vapours. There are two platforms which provide majestic view of the water fall. The waterfall can be also viewed from a ropeway (round trip ₹75 per head)
Bagri Dam Area
Bargi DamIt is a multipurpose project on river Narmada. It's also a tourist spot, recently the local autorities have started a cruise boat which runs on the reservoir of Bargi dam.
Eat
In terms of distinctive local cuisine, Jabalpur does not have much to offer; however, as many cultures from around the country converge here, you can find many eateries in and around the town offering a wide variety of food.
The Chowpatti in Civic center is a low cost option that houses a number of food carts spread in a square and along the roads. These carts offer a range of food items such as Bhelpuri, Chowmein, Pav Bhaaji etc.
There is a very famous Parathewali aunty near the railway station (platform 4 entrance). Her cheerful banter and delicious Parathas make it a hotspot for travelers and youngsters alike.
Haji - Basheer hotel, opposite coffee house sadar offers delicious and cheap mutton samosas and shami kebabs. Biryani (Mutton, Chicken, Chicken curry are some of the other additions to the menu but are not recommended.
Navneeta, Hotel Samdareeya, Hotel Roopali Inn, Indian Coffee House, Traffic Jam and Arihant Palace are nice restaurants for dinner, For those interested in fast food, there is Cafe Coffee Day and Dominoes Pizza. You can get some the best indian -chinese food at Clock Tower and Kamling.
At nights the small vendors near Fuhara serve tasty food and desserts like Lassi, Rabri and Khova Jalebi at
Badkul
,471 Jawahar Ganj, Near Kamaniya Gate.
However Jabalpurians(residents of Jabalpur) are often friendly and reserved to foreign tourists. If you could make a friend here, chances are high that he/she will invite you to their home for food. Depending upon their social, educational and spiritual beliefs, the cuisine will differ considerably. In more noble families, smoking and drinking is considered as strictly "No-No", the youngesters could help you out. Again drinking below the age of 18 is not allowed. Infact drinking is seen as immoral for most of the well-educated families. For sure, the food in the city dwellings will not leave you unsatisfied.
Patbaba Mandir

address: GCF Estate

A famous Hanuman Mandir situated atop the Patbaba Hill situated in the Gun Carriage Factory (Defence Establishment) Estate. The temple is being managed by the Factory Establishment with well developed gardens. 'Patbaba' the chief deity of the temple, is revered by the Jabalpurians as The Great Hanuman who fulfils their wishes. It is open to public from 06.00am to 10.00 pm.

Indian Coffee HouseBranches at Sadar Road, Super Market, Karamchand Square, Medical College and Bus Stand.

Mumbai Masala

phone: +91 761 2623945

Bollywood themed restaurant, with delicious cuisines.
Drink

Vini's bar, an terrace bar is a good option for a drink. It is at Naudra Bridge.

Buy
Currency exchange — There is a branch of State Bank of India located in Civil Lines where foreign travellers can exchange US dollars and Euros mostly. The rates are standardized by SBI. However it might take awhile depending upon the processing speed of officials and not their computers. This is the safest and most economical way of exchanging money in the city.
you can also buy a few marble stone statues and souvenirs from Bheda ghat or some shops located near city Bengali club and bada fuhara (big fountain)
Sleep
Jabalpur
Jabalpur has a number of hotels within the city. The environs of the nearby tourist attractions of Bhedaghat (Marble Rocks), Bagri and Dumna also house hotels of MP Tourism.
phone: +91 761 2415111

The 4-star hotel is named after Emperor Ashoka.

Kalchuri Residency

phone: +91 761 2678491, +91 761 3269000

address: Station Road, Jabalpur

Run by MPTDC.

phone: +91 761 4001122, +91 761 4025888

A British-era hotel with all modern facilities.

phone: +91 761 4046001

Three-star hotel.
Bhedaghat (Marble Rocks)
phone: +91 761 2830424, +91 761 2903854

Run by MPTDC the motel comes in with 11 AC rooms and 6 AC tents.
Bargi
phone: +91 761 2903184, +91 9425324211

MPTDC property located on the banks of Bargi Lake. Has 16 AC rooms.
Dumna
phone: +91 761 2678491, +91 761 2678492

address: Airport Road

Located in Dumna Natural Reserve, next to Khandari Lake. The resort contains only 2 huts.
Go next
The city is close to following places of interest: