Jaigaon
Jaigaon
(
Bengali
: জয়গাঁও) is a city in
North Bengal
in
India
.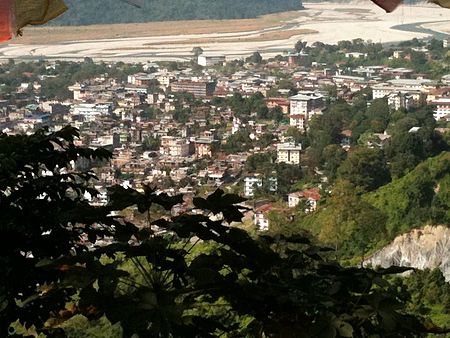 Understand
The town exists mainly because it is on the border of
Bhutan
. Most business centres around cross border trade (automobile repairs, fruit and vegetables, clothes, etc.). However, as many Bhutanese like to cross the border to take advantage of India's cheaper telephone/e-mail rates and restaurant prices, the town does offer a wide selection of eateries and telephone offices and would be a good place to meet Bhutanese people who are very friendly and rarely see foreigners.
If you can't get into Bhutan, this border town can offer a brief glimpse into the hermit kingdom.
Bhutanese currency is fixed to the Indian rupee and as a result many (if not all) shops use the two interchangeably. Simply ask a shopkeeper nicely to swap some of your Indian rupees for Bhutanese Druk which make marvelous and inexpensive souvenirs.
If you hang around the border you can see Bhutanese (sometimes in traditional attire) leave their country to smoke a cigarette, then return to Bhutan where cigarette smoking in public is illegal.
Get in
From
Phuentsholing
, walk over. There is only the border gate that divides the two towns.
Buses traveling to/from Phuentsholing make a stop here.
Different Buses are coming from Siliguri P.C Mittal Bus Terminus.
Get around
The town is small and can be covered on foot, though an autorickshaw is recommended for the journey from the main bus terminal, which is located slightly out of town. Jaigaon lacks quality infrastructure, and during the rainy season the streets are muddy and difficult to negotiate on foot.

See
The Bhutan gate itself is really the only thing worth taking your camera out for.

Do
Non-Bhutanese or Indian citizens exiting or entering Bhutan are required to get their passport stamped at the Indian immigration office, which is located next to the cinema hall (there is a fork in the road when entering the town - marked by a statue - immigration is a short way up the road on the left) not at the border, as is customary. Indians can get a permit to visit Thimphu or other parts of Bhutan by submitting proof of identity proof, such as an election card or passport, at the Bhutanese immigration office.
Make telephone calls and send e-mails as the rates here are much lower than in Phuentsholing.
Buy
Bhutanese religious and cultural items can be bought cheaply at several stores along the main road if you turn right at "Bhutan gate"
Strange artifacts from Bhutan and the nearby villages surface here from time to time, there is nowhere in particular to look but keep your eyes out for antiques!
Asian Book Distributors

phone: +91 3566 736-182

address: J.P. Centre, N.S. Road.

As a supplier of book stores in Bhutan, AB Books is an excellent place to pick up titles on subjects related to Bhutan and Buddhism and at much cheaper prices than over the border
Eat
Good Bhutanese food is relatively hard to come by as most people would rather just walk across the border.

Drink
Move towards Phuentsholing. There are liquor stores;
Royal Bhutan.
which also imports and
Sonam Main Liqueur Shop
where you can find Phuentsholing and Jaigaon at good prices.
Hotel Devi

phone: +91 3566-263174, +91 3566-264710

address: N.S Road,

Could be a better place to have freshly cooked food,it has a very cozy homely environment.
Sleep
Hotel Kasturi, could be a good choice. Rooms are clean and moderately well furnished. Rates are moderate.

Hotel satyam

phone: +91 94340-29084, +91 94340 264444

address: near bhutan gage,n.s road jaigaon

Best hotel at Jaigaon with maximum no. of rooms & parking facilities. Total rooms:265

Hotel Prasant

address: Shah Building, N.S. Road, Distt. Jalpaiguri,

New hotel with 35 rooms, Mobile: 91-92312-75394,
Cope
Banks in Jaigaon are not authorised to change foreign currency.
Indian Immigration is located in the centre of town (after leaving Bhutan Gate, take a right and follow the main road. Immigration is on the right, next to the movie theatre.
Go next