Jaipur
Jaipur
, also known as the Pink City, is the capital of Indian state of
Rajasthan
, and its largest city. The city was built in the 18th century by Sawai Jai Singh as India's first planned city, and today it's a major tourist attraction for Indians and for international visitors. It is a very picturesque city with splendid palaces, forts and historical monuments and belongs to the tourist
Golden Triangle
along with
Delhi
and
Agra
. It hosts several attractions including the City Palace, Govind Dev ji Temple, Vidhan Sabha, Birla Temple and several massive Rajput forts. It also serves as a stepping stone for those heading to the desert cities of
Jodhpur
and
Jaisalmer
.
Jaipur is growing fast and various development projects are being undertaken by the government and private enterprises.
Jaipur's nickname, the Pink City, is due to its distinctly coloured buildings, which were painted this colour to imitate the red sandstone architecture of Mughal cities. The present earthy red colour originates from repainting of the buildings undertaken for a visit by the Prince of Wales in 1876.
Understand
Climate
Jaipur's climate is characterised as semiarid, with just a few rainy days per month for most of the year. The exception is the monsoon period from June to September, when heavy rain and thunderstorms are commonplace. Expect daytime highs of above +20°C throughout the year, and prepare for scorching heat in May and June. During the winter temperatures are mild, and while nighttime temperatures seldom drop much below +10°C, Jaipur has experienced temperatures below freezing.
History
Jaipur gets its name from its founder Maharaja Jai Singh II (1693-1744), a great warrior and astronomer. He came to power at the age of 11 on the death of his father Maharaja Bishan Singh. Jai Singh's lineage can be traced back to the Kucchwaha Rajput, clan who came to power in the 12th century. They were long-term rivals to the Sisodia Rajputs who ruled from
Mewar
. This rivalry led them to ally with the Mughals, and this alliance resulted in them eventually gaining a pre-eminent position in Rajasthan.
Ruling from the magnificent Amber Fort which they built, the might of the Kucchwahas encompassed the kingdoms of Mewar (
Udaipur
) and Marwar (
Jodhpur
). After Jai Singh came to power, there was moment of disquiet when he supported Aurangzeb's son Azam Shah's bid to the throne. Azam Shah lost the battle of succession to his brother Bahadur Shah, who demanded Jai Singh's removal and the installation of Vijay Singh to the throne of Jaipur. Jai Singh, not one to take setbacks lying down, formed a formidable front against the Mughals by aligning himself with other Rajput states and reinstated himself.
After the dust had settled, peace reigned, the kingdom prospered and its borders expanded. Jai Singh built the city around the Amber Fort to serve as his capital, and the city was named Jaipur, after himself. Much of the credit for Jaipur goes to Vidhyadhar Bhattacharya, the chief architect from Bengal who, with Jai Singh's approval, founded the city on strong scientific principles, laid out according to the Shilpa Shastra, the ancient architectural manual. It remains one of India's best planned cities. However, expansion meant that the limited sources of water proved inadequate for the city.
After Jai Singh's death in 1744, his sons squabbled for power and without a monarch, the kingdom became open to invasion and neighbouring Rajput states and the Marathas usurped large areas of kingdom. The core, however, remained part of the kingdom, which lasted during British times. As with the Mughals, Jaipur maintained good relations with the British and during the war of independence in 1857 remained loyal to the Raj. Yet, the British gradually began to undermine the independence of the state and exercised greater control over the administration.
In 1876, Maharaja Ram Singh painted the entire city pink, traditionally a colour associated with hospitality, to welcome the Prince of Wales (later King Edward VII) to the city. The tradition has been maintained and today all residents in the old city are compelled by law to preserve the pink colour. Jaipur has thereby earned the sobriquet of
pink city
.
Maharaja Ram Singh also built the Ramgarh Lake to supply water to the burgeoning city. During the 19th and 20th centuries, the city's population spread beyond its walls. In 1922, Man Singh II ascended to the throne and it was during his reign that civic buildings like the secretariat, schools, hospitals and other public buildings were built. After independence, Jaipur merged with the states of Jodhpur, Jaisalmer and Bikaner to form the state of Rajasthan. In 1956, Jaipur became the capital of the state of Rajasthan.
Suggested reading
Sarkar, Jadunath, (2009). A history of Jaipur. New Delhi: Orient Blackswan. A well written account of the history of Jaipur by prominent historian Sir Jadunath Sarkar.
Jaipur – Nagaur - Deshnoke (India Charming Chaos) by Johnny Fincioen. This book concentrates on Jaipur and two small villages and puts them in historic context. The text and the 190 original pictures offer the reader a holistic view of the particular way of life in Rajasthan.
Get in
By plane
Jaipur AirportOffers sporadic (chartered) service to London and Dublin. Direct flights to Singapore, Bangkok, Sharjah, Muscat and Dubai are also available. Jaipur also has daily domestic air links with many Indian cities such as Jodhpur, Udaipur, Aurangabad, Delhi, Hyderabad, Kolkata, Goa, Chennai, Ahmedabad, Bangalore, Mumbai, Pune and Indore.
By train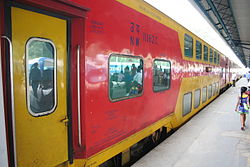 Indian Railways
connects Jaipur from all over the country and is one of the cheapest options. A number of daily trains connect Jaipur to
Delhi
,
Ahmedabad
,
Agra
,
Mumbai
,
Jodhpur
,
Kota
,
Alwar
and
Ajmer
. Daily connections are also available for
Udaipur
,
Chittorgarh
,
Bikaner
,
Jaisalmer
,
Barmer
,
Kolkata
,
Jammu
,
Pathankot
,
Ludhiana
,
Kanpur
,
Roorkee
,
Haridwar
,
Gwalior
,
Indore
,
Jabalpur
and
Bhopal
.
Long-distance trains arrive from many other major cities including
Lucknow
,
Allahabad
,
Varanasi
,
Vadodara
,
Surat
,
Nagpur
,
Bilaspur
,
Raipur
,
Patna
,
Ranchi
,
Bhubaneswar
,
Puri
,
Chennai
,
Bangalore
,
Mysore
,
Hyderabad
,
Goa
,
Mangalore
,
Kozhikode
and
Kochi
.
The most popular option from Delhi is the Shatabdi express which departs New Delhi station at 06:05 and reaches Jaipur at 10:30AM.
There are three major railway stations: , which is the main station, Durgapura and Gandhinagar (Jaipur) — which is not to be confused with the
Gandhinagar
that is the capital city of the state of
Gujarat
. All trains stop at Jaipur Junction and a few trains stop at Durgapura and Gandhinagar stations also.
By bus
There is an excellent bus service between Jaipur to Delhi by Rajasthan State Road Transport Corporation (RSRTC) with buses approximately every half an hour in both directions. Non-A/C and AC Volvo bus services are offered. The air-conditioned bus is taken through a well-maintained highway and has good shock absorbers. From Delhi you can board the bus from Bikaner House on Pandara Road next to India Gate. From Jaipur you can board the bus from Narayan Singh Circle or the main Sindhi Camp bus stand. You can also book tickets up to 6 days in advance from both these places. These buses typically take 6 hours for the Volvo and 6-7 hours for the others. There are also some private bus operators from Dhaula Kuan in Delhi and outside of Sindhi camp in Jaipur. No need to make advance reservations. The buses journey along bumpy backroads to avoid toll roads, and their shock absorbers are not good.
If you plan to leave from Delhi airport, you can get off the bus at Dhaula Kuan and get an autorickshaw (to the bus stand) or perhaps a taxi from there. You do not need to enter congested Delhi.
Express buses to several cities and towns within Rajasthan, such as Kota and
Bundi
, are also available.
By car
This is the most popular way of reaching from Delhi. The journey by car from Delhi to Jaipur takes less than 4 hr. National Highway no. 8 connects Delhi to Jaipur via the industrial township of
Gurgaon
. The road is excellent.
There are also many car rental services in Delhi which can provide chauffeur-driven cars to Jaipur.
Get around
By RTDC bus
It is the best and cheaper way to visit the Jaipur Local Sights by
RTDC
(Rajasthan Tourism Dept. Corp.) There will be one guide with each bus to give you brief info about all sights. There are three type of tours:
#full day tour (April 2019 price: ₹500),
#half-day tour (April 2019 price: ₹400; there are 3 different routes to choose from) and
#Pink city by night tour (April 2019 price: ₹700).
By metro
Started running in 2015,
Jaipur Metro
provides a fast, reliable and inexpensive way to get around the city. The
Pink Line
runs from
Mansarovar
to
Chandpole
station, which is around 1 km from the walled old town (a.k.a the Pink City), and passes by the
Jaipur Junction Railway Station
and
Sindhi Camp
(the interstate bus stand).
Construction work is on full swing to extend the line and take passengers right into the heart of the Pink City, with two stations -
Badi Chaupar
and
Chhoti Chaupar
. The stations are supposed start running by 2018. Fares range between ₹5 and ₹25.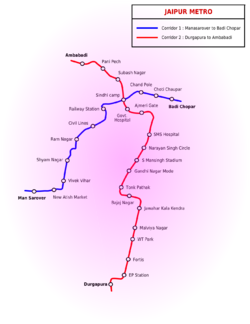 In Phase 2, a second line, the
Orange Line
, will connect the Jaipur Airport with the Pink City by 2021.
By autorickshaw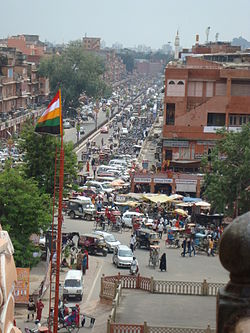 By and large,
autorickshaw
is the best way to travel around the city. Hiring an autorickshaw for a whole day with a trip to Amber Fort, Tiger Fort, Jal Mahal, and other areas can cost anywhere between ₹450 to ₹550 (as of November 2018). But be careful, as the drivers might ask for more money to cover parking fees, petrol, and other charges along the way. Always agree on an 'all-in' price that includes his/her time, petrol, lunch, and parking fees. It's not uncommon for people to agree to ₹500 and pay close to ₹1000 with all of the surprise fees. Lastly, make sure you and the driver agree that he/she will take you to the site and not close to it 'just for photographs'.
Prepaid autos are available at the Jaipur railway station and the Sindhi Camp bus stand, although prices are a little inflated and often the same as you get with minimal bargaining.
At a certain point, the rates were revised to around ₹350-400. The autorickshaw wallas will tell you to take the slip from the police booths. You can also go directly without the slip, but don't forget to
bargain
over the price in that case; it could be much cheaper. It'll be best if you start your sightseeing by 10AM in the morning as some of the major spots close by 4:30PM and each spot takes a lot of time, especially the forts.
Some autorickshaw drivers will try to trick you into paying more than the agreed amount after the trip is over, but you should stick to the original amount decided. Police in Jaipur are very friendly, so in case you feel the autorickshaw driver is trying to misguide you or force you to hand over extra money, just refer the dispute to the police officers at various spots.
Also some autorickshaw drivers will tell you to buy artefacts and gifts from some shops especially some on the way to Amber Fort. Firmly refuse to stop there as these shops operate on commission to the auto driver and fleece you. If you want to buy souvenirs, get them in city's main shopping areas like Bapu Bazaar.
Take along some of your own information about the eating and shopping places as the drivers have their fixed commissions at shops and eating outlets, so you might end up paying more for an item or eating at an undesirable place.
Autorickshaw drivers have been known to work together with the gem scammers. If you hire an autorickshaw for the day, he may suggest that you 'go for a beer' afterwards, and if you accept you will be introduced to the main man on the scam attempt, usually a very charismatic person who is clearly much wealthier than his rickshaw-driving 'friend'. Use common sense: why would a rickshaw driver who earns ₹350 per day (minus petrol) want to take you to a bar where beers are ₹75? Politely decline these invitations as they are invariably more trouble than they are worth.
By local bus
City bus #5 connects directly Amber Fort, Hawa Mahal, New Gate and the intersection of MI Road and Railway Rd every 10 min until 9PM.
City bus #2 runs from the train station up Station Road to the City Palace, Minar, Observatory, etc. The bus driver will try to charge you more. They also sometimes ask you if you need change, or say they don't have change, despite it being obvious they do.
The buses are generally overcrowded and are in a poor condition. You can view
this link
to learn about the bus routes in Jaipur. Fares are by distance, as show
on these charts
.
By cycle-rickshaw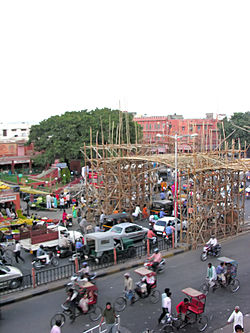 Cycle-rickshaws
are cheaper, but the amount of time it takes quickly makes it worth paying a few extra rupees and going by autorickshaw, bus or taxi. The advantage of traveling by cycle-rickshaw is that you can cover some great places in the narrow lanes of Jaipur which can not be seen if you hire some other mode of transport.
On foot
Jaipur's planned, but beautiful Old Town has wide multi-lane roads and footpaths, which also means that it is much bigger in area than its counterparts that are generally full of alleyways and small streets. Even so, the Pink City's staggering architecture and endless colorful bazaars make walking around a treat, and many points of interest, like the Hawa Mahal, City Palace and Jantar Mantar are close by each other.
By taxi
The taxis in Jaipur are very convenient and comfortable. Most of the vehicles are Maruti Omni Vans or Tata Indica cars, which are much safer than Auto rickshaws, and the drivers are polite. If you are alone or going to an unknown destination, you are strongly advised to choose this option, even though the rates will be double that of an autorickshaw. you must call for a taxi, as it is nearly impossible to hail one unless you are at a major point like the airport. When you call, you should negotiate a fare (or agree on using the meter) and get the taxi's 'number'. The taxi will come pick you up, and call you when they are close. Taxis generally have yellow licence plates with black letters. Some taxis are yellow & black, which helps to differentiate them from the private cars.
You can also try the
Uber
Supercabz
or
Ola
Apps for taxi services which are not as expensive as hiring regular taxis. These services are becoming increasingly popular, so finding a car at a reasonable fare (often cheaper than a tuk tuk) is getting easier day by day.
By car
Car rental is one of the effective alternatives for wandering around in Jaipur. Almost all of the car rental services in India including Zoomcar, Myles and Avis offer services in Jaipur.
See
Tickets
It's possible to see the ticket price for each point of interest on the
Rajasthan Tourist Government Office website
Composite tickets
There was a substantial fee increase in 2016 for the composite ticket. It now includes
Amber Fort
,
Jantar-Mantar
,
Hawa Mahal
,
Albert Hall (Central Museum)
,
Nahargarh Fort
,
Sisodia Rani Palace/Garden
,
Vidyadhar Garden
, and
Isarlat tower (Swargasuli)
. The
Composite Ticket
is for sale at all archaeological monuments and costs ₹300/40 Indian adult/student and ₹1000/200 foreign adult/student. The ticket is valid for two days.
Forts
phone: +91 14 1253 0293

This massive fort-palace complex built in hybrid Hindu-Muslim style dates back to Raja Man Singh and was the royal palace of the Kachwahas from c. 1600-1727. It's one of six world heritage forts in Rajasthan. The name has nothing to do with the rather pretty pastel yellow colour; instead, the fort is named after the town of Amber, in turn named after the goddess Amba. The main sights within the fort include the Sheesh Mahal, adorned with thousands on thousands of mirror tiles on the walls and ceiling. The fort/palace grounds are sprawling and the information panels (Hindi/English) are somewhat limited, so it might be worth getting an audio guide or a real guide. It's a bit of a hike up from the town, and the touristy thing to do is to ride on an elephant to the top (in order to get an elephant it is better to arrive there in the morning, otherwise at midday the elephants are done working; however, the road that the elephants walk on is not so long). If you hire a genuine guide, you will be taken not only to the Amber Fort but also to the Rajasthan Kala Mandir (a government operated shop) to buy souvenirs. Guides get a 2% commission on the items you buy there. Also see the Amber Light Show below. The site has come under scrutiny as tourists claim to have witnessed the elephants being beaten by handlers. If you walk up the hill to the Jaigarh Fort be prepared to pay the entry fee as the path terminates at a ticket window and there is no way around to the road.

phone: +91 14 1267 1848

Never conquered in battle, this was considered the strongest of the three forts in the area. It is best known as the site of the world's largest cannon, the Jaivana, which was test-fired only once — according to legend, despite using only the half the design amount of gunpowder, the cannonball flew 35 km! A better reason to visit the fort, though, are the scenic gardens at the other end and the spectacular views over the Amber Fort and the hills around. The remains of the foundry where the Jaivana (and many more) were cast are also in the fort grounds. There are multiple boards with "no tips allowed," in case someone is bothering you.

phone: +91 14 1518 2957

address: Krishna Nagar, Brahampuri

The smallest of the three forts, notable primarily for excellent views over Man Sagar lake and the vast sprawl of Jaipur. Built in 1734 by the Maharaja Sawai Jai Singh II in a mix of Indian and European styles, the fort also houses the (relatively) compact Madhavendra Bhawan palace, although its former splendour is fading under layers of graffiti and pigeon droppings. Some of the film Rang De Basanti were shot at this fort. To get to the area where the "Pathshala" song was shot, take a left turn as soon as you enter the fort. An autorickshaw can be taken from the stand in front of the Amber fort. The fort also houses the Jaipur's Wax Museum and Sheesh Mahal, although tickets for these have to be bought separately and are ridiculously expensive. Beware if buying the Wax Museum and Sheesh Mahal combo ticket, you'll be paraded through the largely unimpressive museum and then be told to queue for the Sheesh Mahal which can last from 30 minutes to 2 hours.
Palaces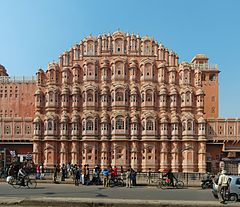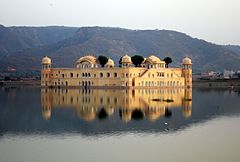 phone: +91-141-4088888, +91-141-4088855

address: Jaleb Chowk

An imposing blend of traditional Rajput and Mughal architecture. It is a vast palace complex occupying nearly one-seventh of the Pink City. It was built by Maharaja Jai Singh II. The complex is divided into a series of courtyards, sprawling gardens and buildings. It is home to several palatial structures like the Chandra Mahal, (home to present Maharajah of Jaipur), Mubarak Mahal (housing a textile museum), Diwan-e-Khas (or Hall of Private audience housing the two largest silver vessels in the world, which are duly mentioned in the Guinness book), the Diwan-e-Aam ( or Hall of Public Audience) and the gateway Ridhi Sidhi Pol (with four small doorways decorated with motifs depicting the four seasons). Be warned that although they sell tickets for taking photos with a camera inside, most exhibits inside have a "no photography" sign.
Hawa MahalBuilt in 1799 by Maharaja Sawai Singh as part of City Palace, it was an extension of the Zenana (women's) chamber. Its purpose was to allow royal ladies to observe everyday life in the street below without being seen. It is a five storey high red sandstone structure complete with over 950 windows. The breeze (or hawa in Hindi) circulates through these windows, giving the palace its name. The iconic facade is best seen from the street, which is free.
Jal Mahal

address: Jal Mahal Amer Road

This beautiful Jal Mahal or water palace was made by the King of Amber in the middle of the Man Sagar Lake. The Jal Mahal represents the use of Mughal and Rajput architecture style.
Temples
Akshardham Temple

phone: +91 141 224 6100

address: Vaishali Nagar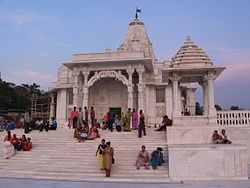 Birla Mandir (aka The Marble Temple)

phone: +91 98295 95467

This is a relatively new temple made of white marble with beautiful carvings. It covers a vast area in Jaipur city and is built in a contemporary manner. Birla Temple is completely constructed with the finest high-quality white marbles. In addition to having statues and paintings of Hindu deities, the temple has pictures of famous philosophers from around the world including Socrates, Confucius and Zoroaster. No bags (besides purses), food, cameras. No photos in the temple itself, but rules are not enforced outside.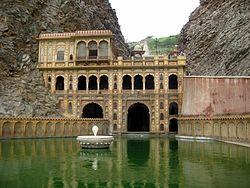 address: 10 km from Jaipur on Jaipur-Agra highway near Sisodia Rani Garden

This temple is an ancient Hindu pilgrimage site. The main temple, Galtaji, is constructed in pink stone. The temple has a number of pavilions with rounded roofs, exquisitely carved pillars and painted walls. The temple is surrounded by natural springs and reservoirs that are considered holy. There are also seven tanks or kunds here. There are two routes to reach the temple: if you arrive from west you will have to hike uphill and downhill for about 20 minutes; the eastern gate is easily accessible by car, though it is a longer journey to get there.

Galwar Bagh

address: Eastern edge of the city

Locals and tourists come here to feed the surprisingly tame monkeys, use the temples, and enjoy the views. You can climb to the top of the hill and then down into the valley to see the Monkey Temple, while enjoying the company of countless monkeys, goats and other animals. At the top of the hill, you turn right to reach the Sun Temple for one of the best views of the city, especially at sunset. Monkey food is available for purchase at the bottom of the hill. Entrance to the temples are free, but local religious people may ask for donations and there is a ₹50 charge for using a camera.

Govind Devji TempleFor Vaishnavites, particularly followers of Lord Krishna, this is the most important temple in the world after Vrindavan. Lord Krishna presiding in the temple were brought to Jaipur from Vrindavan during Mughal rein. According to popular legend, Lord Krishna's idol in the temple looks exactly like Krishna's form while his incarnation of Earth. It is at Jainiwas Gardens, Jalebi Chowk, in the same campus as City Palace. The temple was constructed in 1590.

Jain MandirJain temple in Shivdaspura, well known as "Bara Padampura", famous in north India for its very beautiful statue of God Padamprabhu (The 6th Teerthankar for Jains). God is sitting in a crossed leg seating posture. The statue is 0.7 m high and made of pure white stone. It was found while digging for foundation of a house.

address: JLN Road

This temple, dedicated to Lord Ganesha, is the main centre of religion for Jaipur people. Moti Dungri, meaning Pearl Hill, is a small hill that hosts a temple and a palace. It is said that this temple was built before construction of the rest of the city was begun, so as to protect the city.
Monuments
GaitoreA royal cremation site of the rulers of Jaipur.
Iswari Minar Swarga Sal

address: Chandpol Bazaar near City Palace

A minar (minaret) with great views of Jaipur. There is an alternative to the minar that's open 24/7. Just across the other side of the road (Chandpol Bazaar) from the minaret is a shopping complex with stairs up to a rooftop area where you can get basically the same view as from the minar. To get there, go through the arched gateway almost opposite the minar, then as soon as you get to the courtyard, look to the left for a metal spiral staircase and keep climbing until you reach the roof, walk around the corridor to the next set of stair and go up another floor until you know you can't go any higher.

phone: +91 141-261-0494

This UNESCO world heritage site is the largest of five astronomical observatories build by Maharaja Jai Singh during the period 1727-1734 in north India. The observatory consists of fourteen major geometric devices (or yantras in Hindi) for measuring time, predicting eclipses, tracking stars in their orbits, ascertaining the declinations of planets and determining the celestial altitudes etc. There is signage providing elaborate explanations for the use of each device, and guides can be hired to provide much the same information in a more digestible format. Guides' charge is 200 rupees for 4 people. For a better explanation, you can take a guide. The audio guide at the observatory isn't great and doesn't tell you very much more information than the already existent signs. The observatory, the water and the wind palace are free on 18 May.

Panna Meena Ka Kund StepwellPeople come here to get water, swim or hang out with their loved ones.
Gardens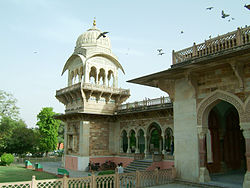 Ram Niwas Garden

address: exact city centre

Built in 1868 by Maharaja Sawai Ram Singh of Jaipur, this garden contains a bird park, zoo, Ravindra Rang Manch Theatre, art gallery, exhibition ground, gymnasium and several cafes and picnic spots.

Sisodia Rani Palace and GardenThis palace was established by Sawai Jai Singh for his queen Sisodia, rulers of one of the oldest kingdoms of India. There are tiered multi-level gardens with fountains, watercourses and painted pavilions. A double-storeyed palace occupies the top terrace of the garden. The palace has many galleries, pavilions and beautiful murals depicting scenes from the life of lord Krishna.

Vidyadhar GardenThe garden is a real treat for those who want to see a fusion of Mughal and Hindu culture.

Zoological GardenIn the serene environment of Ram Niwas Bagh, this garden is prized for its rich flora and fauna.
Museums
Anokhi Museum of Hand Printing

phone: +91 141 2530226

A beautiful clean museum dedicated to the traditional art of hand block printing textiles, this museum is housed in a restored heritage haveli tucked into the back streets of old Amber. Small cafe (see "Eat"), clean toilets, small shop selling hand printed contemporary wearable clothes and textiles, friendly staff and a printer and block carver demonstrating their crafts every day.

address: Ramniwas Bag, Adarsh Nagar

A fine example of Indo-Saracenic architecture, this building was designed by Sir Samuel Swinton Jacob and was opened as public museum in 1887. Maharaja Ram Singh wanted this building to be a town hall, but his successor, Madho Singh II, decided it should be a museum for the art of Jaipur and included as part of the new Ram Nivas Garden. The museum has a rich collection of artefacts like paintings, carpets, ivory, stone, metal sculptures and colourful crystal works. It is named after King Edward VII (Albert Edward), during whose visit to the city as the Prince of Wales, its foundation stone was laid on 6 February 1876.
Other
Statue Circle

address: C-Scheme, Ashok Nagar

Statue Circle is exactly what it sounds like: a roundabout that contains a statue that is beautifully lit up at night.
Do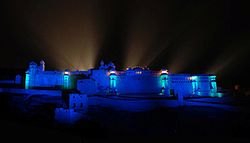 Nearby
phone: +91-141-516 5000, +91-141-516 5015, +91-9667222203

address: 12 Miles Tonk Road, Via Vatika

Around 18 km from Central Jaipur on the Jaipur-Tonk highway, Chokhi Dhani (Fine Hamlet in Rajasthani dialect) is a kind of virtual village and also a 5-star resort. There are lodging facilities available, but the real attraction is the evening fun-fairs. There are two excellent places to enjoy Rajasthani food served in the traditional mode at their resort. Chokhi Dhani a.k.a. Lalten Restaurant is a more popular place because it is on the main road near the airport and also has other attractions, such as horseback riding, camel riding, bullock cart rides, a maze, boating and kathputli (puppet) shows. You can also watch live folk dances and listen to live folk music for free. It gives the visitor a glimpse of culture from different parts of Rajasthan, and could be nice if you will not have time to see much of Rajasthan yourself. It opens at 5PM, and be sure to get there early as many of the sites are difficult to see when it gets dark. It's a 30-min rickshaw ride from Central Jaipur, or you can go there by bus or taxi, but you are best off making sure you have a ride back.
Consider buying the pass for AC hall, because the outdoor seating is a self-served buffet, while in the AC Dining you'll be served food. This makes a massive difference when there are too many people at the restaurant, as the restaurant is unable to keep up with the demand for buffet food.
If you would prefer to sleep at the resort, have a look at their accommodation. Avoid going there during the rainy season.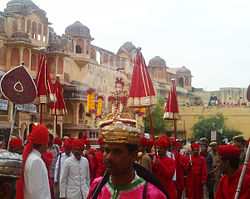 Festivals
The Gangaur Festival of Jaipur is well known in India. It starts on the day after Holi (March or April) and lasts for 18 days. In Jaipur, a sweet dish called a ghewar is characteristic of the Gangaur festival. People buy ghewar to eat and distribute among their friends and relatives. The celebration is dedicated to the God Shiva and his consort, the Goddess Parvati. A procession with the image of Gauri commences from the Zanani-Deodhi of the City Palace. It then passes through Tripolia Bazaar, Chhoti Chaupar, Gangauri Bazaar, Chaugan stadium and finally converges near the Talkatora.
Learn
Dhamma Thali Vipassana Meditation Centre

address: There are 8 locations in Jaipur, which you can see

here

, along with contact information of instructors

1- to 45-day meditation courses (10-day residential courses are given for new students) run for a donation.

Madhavanand Girls College

phone: +91 141 2200317

Free hatha yoga courses from 6-7AM.

Maharaja Sawai Mansingh Sangeet Mahavidyalaya

phone: +91 141 2560193

address: Sawai Ram Singh Road

phone: +91-141-2295153, +91-9414461059 (mobile)

address: E-122(A) Kataria Colony, Ram Nagar Extension

An institute of Rajasthani music that holds group classes for vocals, guitars, synthesizer, tabla, sitar, flute, mouthorgan, dholak and dance. Tablas and sitars can be provided to students; other instruments must be brought by students to the class.
Buy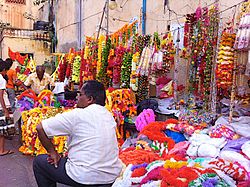 Nothing is 'fixed price' in Jaipur, even in the self advertised government (RTDC) approved shops & emporiums. There are a few RTDC approved shops along "Amer Road" claiming to be government-owned and 'fixed price', but beware: they are frequently overpriced by as much as three times. Almost everything, from food to transportation to handicrafts, even accommodation can be bargained down to as much as a 60% discount off the quoted price. The lowest rates will be found in the bazaars of Bapu & Johari. Even here, keep inquiring in several shops as each one will have a different price for the same item. Don't be ashamed to spend an hour or more in each shop with the friendly shop owners sharing stories over masala chai as you look at their goods. While they are doing their best to run a business, do not overlook the genuinely hospitable culture of Rajasthani people.
Jaipur has tens of bazaars of different sizes and specializing in different products. Expect a brilliant, colourful explosion of flowers, elephants, ox carts, and wares; a complete assault on the senses. The traveller will smell the deep aroma of spices in canvas bags, the fetid smell of animals and open sewers, the sweet waft of tea, and the crusty acrid burn of dust and exhaust. There are different specialist zones, whether it's food, flowers, textiles, carved statues or plumbing. It is chaotic and noisy, people may stare if you are a Westerner, and anybody who has something to sell will try to sell it to you, repeatedly. Watch cobras dance out of their wicker baskets, and don't be too surprised if the snake charmer slaps his cobra for having a wayward eye. Be prepared to be asked for money if you plan to take photographs of snake-charmers and beggars. While you should always be wary, be sure not to completely close yourself out to the locals as one of the highlights of Rajasthan is the chance to interact with the friendly people.
Bapu Bazaar and Nehru bazaarBapu and Nehru bazaars are for budget and traditional shoppers. They are popular and chaotic bazaars selling many different items ranging from handicrafts to western outfits.

Johari Bazaar and Chameliwala MarketJohari bazaar and Chameliwala Market both best known as jewellery bazaars. There are hundreds of shops lined up in each bazaar selling jewellery of all types. Local jewellery along with authentic gems and stones can also be purchased.

Jaipur also has other markets like Civil Lines Market and MI Road and nearby markets. It also has a few malls like Crystal Palm Shopping Mall, Gaurav Towers, MGF Metropolitan Mall, Pink Square Mall, Triton Mall and World Trade Park.
Jewels
Jaipur is famous for its many jewel merchants where you can get great deals on semi-precious gems such as turquoise, lapiz, tiger eye and the star ruby (a gem found only in India that is distinctive for the 6-pointed star it shines under natural light).
Rajais
Jaipur is famous for its 'rajais', a type of light quilt stuffed with cotton. You can get colourful & soft `Shaneel ki Rajai' in a velvet finish. These are quiet warm, soft and long lasting. You can shop in the main market area. But remember to bargain. To be confident of quality, and are willing to pay a little more, visit government stores for rajais.
Eat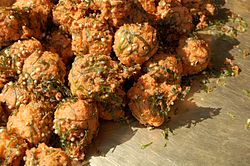 Budget
Sweet
Gangaur Sweets

phone: +91-141-382-835

address: J-32, Subash Marg, C-Scheme

Sweets for chamcham, also baked sweets and crispy samosas.

phone: +91-141-2373520

address: 85, MI Road

A popular ice-cream parlor on MI Rd. An assortment of ice cream shakes, and some indigenous ice cream flavours. Excellent after a hearty meal at one of the MI Rd restaurants.
Zolocrust, (Hotel Clarks Amer, Jawaharlal Nehru Marg, Near Malviya Nagar). The gourmet bakery and italian restraunt is operated by chefs of Hotel Clarks Amer and serves exquisite bakery items, it also serves vegan and vegetarian food.
Savoury
phone: +91 141 400 7245

address: 2nd Floor, KK Square, C-11 Prithviraj Road

Mostly organic non-Indian-style ("international flavour") home-style cakes, freshly prepared sandwiches, pastries, savoury snacks plus organic coffee and a selection of good teas. Quiet, relaxing, good value for money, situated outside the Anokhi shop (see Anokhi Museum of Hand Printing listing in "See").

phone: +91 141 3153900

address: In the Hotel Ramsingh Palace, B 2, Hathi Babau Ka Bagh, Kanti Nagar, Banipark

Serving vegetarian and vegan, Chinese food and barbecue atop a 100-foot-high building providing a breathtaking view of the city.

Old Take Away

phone: +91 9828101014

address: 146, Subhash Corner, MI Roa

Various chicken and mutton dishes for take-away.

phone: +91 94 14 236323

address: 51, Hari Kishan Somani Marg

A rooftop restaurant serving Indian, Western and Chinese food. Fast service and good value.

Rawat Mishthan Bhandar

phone: +91-141-236-7460

address: Opposite Polo Victory Cinema, Station Road, Sindhi Camp

Do not miss the famous Pyaz ki Kachori, a spicy onion dish. Also, the ghewar and mawa kachori is famous.
Mid-range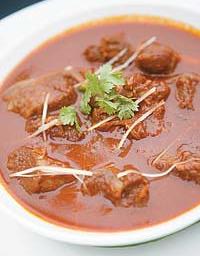 Apno Gaon

phone: +91 941 334 3477

address: 14, New Loha Mandi, Sikar Road, Vishwakarma Industrial Area

Vegetarian food, including fresh vegetables and fruits. Slightly away from the main city: One has to go on a bumpy ride to reach there.

phone: +91 141 237 5221

address: D-43A, Subhash Marg, C Scheme

Indian and Chinese food, among the most popular vegetarian restaurants in Jaipur.

phone: +91 141 237 2275

address: Maya Mansion, Opp GPO, MI Rd

Specialising in meat dishes; chicken, mutton, kebab, tandoori and the super spicy Rajasthani speciality lal maas.

phone: +91 141 402 3444

address: C/11, K.K. Square, Prithviraj Marg, C-Scheme

Part of a chain with restaurants around India and some other Asian countries, as the name reveals, this is a place to go to for Italian food. Wide selection of pizza, pasta and other typical Italian food, also some Mexican dishes. Large range of wines.

address: LMB Hotel & Restaurant, 100 Johari Bazaar

Good mid-range north Indian vegetarian restaurant. The restaurant sells good sweets and chat, Indian sweet and savory snacks, and is most famous for its Aloo ki Tikiya and Paneer Ghewar.

Loharu House

phone: +91-141-222-5251, +91-141-222-5945

This is the house of a Royal Family in Civil Lines. Primarily a hotel, but they also serve food. You can call in advance and request a special dinner. Otherwise, dinners are served for in-house guests.

Mamu's Infusion

phone: +91 141 5108290

address: 101, 1st Floor, Mangalam Ambition Tower, Subhash Marg, C Scheme

Serves Indian, Italian, Mexican, Chinese, Thai and Middle Eastern dishes. Quirky decor, large servings and friendly staff.

phone: +91 141-237-5804

address: Panch Batti, M.I. Road

Vegetarian, speciality is the Rajasthani thali. Credit cards are accepted and they do not serve alcohol. They also have a mithai (sweets) shop.

Okra

phone: +91 141 4567777

address: Ashram Marg, Jawahar Circle

Both a large buffet and a la carte. Reservations are required.

Zodiac

phone: +91 141 2720532

address: Fortune Park Bella Casa, Cityplex, 1, Ashram Marg, Tonk Road

A buffet restaurant with North Indian dishes.
Splurge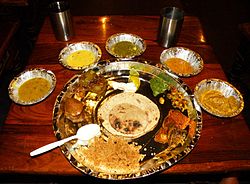 phone: +91 98290 37170

address: Amer Road

Upscale restaurant in the Amber Fort complex. They serve traditional Rajasthani cuisine in royally decorated dining rooms.

phone: +91 141 222 3636

address: Jacob Road, Civil Lines,

Northern Indian cuisine in a romantic setting, however they are reportedly a bit overpriced.

phone: +91-141-237-4493

address: MI Rd

Niros is a 60-year-old restaurant serving mostly Indian and Indo-Chinese dishes. Opinions are divided between those who laud the restaurant and others who consider it overpriced and more hype than quality.

Steam

phone: +91 141 2211919

A train turned into an Italian restaurant, on the grounds of the Taj Rambagh palace. Popular among the upper class of Jaipur, they are also famous for their pizzas.
In addition to these listings, see the "
Do
" listing for
Chokhi Dhani
.
Drink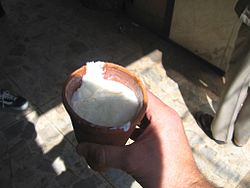 Bars & Pubs
Amigos Bar & Discoteque

phone: +91 141 404 6666

address: Church Road, MI Road

Mexico-themed bar at the 9th floor of the OM Tower hotel, in the adjoining room there's a dance floor. Apparently a wider range of beverages and cocktails than at restaurants.

phone: +91 141 5198845

address: Radisson Blu, Plot 5 & 6, Airport Plaza,Tonk Road, Durgapura

On the top of the roof of Radission Blu Airport hotel, with nice views of the planes landing and taking off. Barbecue, pool and interesting luminescent chairs and tables.

The Courtyard

phone: +91 141 3319405

address: SB-59, 4th & 5th Floor, UDB Tower, University Marg, Tonk Road

Beer, cocktails and wine; however their food has got some very negative reviews. The rooftop section is popular among younger patrons, while the indoor restaurant is good for families.

phone: +91 141 2553903

address: E-20, Prem Plaza, Girdhar Marg, Opposite Reliance Fresh

Rooftop and indoor seating. More of a restaurant than a bar, with dishes from all over the world ranging from spring rolls to pizzas and fajitas to burritos.

Drop Zone Lounge Bar

phone: +91 141 2723594, +91 141 3155220

address: 14/82 & 83, Niti Nagar, Opposite Capt Amit Bhardwaj Petrol Pump, Malviya Nagar

A bar with a pleasant rooftop seating with fantastic views, and they serve food as well.

phone: +91 141 236 0202

address: Park Prime Hotel, Prithviraj road, Near Statue Circle

Cozy pub in the basement of the Prime Park Hotel, reportedly great for an evening out with your friends. Many different snacks and cocktails. On the downside some guests find the service is a bit slow.

Hightz

phone: +91 141 236 0382

address: Hotel Man Singh, Sansar Chandra Rd

More of an upscale restaurant, serving Rajasthani and Chinese food.

phone: +91 141 403 1026

address: SB-57, Riddhi Tower, 5th Floor , Opposite SMS Stadium

Bar, restaurant and lounge with Mexican and Italian cuisine. Different sitting areas, which makes it a good place for private events.
Night clubs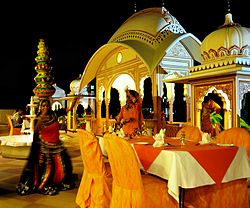 phone: +91 9166048000

address: A2 Corporate Tower, Near Jawahar Circle

A lounge bar with two restaurants (fine dining and casual). A good place to hang out with your friends, and fairly popular among students.

phone: +91 96801 67016

address: 9th floor, Golden Oak Hotel, Landmark Building, Ahinsa Circle, C Scheme

Bar and nightclub popular with the party crowd, though their food is apparently not very good. Great views of the city from the rooftop lounge.

phone: +91 9549876525

address: The Byke Grassfield Resort, Kishan Nagar , Near Bansal Hospital

A nightclub with electronic music and different events every few weeks at the Byke Grassfield Resort, some 6-7 km southwest of the city centre.

Duplay

phone: +91 141 4033300

address: MI Road

Popular nightclub with two dance floors for Bollywood and electronic dance music. Wide choice of drinks, though less so with non-alcoholic.

phone: +91 141 220 4702

address: Hotel Maharani Palace, Station Rd

Bar and nightclub serving food. Special events during New Year, Valentine's Day and festivals.

phone: +91 141 3391479

address: Hotel Las Vegas, A1, Sehkar Marg, Bais Godam

House of People is a nightclub offering a wide variety of drinks and an amazing lounge to hang out. A pint of beer would cost about ₹250. It also attracts good gentry in general.
Sleep
Budget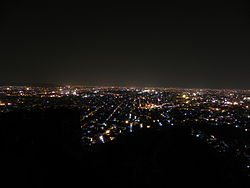 Jaipur being a prime destination for the tourists of all ages, both international and domestic, has a plethora of budget accommodation options. Almost all of the pan-Indian hostel chains are present in the city, including
Zostel
,
Moustache
,
Backpacker Panda
,
Roadhouse
and others. These places are generally dominated by young backpackers. Homestays and guest houses that are hosted by local residents and offer to give you an authentic experience from interiors, to ambiance, to the food they serve. Try to find a place near the Pink CIty, or Hawa Mahal.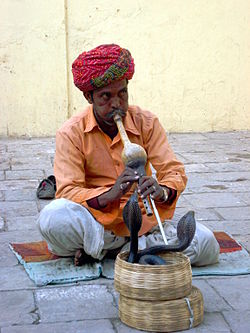 Mid-range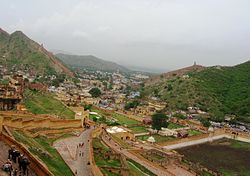 Splurge
Jaipur has an excellent selection of expensive places to be treated like a maharaja for a day or two, most of which are often booked a year in advance. Though the list is endless, a few of them are:
Stay safe
Beyond the standard dangers of travelling in India (thieves, hustlers, touts, questionable
drinking water
), Jaipur has developed its own set of unique scams.
The gem scam
You may be approached by a local, sometimes youths on motorbikes, who claim that Westerners are unwilling to engage with the Indian people.
"Why don't tourists want to talk to me?" or "I am a student, I want to learn about your culture" is a common opener. They may also try to make you feel guilty by claiming "It is Indian culture to be help." If you engage them, the scam artist will invite the visitor to drink tea. Frequently, the tourist will only be told of the gem stones the next day or after dinner. Usually it is some sort of tax problem. The unwitting mark is then sold fake stones for resale in his/her home country. Even if stones are posted in front of your eyes, you are more likely to see Elvis than the gems again. As a general rule, do not accept tea from strangers, but in addition be wary of any who invite you to talk in secluded areas. The easiest is a simple and polite refusal of any offer, even if just a drink and chat. You may need to firm in your refusal, and walk away.
If you are a Westerner and a person outside your hotel accosts you, then it's likely the person is scheming to acquire your money. There have been reports of smugglers trying to entice foreigners to assist in smuggling items. Under no circumstances accept: smuggling is a serious offence.
Go next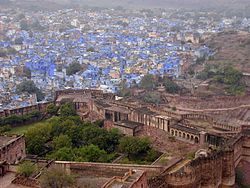 There are many other fascinating and beautiful places to visit in Rajasthan.
If you are booking train tickets out of Jaipur, make sure to ask for Tatkal tickets at the reservation office, as tickets to just about everywhere sell out weeks in advance. Tatkal (last minute) tickets only open for sale the day before the train leaves, and are not always offered voluntarily by the staff, who will simply tell you the train is full.
Abhaneri — you can arrange transport to this village, which contains an impressive ancient stepwell and a beautiful 9th-century temple
Bikaner — a city in the Thar Desert; though less visited than Jaisalmer, it is home to several important sites such as Bikaner Fort (Junagarh Fort), Laxmi Niwas Palace and Shivbari Temple
Bhandarej — a little-known town 62 km from Jaipur off the Jaipur-Agra Highway, which dates from the times of the Mahabharata and features 11th-century monuments and temples
Jaisalmer — the Golden City in the Thar Desert
Jodhpur — the stunning Blue City, with its awe-inspiring Mehrangarh Fort
Udaipur — train #2965, Gwalior Udaipur Superfast Express (via Agra), is the best option for this beautiful City of Lakes