Jalandhar
Jalandhar
is a city in
Punjab
, India.
Understand
Punjab's third largest city with a population of nearly one million has huge historic significance. Nearby flows the Beas River that marks the eastern-most border of Alexander the Great's conquests in 326 BCE. According to Chinese Buddhist monk Xuanzang or (Hsuan-tsang) who traveled to India between 627-643 CE, Adinapur (the current Jalalabad) was an important Buddhist center with lot of vihara (monasteries). At that time Adinapur was the capital of a powerful kingdom that encompassed a good part of southern
Himachal Pardesh
. But the city retains almost nothing of its past. Few archaeological relics are to the south, around Nakodar town. Jalandhar is now industrial center with leather goods and sport equipments being the big earners. This is a good place to share Punjabi people passion for foods
Get in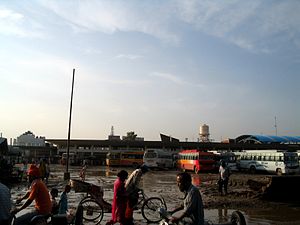 Travel options from Delhi include train and road travel. Jalandhar is well connected by trains, including a Shatabdi train from Delhi to Amritsar via Jalandhar which runs twice a day with air-conditioned chair car coaches. Jammu Mail, among others, runs in the night from Delhi to Jalandhar.
Apart from trains, Jalandhar is easy accessible by buses plying from all over the North India. There are many interstate buses connecting Jalandhar to the major towns of Himachal Pradesh, Jammu and Kashmir, Haryana, Delhi and Rajasthan.
Jalandhar is well connected to all the major cities in Punjab by Public and Private buses. There are private buses connecting Jalandhar to the towns in other states but generally they don't have the legal permits and took much time as compared to state owned buses. However, these can be comfortable as compared to state buses depending upon the bus operator. There are air conditioned buses also which generally have valid permits.
There is no airport in Jalandhar but the nearest airport is in Amritsar at a distance of 100 km (90 mins). There are many airlines operating from Amritsar Airport connecting it to Europe, North America and Middle east. However the transport system connecting the airport to Jalandhar is poor, so it is advisable to book a taxi before you arrive.
Get around
Rickshaw (pedicab)
Auto-rickshaw
Bus
City cab (taxi)
See
Devi Talab Mandir

address: Nakodar Road

A replica of Amritsar Golden Temple.

Nikku ParkNice park for strolling.

Sodal Mandir

address: Pathankot Road, Laxmi Pura

NakodarThe town was founded by the Hindu Kamboh. The Kamboh settlements lay to the west of present town and the sites are still marked by extensive ruins and two old tombs, now called the Black and Red Domes, from the colour of the material. The large and handsome tombs dating at least from the times of Jahangir, the fourth Moghul Emperor (1569 – 1627). One of them is said to be the burial place of the adviser of Emperor Shah Jahan, but it is not known who is buried in the other tomb.
Do
Bowling - Prithvi's Planet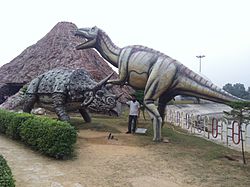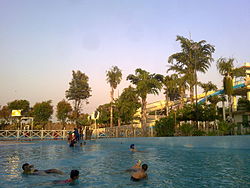 WonderlandOne the best place for enjoyment for one day outing for the entire family with thrilling rides, water games and many more.
Buy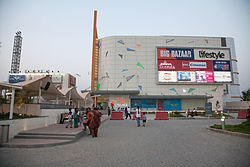 Jalandhar is India's foremost producer of sports goods. Its traditional clothes (
salwar suits, sarees etc.
), Punjabi jutis (
slippers
) and jewels are also very famous. There are lot of local jewelers for non-branded jewelery at Phoolan Waala Chowk while branded jewelery are located at Model Town market
Bombay Jewellers

address: Model Town Road

Gold and diamond jewellery.

Jai Krishna Jewellers

address: Prakash Nagar Road,

Sheikhan bazaar

phone: +91 181 246 5392

address: 410 L, Model Town Market

Jewellery and watches. Sub brand of Tata Group.

Viva Collage Shopping Mall

phone: +91 85568 93369

address: National Highway 1

Jalandhar's largest shopping mall, featuring a five-screen multiplex.
Eat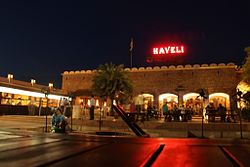 Jalandhar offers a variety of delicious authentic Punjabi food. Some of the "must-eat" dishes are:
Aloo ka paratha, bread stuffed with spiced mashed potatoes.
Channa Bhatura, chickpeas cooked in a spicy onion-tomato and served with fried Indian bread called bhatura.
Falooda, a cold beverage made from mixing rose syrup, vermicelli, psyllium.
Kulfi, frozen dairy dessert served as ice cream.
Lassi, refreshing drink prepared by blending yogurt with water and adding sugar and other spices.
Makki di roti, a flat, backed bread made from corn flour. It's accompanied with saag or sarson da saag (cooked mustard green leaves).
Traditional Punjabi cuisine
Chana kulcha at Dina nath

The Great Kabab FactoryA wide selection of vegetarian and non-vegetarian kababs and curries

Headquarters

address: New Jawahar Nagar

Mixed cuisine

phone: +91 181 223 3227, +91 97815 73700 (Mobile)

address: H.0.569-570, New Jawahar Nagar Market

Fast food restaurant. Indian, Punjabi, Chinese and other dishes

phone: +91 98764 77777

address: Nakodar Road, Jyoti Chowk

Candy store

Manni Vaishno Dhaba

phone: +91 98141 31219

address: Connaught Circus

phone: +91 94172 35691

address: Market Rd

Pahwa Kulfi House

address: Model Town Market

Puris Chana and halwa katlamba

South Indian Dosa

address: Islam Ganj

Mixed cuisine

Volga RestaurantMixed dosa and paneer dosa. The aloo tike is better from the street vendor just outside the restaurant.
Budget
phone: +91 9988271144

address: Attari bazar

This is one of the famous kulfi corners known for kulfi and faluda rabri and affordable prices. "Milk badam" and "kesar milk" are also delicious there. Other locations: Adarsh Chopati & Model town

Haveli

phone: +91 182 450 1011

address: Grand Trunk Rd, Khajurla

One of the best places to eat typical Punjabi food. It hosts variety of snack stalls as well.

Rangla PunjabTraditional Punjabi cuisine. The Punjabi village setting makes it one of the favorite places of everyone who visits this city. It models village houses, wells etc. It offers buffet in a typical Punjabi village home setting. The hospitality offered here reflects the open and loving hearts of Punjabi people. One can get tired of eating but the food will not stop coming. It also hosts a number of shops where you can buy the Punjabi jutis (slippers), clothes, bangles, etc. On weekends, cultural performances by singers and dancing groups is offered. Definitely a "must" visit place.

Vijay Dhaba

address: Central Town

Traditional Punjabi food. It's one of the famous dhabas known for fresh food (like home-cooked) and affordable prices. "Shahi Paneer" and "Kheer" is definitely a must try.
Mid-range
phone: +91 181 501 2167, +91 181 501 0026

address: Guru Teg Bahadur Nagar

A family recreation (1 fast food, 1 restaurant, pool table and six lane bowling alley) Mixed cuisines

phone: +91 181 461 0023

Very popular. South Indian food in a great ambiance but not many options
Splurge
Drink
F Bar

Glassy Junction

phone: +91 98885 72320

address: Model Town Main Rd

O2 Disco

phone: +91 98721 00032

address: Phase 2 Rd, SCO - 37, Puda Complex
Sleep
Budget
Amar Guesthouse

phone: +91 181 245 5290

address: Near Bhagat Singh Chowk

Hotel Classic

phone: +91 181 200 2071

address: Mahavir Marg

Hotel Park Lane

phone: +91 181 508 1116

address: 534, New Jawahar Nagar
Mid-range
Country Inn & Suites By Carlson

phone: +91 181 503 0100

address: GT Road

phone: +91 181 506 6666

address: Grand Trunk Road

A traditional hotel surrounded by well kept gardens. It's equipped with a fitness centre, a spa and a swimming pool. The huge banquet hall is often used as a reception venue for larger wedding parties.
Splurge
phone: +91 181 467 1234

address: GT Road

The only five-star hotel in the city
Unclassified
Citadine's

Maya

President

Sekhon GrandMulti-cuisine restaur
Go next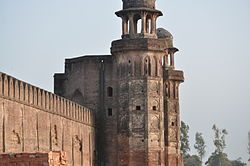 — Once capital of a princely state in British India, the city is renowned for the beauty of its palaces, mosques and gardens
— A village surrounded by extensive ruins. Dakhni Sarai and Mughal Bridge are also worth of a visit