Jammu and Kashmir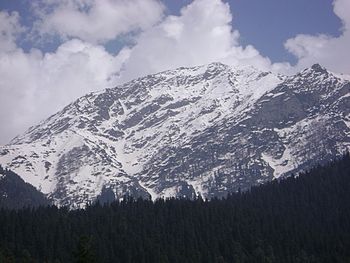 Jammu and Kashmir
(Urdu: جموں و کشمیر) is a union territory in north
India
.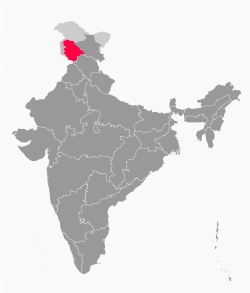 Regions
Jammu Division — known for its temples, shrines, palaces and forts
Kashmir Valley — some say it is Heaven on Earth, friendly people, beautiful gardens, vast lakes and pristine streams and stunning landscapes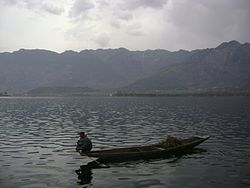 Cities
Here are nine of the most notable cities.
— the state's winter capital
— the state's summer capital, set around famous Dal Lake, with its floating houseboats
— decent skiing and the world's highest gondola
— located in the foothills of the Trikuta Mountains and home of the holy Mata Vaishno Devi shrine
— a calm and serene place offering multiple trekking routes; starting point of Amarnath Yatra
— a small hill station in Jammu
(Sonmarg) — trekking, fishing and mountain sports

Other destinations
— home to the critically endangered Kashmir stag (hangul). Grasslands, alpine meadows, waterfalls and craggy cliffs provide home for various species of mammals such as the Himalayan black and brown bears, jackal and leopard and birds such as the woodpecker, pygmy owl and cinnamon sparrow.

— located in the Kishtwar district, this park has rugged and steep terrain, with narrow valleys leading to glaciers. This park provides habitat for the Himalayan Snowcock and the brown bear.

(City Forest National Park) — located in Srinagar, this former park was converted into a golf course and once featured animals such as leopard, hangul and musk deer; in addition to a large variety of birds

Understand
British India's princely state of Jammu and Kashmir (J&K) is now divided between the Republic of India and
Pakistan
, with a smaller section (the Aksai Chin region) under the control of
China
after having been conquered in the 1962 Sino-Indian War. India claims the entire area of the former state, whereas Pakistan regards the same area as "territory in dispute" awaiting a plebiscite. While some Kashmiris hope for an independent and unified
Kashmir
, the majority seem to simply want peace. It is a mountainous region of great beauty and diversity offering much in the way of outdoor activities and sights for the tourist. The unrest had pretty much completely shut down what was once a thriving tourist industry in Kashmir, and it's now only starting to make a slow comeback. As a rule of thumb, the western area, administered by India as a union territory, remains unsafe, while the eastern area (administered by India as
Ladakh
) is fine - see "Stay safe" below. Today, Jammu and Kashmir is one of three Muslim-majority administrative divisions in India, the others being Ladakh and the
Lakshadweep
Islands. It has an area of 101,473km² (39,179 sq mi).
The inhabitants of J&K belong to three religions, with Kashmir being mainly Muslim and Jammu being mainly Hindu.
Talk
The state's official language is
Urdu
. However, the main languages spoken are
Kashmiri
in the
Kashmir Valley
and
Dogri
in
Jammu
. Most people speak at least a little
Hindi
and you may even hear
Punjabi
.
As elsewhere in India, English is fairly widely spoken among the educated classes and those involved in the tourist industry.
Get in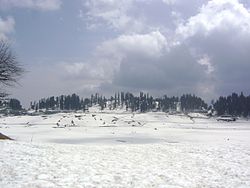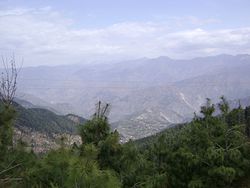 By plane
Flights operate to
Srinagar
. Try
Air India
.
By train
The last stop on the railway line north is
Udhampur
, where you can catch onward buses and hire SUVs/MUVs (Tata Sumo / Toyota Innova/ Mahindra Scorpio). However it is better to get down in Jammu and catch a taxi from there as these are more readily available.
The
Kashmir Railway
is a railway line being built in India to connect the state of Jammu and Kashmir with the rest of the country. The projrct called, USBRL (Udhampur Srinagar Baramulla Railway Link), starts from the city of Udhampur, 55 km (34 mi) north of Jammu, and travels for 290 km (180 mi) to the city of Baramulla on the northwestern edge of the Kashmir Valley. The route crosses major earthquake zones, and is subjected to extreme temperatures of cold and heat, as well as inhospitable terrain, making it an extremely challenging engineering project.
By bus
There are two ways to get in by land - via
Jammu
and up to
Srinagar
or via
Manali
in
Himachal Pradesh
and up to
Leh
.
Get around
By bus
Buses are operated by J&K SRTC to most points around the state. They offer package tours to Gulmarg, Sonmarg, Yusmarg, Ular lake, iity tour, etc. There is tourist information center, offering tickets and information.

By jeep
4WD jeeps are quicker, a little more expensive and reach more locations. Private hire jeeps are also available.

See
AmarnathOne of the holy trinity, Shiva is a living god. Legend has it that Shiva recounted to Parvati the secret of creation in a cave in Amarnath. Unknown to them, a pair of doves eavesdropped on this conversation and having learnt the secret, are reborn again and again, and have made the cave their eternal abode. Yajur veda refers lord Shiva as an ascetic warrior Whose robe is of Deer Skin and carries Damru and Trishul. As referred by the verse "Satyam - Shivam - Sundaram, one life must have three facets Satyam - Truth, Shivam - Good and Sundram - Beautiful.

Bahu FortBahu fort was modified and improved by Dogra Rulers of Jammu but first built it was built by the Raja Bahulochan. This fort is located at a distance of around 5km from the main city and perhaps is the oldest edifice in the Jammu. This fort is facing the Tawi River. There is a temple of the goddess Kali in the fort.

Dal LakeLocated in the heart of Srinagar, this beautiful lake is fed by natural springs.

GulmargGulmarg is a small hill station at a distance of 52 km from Srinagar. While trekking, horse riding and picnics can be fun in summer, in winter it has some of the best powder snow and slopes for skiers. Besides all this, the world's highest cable car is also in Gulmarg.

Mata Vaishno DeviA pilgrimage to the Holy Shrine of Shri Mata Vaishno Devi Ji is considered to be one of the holiest pilgrimages of our times. Popular the world over as Moonh Maangi Muradein Poori Karne Wali Mata, which means, the Mother who fulfills whatever Her children wish for, Shri Mata Vaishno Devi Ji resides in a Holy Cave located in the folds of the three peaked mountain named Trikuta (pronounced as Trikoot). The Holy Cave attracts millions of devotees every year. In fact, the number of Yatris visiting the Holy Shrine annually now exceeds one crore. This is due to the unflinching faith of the devotees who throng the Shrine from all parts of India and abroad. The Holy Cave of the Mother is situated at an altitude of 1,560 m. The Yatris have to undertake a trek of nearly 12 km from the base camp at Katra. At the culmination of their pilgrimage, the yatries are blessed with the Darshans of the Mother Goddess inside the Sanctum Sanctorum- the Holy Cave. These Darshans are in the shape of three natural rock formations called the Pindies. There are no statues or idols inside the Cave.

Mubarak Mandi PalaceMubarak Palace was built with the touch of three different styles, Rajasthani, Mughal and Gothic. Most famous part of this Palace is the Sheesh Mahal segment. There is a Dogra Art Museum, which is a treasure house of miniature paintings from various hill schools.

Mughal GardensThese beautiful gardens line the periphery of the famous Dal Lake in Srinagar. Decorated with colourful flowers, fountains and mighty Chinars, strolling in these gardens gives one a royal feeling.

Peer BabaThis is of the holy places for Muslim saints. People from various religions come in large number to pray on Thursdays.

Raghunath TempleRaghunath Temple is dedicated to the Hindu Lord Shri Rama. All the inner walls of this temple are covered with gold, on three sides. Galleries of this temple are covered with ' Saligrams. The other surrounding temples are related to other gods from the Ramayana. This temple is located in the centre, the heart, of Jammu.

Sri Amarnath Ji TempleTemple is situated 144km east to Srinagar - Jammu & Kashmir state. Lord Amarnath is in the form of an ice Silva-lingam. On the full moon day the lingam is approx 1.8 mhigh. In Rigveda it is said "Ekam Sat" means "There is one Being, whom sages calls by many names. The Supreme Power (Parmeshwar) has three deities who carry on the world called - The Trinity . Lord Brahma - creator of World, Lord Vishnu - Perpetuator of life and Lord Shiva (Mahesh) - the purifier and perpetuator of good and destroyer of evil. Lord Shiva is known as Rudra in Rig Veda as in its following verse. "We Worship Tryambaka (Rudra), Who spread Fragrance and Increases Nourishment, May He release me, like the cucumber from its stem , From Mortal Life , But not From Immorality."
Do
Trekking in Kashmir Valley

Srinagar serves as a base for many trekking expeditions which lead to Himalayan alpine high altitude lakes of Kashmir valley which has a great scope for adventure tourism. These high altitude alpine lakes have no access by any transport, they include Vishansar Lake, Nundkol Lake, Tarsar Lake, Gadsar Lake, Satsar Lake and so on. Many trekking units organise and operate trekking packages to these mountain lakes.

Chadar Trek
Zanskar is located at a very high altitude in Jammu and Kashmir. It is one of the best trekking destinations around the world. In Winter, Zanskar river freezes up, and get converted into an amazing adventures trek called Chadar-The Frozen River Trek. The traditional name for the Zanskar Trek is Chadar Trek as the river becomes a snow sheet during winters due to heavy snowfall. It boasts of some of the lowest temperatures making it a challenging trek for the adventurers. The most isolated and inaccessible for nearly eight months in a year due to heavy snowfall resulting in closure of all the access passes; Zanskar has the distinction of being the least interfered with microcosms of Ladakh, and thus one of the last few surviving cultural satellites of Tibet. This geographical isolation together with the esoteric nature of Buddhism practiced here has enabled its ten thousand inhabitants to preserve and perpetuate their cultural identity.

Shikara ride
Shikaras are the limousines of the Dal lake. Lay comfortably in soft cushions and while the shikara cruises around the lake while vendors come along in their boats selling handicrafts. Also look for a jetski ride in summers.

Eat
Kashmiri wazwan famous cuisine here(Rista,Goshtaba,Kabab,Yakhani,Rogan Josh,), don't miss this cuisine.
Harisa and tuj at Khayam Chowk.
Mughal darbar and Jan bakery are most famous confectioneries in Srinagar at Lalchowk.
Kashmir valley famous for Kashmiri Kahwa,beverage made from saffron.
Kashmir famous for dry fruits and apples.
Kaladi (special milk product like paneer) Kulcha in Moti Bazaar.
Phahalwan di hatti famous Sweet shop in Gandhi Nagar.
Eat kachalu at girdhari shop near pacca danga.
Good Non-Veg at Pape de hatti and pape the great- residency road,Paras raam de hatti at panjthirthi.
Drink
Two local specialities are kehwa, which is a special beverage prepared with saffron and dry fruits, and nun chai, which is a pink, salty tea.

Stay safe
The situation in the province is far from stable. Outbursts of politically motivated violence are possible, especially around
Srinagar
. Demonstrations and rallies can rapidly turn violent. It is vital for visitors to maintain good situational awareness.
In addition, clashes across the Line of Control between
India
and
Pakistan
are also not uncommon, and hostilities between
India
and
China
are unlikely but did occur in the past, so check on current conditions before you go.
Ladakh
is removed from the tension and can be considered safe.
Go next