Jaynagar Majilpur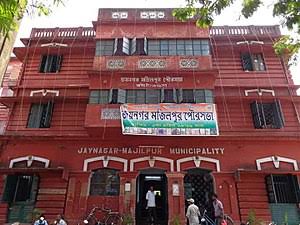 Jaynagar Majilpur
(
Bengali
: জয়নগর মজিলপুর,
Hindi
: जयनगर मजिलपुर) is a city in
Southeast Bengal
,
India
. It is a part of the
southern fringes
of
Kolkata
.
Understand
Jaynagar Majilpur is in the GMT+5:30 (Indian Standard Time) time zone.
Climate
The climate is tropical — like the rest of the Gangetic
West Bengal
. The hallmark is the Monsoon — from early June to mid September. The weather remains dry during the winter (mid November to mid February) and humid during summer.
Temperature: 40 °C in May (Max) & 10 °C in January (Min)
Relative Humidity: Between 55% in March & 98% in July
Rainfall: 1,579 mm (Normal)
History
This city carries the memory of a very significant incident in the history of the
Bengal
. When Raja Pratapaditya Roy, the last Bengal's independent Hindu king at
Jessore
was defeated by the
Mughal
forces, the State Diwan's (Grand Vizier) family and the State Priest's family were forced to flee to avoid persecution and conversion. They settled down in this city, to form the estate of the Duttas, and the Brahmin priest, Sree Krishna Udgata, who came over, settled down in what is today the Bhattacharya Para. All the Bhattacharyas in the city are his scions, with the current 13th generation being settled out of the town.
The city was also called "Half-
Calcutta
" owing to the development it had seen before Indian independence, with stalwarts like Shivnath Shastri emerging. It was also a centre for active freedom fighting, with names like Kanailal Bhattacharya and Rajaram Bhattacharya to name a few.
The city is famous for the ancient Dhanwantary Kali Temple, believed to listen to the prayers of her devotees promptly. An annual event is held, called the "Besher Mela", where the goddess Kali is dressed up as Radha Krishna and other goddesses. It attracts thousands of devotees, and is one of the most iconic yearly events in the city.
Also, by the express direction of the Dhanwantary Kali, every year, during Kali Puja, it is mandatory to host a Kali Puja in every Brahmin household of the place. It used to be a big annual festival, with hundreds of houses performing Kali Puja on the night of the Diwali, and going out on the next day in a beautifully orchestrated procession, going around the city, before the immersion or the "Bisarjan". However, over the past few years, the number of houses performing Kali Puja has fallen drastically, now performed in only twenty odd houses. This has been mainly due to the gradual outward immigration of people from the hamlet, the reluctancy of the younger generation, and their inability to get hold of funds considering the deteriorating economic condition of Bengal, the rise of public subscription or locally called "Barowari Puja" and also the rise of Muslim immigrants and converts, who have posed problems while the peaceful immersion procession was on its way.
The city has an ancient crematorium, believed to behaunted, by the name of "Buro'r Ghaat" (the Old man's Ghaat). It was once connected to the Ganges, but has silted up since.
Economy
Initially, most of the residents of Jaynagar Majilpur were government employees. Gradually, the importance of the city increased due to its geographic location and now it is also a business hub. Due to its historical importance, the city also earns a good number of tourists, thus making tourism another prominent industry there.
The city has been witnessing radical changes, along with rapid development in segments like industry, real estate and education, since the advent of the twenty-first century. The changes are with respect to infrastructure and industrial growth for knowledge-based industries. Housing co-operatives and flats, shopping malls, multiplexes, hotels, sports complexes have also come up.
Get in
By plane
The nearest airport is the
Netaji Subhas Chandra Bose International Airport
(
CCU
) in Kolkata. Once you get off, you will need to take a taxi or hire a car. The distance to Jaynagar Majilpur is about , and the drive can take between 75 to 90 minutes depending on the traffic.

By train
Railway is the primary mode of transport in Jaynagar Majilpur. The city is served by the Jaynagar Majilpur railway station on the Sealdah–Namkhana line of Kolkata Suburban Railway with an approximate distance from Sealdah railway station. It is under the jurisdiction of Eastern Railway zone. Jaynagar Majilpur railway station is one of the busiest railway stations of Sealdah railway division. More than 30 pairs of E.M.U. Local Trains ply through the railway station on a daily basis.

By bus
Jaynagar Majilpur is also connected by road. The entire area of this city is well connected through the State Highway–1. Buses like Calcutta Tramways Company (CTC), Calcutta State Transport Corporation (CSTC), West Bengal Surface Transport Corporation (WBSTC), Express ply their trade here. Buses available for all over Kolkata and suburbs.

By taxi
Kolkata's taxis are allowed into Jaynagar Majilpur. The prepaid taxi service available at the airport is the recommended hassle-free way of getting to Jaynagar Majilpur. The fare you pay at the counter includes the toll you need to pay when you leave Kolkata.

Get around
By rickshaw
The cycle-rickshaw is the most convenient mean of transport in Jaynagar Majilpur. It is very cheap and can accommodate two adults. The fare is not determined by meter by the respective rickshaw association. Unlike auto-rickshaws, they go to any place in a particular region.
However after 22:00 rickshaw drivers may demand an exorbitant fees, and the same goes for times during natural calamities such as heavy rainfall.

By auto-rickshaw
There are shared auto-rickshaws i.e. the auto-rickshaws don't ferry just a single person but four person at a time. The fare is not set by meters, as fares are fixed by the auto-rickshaw associations. Auto-rickshaws have a fixed route and a vehicle of that route travel in that particular route only.
However unlike taxis, they don't refuse passengers. The fare of an auto-rickshaw is much less than that of a taxi (for example, ₹7-10). Be prepared to give the exact fare as they are very reluctant to give change.

By car
Cars by App-based services such as OLA and UBER are easily available (round-the-clock), reasonably priced, comfortable and have been embraced by citizens.
Privately owned rental car places are available throughout the city. Rates depend on the make, model, size and comfort level of the car. Agreements are flexible, for example, cars can be rented even for couple of hours at an hourly rate. Most rental cars are accompanied with a driver from the rental agency.

Talk
Being in
West Bengal
, the native language of the people of Jaynagar Majilpur is
Bengali
. However, most educated people speak Hindi and English as well. Many shopkeepers and taxi drivers are able to communicate in broken English, and government offices will typically have English-speaking staff on duty. Although it is generally not a problem getting by with English, learning some Bengali will make your trip much smoother.
See
Jaychandi Mandir

Dwadash Shiv Mandir

Radhaballabh Mandir

Shyamsundar Mandir

Dhanwantari Kali Mandir

Satsang Thakurbari (Sri Sri Thakur Anukulchandra)

Moyda Kalibari

Ramkrishna Ashram
Work
Volunteering is a real option here with several opportunities.

Buy
Jaynagar Majilpur is one of the major shopping areas of
South 24 Parganas
district. There are many shopping malls in this city where all types of branded products are available.
Eat
Jaynagar Majilpur is famous for the confectionery of "Jaynagarer Moa", made with Nolen Gur (jaggery made from date palm tree extract with exquisite taste and aroma), Kanakchur Khoi (a form of popped rice made from a special variety of aromatic rice), Gawa Ghee (a type of clarified butter made from cow's milk), Elach (cardamom), and Posto (poppy seed). Both Nolen Gur and Kanakchur Rice are winter products, available around November to January, and hence "Jaynagarer Moa" is available during this period only. There are over 250 sweetmeat shops around the city, which produce it with the original ingredients. The "Jaynagarer Moa" manufacturers in Jaynagar Majilpur had been attempting to get Geographical Indication status for "Jaynagarer Moa". Besides, there are many shops of other Bengali confectionery too.
There are plenty of non-vegetarian Bengali restaurants here. The city also has many excellent North Indian and South Indian vegetarian restaurants ranging from budget to expensive ones.
Jaynagar Majilpur is also the home of Indian Chinese food. Chinese restaurants are everywhere so try the Indian variant of hot and sour soup and the famous Indian Chinese dish of chilli chicken. It serves the best of the Chinese dishes and you will find plenty of large, small & medium restaurants. There are some restaurants serving Thai, Mediterranean or Italian food.

Drink
There are plent of places to buy alcohol around the city. Jaynagar Majilpur has many pubs and bars, which are frequented by the youngsters as well as its older residents.

Sleep
Jaynagar Majilpur has a large number of hotels, lodges and guesthouses.

Connect
Public call booths can be found easily throughout the city from where local, national, and international calls can be made. Else local sim card can be used for connectivity. Cell phone coverage is excellent with all major mobile service providers offering their services in the city.
The area
dialing code
for Jaynagar Majilpur is
3218
. From overseas dial +91 3218 XXX XXX, from within India dial 03218 XXX XXX. For mobile phones, dial +91 XXXXX XXXXX. Jaynagar Majilpur has only one area code (03218).
Internet cafes are also available in plenty and charges between 10-25/hour. You need to show your identity card to use internet in those cafes.
Important numbers
Municipality

phone: +91 3218 220210

Post Office

phone: +91 3218 220220

Police Station

phone: +91 3218 220203

Fire Station

phone: +91 3218 220000

Electric Supply Office

phone: +91 3218 220214

Telephone Exchange

phone: +91 3218 220252
Stay safe
Jaynagar Majilpur is the safest city in
West Bengal
, and the people are friendly and helpful, unlike in most of
Bengal
's other cities.
Emergency numbers
Police

phone: 100

Fire

phone: 101

Ambulance

phone: 102
Go next