Jeffreys Bay
Jeffreys Bay
is located within the Cacadu District on the
Sunshine Coast
of
South Africa
. Also known as
J-Bay
, the town is famous for surfing, white sand beaches and an abundance of sea shells.
The town became popular with surfers after the 1966 movie
Endless Summer
.
Understand
The Jeffreys Bay region is renowned for its gorgeous beaches, never ending summers, plentiful shells and is best known as "the Surf Mecca of the World". The beautiful beaches are safe for bathing and provide endless excitement for water sports.
2 km south of JBay is
Marina Martinique
, a development on 5km of man-made saltwater canals. 2½ km north, is the beautiful valley of Kabeljousriver with its waterfall. These are good places to stay if you like a bit more peace and quiet than accommodation in town can offer.
Aston Bay
borders on Marina Martinique and if you cross the causeway over the lagoon of the Seekoi River, you come to
Paradise Beach
.
Paradise Beach is relatively undeveloped with 6 km of unspoiled beach all the way to the Kromm River which separates it from
St Francis
. It is not recommended to swim across the river.
Ocean temperatures are around 23°C in summer.
Tourist office
phone: +27 42 293-2923
address: Da Gama Street
Get in
By car
Follow the
N2 West
from
Port Elizabeth
(75 km) or the
N2 East
from
Garden Route
and use the turn off to Jeffreys Bay. Jeffreys Bay is 876 km from Durban and 356 km from East London.
By bus
The BazBus stops on its way from
Cape Town
to Port Elizabeth in
J-Bay
and there are a number of intercity bus companies stopping in Humansdorp (drop-off for St Francis) and Jeffreys Bay.
Minibus taxis depart from the corner of Goedehoop and St francis street going to and from Port Elizabeth. one hour. R50.
Eldo Coaches have buses from Jeffreys Bay going to Cape Town and East London. The fare from Jeffreys Bay to Cape Town is R360, and the fare from Jeffreys Bay to East London is R310.
By shuttle
St Francis Bay Airport Shuttle servicesThis cab service travels between Port Elizabeth airport, Jeffreys and St Francis Bay and transport tourists in and around the various towns and establishments.

J-Bay Cabs

phone: +27 83 611-1003

Offers shuttle service between Port Elizabeth, Jeffreys Bay and St Francis Bay, registered and fully insured, Available 24/7.
By plane
The nearest airport is the
Port Elizabeth International Airport
, which is approximately 75 km away. Despite its name it only has domestic services, but you can fly in from other world cities with a change of planes in
Johannesburg
or
Cape Town
. The latter is approximately 650 km away and you can travel that trip overland if you have time and want to see more of southernmost Africa.
For
general aviation
, there is a good gravel airstrip - 1300 m for small planes in Paradise Beach.
Get around
You can easily walk around in town. Most places you want to be are centered around Da Gama Road, the main beach and Supertubes. Car rental, taxi, and bike rental are also available.
Bicycle Hire

phone: +27 83 661-5393

As the name says, available at All Africa J Bay Lodge opposite 7/11 in centre of town.
See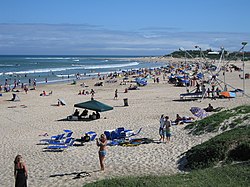 Jeffreys Bay Surf Museum

phone: +27 84 240-1741

address: 24 Da Gama Rd

The Jeffreys Bay Surf Museum is situated inside the QuicksilverShop, where the history of surfing in Jeffreys Bay is displayed by way of newspaper clippings, articles, old magazines, ancient surfboards and lots of other interesting objects.

Jeffreys Bay Shell Museum

phone: +27 42 293-1945

address: Da Gama Street

J-Bay is well known for the huge quantity and the quality of shells that can be found on the beaches. A good book to use as a guide is The Sea Shells of Jeffreys Bay by Douw and Elise Steyn (, Eldolise Publishers, ). There is an annual Shell Festival in September and a lovely Shell Museum on the corner of Drommedaris and Da Gama Roads.

Aston BaySituated between Jeffreys Bay and Paradise Beach, this area offers long stretches of untouched sandy beaches surrounded by protected nature reserves. Sightings of small buck, tortoises, a large variety of birds, rabbits and mongoose are part of every day life in this nature conservancy and the creatures are much loved by local home-dwellers.

Paradise BeachParadise Beach promises a relaxing day on a pristine white beach, away from the hustle and bustle of everyday city life. The name explains it all: it really feels like paradise. Because of its wide and uncrowded beach, it's also a paradise for windsurfers and kite boarders with a nice breeze most of the year.

Noorsekloof Nature ReserveA small conservation site, more like a park, in the north of Jeffreys Bay. It's made up of valley bushveld and home to over 50 bird species.
Do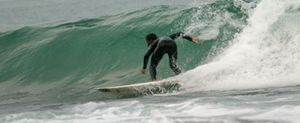 The enthralling Jeffreys Bay boasts gorgeous blue flag beaches with plentiful shells - safe for bathing, water sports and fishing. The best beaches for sunbathing and swimming are Dolphin Beach (the main beach) and Kabeljous-on-Sea. The best surfing location is the , home to the perfect wave. Other spots include the Boneyards, Kitchen Windows, Magna Tubes, Point and Albatross. The area offers kite surfing on the Seekoei and Kabeljouws rivers, regular kite flying, canoeing, sea kayaking, scuba diving, and some great angling from the rocks or out at sea. Game drives, mountain and quad biking and are but some of the other exciting options to consider.
Surfing
Be a spectator at the annual Billabong Pro surfing competition, watch surfers at Supertubes all year round or hit the waves yourself. With numerous surf schools, surf shops and surfboard manufacturers based in the town, there is no excuse not to learn.
phone: +27 42 293-4214 or +27 82 324-7284

address: 30 Diaz Road

Wetsuit and board is supplied.
phone: +27 42 296-0376

address: 8 Cherry Street

Offers excellent surf lessons with the Andrew Moon & Wavecrest Surf Academy. Guided surf tours are available for the JBay & St Francis area, plus longer trips going as far as Cape Town and the Garden Route.
Fishing
A number of companies offer deep sea fishing charters. Most of the boats operate from nearby
St Francis
.
Golf
Jeffreys Bay Golf Club

phone: +27 42 293-2532

address: Disa Ave

9-hole (18 tee) golf course.
Horse, hiking & mountain biking trails
There are a few small nature reserves in the area, such as the Kabeljous Nature Reserve, which is a walk-about reserve with a safe beach for swimming and excellent fishing spots, as well as bird watching. The reserve includes a 4-km hiking trail and its own flock of pink flamingoes (when in season). Nature lovers can also enjoy the Noorsekloof Nature Reserve, which runs through a popular residential area. Here you can look out for small buck and many birds while walking the 3-km trail running alongside the stream, while breathing in the magnificent fragrances of indigenous fynbos. The Seekoei River Nature Reserve, situated on the Seekoei River estuary, is a bird watcher's paradise with hides overlooking the river. For the energetic, Jeffreys Bay can also be explored from the seat of a rented mountain bike. There are some exciting places to visit of which the waterfall, located just outside of town, is perhaps one of the best. The natural pools are refreshing to say the least, while the waterslide and cliffs from which to jump off is perfect entertainment for the more adventurous.
Other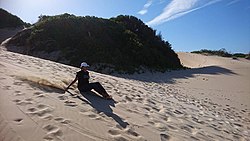 phone: +27 72 237-7422

address: 30 Dogwood road

While enjoying Jeffreys Bay why not help with the upliftment of the local community by donating your time to volunteer projects, teach local kids to surf, work with street children and families affected by AIDS. These projects are great fun and the reward even better.

phone: +27 42 293-2073

Game drives and horse rides.

JBAY Paintball

phone: +27 83 465-1200

phone: +27 83 661-5393
Buy
Most shops and businesses are along the main road (
Da Gama Street
) or concentrated around the small main town area.
Fountains MallThe Fountains Mall outside of J-Bay had lots of the major shops, e.g., Game, Clicks, Mr Price, Woolworths.
Supermarkets
address: 4 Mimosa Street

phone: +27 42-2933000

address: St Francis Dve

phone: +27 422931349

address: Cnr Pell & Duine streets

A no-frills supermarket.
Surf gear
J-Bay is a good place to have a custom board shaped, as a number of surfboard manufacturers have made the town their home.
phone: +27 42 293-4410

address: 8 St Croix Street

Surfboard shapers and manufacturer.

phone: +27 42 293-2204

address: 33 Jeffreys Str

Locally manufactured Classic J-Bay designs and imported NSP and Sunset Softboards.
Clothing
There are many shops selling surfer wear and this is the place to buy an exclusive Billabong or Quicksilver outfit. Apart from the retail stores, there are also surf brand factory stores where you can find great surf gear at bargain prices.
Billabong Concept Store

phone: +27 42 200-2672

address: 1a Da Gama Rd

Billabong Surf Shop

phone: +27 42 200-2640

address: Magnatubes, Da Gama Rd

phone: +27 42 200-2611

address: 19 Da Gama Rd

Surfer Girl

phone: +27 42 200-2639

address: Shop 1, Wavecrest Centre, 126 Da Gama Rd
Gift shops
Shell Bay Blue

phone: +27 42 293-4409

address: 10 Drommedaris St
Eat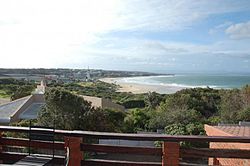 Budget
You can have almost all fast foods delivered by making use of special delivery services.
J Bay Transporter

phone: +27 83 6111-003

Operated by J Bay Cabs. Available 24/7, see website for on-line menus and services.

phone: +27 42 293-3004

They will accept food orders and deliver it to your door from most fast food outlets and restaurant that do not deliver themselves. Pick up one of their booklets from most fast food outlets.
Mid-range
phone: +27 42 292-0792

address: Dolphin Dr

Grocery shop with restaurant, the latter named Lions Den. Excellent Portuguese fare. Have a beer with Manual.

Cafe Dulce

phone: +27 42 296-2078

address: 126 Da Gama Str

Ice cream and coffee bar.

phone: +27 42 293-4230

address: Ferreira Street cul de sac

Specializing in seafood, but they also have steaks and pizza.

phone: +27 42 293-2500

address: 18 Oosterland Str

Restaurant and gift shop.

phone: +27 42 293-4206

address: Time Square Building

A South African restaurant chain, good steaks.

phone: +27 83 321-8508

address: On the beach at Marina Martinique

Despite the name, the restaurant seems to mostly serve steaks and also some seafood dishes.
Splurge
phone: +27 42 293-3921

address: 55 Diaz Rd

Seafood and steaks.

phone: +27 42 292-0005

address: Clapton Beach, Marina Martinique

Dig your toes into the sand and look out over the ocean while enjoying a seafood platter. Walskipper is very popular during South African holiday seasons; best to phone and book the day before. During most other times of the year you can just walk in and sit down.
Drink
The main swimming beach, Dolphin Beach, is an alcohol-free zone.
There are many pubs and two nightclubs in town.
phone: +27 42 293-2966

address: 19A Da Gama Rd

A Mexican-themed restaurant. Live music and the party can get quite intense with people ending up dancing on the tables by early morning.

Upstairs @ Havana

address: Da Gama road

Lively nightclub next to the beach. Moved from their old location to this spot.

address: Da Gama Rd

Sports bar and nightclub.
Sleep
J-Bay
caters for all kinds of accommodation. Backpacking hostels, caravan and camping, bed and breakfast, self-catering and hotels can all be found.
Budget
Mid-range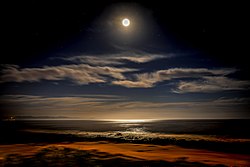 Splurge
Stay safe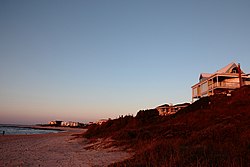 Robberies of tourists and less careful locals are becoming more frequent. Be careful when walking alone on the beach, or while walking in town at night. Do not leave valuables visible in your car.
Be careful when travelling along the road between Jeffreys Bay and Aston Bay at night, as pedestrians do cross without warning between the small informal settlements on both sides of this road. Also watch out for stray animals on the road.
At the closest airport, get directions and information from marked information counters
Stay alert and keep an eye on your valuables and luggage at all times
Use only registered and qualified tour guides. Contact tourism offices for a list of qualified tour guides
Important phone numbers
National Sea Rescue Institute (NSRI)

phone: +27 42 294-0131, 082-911 (domestic)

Police

phone: 10111 (domestic), +27 42 293-1133

address: 6 Woltemade St

Fire Brigade

phone: +27 42 291-0283

Ambulance

phone: 10177 (domestic), +27 42 293-1311
Stay healthy
phone: +27 42 293-1244

address: 1 Flame Cres

Dentist.

Dr. Jan Nagtegaal

phone: +27 42 293-1166

Doctor.

phone: +27 42 291-0749

address: 22 Kemp Str, Humansdorp

Private Hospital

phone: +27 42 295-1100

address: Humansdorp

The closest hospital is located about 20 km away in the town of Humansdorp.
Connect
For contact details for food and groceries, vehicles, home services, liquor, medical practitioners, nurseries & garden services, pharmacy, professional, cleaning, legal services, photography, security, timber decks, housing, health and beauty call the local or international telephone directory.
Local telephone directory: 1023
International telephone directory: 10903
There are a number of internet cafes in town. Some offer wifi access and some are equipped for Skype calls. Places to sleep often also offer free wi-fi, and mobile operators have 3G networks (see
South Africa#Connect
).
Cope
Cornerstone Laundromat & Coffee Shop

phone: +27 42 296-0732

address: Magna Towers / Checkers Centre, Da Gama rd
Churches
Go next
Nearby

Not far from Jeffreys Bay lies the charming town of St Francis Bay. It is known for its endemic white houses with either black tile or thatch roofs blending together with the Sardinian-style red tile roofs. Approximately half of the town is built around the largest web of manmade canals and waterways in Africa. Adjacent to St Francis Bay is the pastoral fishing village of Cape St Francis with its outstanding beach and historic Seal Point Lighthouse while Port St Francis is the harbour.
Visit Oyster Bay, a town that caters for those who enjoy quiet time and relaxation. Explore this district with its beautiful beaches, rich wildlife and adventures - surf the waves or swim with dolphins, there is something for everyone in this picturesque and breathtaking Jeffreys Bay area.
Further away