Jeju
Jeju Island
(제주도,濟州島 and
formerly romanized as Cheju
) is an island off the southern coast of
South Korea
in the Korea Strait. The main town and capital is
Jeju City
.
Regions
Cities
Jeju Island has two major settlements:
- the capital and location of the international airport. The city does not have many tourist attractions, although it has a few bars and restaurants.
- large town in the south and close to a wide range of the island's tourist sites. Home to a World Cup Stadium and the Jungmun Tourist Resort Complex.
Other destinations
Smaller villages dot the coastline and eastern and western interior. Roughly clockwise from Jeju City:
Gimnyeong - village closest to the Manjanggul Lava Tube and adjacent Gimnyoung Maze.
Seongsan - village in the east of the island, close for Udo Island and Seongsan Ilchulbong, a volcanic crater. The village has a number of interesting seafood restaurants and can make for a pleasant overnight stay, but there are no nightlife options (apart from a disproportionate number of marts for the size of the village).
Gangjeong - small coastal village just west out of central Seogwipo. Unnoteworthy if not for the fact that it is the proposed site and thus ground zero for the battle over keeping naval bases off Jeju.
Hallim - also romanized as Hanrim. Close to many inland theme parks and golf courses but in an area generally poorly serviced by inter-city buses.
Understand
Jeju is Korea's largest island and is a popular vacation spot and honeymoon destination for Koreans and Chinese. The island is crowded with tourists all-year round; 15 million visit each year an island of 600,000 and Seoul-Jeju is the most-used flight route in the world. The island offers visitors a wide range of activities including hiking on Halla-san (
South Korea's highest peak
), catching sunrises and sunsets over the ocean, horse riding, visiting the sets of Korean television drama or just lying around on the sandy beaches. Geographically it lies southwest of Jeollanam-do Province of which it was a part before it became a separate province in 1946, and more recently South Korea's only Special Autonomous Province. Jeju has its own English language magazine created by foreign residents on the island –
Jeju Life
.
South Korean nationals were not allowed to travel internationally without government permission until the late 1980s and, therefore, Jeju island was heavily developed as a domestic vacation destination. It has also been traditional for Koreans to spend their honeymoon there (look out for couples wearing the same clothes). The island also happens to be South Korea's main location for unusual theme parks and niche commercial attractions with eccentric museums for sex, glass and teddy bears.
The name Jeju means "a huge village across the sea", reflecting its location from Korean mainland among southern Korean tip, notably Mokpo, Kyusu of Japan and southern China. Its original and beloved nickname is Tamna (탐라) with a meaning of "island nation", which supposedly lasted till its complete seizure in 12th century. Consisting of 8 inhabited islands and 82 uninhabited islands (as of 2010), Jeju has a sub-tropical to temperate climate, inarguably top tourist destinations in South Korea, attracting more than 8 million tourists worldwide every year. (Korea Tourism Organization) Thanks to increasing low-cost airliners, more tourists can easily have accessibility around the coast.
History
Jeju as the independent entity, Tamna (in Hangul: 탐라국, in Hanja: 耽羅國) takes hold of its prehistory relics as early as 38 BC. The island enjoyed sea-route trades with Baekje, Silla and far-northern Goguryeo of Three Kingdoms of Korea. Once Baekje collapsed after the alliance of Tang-Silla, Tamna maintained independent trade routes, connecting Chinese Tang, Korean kingdoms and Japanese people and also diplomacy as a tributary states with Imperial China.
It was the early 12th century of Sukjong of Goryeo (1105) when Tamna fully lost its independent status, brought under control as its converted name of Jeju later. During invasion of Yuan Mongolia, Jeju functioned as the last outpost for anti-Yuan protests. However, Yuan thwarted further resistance, controlling the mountainous island with a view to breeding horses for its planned invasion to Japanese archipelago. (At this time, the huge forests area of Hallasan Mountain (300m-800m) became transformed into savanna.) From Joseon Dynasty, (1392-1910) Jeju was largely utilized as the place of exiles.
Depending on its strategic location, Japanese colonialists took advantage of Jeju island as a military base, recruiting Jeju people into forced labors and building underground tunnels in case America attacked, some of which can be visited across the island (Sanbangsan, Geomeunoreum, etc). Right after independence, the island also went through severe massacre during the Jeju Uprising of 1948-1949 when communist rebels rose against the US-backed government and the separation of Korea as two separate countries. 14000-30000 people (10% of the population) were killed as government forces massacred entire villages and rebels forced villagers to move to mountain caves to hide from the police. But recently, the government has apologised and now endorses Jeju as 'the island of peace', with yearly commemorations taking place on April 3 (date of the start of the uprising) at the 4.3 peace park in Bonggae-dong, Jeju City.
Climate
Jeju Island is on the border between the temperate and subtropical zones, with average daily highs ranging from 3°C in January to 30°C in August. The climate is milder than that of the Korean mainland owing to the surrounding warm currents, although the island experiences a good deal of wind throughout the year. Rainfall is heaviest between June and September.
Culture
The name
Samdado
(in Hangul:삼다도, 三多島) characterizes its uniqueness, which incorporates three principal features: women, rocks and wind. Actually, it's foundation myth is featured in a goddess. The local traditional culture stands in stark contrast to the mainland (
and much of Asia
) as being matriarchal. Along the coast of Jeju you can still observe the "haenyeo" who are professional female divers gathering seafood throughout the year, and who have a well deserved reputation for strength and stamina.
Even more iconic, the "dol hareubang" or "grandfather statues" are part of Jeju's distinct shamanistic tradition with being carved from the local basalt rock, often seen outside restaurants and anywhere else on the island. Different from most urban sceneries of South Korean cities, anyone easily finds out stone-piled brick walls. These walls made of rocks have been conserved throughout the coastline with its presumed length of 36,000 km. Since it is prone to tropical typhoons with massive wind powers, Jeju is famous for its wind, and it is one of the highest wind energy congested areas in South Korea.
Talk
Korean
is the standard language on Jeju island, spoken with a distinctive accent. For example, the most common greeting in Korean is Annyeonghase-yo (안녕하세요), while the counterpart in Jeju dialect is Honjeo opseo-ye (혼저옵서예), with a clear difference. The local dialect of Korean is nearly incomprehensible to Koreans from other provinces, though all locals are able to speak standard Korean as well.
The island's long history as a domestic holiday destination means that the majority of service and tourist industry workers can still only speak Korean. More visitors are coming from from
China
and
Japan
, and therefore tourist services are becoming more available in Japanese and Mandarin. English is not widely spoken, although as elsewhere in South Korea it is part of the education system.
Jeju Dialect
The people of Jeju island spoke a (now sadly moribund) dialect of Korean that is different in both vocabulary and accent compared to the Korean spoken on the mainland, which is classified by some linguists as a separate language in the Korean language family, and was difficult for mainland Korean speakers to understand. These days, the Jeju dialect is primarily spoken by the elderly, and most younger locals cannot speak it, the exception being those who were raised by their grandparents.
Get in
Entry requirements
Jeju offers its own, more lenient
visa policy
as opposed to mainland South Korea. Most countries, whose citizens would normally require a visa to visit South Korea, do not need one to visit Jeju, provided one enters by plane
direct from other countries
; transiting at another South Korean airport or traveling by ship from the mainland is considered domestic travel and therefore requires travelers who need a visa to produce one before travel.
If admission is approved, one may stay in Jeju for a maximum of 30 days.
By plane
Jeju International Airport
(
CJU
) is the main gateway to the island. The vast majority of flights to Jeju are from Gimpo (Seoul's domestic airport) and Busan's Gimhae International Airport. Most Korean domestic airports have scheduled flights to Jeju. The Jeju-Seoul route is as a matter of fact the busiest air route in the world as measured by passenger numbers.
You can fly the main airlines, Korean Air and Asiana to Jeju, although many budget options are available such as Eastar Jet, Air Busan and Jeju Air.
There are international flights from Japan including Tokyo Narita, Osaka Kansai. From China there are flights from Beijing, Shanghai Pudong, Hong Kong, Shenyang, Dalian and Changchun.
Upon leaving the terminal, you will see taxis as well as two bus stands. One is for the inner-city Jeju City bus services and one for the Airport Limousine service to Seogwipo. (more information about this service below)
Jeju airport has seen rapidly rising passenger numbers throughout the 2000s and 2010s and there are plans to build a second airport near Seogwipo with a planned opening date in the mid 2020s.

By boat

Ferry access from the mainland is also available, although the increasingly low price of flying means that fewer people are using this. Services are comparatively infrequent and slow but are reasonable value after factoring in accommodation savings made on overnight ferries. There are daily services from a number of ports:

Mokpo Daily ferries, 5 hours duration. Economy tickets cost around ₩25,000 one way. These tickets are just for a floor space. Follow the lead of the Korean Ajumas and bring a blanket and a picnic. For busier journeys (weekends/summer), the boat is a large liner, and has many amenities like a restaurant, convenience store and café. However, off-peak, the smaller ship is a lot more basic. Seated areas cost around ₩50,000 won one way. There's a free shuttle bus service from Gwangju at 06:30, but you should probably ask a Korean for help booking it.
Wando 3 hours
Nolyeogdo (노력도) runs a boat twice a day between Jangheung county and Seongsan in Jeju island. It takes 2 hours to connect both cities and the cost is ₩31,000 one way.
The car ferry from Yeosu to Jeju island. The journey takes 5 hours and travels every day except Monday.
The ferry journey from Incheon took 13 hours, although its future is unclear in the wake of the Sewol ferry disaster.
Get around
Buses and taxis are the main method of public transportation. Some locals prefer bicycles to cars especially in areas outside of the Jeju-city metropolitan area. There are places that rent bikes. If you want to walk, you can take Jeju Olle Trail with 21 distinctive courses available with gaining its wide popularity. See
here
.
By bus
Jeju Bus Information System's website
offers information about the available lines in Jeju Island.
There are four major bus networks on the island:
A good network of inner-city (shi-nae) buses run around Jeju City for a flat fee.
Similarly, a second network of inner-city buses run in Seogwipo, spanning out to some of the surrounding tourist locations on the southern end of the island, such as Jungmun Tourist Resort Complex.
Furthermore, an extensive series of inter-city (shi-wei) buses run between the inter-city bus terminals of Jeju City and Seogwipo by one of a number of different routes. All buses servicing western Jeju pass by Halla Medical Center in Jeju City and most by Jungmun Tourist Resort Complex in Seogwipo making these alternate departure points. Prices for the bus vary by distance between ₩1000 for a short trip and ₩3,000 to go between the two end points. The ones cutting the center of the island (primarily feeding the start points of the Hallasan hiking trails) tend to cease operation around sundown, but the coastal routes run until late. As such it is easy to jump on and off, although the cost can mount up. Note that the English information on the island often erroneously translate shi-wei buses as "local bus" so don't be too concerned if you're directed to the "local bus terminal" when traversing the island end to end.
The Airport Limousine (route #600) bus runs every 18-20 minutes between Seogwipo and the airport in Jeju City express, stopping only at a few select stops, including Jungmun Tourist Resort Complex (and International Convention Center), World Cup Stadium and terminating at the Seogwipo KAL Hotel.
All buses on Jeju utilize Seoul's T-money transportation cards, however they do not (apparently) accept cards from other Korean cities.
By taxi
Jeju provincial office has been operating
Jeju global taxi brand
with English, Chinese and Japanese services. Call 1899-4314+1 (English). While the taxi rates are reasonable, the island is large enough that the fares can add up. The initial meter charge is at ₩2,800. Hiring a taxi for the day will cost around ₩100,000. The driver will likely not speak much English, so you should have the hotel write down the itinerary ahead of time.
By car
You can hire a car from the airport with either local or international car hire firms. This is a good option to see the island's many sights if you don't want to be in an organized tour and want to see as much as possible. Insurance is offered as an optional extra with the local companies. They can also rent out a Korean-speaking GPS unit.
Outside Jeju city traffic is very quiet. There are many traffic lights on the island, and you will notice that local drivers tend to just drive through red lights. (In the evening the lights change to a flashing amber, which basically means 'use your own judgement'.)
By motorcycle
Despite the frequent high winds and heavy precipitation, many people enjoy getting around the island by motorcycle. There are a number of places that offer this, including
Mr Lee's bike shop
, although the legalities of a foreigner driving a motorcycle on Jeju are unclear (in theory, an international driving license for car should be enough to rent a motorcycle of limited power). In Seogwipo, there is a motorbike rental shop (perhaps also part of Mr Lee's empire) on the same road as the Little France Hotel (exit the hotel and turn right).
By bike
Since Jeju is equipped with 182-km-long coastal roads, it is quite popular among Korean university students to rent a bike. When the weather is adequate, you can ride around on a bike in Jeju much easier than you could in the rest of South Korea. There is less traffic, wider roads and it is possible to travel the island entirely by bicycle.
See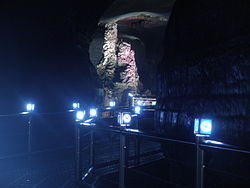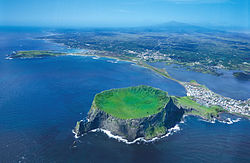 Folk villages
Seongeup Folklore VillageThe "folklore" is a bit misleading, this is actually an authentic traditional Jeju village in which (some) people actually live. While there is a bit of signage in English, to really appreciate and understand this place requires a tour guide or book.

Jeju Folk Village MuseumNot to be confused with the above, this is a created museum that presents a vivid and lively exhibition of the island's cultural assets. Built on an area of over 150,000 m², the village has reconstructed and moved living structures from varies styles. Get the audioguide: a steal at only ₩2,000. Pace yourself, seeing everything can take up to 4 hours.

Folklore and Natural History MuseumThe museum is divided into four exhibition halls: natural history, folklore, special resources, and an audio-visual room. It contains natural history of the island as well as relics, animals and plants that are found around the island. The stuffed animals are popular among children.
Other attractions
Bultapsa Five-Story Stone PagodaThis pagoda was damaged during the Korean War, commonly called the 6.25 War in Korea. The original pagoda was located at Wondang Temple, which is said to have been founded by King Choongryeol during the Goryeo Dynasty. The present structure was reconstructed in the 1950s. The angle on the baseline of every corner of the Pagoda looks dynamic due to its turning shape.

Mini WorldHere you can get up close to small scaled replicas of some of the most famous structures from more than 30 countries. Leaning Tower of Pisa, Taj Mahal and many Korean sites are part of this interesting display. The two parks are in different parts of Jeju Island.

Sculpture ParkThis park near Mt. Sanbang is a relaxing walking area where you can discover over 160 different sculptures in a peaceful atmosphere. The sculpture park also has an observation tower.

Ripley's Believe it or NotMuseum and collection of oddities. A massive exhibit of the bizarre and exotic from around the world. Can easily take a few hours to get through as there is so much to see. Across from the Teddy Bear museum near Seogwipo.

Lava tubes and other volcanic sightsJeju Volcanic Island and Lava Tubes is a UNESCO World Heritage site in the "nature" category. Mount Halla (Hallasan) dominating the island is a dormant volcano and there are underground caves with lava tubes to explore on Geomeunoreum. Seongsan Ilchulbong is a tuff cone crater in Seogwipo. All three are very popular attractions and accessible.
Do
Hiking
There are many hiking trails in the
Hallasan National Park
.
Olle trails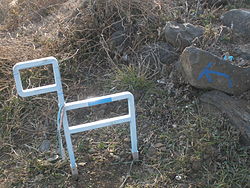 "
Olle
" is the Jeju-dialect word for the pathway connecting a house to the road, and is used as somewhat of an invitation to explore the island.
Continually undergoing extension, the
Olle hiking trails
are a set of 18 trails that roughly follow the coast in a clockwise fashion (plus a handful of "bonus" trails on outlying islets).
The first trail starts at Malmi Oreum in the northeast (near the famed Seongsan Ilchulbong) and the final terminates in Jocheon, a village just east of Jeju city. Trail length is mostly in the 4-6 hour range so one can be comfortably covered in a day, perhaps two for experienced hikers. Some trails, such as Olle-7, require hikers to traverse the island's extremely rocky coastline. It is beautiful, but be prepared with good shoes or boots. Olle-10 in particular is very popular and runs around a pretty peninsula in the south-west of the island.
The trails are well marked: blue arrows point in the forward direction and orange point the reverse (anticlockwise). Blue
ganse
symbols (like a little wireframe pony) face the forward direction in other places.
Extensive tourism information, directions and maps of the Olle trails (including details of any which are temporarily off-limits) in all the usual-suspect languages can be found at the airport or tourism information centers such as the one at Jungmun.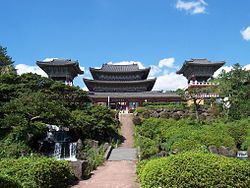 Temple stay
In Jeju, there are mainly three temples operating temple stay program for foreigners. Buddhism culture has also unique features in Jeju, mainly owing to its geographical isolation and mixture with other strands of religious and shamanistic characteristics. Temple stay program normally involves in meditation, Korean tea ceremony and lantern designs. Visit
here
.
Festivals
Throughout the regions, there are variety of festivals:
Penguin Swim: Every January, half-naked swimmers dive into local beaches.
Jeongwol Daeboreum Festival: Jeongwol Daeboreum is Korean traditional festival which celebrates lunar full moon in February. Since Jeju was traditionally horse-breeding region, shepherds and villagers put a fire in bushes around this area, the derivation of this festival since 1997. Holding flames altogether, people make a wish of the new year.
Jeju Canola Festival: Yuchae flowers (유채꽃) are one of the symbols Jeju has. In March or April, the festival is held across the island.
Bangeo Festival: A festival held in southernmost harbor of Moseulpo in every November. Free raw fish is served, while depending on the schedule, you can join fish-catching events.
Sports
Watch the local football team (Jeju United FC) at the Jeju World Cup Stadium in Seogwipo.
Buy
Most ATMs on Jeju do not accept foreign ATM/Debit cards for cash withdrawals; most of the few that do are located in the city of Jeju. So get all the cash you can at the airport, especially if you are not staying in Jeju City.
In Seogwipo, there's a BK Star bank, East of Jeunghang Rotary which accepts foreign cards. Most Family Mart convenience stores which have an ATM inside work with foreign cards too.
One Jeju specialty is brown colored clothing. These have been dyed via juice from the persimmon fruit, which is the traditional way of dying clothing.
The iconic stone statues, usually in pairs, are called grandfather statues and are for protection. Many places sell small stone replicas of them made of Jeju basalt (volcanic stone). If aircraft weight restrictions are a concern, check the back of the statue for vugs (cavities) as it's entirely possible to find the odd one as light as a feather.
Citrus fruit (hallabong and mandarines). The specialty citrus of Jeju is the hallabong (dekopon in Japanese) something akin to an over sized tangerine which has a very distinctive plump bulge on its top. Its fame comes from its sweet taste and peelability. Do not be at all surprised if, when arriving back on the mainland, your bag pops into the baggage claim tucked between many crates of hallabong. Mandarin oranges are also a major Jeju product.
Jeju hallabong chocolate. These come in varieties. The first is a plain flat chocolate with a layer of hallabong flavor sandwiched in the middle. The second however is shaped like a little grandfather statue and is primarily the "flavor" component of the first with a tiny slither of chocolate on the back. The latter tend to be a little less flavorsome (ironically) but are cute enough to make nice gifts. If hallabongs aren't your thing, fear not, for they also come in orange, kiwi, green tea and purple cactus fruit (somewhat a mixed berry flavor) varieties. There are crunch chocolates too, less unique but very tasty.
Jeju kamgyul (citrus) wine. Similar to Japanese sake but with a fresh citrus finish. At only ₩5,000 for an entire 750-mL bottle though, honestly, you can't complain even if it isn't quite your thing.
Green tea. Although perhaps not as famed as Boseong, the entire Western end tip of the island is littered with tea plantations.
Ganse dolls. A souvenir of the Olle hiking coastal trails, they are cute little (15 cm) plush ponies on mobile phone straps handmade out of used clothing (and thus individually unique) by the women of Jeju. Profits go to developing and maintaining the island's hiking trails and they're available from tourist information centers and many budget accommodation. ₩15,000.
Shop at Jeju Folk Arts Complex. This place is practically a big gift shop of beautiful traditional art. Prices of items at the Jeju Folk Arts Complex are cheaper than those you find elsewhere.
Souvenir shops, craft stores and fruit stands exist almost everywhere on the island, but if you are looking for more mundane daily goods, your best bet is to head into Jeju City or Seogwipoi which have the usual array of Korean conveniences including some
Lotte
s and an unusually high proportion of
E-marts
(both of which also contain large souvenir shops).
Eat
The people of Jeju have evolved various lifestyles, depending on whether they live in fishing villages, farm villages, or mountain villages so specialties vary within the region. Life in the farm villages was centered on farming, as it did around fishing or diving fishery in fishing villages, and did around dry-field farming or mushroom/mountain-green gathering in the mountain areas. As for agriculture, the production of rice is little. Instead, beans, barley, millets, buckwheat, and dry-field (upland) rice are the major items.
The most well known fruit is the hallabong. It has been grown here as early as the era of the Three Kingdoms, and were offered as presents to kings along with abalone as special products of Jeju. Grilled pork from black-haired pigs is also a local specialty.
Foods from Jeju mainly made with saltwater fish, vegetables, and seaweed, and are usually seasoned with soybean paste. Salt water fish is used to make soups and gruels, and pork and chicken are used to make pyeonyuk (sliced boiled meat). The number of dishes set on a table is small and few seasonings are used. And usually, small numbers of ingredients are required to make dishes native to Jeju.
The key to making Jeju-style foods is to keep the ingredient's natural flavor. The taste of the food is generally a bit salty, probably because foods are easily spoiled due to the warm temperature. In Jeju, there is no need to prepare Kimchi for the winter as in mainland Korea. It is quite warm during the winter and Chinese cabbages are left in the field. When they do prepare Kimchi for the winter, they tend to make few kinds and small amounts.
Restaurants are scattered across the entire island, usually near highway intersections, but the majority naturally lie around the coast and particularly in the urban centers of
Jeju City
and
Jungmun/Seogwipo
.
For non-Korean dining, the best option is Gecko's near Seogwipo (see details in the drinking section). In Jeju city there are some options. There is a Mexican restaurant near City Hall/Sinsan Park named El Paso that apparently serves up mediocre but passable Mexican fare. In Shin-jeju there is also an Indian restaurant named Rajmahal that serves up quality spicy Indian dishes. There is also another place with Pakistani/Indian cuisine called Baghdad Cafe around the City Hall/Sinsan Park area.
File:Jeju food ramyun with ginseng+coastalfood.jpg|thumb|Insam ramyun (인삼라면). Korean dish of ramyun with ginseng and a variety of coastal ingredients such as clams, shrimp, squid and abalone.
File:Jeju makgeoli1.jpg|thumb|Jeju gamgyul makgeoli (제주감귤막걸리). A traditional alcoholic beverage of makgeoli of Jeju orange flavor
File:KOCIS Trip to Jeju Island and Seoul (6279217698).jpg|Jeju black pig stir-fried spicy pork (제주흑돼지 제육볶음)
File:KOCIS Trip to Jeju Island and Seoul (6278755261).jpg|Grilled Cutlassfish (제주갈치구이). Cutlassfish is one of the best-known coastal ingredients which were sent to the royal palace during Joseon dynasty.
File:Korean alcoholic beverage-Jeju Island-Hallasanmul soju-01.jpg|Hallasan soju (한라산 소주). This is a soju brand from Jeju which is famed for its unique flavor.
File:Jeju gogi noodle.jpg|thumb|Gogi guksu. Jeju-style pork noodle in deep essence. The dish has been served in village gatherings and local festivals.

Some other dishes worth trying:
Jaradom Mulhoe (자라돔 물회) is Jeju-style cold fish soup. Traditionally, it has been a summer specialty in Jeju.
Seongge guk (성게국) is mustard soup which is served in the ancestral ceremony or to welcome guests.
Bangeo Hoe (방어회) is a raw fish dish of yellowtail fish. Every November, the Bangeo Festival is held.
Drink

The local specialty soju is named Hallasan Soju and runs from ₩1,000 to ₩3,000 a bottle.
Except for Gecko's in the South, there aren't any other genuine Western pubs on the island, but there are some good options. In Jeju City, all the real partying establishments are in Shin-Jeju, about a ₩5,000 taxi ride from Jeju city proper. Some of the establishments in this area rumored to be worthwhile are La Vie, Boris Brewery, Modern Time, Blue Agave, and GP.
There is also Led Zeppelin, a vinyl bar which as the name suggests is focused on album-oriented rock, and has a massive selection of records, CDs, tapes, and DVDs. Song requests are the main pastime and the sound-system rules. Off the main drag in Shin-jeju next to the Indian restaurant.

Sleep
If you are not looking for luxury,
minbak
(guesthouses) abound on Jeju, and due to its reputation as a honeymoon getaway, there is a wide variety of other accommodation. Outside of the peak tourist seasons (such as Korean national holidays and July-August summer holiday season), and as long as all you're looking for is a clean affordable room, don't be afraid to come to Jeju and find accommodation as you travel. In
Jeju City
,
Seogwipo
and the smaller towns there is an abundance of rooms in small guesthouses with character.
There are several motels next to the bus terminal in Jeju City at around ₩30,000 a night. They are fairly obvious to find as all three are in a row with lit signs and the ubiquitous motel logo of South Korea and are called You-cheong, Oh-cheon, and Nam-san.
For larger hotels, the majority are in the urban centers of Jeju City and
Seogwipo
with the most luxurious 5-star options on the entire island within Seogwipo's Jungmun Tourist Resort Complex. Refer to the individual city pages for listings.
For budget travellers,
jjimjillbangs
are pretty ubiquitous in Jeju City but outside of the capital city's limits, the only other
jjimjillbang
options exist under the World Cup Stadium in Seogwipo.
Work
Jobs are available as English teachers throughout the year in private institutes (
hagwons
). However, whilst public school jobs exist via the
official EPIK programme
, the reality on Jeju is that no more than a couple of positions open per year, as it is by far the most requested and lowest turnover region in the entire country, above both Seoul and Busan.
Cope
Consulates
Stay safe
While
South Korea
in general is a remarkably safe country, the crime rate on Jeju is even lower. Jeju has the lowest crime rate in the whole country. Violent crime is almost non-existent, although just like in all tourist hubs, there are a number of pickpockets, so you should still remain vigilant.
Other parts around the south coast, even near Jungmun are
rockfall regions
. The signs are often not in English, so if you're near a cliff or cave and see an obvious Korean warning sign, this is a fair assumption as to what it says.
Go next
The main options for leaving Jeju are by air or ferry. Most cities in
South Korea
have flights, as well as some Chinese and Japanese cities such as
Shanghai
,
Beijing
,
Osaka
,
Tokyo
,
Hong Kong
,
Tianjin
,
Hangzhou
,
Shenyang
,
Dalian
,
Yangzhou
,
Kunming
,
Nanjing
,
Harbin
,
Nantong
,
Nagoya
,
Ningbo
,
Xi'an
,
Changsha
,
Changchun
, and
Fukuoka
. There are also flights to
Bangkok
,
Kuala Lumpur
,
Taipei
and
Hanoi
.