Jhansi
Jhansi
is a city in
Uttar Pradesh
,
India
.
Understand
History
Jhansi was built as a hilltop fortress of the Maratha kings, built above a town then known as Shankargarh. It may have gotten its name from
jhain-si
(blurred shadow) for its appearance from a distance. The massive fort still stands, but today "Jhansi" refers both to the city of around 8 million people at its base and to the surrounding region.
Far Jhansi's best-known inhabitant was Rani Lakshmi Bai, sometimes described as "India's Joan of Arc", who ruled it in the mid-19th century. She was the widow of the Rajah and, by Indian reckoning, on the old boy's demise their son inherited the throne and she became regent since the lad was quite young. However, the British authorities did not recognise the son's claim because he was adopted; by their rules the throne was vacant so the territory oh-so-conveniently fell to the East India Company.
Whatever the British thought, in practice Lakshmi Bai ruled the city. She resisted their disinheriting of her son in a variety of ways, including through the courts and by direct appeals to both the Viceroy and Queen Victoria, but without success. Then in 1857, during the mutiny of Britain's Indian troops, she went to war and had considerable success before finally being defeated; she was killed in a cavalry skirmish while fleeing her fallen city.
Climate
Jhansi is known for extreme climate. In winter, mercury may dip to 1°C and on hottest summer day, it may rise to 50 degrees Celsius. But normally, winter temperature ranges between 6 degrees Celsius and 21 degrees Celsius. While summer temperature hovers between 24 degrees Celsius and 45 degrees Celsius. Rainy season starts in the third week of June with Monsoon rains washing the central India. Monsoon rains gradually become weak in September and the season ends in the last week of September.
The best season to visit Jhansi is pre-winter and spring. The best months to visit this place are October, November, February, and March. From April to August, it is very hot and sightseeing in the sun is not advised.
| Season | Months | Temperature | Conditions |
| --- | --- | --- | --- |
| Spring | February-March | 18°C to 32°C | Clear skies. Dry winds in February, overall pleasant. |
| Summer | April-June | 25°C to 45°C | Clear skies, very hot during days. Cool in midnight. |
| Monsoon | July-September | 28°C to 38°C | Somewhat hot and humid. Some spells of rain, with sunny, hot days in between. |
| Autumn | October-November | 20°C to 30°C | Clear skies, warm days, cool nights. |
| Winter | December-January | 4°C to 25°C | Dry, but sunny days, colder nights. |
Clothing
Except winter, light cotton clothes are your best bet. In winter, one should carry woollen clothing, shawls, etc.
Tourist information
There is a tourist information centre at railway station.
U.P. Tourism and M.P. Tourism , both have an office at railway station platform no.1, where you can get all the information about tourist sites of M.P.
U.P. Tourism also has an office at Hotel Rahi Veerangana which is 1 km from railway station and 4 km from Interstate bus stand.
Get in
By plane
Though Jhansi has an airport, it is not operational for civil flights as it is a base of Army Aviation. A new greenfield airport is in the pipeline which would enable excellent connectivity with major metros and other important cities. The nearest operational airport to Jhansi is Gwalior (98 km).
By train
Jhansi is very well connected to major cities across India by direct train links. You can reach Jhansi from India's capital
New Delhi
, in 4½ hours by
New Delhi
-
Bhopal
Shatabdi Express(India's fastest train). This city is directly connected to
Jammu
,
Chandigarh
,
Amritsar
,
Dehradun
,
Ahmedabad
,
Nagpur
,
Mumbai
,
Bangalore
,
Hyderabad
,
Chennai
,
Thiruvananthapuram
,
Kanyakumari
,
Vishakhapattnam
,
Patna
,
Kolkata
, etc. It is a big rail junction in central India. Jhansi is a Railway Division under North-Central Railway and its HQ is in Allahabad. Jhansi railway station is near
Sipri Bazaar
. Train ticket reservation is fully computerized and can be done at railway station. Another convenient way of getting reservation is online reservation facility provided by site of Indian Railway Catering and Tourism Corporation.
Auto rickshaw and tempos (shared auto rickshaw) are available from the station to most parts of the city 24 hours. There is a pre-paid booth at railway station for hiring auto-rickshaw. It is advised to negotiate fare before hiring one. Taxis are also available at railway station.
By car
Jhansi is at the intersection of thr North-South and East-West corridors (4-lane national superhighways). National Highways #25, #26, and #75 go through Jhansi. NH 25 connects to Lucknow at one side and Shivpuri at the other side. This is part of 4 lane East-West corridor. NH 26 connects to Lalitpur and is a part of 4 lane North-South corridor. Another NH 75 connects to Gwalior which is also a part of 4 lane North-South corridor.
From Delhi, by car it takes 8-9 hours with good road condition.
By bus
The main bus stand is at eastern side of the city, on Jhansi-Kanpur highway. Buses coming from
Jaipur
,
Agra
,
Gwalior
also stop between BKD
chowk
(square or crossroads) and Elite
chowk
.
Buses are available to visit nearby places as well as for travel to different cities. These buses are available from Railway Station, Elite Crossing and Main Bus Stand. Most number of buses start from Main Bus Stand. U.P. State Roadways Corporation and M.P. State Roadways Corporation have a number of Bus services connecting to cities and towns around Jhansi. Some private operators also have luxury bus services on selected routes.
Since Jhansi is the jumping off point for
Khajuraho
, most travellers arrive at Jhansi to catch a bus for
Khajuraho
. The luxury buses for Khajuraho, are available from Jhansi railway station.
Get around
By tempo
It is the cheapest way to move inside the city, but you have to share it with other passengers. These are the bigger version of three-wheeled auto-rickshaws. The tempos have fixed routes and fixed fares. Tempos have a seating capacity of 8 passengers, but when you go to
Orchha
or
Unnao-Balaji
, by a tempo, you might see as many as 15 passengers crammed in a single tempo!
So its better to have a reserve auto if you are going for Orchha with your loved ones and you should carry a long handkerchief to protect the head from suns heat during summers.
By auto-rickshaw
It is costlier than tempos but convenient for going to internal parts of city. Remember, auto rikshaws in Jhansi do not have fare meters. So, never forget to negotiate fare before hiring one.
By bus
Earlier, Jhansi had a mini bus service for commuting inside the city, but that has been discontinued for some time.
By car
You can easily visit Jhansi by car. There are many car rental companies available.
By taxi
Private taxis are available for hire at taxi stand opposite Sita Hotel. These include all sorts of cars e.g. Toyota Innova, Chevrolet Tavera, Tata Indigo, Tata Indica, Maruti Esteem, Maruti Omni, etc. You can book a taxi with your travel agent. A taxi is a good choice to get around the city.
See
Barua sagarBaruasagar is around 24 km from Jhansi, It is a small town situated on the bank of Betwa river. It has a large lake which is called Barua sagar tal. Places to see here are the fort, Jarai-ka-Math, and the lake. It lies on Jhansi-Varanasi route and all the buses that go to Khajuraho pass through this town.

ChirgaonChirgaon is 30 km from Jhansi, It is on the banks of Betwa river. It is on National Highway 25. It is famous for National Poet Maithili Sharan Gupt who was from Chirgaon. Hindi authors generally describe this Triveni of poets from Chirgaon by comparing them with Triveni of Ganges.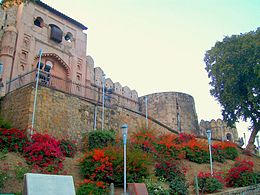 Fort of JhansiThe fort of Jhansi was built in 1613, by Raja Bir Singh Judao (1606-27) of Orchha. This fort is built on a rocky hill and the city of Jhansi is around this fort. During the earlier days, Wall of the fort was all around Jhansi city. This Wall has ten gates. Some of these gates are still existing and some vanished with time. But Places around these gates are still identified with name of gates. Some of the gates are Khandero Gate, Datia darwaza, Unnao gate, Jharna Gate, Laxmi Gate, Sagar Gate, Orchha Gate, Sainyar Gate and Chand gate. Timings: dawn to dusk daily.

Government MuseumThe Government Museum is in a very picturesque location in the heart of the city. The surrounding area has some beautiful parks. At one side, is Deen Dayal Sabhagar (city auditorium). Nearby you can see Vrindavan Lal Verma park, Open-air theatre, Rani Lakshmi Bai Park, and a magnificent view of Jhansi fort. There is 1857 Mutiny Memorial on the way to the fort. It is a small park where 1857 mutiny has been depicted with statues that are made by metal scrap! The museum has a rich collection of sculptures, paintings, documents, etc. from different eras. A must see attraction during your visit to Jhansi, it will acquaint you with the history of the region.

Nag MandirThis temple is in Jhansi cantonment. The beauty of this place is to visit it during sunrise. The spectacular view includes beautiful tree groves and beautiful aura of Jhansi. It shows the beauty is to be searched out in every thing.

Rani MahalRani Mahal or Queen's Palace was built by Raghunath II of Newalkar family (1769-96). It is in heart of city near to Jhansi fort. Rani mahal is decorated with multicolored paintings and art forms. Rani mahal has been converted to museum with artefacts from 9th and 12th century AD. Best way to reach Rani Mahal is to take an auto from Elite crossing to City.

St Jude's ShrineThis shrine of great imortance among Catholic Christians. St. Jude's bone is buried in the foundation of the cathedral. Devotees come from as far as Goa, on the St Jude's feast day on October 28, every year. Feast day is marked by a week long fair and a procession on the last day of the fair. This fair attracts people of all the faiths and religions.
Do
There are a number of festivals/exhibitions worth watching, while in Jhansi. If you travel during festivities, you can witness the local culture with its customs and rituals more closely.
Jhansi Mahaotsav :Organised by state government's tourism department, this is a week long event(February end-March beginning) including dance and music performances showcasing Bundelkhand's rich cultural heritage (like suata, rai dance, and alha songs), various competitions, a handicraft fair, and a food festival. The main events are held in open air auditoriumm, near state archeological museum, in the evening sessions. In the background of the auditorium, the fort stands with all its splendor, bathed in yellow light, producing a spectacular view in the night.
The competitions highlighting local culture (
mehandi
competition,
rangoli
competition, recipe competition etc.) are organised in state archeological museum premises, while the handicraft fair and some other competions have found the place in Rani Lakshmibai park, across the open air auditorium. The entry is free for all the events.
State vegetables and flowers exhibition :This is a three day exhibition, organised by the state government in the state gardens of narayan bagh in the month of February. It features exhibits in various categories of vegetables, fruits, flowers and competitions in above mentioned categories as well as in home garden category. Farmers wait for this event eagerly to exhibit their produce. During the event, the public gardens witness thousands of visitors and the place becomes like a mini fair. The main attraction is the dog show with competions for dogs in many categories.
Theatres
There are three cinema halls in the city, mostly showing Hindi flicks from Bollywood. Some halls show Hollywood movies also. The best theaters to watch a movie, is Khilona. From Jhansi railway station, one can reach to the cinema hub of Jhansi city, in 10 minutes by a tempo, where three theatres (Natraj, Khilona and Elite) are situated.
Elite, Elite Square.
Khilona, Elite-Sipri Road.
Natraj, Elite-Sipri Road.
Buy
The main shopping markets in Jhansi are:
Manik Chowk in main city area. One can look from jewellery to pots to electronics appliances here.
Nagra - This is the place where you can look for branded clothes, foot-wears and furniture. Nagra is known for its economic development and one can find very cheap restaurants , hotels, bars and spa easily here.
Sadar Bazaar - It is the cleanest part of the city with almost all brand's products available here. If you have your pocket tights, it's your destination.
Sipri Bazaar - In this market you can buy variety of cloths. In Nehru market you can find many bookstores including Prakash Book Depo, Collage Book Depo and Gupta Book Depo. Chelaram's sweets and samosas are also very famous. You can go to RasBahar restaurant to have some mangoshake or pineapple juice.
Eat
Nearly all mid-range hotels here have restaurants that offer good Indian and continental food. Apart from these, throughout the city, you can find good eating places to suit every pocket. There are some roadside dhabas on the outskirts of the city too, with a rustic charm.
Budget
Delhi Walla Chat store, Manik Chowk. Famous for panipuris and aloo tikki
Geeta Bhojnalaya,Elite square. Across the Janack's, on Elite square, a pure veg. restaurant serving only north Indian dishes. Always crowded, no family section. Good value for money. Popular among working class and bachelors. Famous for paneer butter masala and specially Yummy Dal Butter Fry and Tandoori Paratha too.
Holiday Restaurant, Sadar Bazaar. A nice place with dim lighting and low ceiling. Indian, some continental, and Chinese.
Hot Bite, Near Allahabad Bank Chouraha. A calm, and properly ventilated sitting area, offers snacks, soft drinks, etc. Mostly, students from the schools in surrounding area, come here for light sncaks. Good place for dating.
Janack's, Near Elite square. A restaurant for the masses. A crowded place all the time, it is adjacent to Dumroo cinema, very close to Elite square. Can boast the largest seating capacity in the city, it has a family section upstairs. Serves pure veg. Indian and Chinese food and has a sweets shop too. This is a very reasonably priced menu.
Jodhpur Mithai Bhandar, Sadar Bazaar. Adjacent to SBI ATM in Sadar Bazaar, this shop sells Indian sweetmeats, milk shakes and snack items. Famous for special Jodhpuri kachori.
Narayan Chaat Bhandar, Sadar Bazaar. In Sadar Bazaar, main market, famous shop selling chaat items like aloo-tikki(veg cutlet), dahi vada, paani puri, etc. A must to taste the real Indian chaat.
Navbharat Bakery shop, Sadar Bazaar. A popular spot among the youth of the town. You can buy burgers, pizzas, sandwiches, ice creams, soft drinks, etc. No seating inside the shop, but few chairs outside, on the footpath, give the view of bustling Sadar Bazaar.
Samrat Hotel, Chitra Chouraha. Merely 1 kilometer from railway station, the restaurant gives a fair value of your money. Food is ok.
Shilpi Hotel, Elite square. Across the Janack's, on Elite square, a pure veg. restaurant serving only north Indian dishes. Always crowded, no family section. Good value for money. Popular among working class and bachelors. Famous for paneer butter masala.
Shrinath Paav Bhaaji and Pulao Center, Sadar Bazaar. A small yet famous shop specializing in paav bhaaji, pulao, and milk shakes, it is in the area where most fast food kiosks are situated.
Snacks Kiosks at Sadar Bazaar during evening. These small shops are crowded with people in the evening. They mostly sell Chinese and Indian fast foods.
Snacks Kiosks near Arya Kanya Girls' College, Sipri Bazaar.

Six Seasons Restaurant

phone: +91-85460-91456

address: 500/3, Pal Colony, Gwalior road

North Indian food
Mid-range
Haveli Restaurant, near Elite Square. On your way to Jhansi fort, it is hardly 500 metres from Elite square. A new restaurant with copper plates, offers excellent veg. thaalis.
Hotel Yatrik, Elite Square. A 2 minutes walk from Elite theatre, towards south, a new restaurant has come up. Has air conditioning. Food is nice.
Navbharat Restaurant, Sadar Bazaar. An upmarket restaurant with veg. and non veg. north Indian and some continental food.
Raj Palace, Sadar Bazaar. Near GPO(General Post Office), Sadar Bazaar. A nice restaurant.
Sagar Restaurant, Hotel Prakash Regency. This has a fine dining area with a variety of items in its menu. The hotel has a bar on the first floor.
Splurge
Hotel Chanda, Opposite Lakshmi Bai Park. Another upper range restaurant certainly not a good value for your money.
Hotel Shrinath Palace, Station road. A large menu with all varieties. Air conditioned.
Hotel Sita, Shivpuri road. The best restaurant in town. Air conditioned dining hall with good ambience and light music. Serves veg. and non veg. Indian, continental, Chinese, south Indian food and ice creams. It also has a separate bar. Efficient service.
Jhansi Hotel, Sadar Bazaar. One of the oldests, still maintaining its Colonial charm with high ceiling restaurant and bar.
Drink
With opening up of liquor policy, more and more Beer and Wine shops can be seen in every corner of the city. But good, air conditioned places to consume alcohol, are limited. The city has no pub but the bars in mid-range hotels are very well stocked.
Bar at Ashok Hotel, Elite-Sipri road. An inexpensive place for your dose of booze. A place with old interiors.
Bar at Dreamland Hotel, Station road. An ordinary bar.
Bar at Hotel Highway, Sipri Bazaar. An inexpensive bar in Sipri Bazaar area.
Bar at Hotel Rahi Veerangana, Elite-Sipri road. Serves Beer with some basic snacks. It is run by the government, so there is no accountability and responsibility. If you want to sit alone, then it is a good choice, as the bar has a scarcity of customers.
Bar at Hotel Sita, Elite-Sipri road. A well stocked, air conditioned bar.
Bar at Jhansi Hotel, Sadar Bazaar. Reminding old days of British rule, this bar has a garden section too.
Bar at Prakash Regency Hotel, Near Nandini Theatre. Air conditioned bar.
Bundela Bar, Manik Chowk, City. A popular bar in the shopping district of old city. All the lanes are very narrow and crowded, leading to this place.
Sleep
Budget
There are many budget hotels and lodges in the old city area too. If you want to get a glimpse of daily life of Jhansi, then you can stay in a hotel in old city area which is noisy all the time.
Apna Guest House, Near Nandini Theatre. Reasonably priced rooms in the heart of the city.
Central Hotel(nearest hotel from railway station), Chitra chouraha. This is at walking distance from railway station if you do not have heavy luggage. Old building and laid back feel in the rooms.
Hotel Bhavna, New Road. Popular among middle class business travelers. Basic, but situated in the business district, so offers convenience for travelers.
Hotel P. D. Palace Nera Govind Chauraha, this is reasonably priced, A.C. and Non A.C. rooms, with dining and every facility you require.
Hotel Panchali, New Road. Mostly business travelers from nearby towns and cities prefer this, as this is also in the crowded business district.
Hotel Pujan, Gwalior road, civil lines. A budget hotel near city centre(Elite crossing, towards Gwalior road).
Hotel Shrinath Inn, station road. A new hotel for budget travelers, this is reasonably priced, and very close to city centre.
Sahara Lodge, Sipri bazaar. Basic lodging at reasonable rates.
Samrat Hotel, Chitra chouraha. Some rooms are very small and without proper ventilation. But very close to railway station. Has a restaurant also.
Mid-range
Some mid-range hotels in Jhansi have their own restaurant and some even have a bar.
Ashok Hotel, Elite-Sipri road. Ashok hotel has a well stocked bar also and is in the city centre.
Dreamland Hotel, Station road. This hotel has been renovated and renamed but the atmosphere is cool and offers good accommodation.
Hotel Highway, Sipri bazaar. A good place to stay in Sipri bazaar area, near railway station. Restaurant and bar. Rooms are good value for money.
Hotel Rahi Veerangana, Elite-Sipri road. A mid-range hotel run by U.P. tourism department. The atmosphere is calm but rooms are basic, though some with balcony. Some rooms are air conditioned. Room service is available. The hotel has a bar and restaurant too.
Hotel Tulsi, Chitra crossing. A new hotel in the north of the railway station, with good rooms.
Splurge
Nearly all the high-end hotels in Jhansi have multi-cuisine restaurants offering veg. and non veg. food. The rooms are mostly air conditioned and 24 hour room service is a norm, but most of them have check out time at 12 noon.
Chanda Hotel, Near SPI Inter College. Another three star hotel with a view to Jhansi fort. Air conditioned rooms with room service and there is a restaurant too.
Hotel Prakash Regency, Near Nandini Theatre. Situated in the city centre, the hotel offers air conditioned rooms with modern amenities, 24 hour room service. It has a swimming pool also to beat the heat during summer months. There is a simple bar and a multi cuisine restaurant too.
Hotel Raj Palace, Sadar Bazaar. This hotel offers good value for your money with air conditioned rooms and efficient room service.
Hotel Shrinath Palace, Station road. This hotel offers deluxe rooms with air conditioning, 24 hour room service, and an air conditioned restaurant with a large, multi cuisine menu.
Hotel Sita, Elite-Sipri road. This is a hotel with three star facilities, including foreign exchange counter, travel counter, safe deposit boxes, multi channel TV, and phone. Good air conditioning and 24-hour room service. The hotel has a small souvenir shop and a cozy, well stocked, air conditioned bar and a multi cuisine, air conditioned restaurant. The pick of the bunch, if you are looking for modern comfort.
Hotel Yatrik, Near Elite crossing. A hotel in city centre area, the rooms are loaded with air conditioning and other amenities. Air conditioned restaurant with multi cuisine menu serving good food at reasonable prices.
Jhansi Hotel, Sadar Bazaar. This single story hotel with high ceiling rooms and verandah, takes you to old British days of 'Raj'. You can expect excellent room service and comfort here.
Connect
Telephone: The area code for telephonic communication is 510. If you have a mobile phone, then, to dial any local landline number from your mobile, you have to dial 0510, then the desired number. If you want to dial a local(U.P. East/West) mobile number from your cell phone, then simply dial the ten digit mobile number.
There are plenty of public phone booths every where. Some local phones at public places are coin operated. You can extend the talk by putting one Rupee coins (₹1) in the slot. From any public booth showing "STD/ISD" on it, you can make long distance national and international calls.
Mobile services: There are six mobile operators in the city. Of these, Reliance and Tata provide services on CDMA platform while Vodafone, Airtel, Idea and state-run BSNL work on GSM platform. So if you carry a GSM handset, you can buy a prepaid connection here from any of these companies for your communication needs, while you travel in and around the city. While most companies provide with excellent network coverage, especially BSNL, Reliance, and Airtel; the congestion in BSNL network has almost become a norm.
Internet: The railway station of Jhansi has a cyber cafe on platform no.1, near the main gate, with broadband speed and you can use full internet services here. Apart from this, the city is dotted with various cyber cafes in the marketplaces, near hotels, and charge ₹15-₹20 per hour. All the cyber cafes use Windows xp/Windows 98 operating system and Internet Explorer 5.0 or above as the web browser. Some use Mozilla Firefox browser too. It is advisable to clear the cache memory of the computer after signing out.

Stay safe
Jhansi is known for its peaceful atmosphere. So there are no major concerns about safety of tourists. But if one takes precautions while traveling alone, the better it is. Exploring the places of interest, in groups and during day, is totally safe. It is known for the friendly and helping people it has. "Atithi Devo bhava" is well implemented by the citizens of this city.
For any medical emergency, there are plenty of hospitals dotting the city.
Civil hospital, near Jhansi fort
Rani Lakshmi Bai medical college, Near Bundelkhand university
St. Jude's hospital, near Sipri hillock
Happy Family Nursing Home, behind hotel Sita
Go next
From Jhansi, you can go conveniently in any direction, depending upon your further plans. If you are going towards Gwalior/Agra/Delhi, you can get 20-25 trains daily heading towards New Delhi. There are some fast trains for Kanpur/Lucknow also. If you want to continue to explore religious places of Uttar Pradesh, then you can take a train for
Chitrakoot
,
Allahabad
(
Prayag
) and/or
Varanasi
(Kashi), farther east. To enter Madhya Pradesh capital,
Bhopal
or towards south India, again there are 20-25 trains daily connecting to major cities in south(all via Bhopal). There is one more train route which can take you to
Jabalpur
, if you have an interest in marble rocks of Bhedaghat.
There are regular and reliable bus services for Gwalior, Agra,
Jaipur
, Kanpur, Lucknow, Indore, Kota etc. Most deluxe buses with sleeper and semi-sleeper layout, leave Jhansi in the evening for overnight outbound journeys.
Evening buses to
Delhi
start from the Jhansi main bus stand at 5, 6, 8, 9 and 22:00. The journey costs ₹350 and takes up to 12 hours.