Kaiping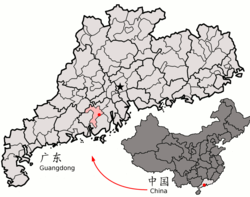 Kaiping
(开平;
Kāipíng
) is a county of about 700,000, west of the
Pearl River Delta
of
Guangdong
Province in
China
. It is known for its hundreds of
diāolóu
, watchtower dwellings built by overseas Chinese in a mixture of western and eastern styles.
Understand
Kaiping city (about 300,000) falls under the administration of
Jiangmen
City and is located on the Tanjiang River, 140 kilometres (87 mi) away from
Guangzhou
, on the eastern edge of the county, which is shaped like a big question mark (see map in pink).
Get in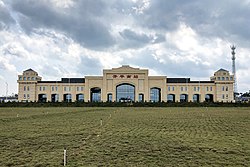 By train
(开平南站) is the city's high-speed rail station, opened in 2018 and providing service from
Guangzhou
,
Zhanjiang
, and other cities, with connections from all over Guangdong and the rest of China. The trains are fast enough to make Kaiping and its diaolou doable as a day trip from Guangzhou or an overnight trip from any major city in the
Pearl River Delta
.
By bus
Kaiping has two long distance bus stations, Yicizhan (义祠站) and Changshazongzhan (长沙总站) along the downtown bus terminal at the intersection of Xijao Rd and Musha Rd. Yicizhan is most likely the starting point for your journey into the surrounding villages of Kaiping town.
From
Guangzhou
, you can take a bus from Fangcun bus station (芳村汽车站) at Kengkou Metro Station; the ride takes about 2 hours and should cost ¥57.
From
Zhanjiang
, take the daily bus at 14:00 in around 3 hours to Kaiping's central bus terminal at the intersection of Xijao Rd and Musha Rd.
From
Macau
, take the border crossing to
Zhuhai
and then find a bus station around 100m to the right along the main road after you exit the border control building. The ride to Kaiping should take a little more than 2 hours and cost ¥70.
Get around
By car
Because the diaolou and Kaiping's other attractions are spread out around a large rural area, driving is the most convenient and efficient way to get to them. Many travelers hire a car in town; drivers wait around at the train station looking for passengers. Around 300RMB should be enough for a half day (5 hours) of sightseeing. The taxi drivers don't often see this much money, so there's no need to offer them any more.

By bus

Kaiping has bus lines which connect to most of the major diaolou villages (more or less—you might find yourself walking a kilometer or two). There are also tourist shuttles which run between the sites, somewhat infrequently.

By bike

Kaiping is a great place for biking. The roads are pretty flat, and the entrances to some small villages are too narrow for a car. On two wheels you can explore the farms, villages, and diaolou scattered through the countryside. Just wander around, going off on side roads to see whatever cluster of houses looks interesting. The villages here show you the other side of China's famously rapid urban development—since most people have moved to big cities, you'll see abandoned villages, and lots of nearly empty ones with just a few older folks tending the fields. Use Baidu Maps so you don't get too lost, but be warned that it doesn't have many of the smaller roads in this area. You can also ask for directions—Mandarin is probably adequate but out in the villages Cantonese or Taishanese is helpful.

Talk
The language of Kaiping is Taishanese, a variant of
Cantonese
that is only slightly mutually intelligible with standard Cantonese. However, as Cantonese is the lingua franca of Guangdong province, most locals will be able to speak and understand standard Cantonese.
Mandarin
is the primary language of instruction in all schools so most younger individuals would also be reasonably fluent in it.
See
Kaiping Diaolou and Villages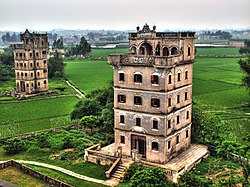 Very close to the town of Kaiping there are a number of small villages and small houses that were built by overseas Chinese during the early 20th century. These are the
Kaiping Diaolou
, by far the most famous attractions in Kaiping. Most buildings resemble the style of western or middle eastern culture mixed with traditional Chinese elements. Often there were designed to defend against bandits. See
The Diaolou of Kaiping
for background. The buildings have not been taken care of since, but the government started to restore and preserve them recently. Four of them (Zilicun, Sanmenli, Majianglong, and Jinjiangli) have together been designated as a
UNESCO World Heritage Site
. The style of these buildings is often cheaply copied by many "modern" buildings throughout Guangdong. Kaiping diaolou is also the setting for China's highest grossing domestic film "Let the Bullets Fly" (让子弹飞) with Chow Yun-Fat. Please visit the website provided for directions as it is a very large and complex place to visit that will easily take an entire day to see and possibly more.
There are tonnes of Diaolou across the countryside and you will get bored of them within a day, so don't worry too much about skipping some. As of November 2019 there is a tourism system set up whereby five major sites are 60RMB each or 180RMB when purchased as a joint ticket. Smaller kids are free. The joint ticket includes four villages with diaolou you can go up into, plus one other site:
JinjiangliAn impressively shaped diaolou with a bulbous cantilevered upper storey. There are quite a few additional diaolou nearby in various states of disrepair, all of which are free.

LiyuanA group of neoclassical and baroque buildings with Chinese ornamental roofs in an elegant garden. Well preserved but renovated so much it feels kind of artificial. Hosts a museum about the Xie family, who built the complex, and other overseas Chinese.

Majianglong

ZilicunHosts the ruins of a former village with a giant watchtower.

South TowerA tower built in 1912 where seven soldiers from Chikang fought and died in 1945 in the war against the Japanese. The information about the seven-day battle is all in Chinese, but the top of the 7-story, 22-meter tower does have nice views of the Tanjiang River, the countryside, and Kaiping's blocks of high-rises. You may be the only visitor there unless you happen to arrive at the same time as a tour bus.
For those interested in diaolou architecture, see
The Diaolou of Kaiping (1842-1937)
for background. It may also be a good idea to look for accommodations in one of the small townships surrounding Kaiping. (Kaiping city itself is a fairly standard modern Chinese town.) Xiangang (蚬冈镇), for example, has entire small streets fitted with baroque-like facades cast in concrete.
Other major historic areas:
ChikanA market town with many arcade buildings built in the mixed western and eastern style by overseas Chinese during the early 20th century. Lovely short riverfront walk. On the opposite river side, you can rent bikes from the youth hostel to discover the area. Reach Chikan comfortably in 20 minutes using bus 106 running through most of western Kaiping. Chikan old town is under renovations, beginning 2017 and expected to last several years.

Sanmenli villageA lovely old village like many others in the area, except that it's quite large, much livelier than most, and has the oldest diaolou in Kaiping, the squat 3-story Yinglong Lou built in the Ming Dynasty. Wander around for a half hour and say hello to the old ladies sorting orange peels, the farmers harvesting rice, the mahjong players near the village entrance, and the chickens milling around.
Other sites around the main diaolou area:
Other sites
Village without PeopleA ghost town. The people of Dengbian Village (邓边村) gradually moved away to cities, leaving their village to be overgrown by trees and vines. Inside the houses, many with roofs caved in and roots poking through the bricks, you can see remnants of the former residents' lives—a moldy sweater sleeve, broken pots, a dresser barely held up by a couple of ceiling beams. Given demographic trends, the "Village without People" is probably a harbinger of rural China's future—one day, the countryside may be full of ghost towns like this.

To get there, take village road Y811, and the first sign of the abandoned village will be an overgrown diaolou on the right. Just past it is the dirt road leading to the village. Walk down the dirt road and you'll pass a large complex of buildings that you can walk around and explore. The dirt road ends at a river, but a small dirt path to the right leads to another part of the village. If you're really adventurous, an extremely overgrown path from the first complex leads to the village's diaolou (if you go this way, consider grabbing a big stick to scare away snakes just in case). Don't even think about going up in the diaolou, though—the door is rusted shut.
Buy
Jin Qiao Cheng (金桥城). A shopping mall in Kaiping that was completed in November 1993. It is a shopping and entertainment mall. Inside you can find fashion shops, gift shops, cosmetic shops, and DVD stores. With a construction area of 1.3 million square meters, there are a total of eight floors. There escalators, elevators, central air conditioning, closed-circuit television monitoring system, automatic fire control system, parking and other service facilities. A total of hundreds of city shopping shops, First to fourth floors are commercial space, business is very rich in species, of which the first floor is main selling household appliances, audio-visual products and daily necessities, etc. Second and third floors mainly sell apparel and leather products and so on. Fourth floor is mainly beauty centers. Level five and above is a large-scale entertainment venues.
Bu Xing Jie (步行街). There are 2 floors of this street ; First floor having 262 shops and second floor having 275 shops. This street features fashion clothing, footwear, stationary, accessories, electronic appliances, etc. Beside the stores are many little stalls selling snacks from drinks to noodles. The second floors features many shops where you can take photos of yourself which is like a sticker(sticker photos).
Yi Hua Plaza (益华广场). At commercial golden mile of Kaiping, Mu Sha Rd. Built by Hong Kong Capital Groups and Sino Groups' investment. As a multi-functional commercial square, it has an area of 68,000 square metres, 8-storey (a layer in the basement), and includes department stores, supermarkets, brand-name shops, restaurants, snack street, Western-style fast food, movie theaters, kids playground, Internet cafe, karaoke, sauna, fitness, foot, Steppenwolf, rooms, meetings, car park, etc. It is the largest commercial centre at present.
Kaiping Tourist Shopping street (步行街). Kaiping tourist shopping street is a two-storey large-scale special building, 800 metres long, south from Cangjiang river, north to 325 national highway, and east with Dong Xing road. This building is a highlights of European style, and is similar with many famous building such as The White House, the Arc de Triomphe in France, Germany Castle, London Bridge, the Netherlands windmill, etc.. There are 262 shops on the first floor, 275 shops on the second floor, and a large space garden on the roof which includes fountains, pavilions, porticos and a large quantity of white marble sculptures. Tourist shopping street include many kinds of products, such as clothing, footwear, stationery, electrical appliances.
Baihui Market (百汇). Baihui Market is relatively close to Yi Hua Plaza. It's just like Bu Xing Jie, but there are several columns of shops that sell tea, fruits, stationary (pens and penicls and paper), snacks, and a lot of other stuff.
Easco City (东汇城), Easco City is a shopping complex with many places to eat, shop, and play. It is just like Yi Hua Plaza, but more modern.

Sishi Market

address: 5 Siming Road 思明路5号

Covered produce market with lots of fresh vegetables, plus fruit, meat, and more.
Eat
Ganbasha Coffee House

phone: +86 2202626

address: 255 Xiangyuan Xincun (祥苑新村255号)

Serves western and Chinese food at a reasonable price.

Vegetarian Restaurant

address: Level two of the mall 500m east of the bus station

Great mainland Chinese style vegetarian buffet. Operates from 11AM or 11:30AM to 2PM for lunch.
Café de Coral, in the front of Yi Hua Plaza.
Sleep
Most options are downtown, and it's perfectly feasible to do the diaolou as a day trip from your more centrally located lodging. There are also guesthouses and hostels out among the diaolou, with a particular concentration in the towns of Chikan and Tangkou. Staying out in these places lets you enjoy the rural scenery, and they make a good base for exploring the countryside by bicycle.
TK - Village Inn

address: 14 Tangxi Road, Tangkou Town 塘口镇塘西路14号

Tribe of Diaomin

phone: +86 750 2616222

address: 55 Tankou Street 塘口街55号

A plain, clean, quiet guesthouse and hostel surrounded by old buildings and rice fields in the town of Tangkou near Zilicun. Downstairs is a bar and a sort of mini-museum of local artifacts. The hostel-style dorm room is separated by a curtain into a men's section and a women's section. There are small lockers with their own keys, and each bunk has electrical outlets fitting several different plug types. Fast wifi. Quality bike rentals available: ¥20 for 2 hours, ¥30 for 4 hours, ¥40 for 6 hours, ¥50 for 8 hours.

Xiangyuan Binguan

phone: +86 2201928

address: 261 Xiangyuan Xincun (祥苑新村261号)

Xingdu Hotel

phone: +86 2287838

address: 10 Changshaguangming Street (长沙光明路10号)
Go next