Kaliningrad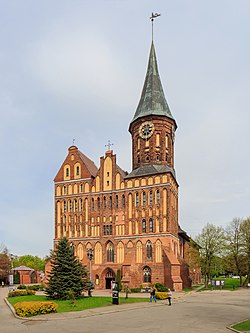 Kaliningrad
(
Russian
: Калинингра́д
kuh-leen-een-GRAHD
) , also known by its original German name,
Königsberg
, is the capital city of
Kaliningrad Oblast
in
Russia
. It has about 450,000 inhabitants. It is also called 'Karaliaucius' in Lithuanian, as Lithuanians (cousins to the 'Old Prussians') used to live there. So it is truly the 'City of the Four K s: Kaliningrad / Königsberg / Krolewiec / Karalaucius '. Following
the Second World War
, it was briefly known as Kyonigsberg (Кёнигсберг), the Russified form of the original German name.
Understand
History
Kaliningrad's history dates back to the 13th century, when it was under the rule of the Teutonic knights, an order of German knights, priests and lay men who sought to expand Christianity through missions and conquests. Known by its German name of Königsberg then, the city was the capital of
Prussia
.
Kaliningrad was a hub for science and culture whizzes from Germany, Poland and Lithuania. In-fact the famous mathematical Königsberg bridge problem is based in the city. Kaliningrad is also home to renowned philosopher Immanuel Kant and prominent German writer Ernst Theodor Amadeus Hoffmann. Kant is said to have had such pride in his hometown that he barely left the place in his lifetime, declaring that he did not need to venture abroad because ships came and brought people to tell him stories.
Destroyed in World War II and annexed to the USSR in 1946, the region was stripped of its German identity after the German population had been expelled and was named after Mikhail Kalinin, a Russian communist leader. The overwhelming majority of its residents are Russians and those from other Soviet Republics who came to the area in the immediate aftermath of WWII. A highly militarised zone during the Soviet era, the area only opened to visitors about 20 years ago. Unsurprisingly, there is very little visible trace of its Prussian past, save for a small number of refurbished buildings such as the Cathedral.
Climate
The best time to visit is in summer between June and August, when the temperature is around 20 to 25 deg C. Temperatures in autumn range from 10 to 15 deg C and the season lasts from September to November. The Kaliningrad winter, which is from December to February, is much milder winter than Russia, with temperatures from 5 deg C to minus 11 deg C.
Take along an umbrella, because the weather is unpredictable and windy. The weather is quite humid too, thanks to its proximity to the Baltic Sea. The Baltic sun is mild.
Get in
Visa
As Kaliningrad is an exclave of the Russian Federation, almost all visitors require a Russian visa to enter, except citizens of those countries that have signed bilateral agreements for visa-free entries, e.g. Israel, South Korea, South Africa, Serbia, Montenegro, Bosnia and Herzegovina, Latin American countries, etc. If you plan to travel overland between Kaliningrad and other parts of Russia, you will need at least a double-entry visa in order to exit and re-enter Russia. Travelling by air on domestic flights between Kaliningrad and Moscow, St. Petersburg or other Russian regional centers can be done even with a single-entry visa. For more information about Russian visas, see the
visa section on the Russia page
.
Starting 1 July 2019, nationals of 53 countries including almost all EU countries, Japan, China and a few other Asian countries can get eVisa free of charge for visits of up to 8 days. You can apply for eVisa at
Russia's MFA website
. You should print off the eVisa confirmation (which comes as a pdf) for sake of ease. Border guards might want to see your visa on exit, so it's best to keep a copy on you, though having the pdf on your phone is perfectly acceptable. Note that the eVisa is not valid at some of the smaller
border crossings
.
US, UK, Canadian nationals will still have to apply for a regular visa.
By plane
Khrabrovo AirportA regular bus (144) is going every hour from the terminal to various stops in the city centre for . Taxi service is also available; If you know the exact address, ordering a cab via mobile apps called Taxi Maxim or Rutaxi (that both have English language option and, by the way, work in a number of other Russian regional centers) can save you approx.10% in comparison with prices of airport cab services. The official airport taxi services that are represented in the arrival area with a couple of counters, charge a fixed price of to get from the airport to any point in the city; other cab companies might charge even more.
Airlines and destinations include:
Aeroflot (Moscow-Sheremetyevo)
Air Baltic (Riga)
Azimut (Kaluga, Rostov-on-Don)
Pobeda (Moscow-Vnukovo, Saint Petersburg)
LOT (Warsaw)
Rossiya (Saint Petersburg)
S7 (Moscow-Domodedovo)
Severstal (Cherepovets)
Smartavia (Arkhangelsk, Murmansk, Moscow-Domodedovo, Sochi)
Ural Airlines (Moscow-Domodedovo, Yekaterinburg, Saint Petersburg)
UTair Aviation (Moscow-Vnukovo)
UVT Aero (Kazan, Nizhny Novgorod, Perm, Volgograd)
Uzbekistan Airways (Tashkent)
By train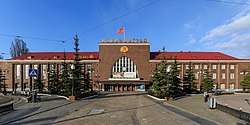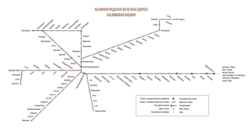 East-bound (towards Vilnius in Lithuania) long-distance trains still run regularly. Departures are daily from
Moscow
(22 h) via
Minsk
(11 h) and every two days from
Saint Petersburg
(26 h, also via
Minsk
). Some services are available from
Chelyabinsk
(69 h) in the
Urals
and
Homel
(via Minsk). There's also trains from the Black Sea resorts, such as
Sochi
(61 h), expect 1-2 trains a week during summer.
All cross-border services across the Polish border have unfortunately been cancelled in 2010, although there were approaches to restore the link and even some occasional rides. Also, a weekend connection to
Klaipeda
in Lithuania, with a change in
Sovetsk
, was cancelled.
Regional trains make it possible to arrive to the city from many towns in the oblast but, with the exception of coastal and suburban towns, the schedule is rather rare, often with one train per day. If you're after an adventure, you can try hitchhiking across the border at Mamonovo and taking a train from there to Kaliningrad (timetables can be found
here
).
(Калининград-Пассажирский), sometimes called Kaliningrad South, is the main railway station and is located at ul. Zheleznodorozhnaya, 15.
By car
The road system is extensive in the Kaliningrad region; however, they are not always well-maintained, and sometimes it is hard to get around because of absence of signage indicating directions/destinations (especially in the city). Driving rules are generally the same as in most European countries, but many do not follow the rules, especially during rush hour in the city. Beware of the traffic police because they like to stop foreigners and often expect bribes.
There are two ways to get to Kaliningrad by car - from Poland and from Lithuania, but you should expect delays on the borders (sometimes it can take a couple of hours)! The green card for insurance has been valid since beginning of 2009.
By bus
Direct bus lines connect Kaliningrad with a number of cities in Belarus, Poland, Germany, Latvia, Lithuania, Ukraine. Bus time tables for international and regional buses (in English), see:
here
or at the site of Kaliningrad's
central bus station
(ulitsa Zheleznodorozhnaya, 7 - next to the South train station), which, besides that, also serves a number of regional lines.
Bus from
Tallinn
via
Riga
, see:
here
Bus to/from
Gdańsk
(Zloty 28, from Kaliningrad to Gdańsk ) - leaves Gdańsk at 06:00, 06:30, 15:00, 15:30. See:
here
and
here
Bus to/from
Warsaw
- leaves Warszawa Zachodnia bus station at 8:00 Mon, Wed, Thu-Sat, tickets . On Tue and Sat there is another bus that leaves Warszawa Zachodnia at 13:00, the ticket costs . This bus also stops in Olsztyn (700 руб).
Bus to/from
Vilnius
- leaves Vilnius at 13:15
By boat
During summer there is a boat service between Kaliningrad, and Frombork, Krynica Morska and Elblag, Poland - more info at
Zegluga Gdanska
By bicycle
It is possible to cross the borders by bicycle, though not on foot. As of May 2019, there are reports of bicyclists having no problem skipping the queue of cars and presenting passports at the booth of Morskoye crossing. Border guards tend to speak very little English so they'll be happy to let you through without too many questions.
Get around

The city has bus, minibus, trolleybus, tram and commuter railway networks. The best way to explore the city is by bus. The public transportation system is relatively good. Half of the population live in the city, hence it is very well-connected. Fares are kept low, at a flat rate of on the bus (26RUB on marshrutka - a shared taxi) and the waiting time is short. Tickets on the buses are handed out by the conductors. In July 2019 city authorities introduced the transport card called Volna Baltiki (Baltic Wave).
Taxis within the city may have meters, but most prefer to negotiate fares in advance. Minimum charge within the city is at least , even for short distances.

See
The old cathedral of Königsberg

phone: +7 4012 63-17-05

address: Kanta 1

Founded in 1333, largely reconstructed after World War II, the cathedral on Kneiphof Island along the Pregolya River is a sight to see. The cathedral links Kaliningrad to its German past, as it is where the Prussian kings were once crowned. There are two rooms in the Cathedral Museum devoted to the life of Kant, whose tomb lies beside the cathedral walls. Up the stairs to the left of the main door is a three-story museum dedicated to the life and work of Immanuel Kant (separate ticket needed). Kant's grave can be viewed outside the cathedral, on the northeast corner of the building.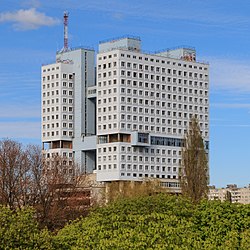 The House of SovietsKnown to locals as 'The Monster' or 'The Robot's Head', this is sort of an anti-attraction, but useful for orientation in the city center. It was constructed on the ruins of the Königsberg Castle, but was deemed structurally unsound and therefore never occupied. Rumor has it that a mysterious owner prevents it from being demolished. An archaeological dig is active on the grounds, which is not open to tourists, but specialists may be able to arrange for a visit of the remains of the castle.
The old fortificationsFrom approx. 1860-70, they include 15 town gates - Sackheim, King's, Rossgarten, Attack, Railway, Brandenburg, Friedland, Friedrich Wilhelm III. One of the towers is home to the Amber Museum.

Fishing VillageRed-roofed buildings and colourful exteriors illustrate the charm of old Koenigsberg, what Kaliningrad used to be known as.

Victory SquareThe central area where the administrative buildings, banks and shops are.

address: Ulitsa Oktyabr'skaya, 1а

Re-built from scratch and opened to the public in 2018 on site of the former New Synagogue (opened in 1896) that was burnt down by the Nazis during the Kristallnacht in November 1938. Despite the fact that the building isn't an exact copy of the former one, it rather inherited the overall architectural solution as well as its main volumes and proportions.
Museums
phone: +7 4012 46 68 88

address: Marshal Vasilevsky Square 1

Houses a large number of amber ornaments and jewellery from Yantarny in the wider Kaliningrad region.

Bunker Museum

address: Universitetskaya 2

A bit hard to find (one must weave through three or four courtyards and children's playgrounds before finding it, which is barely marked except by two black upright triangular canopies over the bunker doors), it was the headquarters of the local German command during the 1945 battle. A museum of the city's German past (which lasted 689 years) and Soviet "liberation" of the city, including several interesting dioramas of events during the days of the battle.

Immanuel Kant Museum

phone: +7 4012 53 89 15

address: Nab. Petra Velikogo 1

Includes two scientific research museum ships, a Cold War era submarine B-413, a floating lighthouse and a post-war fishing trawler.

Kaliningrad Regional Museum of History and Arts

address: Klinicheskaya 21

The main building was once the Stadthalle, Königsberg's performing arts centre. Branches include Bunker Museum, Fort 5 «King Frederick Wilhelm III», open air «Koenigsberg Castle» and Park of Sculpture.

Kaliningrad Museum of Fine Arts

phone: +7 (4012) 46-71-43

address: Leninskiy prospekt, 83

Art museum specializing in the regional painting, sculpture and photography of XXth century, temporary exhibitions. Since 2018 it is located in the historical building of the former Konigsberg Exchange, built in 1875, designed by the famous German architect Heinrich Mueller. The building was seriously damaged during the Allied bombings in 1944 and was fully restored only by early 70's.
Do
Walk the bridges - The seven bridges of Königsberg linked the two islands and the banks of the Pregel River. Proving the impossibility of there being a route that crosses each bridge exactly once led Euler to important discoveries in mathematical graph theory. Königsberg became Kaliningrad, the Pregel became the Pregolya, two of the bridges were bombed in WWII, two were demolished and replaced with a highway called Lenin, and one was rebuilt in 1935. Now there are five bridges, the problem is solvable. Try it!

Annual Jazz Festival 'Don Chento Jazz'Takes place in August

Fish at the Baltic seaAll year round

Trek in the forestsSoak up nature in the untouched forests

Kaliningrad's annual two-day City DayCommemorates its founding since 1255. It is celebrated in September. The city comes out in full force to party under the dazzling fireworks, concerts, performances, sports, arts and car-related events.

Watch football at Kaliningrad Stadium, built in 2018 to host group games of the FIFA World Cup. It's home to FC Baltika Kaliningrad, who play in the Russian National Football League (also called the First Division, ie the second tier of Russian football.) The stadium is two-tiered, with a design modelled on the Allianz Stadium in Munich. Its capacity for the World Cup was 35,000, but this is to be reduced to 25,000. It's sited 2 km east of city centre on Oktyabrsky Island, a long marshy island in the River Pregolya. So it's walkable from the centre, or take tram 5 or bus 40 or 72 and get off at Veteranov. The football team formerly played at Baltika Stadium north-east of the centre: this is a multipurpose stadium of capacity 14,600 but its future main use has not been announced.
Buy
Europa shopping mall

phone: +7 8 4012 21-08-23

address: Ploshad Pobedy, 2A Victory Square

66,000 m2 of high-end boutiques, cinemas, food and beverage outlets ranging from fine-dining restaurants, cosy cafes to cheap food kiosks.

Viktoriya Supermarket

address: Leninsky Prospekt 30

A 24-hour supermarket, useful for self-caterers. Other locations throughout the city, too, incl. shopping center right in front of South train station and bus station.
Amber
jewellery and art and craft is the local specialty:
phone: +7 8 4012 53 05 45

address: Ul. Chernyakhovskovo 62

Factory store offering a wide variety of jewelry and objets d'art for almost any budget.

Amber pavilionSeveral stores grouped together with a variety of amber items at competitive prices.

Yantarny

phone: +7 8-911-462-79-59- 8-911-462-79-59

address: Information tourist center «Gorod Vdohnoveniya», Masterov Square, Yantarny settlement

Yantarny has the biggest amber mine in the world and accounts for more than 90 per cent of the world's output. This settlement has a wide variety of amber products.

Amber Museum's gift shop

phone: +7 8 4012 46 68 88, +7 8 4012 46 65 50

address: 1, Marshal Vasilevsky square

You can buy a piece of amber from .
Eat
Papasha Beppe Pizzaria

address: Leninsky Pr. 20/26 and Baltiiskaya Ul. 12

Many locals consider this to be the best thin crust and thick crust pizza in town, also a wide variety of salads, pastas, risottos, and desserts.

Karamel

phone: +7 4012 53-04-61

address: Leninsky Prospekt 30

Some of the best views from the city from this cafe. Excellent food and fairly broad range of European cuisine, approximately per entree.

Razgulyai

phone: +7 4012 533-689

address: Ploshad' Pobedy 1

Cafeteria-style restaurant with rustic decor. Good for children.

Solyanka Cafe

phone: +7 4012-936-203

address: 24 Prospect Mira

Try the solyanka, a thick, piquant soup that is either meat-based, fish-based or vegetable-based. It is cooked with preserved cucumbers, olives, capers and tomato puree that give a strong sour-salty taste to the soup. Solyanka is perhaps one of the most popular soups besides borscht (beetroot soup) in Russia, but remains unknown beyond the national boundaries.

Zarya

phone: +7 4012 21-39-29

address: Prospekt Mira 41/43

A trendy, upscale restaurant with indoor and outdoor seating, wide selection on the menu, excellent desserts. In the same building as a movie theater.

Steindamm 99

phone: +7 401 238-84-70

address: Zhitomirskaya ulitsa, 22

Well-designed interior, good service, fairly priced lunch menu on weekdays.
Drink
Twelve ChairsA very chic bohemian style cafe with a decent food menu.

In the Shadows of the CastleOne of Kaliningrad's longest-lasting cafes.
Local beer brands
that are available in stores include
Ostmark
and
Königsberg
.
Hmel Restaurant and Brewery

phone: +7 4012-593-377

address: Pobedi Square, 10

Live music starts at 9PM every night. A gigantic brewery on the second floor churns out home-made beer.

Kropotkin

phone: +7 401 266 8060

address: Teatralnaya ulitsa 30

Self-made beer ( ), probably the best in town. Try the unfiltered one. Acceptable food, cosy beerhall atmosphere and business lunch.
Sleep
Budget
Komnata Otdyha

address: Inside the main train station

The station offers rooms and small dorms. You do not need to show a rail ticket to stay. A good budget option, especially if arriving late.
Mid-range
phone: +7 401 259-64-30

address: Moskovsky Prospekt 52, Kaliningrad
Splurge
Connect
Consulates
Armenia

phone: +7 4012 681-083, +7 4012 680-022

address: Kievskaya street, 23

Croatia

phone: +7 4012 60-05-55

address: Dzherzhinskogo street, 244-A

Denmark

phone: +7 4012 95-76-88

address: Proletarskaya street, 133

Germany

phone: +7 (4012) 920-218 (short-term visas), +7 (4012) 920-220 (admission), +7 (4012) 920-219 (national visas)

address: Leningradskaya street, 4

Greece

phone: +7 4012 93-60-27

address: Ogareva street, 33

Italy

phone: +7 4012 53-24-32

address: Chernyakhovskogo street, 6 office 108

Latvia

phone: +7 921 107-4224, +7 411 270-6755, +7 401 256-5502, +7 8 4012 295-7441

address: Engels street, 52-а

Lithuania

phone: +7 4012 95-7688, +7 4012 95-9486

address: Proletarskaya street, 133

Netherlands

phone: +7 4012 959-400

address: Kutuzova street, 29

Norway

phone: +7 (4012) 976-440, +7 (4012) 218-741 (visa issues)

address: Kashtanovaya Alley, 51

Poland

phone: +7 (4012) 976-440, +7 (4012) 218-741 (visa issues)

address: Kashtanovaya Alley, 51
Visa Centers
Estonia

phone: +7 4012 95-7688, +7 4012 95-9486

address: Proletarskaya street, 133

Hungary and Slovenia

phone: +7 921 107-4224, +7 411 270-6755, +7 401 256-5502, +7 8 4012 295-7441

address: Engels street, 52-а

Sweden

phone: +7 (4012) 976-440, +7 (4012) 218-741 (visa issues)

address: Kashtanovaya Alley, 51
Go next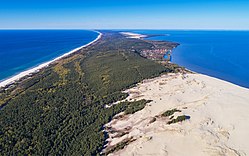 Curonian Spit A nearly 50-km-long spit stretching between Zelenogradsk and the Lithuanian border, separating the Baltic Sea from the Curonian Bay, it includes pine forest, hiking paths (beware of encephalitis-bearing ticks), and beaches. The average height of the sand dunes is 35m, with some reaching to 70m high. Entry fees are per person, plus per car. The entire spit, including the Lithuanian part, is a world heritage site.