Kamianets-Podilskyi
Kamianets-Podilsky
(Russian: Каменец-Подольский, Ukrainian: Кам'янець-Подільський) is a city in
Western Ukraine
.
Understand

This is one of the earliest towns in Ukraine, first mentioned around 1060 as a Slavic town controlled by Lithuanians, but evidence suggests that the Dacians and later the Trypillians had lived there in prehistorical times. The town is a natural crossroad for trans-Carpathian and trans-Ukrainian trade, which attracted Poles, Germans, Armenians, Lithuanians, Jews, Ukrainians, Russians and Romanians to live here until World War II. Now, the town is almost exclusively Ukrainian.
A large fortress was built here to watch over the River Smotrych and some evidence suggests that a fortress has existed on this natural outcropping of rock since 2 millennia ago.

Get in
Railway Station

phone: +380 3849 30732

address: Pryvokzalna str., 7

The best way to get here from Kiev is take a train. There are 2 "Podilsky Express" trains with seats departing from Kiev at 16:43 and 23:41. It takes 6.5-7 hr to get Kamianets-Podilskyi. Also there is a night train taking 9 hr and going every second day.

Bus Station

phone: +380 3849 31251

address: Koriatovychiv Kniaziv str., 19

Buses from Chernivtsi, Vinnitsa, Lviv or Kiev take 1.5, 4, 5 and 8-9 hr, respectively. The buses from Kiev cost around 100 грн but can faster marshrutkas (minibuses) can be 150 грн from Vokzal (the railway station) in Kiev. The buses from Chernivtsi are not as frequent as Lonely Planet may lead you to believe. The buses from Vinnitsa are rare.
See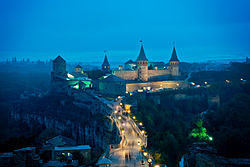 The ancient fortress

phone: +380 3849 21500

address: Str. Papanina

The major attraction of this town. 12-18th century. Built to protect against the Tatars
Papal tower5-storey tower on the southeast corner of the castle on the rock beneath cottages nestled suburb Karvasary.

Kovpak towersimilar to Tenchynsku

Tenchynska towerThe tower is round, has some loophole

Ark or Lyaska (Kovcheg) Tower
Church of Saint Heart of Jesus Christ

address: Nihynske highway, 32

Roman Catholic
Monastery of Vyzytok

address: Suvorova str., 2

Closed with an internal court and western facade unfolded on a straight line.
Novoplanivskyi bridgeBuilt in the 1850s.
Mansion of Dembytskyi

address: Lesi Ukrainky str., 38,

Palace of pioneers takes place in building.
Osavulovoys House

address: Sitsinskoho U. str., 2

Today here is a children's sanatorium.
address: Lesi Ukrainky str.,64

A general area of botanical garden is 17.7 hectares.
Former Town Hall (Polish Magistrat)14th-18th centuries.
Picture Gallery18th century. Former Seminary.
Archeological MuseumFormer Armenian trading house (17th century.)
Cathedral of St. Peter and Paul

address: Tatarska (вул. Татарська,) 20

15th-18th centuries. The architectural ensemble of the Church of the Holy Apostles Peter and Paul includes: the actual church, bell tower, a triumphal arch and a minaret. Contains features of Renaissance, Baroque and Gothic architecture.
Armenian or City is a fountain
Exhibition Hall
address: Cathedral, 29 (вул. Сoборна)
Holy Cross churchA wooden church near the walls of the ancient fortress, on the coastal strip in the natural valley of the Smotrych River
Further afield
Orlovskis' estate, Maliivtsi villageBuilt in 1900s

Sharivka villageProtection of the Virgin church-fortress (Покровська церква-фортеця), 14th-16th centuries, 1773

Sutkivtsi village church-fortressProtection of the Virgin church-fortress (Покровська церква-фортеця), 1467

Trinity monastery in Satanivska Slobidka villageBuilt in 16th-18th century. Monastery complex consists of the gate bell with cells, gates and fences, rebuilt in 1744 in Baroque style. On three sides it is surrounded by two meter thick walls, up to 6 m high.
Eat
Budget
Dikanka
phone: +380 384932885, +380 673847231, +380 673847238, +380 960178282
address: Pushkinskaya str, 46
Good cheap cafe in city centers with Ukrainian cuisine, about 35 kinds of vareniks (dumplings).
Mid-range
Kava u politsmeystera

address: not far from the fortress

Nice design. Waiters speak English. You have to take the menu from and order on the bar, the order will be brought to your table. "Coffee Ice Cream" is worth trying. Although the name suggests that coffee is the main drink here, you can have a good dinner as well.

Pid bramoyunice design combining medieval and national Ukrainian motifs. Waitresses don't speak English.
Sleep
Hostel Zoom

phone: +380 3849 37849

address: Haharina, 69

"babushka's" apartment

address: Str. Soborna, 4

phone: +380 67 3824294

address: Ave. Hrushevskoho (проспект Грушевского), 27

One sgl, four dbl, three tpl rooms

phone: +380 384 950504, +380 97 7115522, +380 67 3841058

address: Danyla Halytskoho (ул. Д. Галицкого) , 16A

Monte-Kristo Cafe-Bar-Hotel-Sauna

phone: +380 384 920888

address: Lesi Ukrainky, 22

phone: +380 3849 65683, +380 3849 65684

address: Ohiienka, 39

Four-star hotel.

phone: +380 97 5729181, +380 97 5061079, +380 3849 91564, +380 3849 91071

address: Uralska, 4

Stone Flower

TIU KP

Karmaliuk

Fil'varky-Tsentr

Xeniya
Go next
Khotyn - If you plan to go to the spectacularly located castle in Khotyn on your way to or from KP and Chernivtsi, you can visit it in route as it sits almost exactly on the route between the two cities.
Khmelnytskyi - This is the administrative center for the Khmelnytskyi Oblast.