Karigasniemi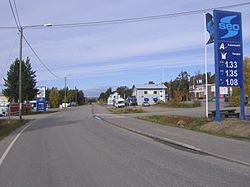 Karigasniemi
(Northern Sámi:
Gáregasnjárga
) is a village in
Finnish Lapland
, in the municipality of
Utsjoki
. It's located on the eastern (right) bank of the Inarinjoki (
Anárjohka
) river, which also is the border to
Norway
. Somewhat downstream Inarijoki meets Karasjoki (
Kárášjohka
) to form Tenojoki (
Deatnu
,
Tana
).
Understand
There are Sámi, Finnish and Norwegians in the village. In old times nobody bothered about the borders and families lived on both sides of Teno – as they still do. The three languages are all heard and used side by side (and can be studied in primary school). Many live in one country and work in the other, also others participate in events and go shopping across the border.
The Sámi are the majority in Karigasniemi. Some have traditionally got their livelihood mainly from fishing in the river – but income has always come from many sources – others from large scale reindeer husbandry. Both traditions are strong in the area, although, of course, modern occupations are common and people live modern lives in many respects. Tourism is important.
Tenojoki is the most productive of the salmon rivers in northern Europe, giving 15–20 percent of all salmon caught in European rivers. There are 9,000 fishing tourists annually at the river, catching a yearly average of 40 tonnes of salmon.
The village got connected by road in the 1940s. There is an old postal route through
Muotkatunturit Wilderness Area
to the south-east.
Get in
Karigasniemi is at national road 92 (here called
Karigasniementie
east,
Norjantie
west from the centre). It becomes national road 92 of Norway on the other side of the river. The scenic regional road 970 (Ylätenontie) follows Inarinjoki and Tenonjoki 100 km downstream to
Utsjoki
. Local road 9704 (Inarijoentie) goes upstream (south) to the village
Angeli
.
There are daily coaches along road 92 from
Rovaniemi
via
Ivalo
and
Inari
, some continuing to
Karasjok
,
Alta
and
Nordkapp
. For Utsjoki there is a transfer at Kaamanen (for coaches along E75).
Crossing the border is undramatic because of Nordic cooperation and the Schengen agreement. Norway is not part of EU, though, and different legislation apply, so goods may need to be declared, pets need to have their papers in order and fishermen and boaters need a certificate about disinfection. There is a common customs office at the Finnish side.
Get around
The village itself is small enough to be seen by foot. Bike or car is nearly necessary for getting anywhere else (unless the coach happens to pass suitably). In wintertime there are snowmobile tracks (check fees and regulations when renting a snowmobile: driving outside official routes, possibly also along some marked tracks, requires landowner permission). If driving on the river, mind
ice safety
.
Most services are very close together near the road crossing. The old village is 3 km along the road upstream.
Taxi service Tomme Rasmus

phone: +358 400-386-677
See
Sáivu

phone: +358 40 7286 822

The house of the village association, with tourist information (summertime), café, Internet connection, summertime "reality TV" from underwater cameras showing salmon in real time. Riverside sauna.
Northern lights. The area has some 70 % probability of northern lights any night with clear skies, with best chance about 10PM to midnight. It should be easy to get out of the light pollution area. Try to get a clear view to the north. Local businesses should be able to arrange overnight tours with equipment to withstand the cold (in summer nights are too light). Even if you do not see the aurorae, such a tour is bound to be a worthwhile experience.
Do
FishingTenojoki is rich in salmon. Several businesses offer fishing trips (see Sleep below). Going on your own is possible, given you pay the fishing fees and respect regulations, which vary by area. More information from local tourist businesses or Ylä-Teno fishing surveyors Niilo A. Rasmus +358 40 843 9094 and Jorma Harlin +358 40 843 9093. The tributaries and lakes are not included in the Teno permits and fishing is restricted in many waters; separate permits are available for some areas, either from landowners or the "Utsjoki 1574" permit for fishing in still waters in much of the wilderness areas. Fishing equipment, including boat and boots, have to be disinfected (e.g. by sufficient drying or at a disinfection point; get a certificate) when coming from other waters, because of the Gyrodactylus salaris parasite in many other Nordic waters.
Mustakoski (Cáhppesguoika): day huts, campfire site; 6.2 km upstream.
Kuivaniva (Goikenjavvi): lean-to; 9.8 km upstream.
Kuoppaniva (Guohppenjavvi): parking lot, signed trail to fishing site; 13.7 km upstream.
Doarrovasbákti: day hut; 15 km upstream.
Nature and hiking trails
Sulaoja nature trail2 km nature trail in hilly terrain at the holy source of Sulaoja (Suttesjohka; "non-freezing stream"), telling also about the autumnal moth (Epirrita autumnata), which in 1965–1966 destroyed vast expanses of fell birch forest.

Kevo routeHiking trail (63 or 78 km) through the Kevo canyon in Paistunturi Wilderness Area. Demanding: rough terrain, steep sections, fords. The canyon and its surroundings are a strict nature reserve; trails have to be followed (except in winter), no entrance to the canyon 1.4–14.6. There are huts and shelters for breaks and overnight stays, camping is allowed at those sites. The trail ends at Lake Kenesjärvi, 26 km south of Utsjoki by E75.
Hunting. Some accommodation businesses have hunting grounds of their own and permits can be bought for some state owned areas. Guides and dogs can be had. To hunt yourself you need an arms permit and a general hunting permit. Willow grouse is the most common game. Hunting on state land without a guide is possible, but in addition to having general and local permits and the relevant knowledge, you need to contact the reindeer husbandry coordinator, not to mess up their work.
Biking. There is an 11 km biking route into Paistunturit Wilderness Area. Start between Akukoski and Outakoski some 25 km downstream, endpoint at lake Akujärvi. You can continue 5 km by foot to Ahkojotgoahti (Aku-kammi) camp fire site at the Kevo route. Suomen Latu (a skiers' and hikers' association) has built a turf hut (goahti, kammi) here.
Buy
K-market Härkönen

phone: +358 16 676 241

address: Ylätenontie 24

Grocery store. Also some pharmacy services.

Ailigas-market

phone: +358 16 676 126

Grocery store (Tarmo). Also petrol. Kotipizza pizza meals.

K-Extra Pohjanrinne

phone: +358 16 676 110

address: Ylätenontie 30

Grocery store with outdoor gear and car equipment. Also postal, Matkahuolto and filling station services.

Giehtta Dáidu

phone: +358 40 527 4746

address: Reistintie 31

Handicraft from reindeer.
Eat
Most accommodation businesses also serve meals. See
Sleep
below. Pizza (Kotipizzza) at Ailigas-market, café at Sáivu
Sleep
Ordered by distance from the village.
Connect
Postal code 99950 Karigasniemi.
Mobile phone coverage is good along road 92, but weak in the river valleys. In the wilderness, climb peaks to get connected.

Go next