Kartli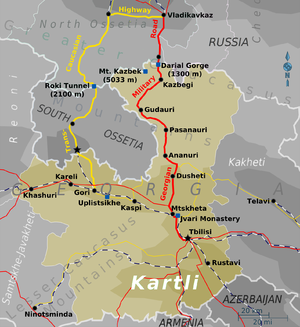 Kartli
is a region in central
Georgia
containing Tbilisi, Mtskheta, Mount Kazbeg and the Georgian Military Highway.
Cities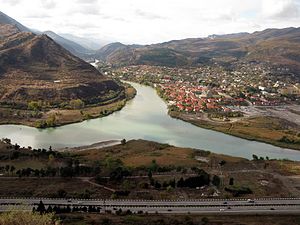 – The biggest, busiest and most popular city, as well as capital of Georgia
– Famous for its history and Swabians settlers from Germany.
– A city known for its Stalin cult and the nearby famous Uplistsikhe
– Mainly a popular ski resort
– A UNESCO world heritage site
– Famous for its Sioni Church, and the Auto Trade Center, the biggest for used cars in the Caucasus
– Famous for the spectacularly situated Gergeti Trinity Church, as well as one of the highest mountains in Europe, Mount Kazbeg
Talk
Georgian
is the principal language throughout most of Kartli, but there is a significant section of southern Kvemo Kartli (around
Gardabani
), where most residents are
Azeri
speakers and you may be able to communicate effectively with knowledge of
Turkish
. Speaking Russian will help best in areas where ethnic minorities live, where it is the lingua franca. It is spoken to various degrees by most older people, including by many taxi drivers, but this is no longer to be completely relied upon. The younger generation is increasingly speaking English due to hostility towards Russia, and also because English is taught in schools since independence and has replaced Russian as a second language in schools nation-wide. When in need for help, look for younger people, as they are more likely to know some English.
Get in
Get around
Generally, everything is true what is mentioned under the same section in the
Georgia
country article.
Bus-wise, most connections are explained under
Tbilisi
or under the above mentioned cities. Of course travelling by car is an option. Also hitch-hiking is very easy, even in remote regions.
See
– A 3,600 year old Silk Road cave city that was a major regional center of Caucasian pagan religion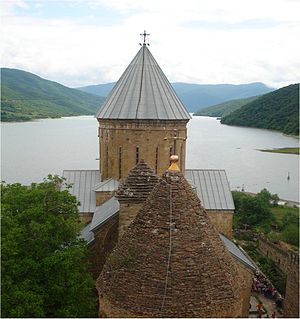 AnanuriA beautiful castle and monastery overlooking the Zhinvali Reservoir.

Trialeti and Algeti National Park

address: Nichbisi-Didgori-Didi Toneti Botisi

Close-by Algeti Lake.

Mineral SpringsVery interesting contrasts and colours created by the mineral water coming out of the ground. The water is also drinkable, a little bit like in Borjomi, but very iron-tasty. Some complain about the many tourists coming here—no wonder so close to the highway.

Dmanisi archaeological siteA bronze age settlement and the 1.8 million year-old fossilized remains of the first human in Europe have been discovered here.

Grakliani HillDiscovered during the widening of the Tbilisi-Senaki-Leselidze highway, evidence of human presence going back as far as 300,000 years.

ShatiliA remote and less touristic mountain region. From here, hikes as well as tours with horses towards Omalo in Tusheti National Park can be undertaken, crossing the Atsunta Pass.
Do
The – one of the world's more spectacular roads, the highway cuts through the Greater Caucasus and was built by the Russian Empire in the 19th century to facilitate its conquest of the Caucasus.
Ski in Gudauri
Hiking in one of the southwestern national parks and forests of Kartli, as well as in the Kazbegi region
Go next
Comprehensive details on transport options are available under
Tbilisi#Get in
.
The
following regions
and its destinations are next to Kartli:
Furthermore, Kartli, and especially
Tbilisi
, is the central hub for onward travel into
Armenia
and especially the following cities:
Ijevan – The first destination when coming from Georgia / Tbilisi and popular for its post-soviet feel and the surrounding mountains
Sevan – The nearby lake (biggest in Armenia) is a famous summer destination
Yerevan – The capital, a must see and conveniently located for exploring Armenia
as well as
Azerbaijan
, and especially the following cities: