Kashmir Valley
The
Kashmir Valley
, or more poetically the
Vale of Kashmir
, is a large valley in the
Himalayan mountains
and an administrative region of
Jammu and Kashmir
state in
India
.
Cities
— summer capital of the Indian state of Jammu and Kashmir and the largest city in the Kashmir region


— the second largest city in Kashmir Valley


— city in Kashmir and famous for having one of the world's highest cable cars


— a city in Kashmir Valley


— a town in Kashmir Valley


— a hill station


— a town in the Baramula District of Jammu and Kashmir with the river Jhelum flowing through it

Understand
The Mughal Emperor Jehangeer is said to have once written about Kashmir:
Agar firdaus bar rue zamin ast hamin asto, hamin asto, hamin ast!
("If there be paradise on earth, it is here, it is here, it is here!"). He was writing about
Kashmir
, a land divided between the northern half of the northern-most state of
India
,
Jammu and Kashmir
and the district of Kashmir in
Pakistan
. Torn by war, terrorism and violence since 1948, this beautiful valley has long been considered a dangerous place to go to, but tourism is slowly coming back to the valley as militancy, which began in the early 1990s (as a means of protest against what some describe as forceful Indian occupation) has come down.
The most famous places to visit in Kashmir are
Srinagar
,
Pahalgam
and
Gulmarg
. Other places include
Sonamarg
and
Verinag
. There are various trekking routes available across whole of Kashmir. Adventure sports in the form of water rafting and paragliding, among others, are available at various tourist locations. The Royal Springs' Golf course in the heart of Srinagar on the shores of the world famous Dal Lake is one of the most beautiful golf courses around. There is a small 18-hole golf course in Gulmarg.
Talk
The official state language is
Urdu
, though the most commonly spoken language in the Vale of Kashmir is
Kashmiri (or Kashur)
. The younger generation speaks English quite well. Most of the sign-boards and directions are written in English. English is one of the official languages of the government apart from Kashmiri, Urdu, Gojri and
Dogri
. Hindi is also widely spoken across Kashmir.
Get in
By plane
Almost all the domestic airlines in India fly from
Delhi
to
Srinagar
's Sheikh ul Alam Airport (
SXR
) which is now an international airport also.

By train
The nearest railway station is at Jammu. The rest of India is connected by rail with Jammu; however a rail link from Jammu to Srinagar is being built and is not expected to be complete before 2021 at the earliest.

By road
From Jammu, various places in Kashmir are 6-8 hours by road. You can also hire a taxi or take a bus from New Delhi. The travel time by road is about 20 hours from New Delhi. The landscape tends to get very interesting from Jammu and it is mainly because of this reason travellers prefer the road trip (especially from Jammu). The Jammu-Srinagar highway is extremely treacherous in the winters and blocked by landslides for most of the winter. On the way from Jammu to the valley do not forget to relish the famous rajmah chawal in Peerah and pattisa (sweet made in ghee) in Kudd.

Get around
The best way to travel across the known destinations in Kashmir is to hire a taxi for about US$60 a day. If you want to visit high altitude lakes and mountaineering destinations you can hire a horse to carry your stuff up the mountains.
The tourism department also provides guides, maps and equipment to mountaineers and trekkers.

See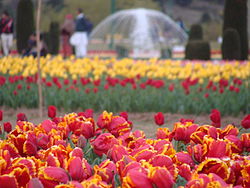 Spring
is the time when Kashmir bursts into a riot of colours and millions of flowers carpet the landscape. A good idea would be to visit the "Tulip Garden", one of the largest of its kind in Asia. The Tulip Garden is opposite the main Boulevard Road on the shores of the Dal Lake. Although work on the garden started a couple of years back, nevertheless, with each season it is expanding rapidly and is fast becoming a major tourist attraction in spring.
Angling in the many fresh water streams is an attraction in spring as well or if you missed out on skiing in winter, you could go skiing in Gulmarg which offers excellent opportunities till late March.
Summer
brings a lot of tourists to the valley, especially those from the Indian plains which experience unbearably hot temperatures during the summers.
Gulmarg
is a perennial favourite. Gulmarg means 'the meadow of flowers' and is 56 km south-west of the city centre, Srinagar. The slopes of the Apharwat hills (of the Himalayas) at Gulmarg are one of the highest ski slopes in Asia. Due to its' unique geographical location, Gulmarg gets some of the heaviest snowfall in the Himalayan region. This hill resort is served by a cable car that goes all the way to the Apharwat peak, on which is claimed to be the highest gondola in the world (4,080 metres).
Pahalgam
or the village of Shepherds is a very popular resort 90 km south of Srinagar. It has some magnificent plains (like Baisaran) where horse-riding can be indulged in. Again, some fantastic angler opportunities as well and a lot of trekking routes (including the one that goes to Amarnath, a hindu pilgrimage shrine deep in the Himalayas)
84 km from the state capital Srinagar at an altitude of 2,900 metres,
Sonamarg
lies in the valley carved by River Sindh, surrounded by towering snow-capped mountains. Sonamarg literally means "Meadow Of Gold".
The skiing season in Gulmarg, the world famous ski resort in Kashmir, lasts for about four months, but with the Thajiwas Glacier and the upper reaches of the Sonamarg valley covered with snow practically all through the year, skiers can thrill themselves for a longer period.
Sonamarg has a certain "raw" unspoiled beauty about it. The mountains look tall and haughty and the vista whichever way looked at consists of meadows, imposing mountains and streams. Sonamarg is the gateway to
Ladakh
so if you're planning to go to Ladakh by road you'll be enthralled by its' charms.
Do
Enjoy a Shikara ride in the Dal Lake. You can also swim in the lake.
Stay in a houseboat.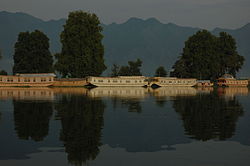 Take a walk on the streets of Old City .
Go trekking.
In winters you can go on a skiing/snowboarding adventure at Gulmarg.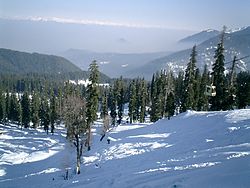 If you are lucky enough to find the lakes frozen during winters, take a walk on the Dal Lake. But be careful.
Enjoy white water rafting at Phalgam and Gulmarg.
Visit the gardens made by Mughal kings on the banks of the Dal Lake in the foothills of Zabarwan mountains.
During spring season visit Asia's largest tulip garden.
See the endangered Hangul and the snow leopard at the Dachigam National National Park, 12 km from Srinagar.
In Oct-Nov, you can take home unique and lifetime experience of saffron cultivation in Pampore, in the outskirts of the city.
Go fishing in any of the lakes in Srinagar. The license to fish costs about $5 per day during the summers. The resort of "Aharbal" offers excellent fishing opportunities: there's a great waterfall too. "Daksum" is very famous for its scenic mountain beauty and clear, sparkling streams with bountiful of catch. Then there's "Frislin" in Pahalgam and Yousmarg to name a few.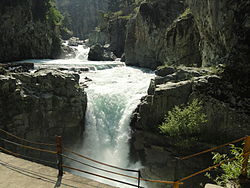 If you are visiting high altitude lakes (some of the few zero pollution lakes on the planet) don't forget "Tulin Lake" at an altitude of approximately 4000 m above sea level. The 25-km trek starts from Pahalgam. Tulin Lake is just one among the many high altitude lakes in Kashmir.
Use the state-owned JKTDC transport whenever you can. They are sincere and reliable.
Rafting in Pahalgam in Liddar river
Shankaracharya temple
Golf club in Pahalgam and Gulmarg.
You can visit the Shah Hamdan khanqah (place of religious learning), Hazratbal Mosque or dargah, as it is commonly called, and even the Jamia Masjid and see the unique architecture of Kashmir, a confluence of indigenous, Central Asian and Mughal architecture.
Buy

Kashmiri handicrafts, shawls and carpets are world famous. Shahtoos or Ringshawl as it was known was exclusively made by hand in Kashmir and was worn by celebrities and high profile dignitaries. This shawl is so soft that it can pass through a ring! However, it has been banned by the Government after animal rights campaigners objected because it involves killing a baby antelope in the high regions of Ladakh and making the shawl from its hide.
Although the Shahtoos shawl has been rightly banned it shouldn't stop you from buying the famed Kashmiri Pashmina.
Pashmina is exclusively Kashmiri and a good quality Pashmina shawl (including one that is hand embroidered by Kashmiri artisans) can cost more than US$450.
The intricacies of hand made Kashmiri carpets are well known. Most take months, some even a couple of years to make. The history of the Kashmiri carpet dates back to the period of Hazrat Mir Syed Ali Hamdani (1341-1385 AD) - the famous sufi saint of Persia who came to enlighten Kashmir with his spiritual guidance and brought along with him highly skilled artisans through the silk trade route.
Kashmir witnessed a phenomenal rise and growth in all things artistic in the golden reign of Sultan Zain ul Abideen ,popularly known as Budshah (Great King) in the 15th century. Emperor Akbar in the 16th Century is said to have encouraged the art of carpet weaving by bringing in more skilled artisans to the Kashmir valley.
An original Kashmir carpet can be very expensive but the right one can be as prized or treasured as any work of art.

Eat
Rich and redolent with the flavour of cinnamon, cardamom, cloves and saffron, Kashmiri food is suitable for all palates. Predominantly non-vegetarian, "Wazwaan", as it is called, is the royal cuisine of Kashmir. Described by the author Salman Rushdie in his book, Shalimar the Clown, Wazwaan is a banquet of 36 courses minimum and 60 courses maximum. It's a preparation of a number of spicy meat dishes served with traditional rice by professional chefs called "Wazas". Kashmiri wazwaan has its origin in Persia and is almost always served at Kashmiri marriage parties. It also has some interesting vegetarian options like dum-aloo, haak, palak and 'chaman' (cooked cheese). Among the popular non-vegetarian delicacies are curd-based gushtaba, chilli-flavoured rista and roganjosh.

Drink
Kashmiris celebrate the first snowfall of the season by socialising over a barbecue. They relax in the cold crisp evenings with a cup of warm kahwa, a black tea brewed with cinnamon, cardamom and honey. Also a perennial favourite is the pink-coloured nun chai made with a special salt.
Most hotels in Srinagar serve liquor and other alcoholic beverages, but as most residents of the Kashmir Valley are Muslims, few drink alcohol, themselves.

Stay safe
The past decade of turmoil has left traces in the Valley. If you plan to travel in the Kashmir Valley, it is important that you register with the Foreigners' Registration unit of the Tourism Department. The registration counters are at Tourist Reception centers at Srinagar Airport, Srinagar City, Gulmarg, Sonamarg, Pahalgam and some other places. At Srinagar Airport there is a kind lady tourist officer who can give you some helpful and safe tour advice.
In case of an emergency you can contact the nearest tourist police office or police station. The emergency number of the Police Control Room is 100.

Personal safety
Kashmiris are considered very hospitable people. The Amarnath Yatra in which Hindus annually visit a cave situated deep in high altitude mountains in Pahalgam (supposedly the abode of the Hindu God, Shiva) has been going on peacefully for more than a hundred years and Kashmiris have been known to provide all help to the yatris, sometimes even braving harsh mountain weather (which is not that rare considering it's a high-altitude pilgrimage.)
However, Kashmir is an area of conflict, and the danger of being killed or kidnapped by combatants, though lower than in some years past, is not to be taken lightly. During the peak of militancy in 1995, 6 western tourists were said to be kidnapped by a hitherto unknown terrorist group. Later a book named Meadows was published which talked about the complicitness of the state in the rescue operation of tourists. One managed to escape; however, another was beheaded and the others have never been found and are presumed dead. Mainstream separatists denounced this act and terrorist organisations based in Pakistan denied any involvement. In 2006 a campaign of grenade attacks in Srinagar claimed the lives of 6 tourists and wounded 40 on 11 July. The targets included a tourist bus and the Tourist Reception Centre. A similar attack on 31 May against a tourist bus wounded 21. An explosion in a tourist bus in Shalimar Gardens on 29 July 2007 killed six and wounded 21. In summer 2008 a controversy arose in which Kashmiris resisted the transfer of land to the Amarnath Shrine Board created by the government of India, fearing dilution of the Muslim majority demography of the state. During this period, a grenade attack in Gulmarg killed one tourist and injured five.
In the summer 2014, there were new skirmishes between the armies of India and Pakistan across the Line of Control. It is always best to check for current conditions before you visit.