Kathmandu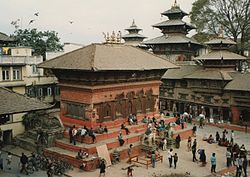 Kathmandu
(
Nepali
: काठमाडौ) is the largest city and capital of
Nepal
and the namesake of the
Kathmandu Valley
. Once thought to be the fabled and inaccessible Shangri-La, Kathmandu is a fast-growing spot catering to a wide range of holiday types and budgets. As a result of considerable urban growth in recent decades, it is now part of one continuous urban area together with
Patan
to the south.
Districts
includes Boudha Stupa, and the Tibetan area.
includes Ratna Park, the former palace, New Road, the embassy quarter, and is home to a number of luxury hotels.
includes the backpacker area of Thamel, Swayambu, Durbar Square, and Freak Street.
Understand
According to a census conducted in 2011, Kathmandu metropolis has 2.5 million inhabitants, and the agglomeration has a population of more than 3 million inhabitants. The metropolitan city area is 50.67 km² (19.56 sq mi) and has a population density of 3000 per km² and 17,000 per km square in the city proper.
The city stands at an elevation of approximately 1,400 metres (4,600 ft) in the bowl-shaped Kathmandu Valley of central Nepal. It is surrounded by four major mountains: Shivapuri, Phulchoki, Nagarjun, and Chandragiri. Kathmandu Valley is part of three districts (Kathmandu, Lalitpur, and Bhaktapur), has the highest population density in the country, and is home to about a twelfth of Nepal's population.
Historically, the Kathmandu Valley and adjoining areas were known as Nepal Mandala. Until the 15th century, Bhaktapur was its capital when two other capitals, Kathmandu and Lalitpur, were established. During the Rana and Shah eras, British historians called the valley "Nepal Proper". Today, Kathmandu is the capital of the Federal Democratic Republic of Nepal, and also the headquarters of the Central Development Region of Nepal. The Central Region comprises three zones: Bagmati, Narayani, and Janakpur. Kathmandu is located in the Bagmati Zone.
Kathmandu is the gateway to tourism in Nepal. It is also the nerve center of the country's economy. It has the most advanced infrastructure of any urban area in Nepal, and its economy is focused on tourism, which accounted for 3.8% of Nepal's GDP in 1995–96. Tourism in Kathmandu declined thereafter during a period of political unrest, but since then has improved. In 2013, Kathmandu was ranked third among the top 10 travel destinations on the rise in the world by TripAdvisor,and ranked first in Asia.
The city has a rich history, spanning nearly 2000 years, as inferred from inscriptions found in the valley. Religious and cultural festivities form a major part of the lives of people residing in Kathmandu. Most of Kathmandu's people follow Hinduism and many others follow Buddhism. There are people of other religious beliefs as well, giving Kathmandu a cosmopolitan culture. Nepali is the most commonly spoken language in the city. English is understood by Kathmandu's educated residents.
Kathmandu's sister cities (Lalitpur Patan) and Bhaktapur are integral to Kathmandu's cultural heritage, tourism industry, and economy; therefore UNESCO's World Heritage Site lists all three cities' monuments and attractions together under one heading, "Kathmandu Valley-UNESCO World Heritage Site".
Climate
Kathmandu Valley is in the Warm Temperate Zone of Nepal (elevation ranging from 1,200–2,300 metres (3,900–7,500 ft)), where the climate is fairly temperate, atypical for the region. This zone is followed by the Cool Temperate Zone with elevation varying between 2,100–3,300 metres (6,900–10,800 ft). Portions of the city with lower elevations have a humid subtropical climate, while portions of the city with higher elevations generally have a subtropical highland climate. In the Kathmandu Valley the average summer temperature varies from 28–30 °C (82–86 °F). The average winter temperature is 10.1 °C (50.2 °F).
The city generally has a climate with warm days followed by cool nights and mornings. Unpredictable weather is expected given temperatures can drop to 3 °C (37 °F) during the winter. During a 2013 cold front, the winter temperatures of Kathmandu dropped to −4 °C (25 °F), and the coldest temperature was recorded in January 10, 2013 at −9.2 °C (15.4 °F). Rainfall is mostly monsoon-based (about 65% of the total concentrated during the monsoon months of June to August), and decreases substantially (100 to 200 cm (39 to 79 in)) from eastern Nepal to western Nepal. Rainfall has been recorded at about 1,400 millimetres (55.1 in) for the Kathmandu valley, and averages 1,407 millimetres (55.4 in) for the city of Kathmandu. On average humidity is 75%.
Tourist information
phone: +977 1-4256909

address: Exhibition Rd
Get in
For information on visa requirements and immigration procedure, see Nepal#Get_in
By plane
Tribhuvan International Airport

phone: +977 1 4113163

address: Ring Road

The largest airport the and only international airport in Nepal. For domestic flight information phone=+977 1 4113299. - Facilities: foreign exchange (one bank counter at the departure lounge and three bank counters at the arrival lounge), TIA Office Information Services, pre-paid taxi. Nepal Tourism Board Information counter. HAN (Hotel Association of Nepal) Counter: You can book any hotel of your choice from here. Get your hotel voucher and proceed to the assigned hotel. You can collect pamphlets and tourism information. CIP Lounge (for business travellers, paying Rs 200 per person), two press rooms, cargo facilities, post office, souvenir shop, medical services, internet services
International flights
Most international flights to Kathmandu arrive from
Delhi
,
UAE
,
Qatar
, or
Bangkok
.
International airlines serving Kathmandu include:
style="vertical-align:top;width:50%;" |
style="vertical-align:top;width:50%;" |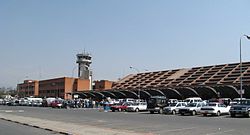 Domestic flights
Commercial domestic flights are available to/from
Bhadrapur
,
Bhairawa
,
Bharatpur
,
Biratnagar
,
Dhangarhi
,
Janakpur
,
Nepalganj
,
Pokhara
,
Simara
and
Tumling Tar
. Domestic flights take about an hour and cost USD100-175. The primary domestic airlines are
air viva
,
Yeti
,
Nepal Airlines
, and
Buddha Air
. Domestic flights are almost always delayed and afternoon flights run the risk of cancellation as delays from the morning compound.
Baggage handlers & concerns
Your luggage is vulnerable entering and leaving this airport. Do not keep anything of value in checked bags, and if you lock the bag, the zip may be forced open and broken. There is little to no security for your bags. You should also be aware that most luggage is treated quite poorly in Nepalese airports. It is recommended that all fragile and valuable items are kept in your carry on luggage.
When you collect your luggage, an "airport baggage cart collector" may appear and assist you with a baggage trolley. Unless you insist on handling your own baggage, your items will be loaded on the trolley and will be conveyed with you to the entrance of the terminal. You will then be expected to pay a tip to this person. Arriving just beforehand in Nepal, you will often only have larger denomination foreign currency in your pocket, but foreign currencies are accepted: even a couple of US dollars are significant to many Nepalis.
Money exchange at the airport
Try not to exchange money at the airport as there are service charges and lower rates offered than what you can get in Thamel or elsewhere in the city.
A benefit to Indian nationals is that Indian currency is acceptable at almost every outlet including smaller shops and establishments.
Getting to and from the airport
There are no trains in Kathmandu and renting a car without a driver is not possible.
Pre-arranged hotel transfers are available from most hotels and are included in most trekking/touring packages. Representatives will be standing outside the arrivals doors behind a barricade and will hold a sign identifying themselves. This form of transport is particularly helpful if you are a novice to Nepal, arriving late at night and unfamiliar with how things work in the country.
Prepaid taxis cost Rs800 to Thamel. Don't give the receipt to the driver until you are at your destination and you are satisfied, as this serves as the driver's payment. If the driver asks for more money, don't give it. Tipping taxi drivers is not expected.
Regular taxis are an easy way to get to the city but be prepared to negotiate the price beforehand, heavily. The cheapest rate that you can get to Thamel is Rs400-500, or if you go to the end of the parking lot and catch a taxi there, where the taxis do not have to pay the airport entrance fee, you may be able to get a rate of Rs200-300, which is close to the standard meter rate. Taxi drivers may try to extract some commission by showing you one or more hotels on the way.
Local buses pickup and drop-off at the airport gate, 0.5 km from the terminal. The buses generally do not have fixed schedules and are often crowded and painful but cost only Rs10. Ask the cashier about where the bus stops.
By bus
For more information, see
Nepal 'Get in' section
.
There is frequent and cheap bus service between Kathmandu and nearly all parts of Nepal. However, due to poor roads and frequent delays the buses are some of the slowest and least comfortable in South Asia.
Balaju Bus Station

address: Dupchewsor Marga?

Buses: India (Patna, Gorakhpur, Varanasi (₹1,350, India-Nepal friendship Bus Service, leaves Varanasi at 13:00 and arrives to Kathmandu at 05:00), and Lucknow), Pokhara, and Chitwan
Tourist buses (Rs800, 6-7 hr) and crowded local buses/microbuses (Rs400-600, 6-7 hr) travel the 200 km journey between Kathmandu and Pokhara almost every 15 minutes starting at 07:30 until late afternoon. Night buses are available, but the ride is painful.
Greenline
operates a convenient bus every morning between the popular tourist areas of Thamel in Kathmandu and Lakeside in Pokhara (USD20, lunch included). The road is winding and includes many hairpin bends and offers wonderful views of hills and rural Nepalese lifestyle. The drivers will generally not drive too fast, but some will calmly weave in and out of the stream of opposing traffic and brake heavily, making for a scary ride if you look out the front window. During the rainy season, there may be problems with the roads and flying may make more sense.
Buses and minivans run between Kathmandu and the Nepalese border town of
Kodari
, across the Sino-Nepal Friendship Bridge from the Tibetan city of
Zhangmu
. The 123-km journey takes at least 6 hours and costs Rs500. Buses depart until the early afternoon. Private jeeps (USD60 for up to 4 people) are a quicker option, and can make this journey in 4 hours.
From Siliguri - taxi or bus to Panitanki (one hour from Siliguri). Cross bridge to the Nepalese border town of Kakarbhitta. Bus to Kathmandu (around 15-16 hours) or direct luxury bus on alternate days.
From Sunauli - rickshaw to the Nepalese border city of Bhairahawa (ten minutes from Sunauli). Bus to Kathmandu (around 8-9 hours). Flight to Kathmandu (around 45 minutes)
Get around
If you fly in, be sure to pick up a free Kathmandu Valley map at the airport. The first thing some visitors notice about Kathmandu is the general lack of house numbers and street names except for major roads such as Tri Devi & Ring Road (loops around the city). In most cases directions are given relative to the nearest
chowk
or
tole
(an intersection or square, often with a market) or a noteworthy location or building (such as a temple or restaurant). In the tourist district of Thamel, the Kathmandu Guest House & Hot Breads bakery are two main landmarks.
Bagamati Tripureswor BridgeOver Bagmati River

Bagamati Bridge, Kupondole RdOver Bagmati River

Bijeshwori BridgeOver Bishnumati River

Bhimsen paakhaa Bishnumati Bridge

address: Bishnumati Track Rd

Over Bishnumati River

Shankhadhar BridgeFoootbridge over Bishnumati River

Shova Bhagawati Bridge

address: Between Camati Bisnumati Left (चमती विष्णुमती किनार बायाँ) and Bishnumati Kinar Right

A suspension bridge over Bishnumati River

Park Ln BridgeOver Bagmati River

Sankhamul Bridge

Teku Bagamati Bridge

address: Between Bagmati Marg and By Pass Rd

Over Bagmati River

Tripura Marg Bridge

address: Tripura Marg

Over Tukucha River

Vishnumati BridgeOver Bishnumati River
On foot
It is possible to get around Kathmandu
by foot
, but some may not always find the walking pleasant. It's worth considering, however, whether any form of public transport would be easier or more convenient than walking when you consider the crowds, the narrow streets and lanes, the traffic and everything you might want to see.
By rickshaw or taxi
If you consider public transportation for anything more than wandering around a specific area, there are several options. Pedal rickshaws can be found around the tourist areas of Thamel and taxis are everywhere. It's often difficult to go more than a short anywhere without being offered the services of both forms of transport. Negotiate a price before you get in a taxi or rickshaw. If you can't agree, ask another driver. Prices go up after dark and in less busy areas. Taxis are easy to find; they park near all major streets & have fare-meters. After 22:00 it can be very difficult to find taxis away from central tourist areas or major hotels. It should be possible to hire a taxi from Thamel for Rs300 one-way to Patan and around Rs1,200 to Bakhtapur from Thamel or the airport. For longer trips and to hire a taxi by the day negotiate with the driver. Haggle hard and you will easily find another driver if you are not satisfied. The meter is your best bet if you are not confident enough to negotiate, however very few drivers will agree to using them. Sometimes the proper operation of meters can be suspect so if you know exactly where you're going, it might be better to negotiate a suitable price in advance.
By microbus
The Tempos, small three-wheeled buses, and microbuses are a very cheap (Rs15) way to get around the city. The Tempos come in two varieties - green (electric) and blue (petrol) and run on predefined routes through the city. These routes are numbered, sometimes with both Nepali and European numerals. There does not seem to be a map of the routes, but you can get the hang of their paths quite quickly by asking and observing what numbers go on which road. Microbuses are typically minivans with a surprising number of seats crammed in - they have a "conductor" who leans out of the door and shouts the destinations, which are also often written on the front in Nepali. If you have time, you can ask if they are going your way and hop on. These also typically cost NPR15.
By bus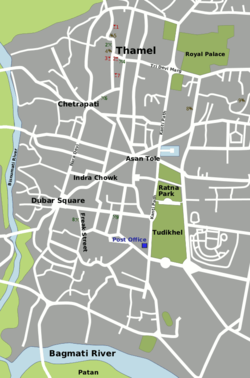 There are also
buses
for longer trips
within the valley
, i.e. Patan, Bakhtapur, Boudha, etc. that can be used for trips in and around the city. See
below
for tips on travelling outside of the valley. Blue
buses
& green buses constantly drive in circles/loops around the city on "Ring Road" - for Rs15-20 - depending on the distance. Every bus has a cashier/attendant who can tell you where it stops & alert you upon arrival. Riding the buses with the local people can be very pleasant & interesting. The buses are typically very old and rough.
See
Kathmandu has several excellent museums and galleries, which are mostly located in the
central area
of the city. The city is also home to a large number of Buddhist and Hindu temples, monasteries, and sacred sites. In particular,
Boudha
and
Swayambu
are famous for Buddhist monasteries, while
Durbar Square
is the center of Hindu culture.
Do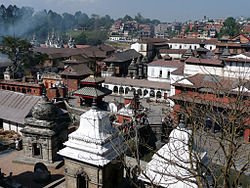 Kathmandu city itself has limited activities for visitors beyond the amazing sightseeing and general experience of
being there
.
Flightseeing
Mountain Flights. Most local airlines offer one hour flights over the Himalayas departing 06:30-09:00 from Kathmandu airport, costing USD197. Book in advance during the popular tourist season.
Connecting with locals
phone: +977 9818 421 646

address: Kathmandu

A social enterprise tour platform that enables locals in developing countries to create their own tour or course. Check out their momos cooking course, mask carving, pottery, stone carving or dal bhat cooking courses, among many others on their website. Simply book on their website and a facilitator (usually a local university student) will arrive to pick you up for your course.

phone: +977 981 803 9645

Organizes tours that take guests to visit and learn from Nepal's change makers, e.g., social entrepreneurs, artists, activists and other innovators. There are prearranged tours (usually 2 days including a networking session in the evening) on specific issues - or you can design your own.

phone: +977 014992282

address: Kathmandu

Based in an off-the-beaten-track neighbourhood in southeast Kathmandu, all volunteers are placed in local homestays and have the opportunity to use their skills to give back to the community. Volunteer work is personalised according to your ability, and you'll be living as a part of the community you are helping. Learn to make momos, speak Nepali, dance, and all about modern Nepali culture from your host family, and give something back.
Festivals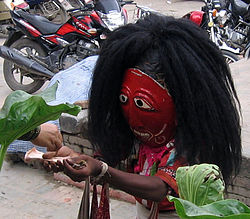 Kathmandu and Dubar Square is the centre for many of Nepal's festivals. Note that many businesses are closed for all of these holidays—and often a few days before and after. Dasain in particular tend to shut down much of the city for October.
Dashain (Dasain) Dashain, the most important of Nepal's religious festivals takes place over fifteen days, between September and October each year. Dashain celebrates all of the manifestations of the goddess Durga, it is marked by animal sacrifices and feasting. It serves to renew family and community ties. Due to many residents of Kathmandu returning home to their villages during Dashain, the city takes on a more peaceful atmosphere.
Tihar, Festival of Lights (Also called Deepawali) A five day festival which takes place each year on the fifteenth day of Kartika, around the end of October/start of November, celebrated by all Hindus with ritual house-cleaning, lanterns, candles, and fireworks. The Nepali version tends to be more picturesque and less explosive than those celebrated in India.
Holi is celebrated in March with splashes of water and colored powder that is both good luck and very messy.
Bikram Sambat's New Year's (April) A day of pilgrimages (often from Kathmandu to the holy Bagamati river that separates it from Patan)
Teej, the most important women's festival, is celebrated in September with married women dressed in their red marriage saris visiting male relatives and unmarried women and girls staying up all night to celebrate and pray for their future husbands.
Indra Jatra Harvest festival held in Kathmandu's Dubar Square for 8 days each September. The Goddess Kumari is paraded in her sacred chariot.
Himalayan Blues Festival, Kathmandu. Phone=+977-9841297451| Himalayan Blues Festival is one of the most acclaimed music festival in Kathmandu. It takes place in the months of October–November in Kathmandu. It boasts of having the best venues like the Garden of Dreams and Patan Museum. It also happens in many bars and different hotel venues. It features musicians from all around the world.
Indigenous Festivals
The indigenous Newa population of Kathmandu have many festivals going on around the whole year.
Mohani Nakha
Sakimana Punhi
Bala Chahre
Yomari Punhi
Disi Chahre
Yenya Punhi
Lhuti Punhi
Sithi Nakha
Sasuma Puja
Swonti Nakha
Learn
There are many courses available to tourists and long-term students in Kathmandu. In particular, Boudha is good for Buddhist studies, while Thamel is a centre for yoga and massage.

Languages
The Bisho Bhasa Campus, (Campus of International Language) located at Exhibition Road, Kathmandu, offers Nepal Bhasa, Tibetan, Sanskrit and Nepali languages courses. You can find many local institutes that teach Nepal Bhasa, the indigenous language of Kathmandu.

Buy
There are many ATMs in Thamel, however, not all accept foreign cards. Most that do implement a charge of Rs500 per transaction; the only fee-free ATMs are (1) at the airport before immigration and (2) inside the gates of Kathmandu Guest House in Thamel.
Standard Chartered
Bank & Nabil Bank
ATMs have the highest withdrawal limit of Rs35,000 per transaction. All shops will accept Nepali rupees and many will also accept US. Indian rupees are not often accepted and most merchants won't accept them.
Shopping malls are mostly found in the central area of the city, whereas Thamel is the home of bookshops. Traditional shops selling T-shirts, bags, and clothes are located between New Road and Chhetrapati, while shops selling religious items are mostly concentrated around Boudha.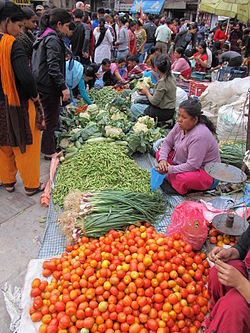 Thanka Buddhist paintings - Thanka are traditional Buddhist paintings available all over Nepal. Prices and quality can vary a great deal. Good sellers will be able to describe the provenance, meaning and history of your chosen thanka. You may also be able to watch thanka being created at some galleries. For example, one gallery near the Boudnath Stupa often has thanka trainees at work so you can see the kind of detail that goes into each painting.
Statues - Hand crafted statues from Nepal are famous all over the world, especially metal statues of god and goddess such as Buddha and Tara. You can easily find various statue shops in Thamel, although the statues are mainly manufactured in the Patan area. If you want to get closer to the source, Patan is a good place to buy such items. Be aware of items that might be antiques. The Nepalese government does not permit real antiques older than 100 years to leave the country, so if you are unsure of the age of the item you're interested in it is advisable to get it checked and certified by the Department of Archaeology to avoid problems on your departure.
Silver - Jewellers from Bangkok come to Kathmandu to buy wholesale silver with Indian-processed semiprecious gemstones. The wholesale price of silver is published on the front page of the "Himalayan" newspaper (1 tola= 11.6 g) so buyers know the cost of the metal in piece, apart from the labor cost. Silver is almost invariably near the stamped "92.5%" sterling, as claimed.
Clothing - Kathmandu is a great place to shop for clothes or have existing clothes repaired or tailored. Flowing hippie gauzes, Monk's robes in saffrons and maroons, funky neon trance-wear, hemp clothing, dozens of elegant silks and 'suiting and shirting' are available in all qualities and prices. Tailors can be hired at reasonable fees and the quality of work is high. Handwoven Nepali fabrics cost Rs100-300/m and are available in endless patterns and colours. Anything, from bags to mountaineering equipment to cocktail dresses can be made to order and tailored to perfection. The alleys around Indra Chowk, between Thamel and Durbar Square, have dozens of fabric shops and tailors, much more dedicated to customer satisfaction than the hurried and expensive shops in Thamel. Bishal Bazaar near the corner of New Road and Durbar Square is a mall-like experience which also boasts several fabric shops and tailors. It is acceptable to buy fabric from one place and get it stitched in another. Expect to pay around Rs250 to stitch a Western-style men's/ladies' shirt. Feel free to take an existing item of clothing with you for the tailor to copy. Warning: if having clothes made to wear later at home, get measured before trekking if you want them to fit when you return to your normal size after your privations on the trekking trail!
Carpets and rugs - Thamel has many carpet shops that have quality silk and wool carpets. Royal Collection (Shop 13, L.P. Jyoti Line) has a nice selection and good prices, after some aggressive price negotiations. Some places will charge a service fee on a purchase with a credit card, so make sure to clarify this during price negotiations.
Cultural Artifacts - Beware that there are lots of counterfeits, sly salesmen, and plastics presented as wood. Most real antiques are illegal to export. Genuine antiquities may have been looted from temples. Patan is known for the quality of bronzes. Read the book "Shopping for Buddhas" by Jeff Greenwald for more information.
Pashmina - Scarves and shawls can be purchased for a fraction of the price of those in Europe or North America. Look for those produced by charitable organisations such as the Tibetan refugee camp just outside Patan but be aware fakes are common and "pashmina" is not "cashmere".
Electronics - Many people find Kathmandu a good place to buy a camera or other electronic device due to the lack of sales tax and import duty on electronics. There are shops in Thamel and around New Road.
Banks
ATMs often suffer from malfunctions and cash shortages, try to make withdrawals from ATMs attached to banks which are open.
Bank of Asia

address: Saket Complex, Tripura Marg,

Century Commercial Bank

address: Hattisar Rd

Himalayan Bank

address: Karmachari Sanchaya Kosh Bldg, Tridevi Sadak

Nepal Bank Limited Central Office

phone: +977 1-4423375

address: Dharma Path

Nepal Rastra Bank, Central Office

phone: +977 1-4410158, +977 1 4410201, +977 1 4411250, +977 1 4419804, +977 1 4419805, +977 1 4419807

address: Baluwatar

Banking Office (address:Thapathali)
Eat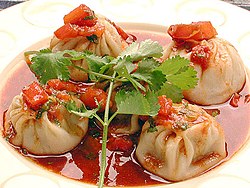 The most important food in Kathmandu could be the indigenous Newa Food. There are hundreds of traditional newa delicacies, and can be found in
bhatti
(local restro) to cafes.
The most popular food in Kathmandu could be the momo, a dumpling which has its roots in Tibet and China. They are available fried or steamed and stuffed with buffalo, chicken, or veggies. Prices can vary depending on the location and what they are filled with, but expect to pay between Rs150-250 for a dozen. Kathmandu is also a good place to sample traditional Newari and Tibetan dishes.
A Nepali set meal will usually include rice, daal, vegetable/meat curry, a vegetable dish, pickle (
achar
) and curd. Expect to pay around NPR140-280 at a tourist place, much less at local places. Chiya, a milky spiced tea similar to the Indian chai, is ubiquitous and good for a break to calm one's nerves.
Note that most restaurants that cater to tourists will add a 10% service charge and then a 13% VAT charge (total of 24.5%) to the prices stated on the menu. These additional charges must be clearly stated on the menu.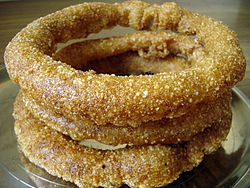 There are dozens of tourist restaurants clustered in
Thamel
serving everything from Middle Eastern to Mexican food. Indian and Nepali dishes are always the most authentic and economically priced.
Drink
Coffee
In recent times, coffee culture has made major inroads into Kathmandu and cafes offering espresso based coffees are no longer limited to tourist areas, but can be found throughout the city. Himalayan Java is a major player in the coffee world in Nepal, and their chic cafes are popular with tourists and locals alike.

Alcohol
The indigenous Newa rice wine ' thon' and alcohol 'ayelaa' is available in local restro. Beer and mixed drinks are available at almost every bar and restaurant. For a quick drink and cheap cultural experience, try the local 'Nepali wine' (raksi) or 'Nepali Beer' (chang) neither of which taste anything like their namesakes. Gorkha Beer, Everest Beer, Nepal Ice, San Miguel, Carlsberg, and Tuborg beer are the principal conventional beers served in Kathmandu. Local beers tend to be more reliable than the imports.

Sleep
Check the "district" articles for accommodation listings in Kathmandu.
Virtually all tourist accommodation is in Thamel, though there are some good deals to be had around Boudha. Upmarket hotels tend to be in central Kathmandu. There are also a few guest houses on Freak Street, which tend to be cheaper, though more tired looking than those in Thamel.
You can find many homestays in historical Newa towns, where you can live in a traditional Newa houses.
Remember anyone on the street who takes you to a hotel will be receiving a commission from the hotel and that will be included in the price you pay. It is better to find a place on your own.

Stay safe
Canadian Consular Affairs
, the
UK Foreign and Commonwealth office
, and the
US State Department
provide travel advice. Nepal is safe to visit but caution must be taken. After the Maoists joined the government in about 2006, Nepal become relatively peaceful and more stable. However, visitors should avoid public demonstrations and may want to register with their consulate on arrival. Although tourists haven't been directly targeted by politically motivated violence, it is possible to be in the wrong place at the wrong time. The frequent strikes, locally known as bandh or banda, that are still held on occasion, are a major inconvenience for most tourists as all transportation stops, and many shops and restaurants close. In the 10-day period leading up to the Constituent Assembly Elections in November 2013. During most of that time, very few public buses were operating so getting to the beginning of a trekking route immediately became very difficult.
Load-shedding (power cuts) during the dry season can make life in Nepal very difficult. Due to the lack of street lights, tourists should watch out for the double hazards of opportunistic crimes in the darkness, and tripping or twisting ankles when walking the uneven, unlit streets by night.
Following the news and government warnings is important. Be sure to check on current road conditions before leaving Kathmandu. As of April 2010, long-haul bus trips through the Eastern Terai were to be avoided as there was a risk of Maoist activity in this area. That seems to have improved but there were problems before and after the elections in November 2013 that could indicate a return to some degree of instability. Time will tell. There used to be reports of Maoists stopping buses and setting them alight, although allowing passengers to disembark first. Check daily newspapers for advance warning of planned strikes (
bandh
) when it may be better to stay away from the main roads in town.
While in Kathmandu, always keep an eye on belongings. Violent crime is rare; pickpockets are not, especially in crowded places. If your hotel room door doesn't have a good lock or safe windows, store valuables on your person or in a hotel safety deposit box at all times. As with any large city, avoid walking alone in unlit areas.
Avoid seeking help from random individuals on the streets who offer taking you to dance bars. There have been several cases of tourists ripped off once inside these dance bars.
Stay healthy
Air quality in Kathmandu is very poor after the earthquake, particularly around the ring road. Buying a dust mask is advisable.
Water in Kathmandu borders on being lethal, and water borne diseases are rife. Do not, under any circumstances, drink from taps or consume salads and ice unless you are confident that the water used in their preparation has been filtered and boiled. Also, use boiled and filtered water for brushing teeth and avoid swallowing water when taking a shower. Circumstances may differ in private houses and the better hotels in Kathmandu. More concerning there have been a number of instances of bottled water companies not meeting minimum safety standards, purchase water in larger shops. Large gallon bottles of water are used in most local restaurants but there is no guarantee they haven't been re-filled.
Food can be contaminated and some people suggest that you should eat only at larger restaurants. Counterfeit and out of date food and cigarettes are very common in local shops, check use-by dates before purchasing products.
Homemade Alcohol (chang, roxi, three panni roxi, toongba) may contain methanol and is not recommended, drinking large amounts would be extremely unwise.
Vaccinations for rabies, tetanus, typhoid, and hepatitis are recommended prior to arriving in Kathmandu, and can take several months to complete. Tropical diseases such as Japanese encephalitis should be vaccinated against if you plan to travel outside of the Kathmandu Valley, towards the lowlands in the Terai. You may wish to take a malarial prophylaxis. See Immunization advice for Nepal
Animals, such as bats and monkeys (including those at Swayambhunath), may be carriers of rabies and other diseases. Even if you've had the foresight to be vaccinated for rabies prior arrival, treatment following possible exposure is still necessary to prevent infection. If you are bitten, you should go to a clinic immediately for treatment. No cases of avian influenza have been documented in Nepal, but it has been confirmed in nearby countries. Birds live in extremely close proximity to humans, both in the market and the home.
Clinics & hospitals
Connect
Most cafes & restaurants in tourist areas have free Wi-Fi for customers. Computer/internet rentals are almost stacked on top of each other in Thamel & near the stupa at
Boudha
. You can surf to your heart's content for Rs15-20 an hour (Rs10 in Putalisadak). Although not adequate for video conferencing the 128-256kbit/s NTC backbone often used by the cafes is more than adequate for VOIP calling. Please avoid downloading anything large, as most connections are limited. ISD and STD telephone services are available in almost all internet cafes. Services such as Skype are available in most tourist areas.
NcellSIM cards are available from NCell for Rs100 and you will also need to show your passport and provide a passport photo. Recharge cards for NCell can be purchased almost everywhere. Look for the white and violet NCEll signs on the front of shops selling these cards. Data packages are also available. On some treks you will be in remote areas with no internet or phone service. Don't be surprised. Coverage in populated areas is good.

phone: +977 1-4227499

address: Sundhara Kanti Path

phone: +977 1-4210098

SIM cards of Nepal Telecom are available everywhere in Nepal for Rs100; you must show your passport or Nepali citizenship card and provide a passport photo. Recharge cards of Nepal Telecom can be purchased almost everywhere. Look for the blue tower sign board in front of shops. Data packages are also available for Nepal Telecom network. Coverage is better than other networks in Nepal.

Nepal Telecom Central Office

address: Prithvi Path
Cope
Embassies and consulates
Austria (Honorary Consulate General)

phone: +977 1 4434860

address: 22, Manakamana Marg, Nagpokhari, Naxal

Australia

phone: +977 1 437 1678 (/1076/1466)

address: Bansbari

phone: +977 1-4390130

address: Basundhara 3, Ring Road

phone: +977 1 4418922, +977 1 4410330

address: Bhagawan Bahal, Thamal Amrit Marg 643/26

British

phone: +977 1 441 0583, +977 1 441 4588

address: Lainchour Marg

phone: +977 1 4411740

address: Baluwater

phone: +977 1 441 3010

address: 761 Neel Saraswati Marg, Lazimpat

European Union

phone: +977 1 442 9445, +977 1 442 9446

address: Uttardhoka Sadak, Lainchaur

phone: +977 1 4417 221, +977 1 4416-636

address: Bishalnagar

phone: +977 1 441 27 86, +977 1 441 65 27, +977 1 441 66 55, +977 1 441 68 32

address: Gyaneshwar Marga 690

Greece

phone: +977 1 222-050

address: 925, Thapathali

phone: +977 1 4410900, +977 1 4414990, +977 1 4411699

address: 336 Kapurdhara Marg, Lainchaur

The Indian visa centre is just before the embassy (09:30-12:00 for deposit; closed on Saturday, Sunday and public holidays). People start to queue 1-2 hr before opening usually. Rs700 for re-entry endorsement, Rs3600 for tourist visa up to 6 months, Rs1900 for transit visa.

Israel

address: Neel Sarswoti Marg

phone: +977 1 4426-680

address: Danida, Lazimpat

phone: +977 1 441 2155, +977 1 441 1063

address: Baluwatar

Emergency/Экстренный +977 980 104 7187

phone: +977 1-4234000

address: Maharajgunj Rd.

The entrance to the Consular Section is to the left of the main entrance.

phone: +977 1 554 92 25

address: Jawalakhel, Ekanta Kuna, Lalitpur
Airline offices
Many airline companies have their offices on Hatisser road, about 20 min from north Thamel/Jyatha on foot, if you need to buy or change a ticket.
Visas and trekking permits
To extend your Nepal tourist visa, up to a maximum of 150 days per year, you need to visit the
Nepal Immigration Office
. Bring your passport, a passport photocopy and one passport sized photo (even though you've already given these details to get your original visa!). Visa extensions can only be bought per day, at a rate of USD2 a day, although you can pay in local currency. If you have questions, they speak quite good English .
TIMS card - to register for a Green TIMS card for independent hiking, you need to visit the Nepal Tourist Office either in Kathmandu or Pokhara. More information about TIMS, permits and entrance fees is described in
Trekking in Nepal
.
Go next
Nearby
Patan aka Lalitpur, Yala(native name), 7 km south of Thamel, across the Bagmati river, is one of the largest cities in Nepal. Patan Durbar Square is a UNESCO world heritage site, full of temples, statues, palaces & the must-see attraction of Patan Museum.
Kirtipur, aka Kipoo (native name), is one of the oldest settlements in the Kathmandu Valley. Located next to Patan.
Bhaktapur, Khwopa (native name)
Khona is a Newa town in South of the valley. You can get a bus from Lagankhyo(native name) aka Lagankhel.
Bunga is a Newa town in South of the valley, near to Khona. You can get a bus from Lagankhyo(native name) aka Lagankhel.
Buddhist Pilgrimage Sites
Swayambu (7 km NE of Kathmandu) is home to at least 29 Buddhist Monasteries & Nunneries & one of the largest Buddhist stupas in the world, the Boudha Stupa, a UNESCO World Heritage Site, built during the 5th century CE.
Namo Buddha is one of the most important Buddhist pilgrimage sites in Nepal and one of the holiest in the world. It is known as the place where the Buddha, in a previous life as a prince, gave his body to a starving tigress and her cubs.
Pharping ' a Buddhist sacred site - cave and other relics.
Shivapuri Hill and the Bishnu Muhan (20 km N of Kathmandu) is a small spring from where river Bishnumati originates. Stay for a night at the Shivapuri Heights Cottage.
Nagarkot (30 km E from Kathmandu, altitude: 2,000 m) is just the place for a quick getaway from the bustling capital for some relaxation and outdoor activities. It's an ideal location to watch the sunrise, but plan on leaving early, as traffic jams can happen anywhere and at anytime. The last 5 km of the trip is narrow, with lots of curves in the road. Car-sickness is a distinct possibility. The Club Himalaya Resort, located 3km outside of the village, has a great viewing point.
Dhulikhel (30 km SE of Kathmandu) is a village that offers a nice quiet setting to wander the streets and see the 'non-tourist' side of Nepali life. Dhulikhel Lodge Resort is a nice place for lunch and a view of the mountains.
Changunarayan (20 km E of Kathmandu) is a small village and home to the ancient temple of Changu Narayan which is part of the UNESCO World Heritage Site Kathmandu Valley.
Panauti (32 km SE of Kathmandu) is one of the oldest towns in Nepal, consisting of many temples dating back to the 15th century or earlier.
Kakani (30 km SE of Kathmandu) is a settlement of 8,000 people famous for its strawberry farms.
Further away
Commercial domestic flights are available to/from
Bhadrapur
,
Bhairawa
,
Bharatpur
,
Biratnagar
,
Dhangarhi
,
Janakpur
,
Nepalganj
,
Pokhara
,
Simara
, and
Tumling Tar
. Domestic flights take about an hour and cost USD100-175. The primary domestic airlines are
air viva
,
Yeti
,
Nepal Airlines
, and
Buddha Air
. Buddha Air has a reputation among local expatriates as the safest domestic airline. Flights are typically delayed more later in the day and therefore it is better to take an early morning flight.
Pokhara. (5–8 hours by bus, 40 minutes flight), is a pleasant little city on Phewa Lake. Many visitors use it as a hub for treks and adventure sports. The city is a popular destination for travelers and also features a bustling live music scene. Many daily 'tourist' buses depart 07:00 (be there at 06:00) from Jamal bus station, ticket Rs600 from driver, arrive Pokhara by 14:00, time varies depending on traffic. There are always seats available and you do not need to book beforehand at travel agents, who normally charge at least Rs700.
Chitwan National Park is a popular place for safaris, complete with Elephant rides, rhino and tiger spotting, and jungle walks.
Khumbu, near Mount Everest, is a short flight from Kathmandu and offers snow capped peaks and yak caravans carrying goods over mountain passes from Tibet.