Kautokeino
Kautokeino
(Sámi:
Guovdageaidnu
) is a town and municipality in
Finnmark
, northern
Norway
. It is situated in
Finnmarksvidda
, the inland plateau. The municipality has a 90 % Sámi majority.
Understand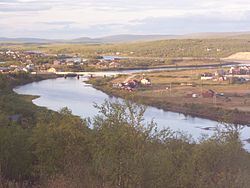 The municipality is a centre for
Sámi culture
and Sámi education, hosting the Sámi University College, the Nordic Sámi Institute and a Sámi theatre. The town has some 1,500 inhabitants, half of those of the municipality. The name means "midways"; the distance is about equal to
Alta
,
Karasjok
,
Karesuando
and
Nordreisa
, all (close to) ancient important markets (as the reindeer run, not by road – there were no roads here).
Villages in the municipality include Mázi, Stornes (Hemmogieddi), Šuoššjávri, Økseidet (Ákšomuotki), Láhpoluoppall, Siebe, Áidejávri and Soahtefielbma.
Kautokeino is the coldest inhabited area in Norway in winter, due to the northern inland location, with mean temperature in January and records of slightly below . Dry air makes the temperatures in winter more bearable, but midwinter is still extreme. Weather in summer is cool to warm, with a mean of in July and frost possible even in midsummer. Day temperatures in summer are mostly 10–25°C (up to 80°F).
There is
midnight sun
from late May to late July and polar night from the beginning of December to middle January. This is the driest part of Norway, with yearly precipitation 360–400 mm, which makes it a good place to watch
Northern lights
.
Easter is a time of much activity, with Sámi gathering before it is time for the reindeer to move towards calving grounds: church going, film and music festivals, reindeer races, snowmobile cross and many tourists.
The Finnmarksvidda is largely flat or rolling plains, with only modest fells but many lakes. The highest fell of the municipality is Mollejus at 974 m, the 10,000 lakes in the municipality have a total area of some 737 km². Three important rivers have their sources here: the Kautokeino river (which changes names to Altaelva downstream), and Kárášjohka and Anárjohka, joining to form Deatnu (Tana, Teno), the most important salmon river in Europe.
Although the majority speaks
Sámi
, also
Norwegian
and English should be spoken by nearly everybody.
Tourist information

phone: +47 78-48-65-00
Get in
Kautokeino is on E45, here coinciding with road 93 between
Alta
(130 km) on the coast and
Hetta
(80 km) in
Enontekiö
, Finland. Road 92 from Kaamanen in
Inari
, Finland, via
Karasjok
leads to road 93 some 40 km north of the town. Alta and Karasjok are on
E6
, Hetta near E8, Kaamanen on E75. Driving from Alta or Karasjok takes about two hours.
There should be buses from Alta and Karasjok, in summer also from Rovaniemi via Hetta (possibly with transfer at Palojoensuu) and at least in summer from Inari with transfer in Karasjok or Alta.
There are airports at least in Alta, Hetta and
Ivalo
.
The nearest railhead is
Kiruna
, Sweden, some 250 km away. Coming via
Luleå
and
Tornio
may be more handy in some cases. The nearest railheads in Finland are
Kolari
and
Rovaniemi
.
Get around
Bus transport is sparse, so a car is useful. Taxi is the main option for many destinations outside of the town. There is also a
network of snowmobile routes
(look for "skuterláhtut"). The town itself is built along a few kilometres of the Kautokeino river.
Then of course, hiking and cross-country skiing may be what you are here for. There are few marked trails or ready-made skiing tracks, but lots of space to explore.
See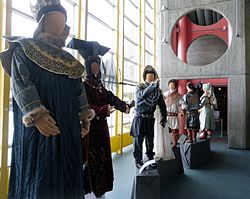 phone: +47 78-46-99-50

address: Boaronjárga 23

Sámi museum indoors and outdoor museum showing the old Kautokeino village.

Kautokeino church

phone: +47 78-48-61-29 (the parish)

Church from 1958 built in old style. The old church was burnt by the German in 1944.

phone: +47 78-48-43-30

Astonishing large exhibition, mirroring the interests of the owners: Lapish and Nordic design and handicraft is mixed with oriental goods and interior design. The silver jewellery made here, nice as it is, occupies just a modest section. Nice view over Kautokeino. Café.

Struve Geodetic ArcTwo fell tops in the municipality are part of the Struve Geodetic Arc.
Luvddiidčohkka

Bealjášvárri
phone: +47 78-48-44-60

address: Bredbuktnesvn./Govdavuohppenjárga 50 A

Professional theatre with Sami as stage language. Tours in all of Sápmi, and also tours for promoting Sámi culture internationally, are an important part of the mission.
Do
FishingFish in some of the thousand lakes. You need a fishing permit. Equipment, also boots etc., must be disinfected or thoroughly dried before use in new waters, because of the salmon plague. Check also other rules.

Cross-country skiingFew tracks but wonderful landscape. Have a guide unless you know what you are doing.

Snowmobile safarisThe snowmobile was the invention that allowed Sámi to live in one place and still look after the reindeer. It is extensively used by locals. A snowmobile tour can be combined with learning about Sámi life, trying the Sámi lasso, visiting a lávvu and eating traditional Sámi food.
Events
Easter festivalFestival with exhibitions, races, ice fishing, film and music festivals, concerts etc. The Easter has been an important time, the last chance to gather with friends before it is time to move the reindeer to the calving grounds.
Sámi Film FestivalThree day film festival featuring Sámi films and other films by and for indigenous peoples. Some venues are indoors, one is made of snow and ice and works also as reindeer sled and snowmobile drive-in cinema.

Sámi Grand PrixSong and joik (traditional Sámi singing) competition, usually with artists from Norway, Sweden and Finland. The winner is sent to Liet-Lávlut, a music competition for European minority languages.
Buy
Although the town is quite small, you should be able to find most things you need. Local people will do most of their shopping here, as bigger towns are far away. Mind the shopping hours, though.
This is
the
place to buy Sámi handicraft. With a concentration of Sámi, many shops foremost serve locals or Sámi from the surroundings, so you will more easily avoid the kitsch sold in more touristy places (there are tourists here also, of course). Some shops are quite well hidden though, or scattered about.
phone: +47 78-48-60-07

address: Boaronjárga 13

Started as shop for Sámi handicraft material. Now also all kinds of finished products, such as toys, boots, knives, guksi, shawls, jewellery and gift items.
Silver is the traditional material for Sámi jewellery.
phone: +47 78-48-63-11

address: Boaronjarga 15

Silver jewellery
Sleep
Connect
Postal code 9520 Kautokeino

Go next